Fall is fast approaching. So is the excitement for Halloween decor, and I'm thinking all about the best inexpensive fall decorating ideas. Although it's always bitter-sweet watching summer drift away. One of the best parts of Fall is getting to turn a new leaf. See what I did there? I think I'm clever. Anywho…..
To help ya' ring in the season, I gathered up some of my favorite inexpensive options to get you fallen' into the season. Need something quick? Try these great accents to get started right away on your interior or refresh an entry space with this amazing fall foyer mood board. Need more? Of course, you do. Read on.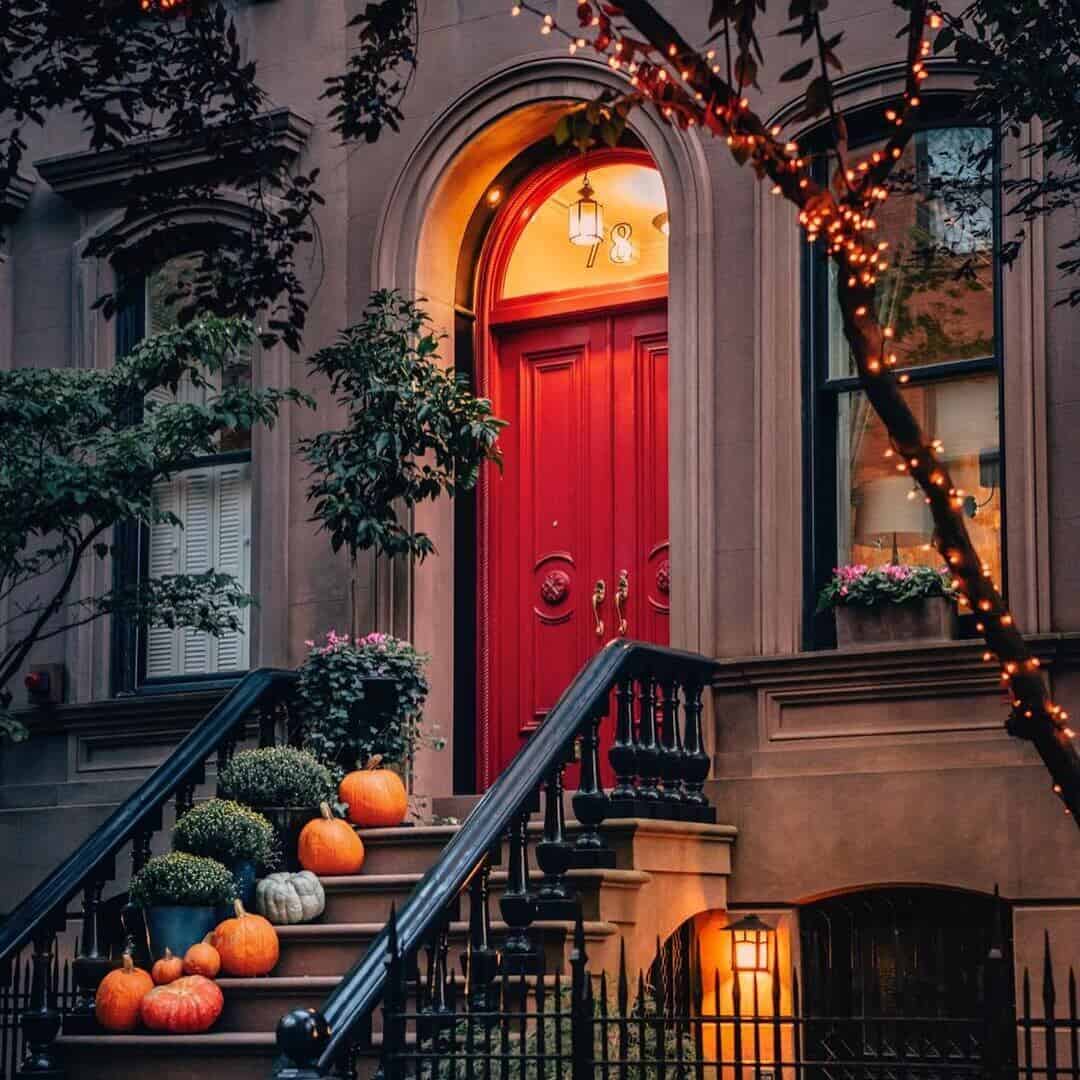 The most amazing feature of Fall is watching the leaves change from green to an amazing array of fiery reds, oranges, and amber. I love the way my cheeks turn rosy from the cooler temperatures on my morning walks and the way the air gets crisp and invigorating. I swear the sun glows brighter in the Fall too. It's literally magic. Check out my Instagram for my morning walks this time of year. They are epic. My other fav treat is sipping Harney and Son's hot cinnamon tea all day long. It's just the best – and tastes a lot like drinking a warm red hot candy. Remember those? But onward, to my list of favorite inexpensive Fall decorating ideas to brighten your season.
Inexpensive Fall decorating ideas for your front porch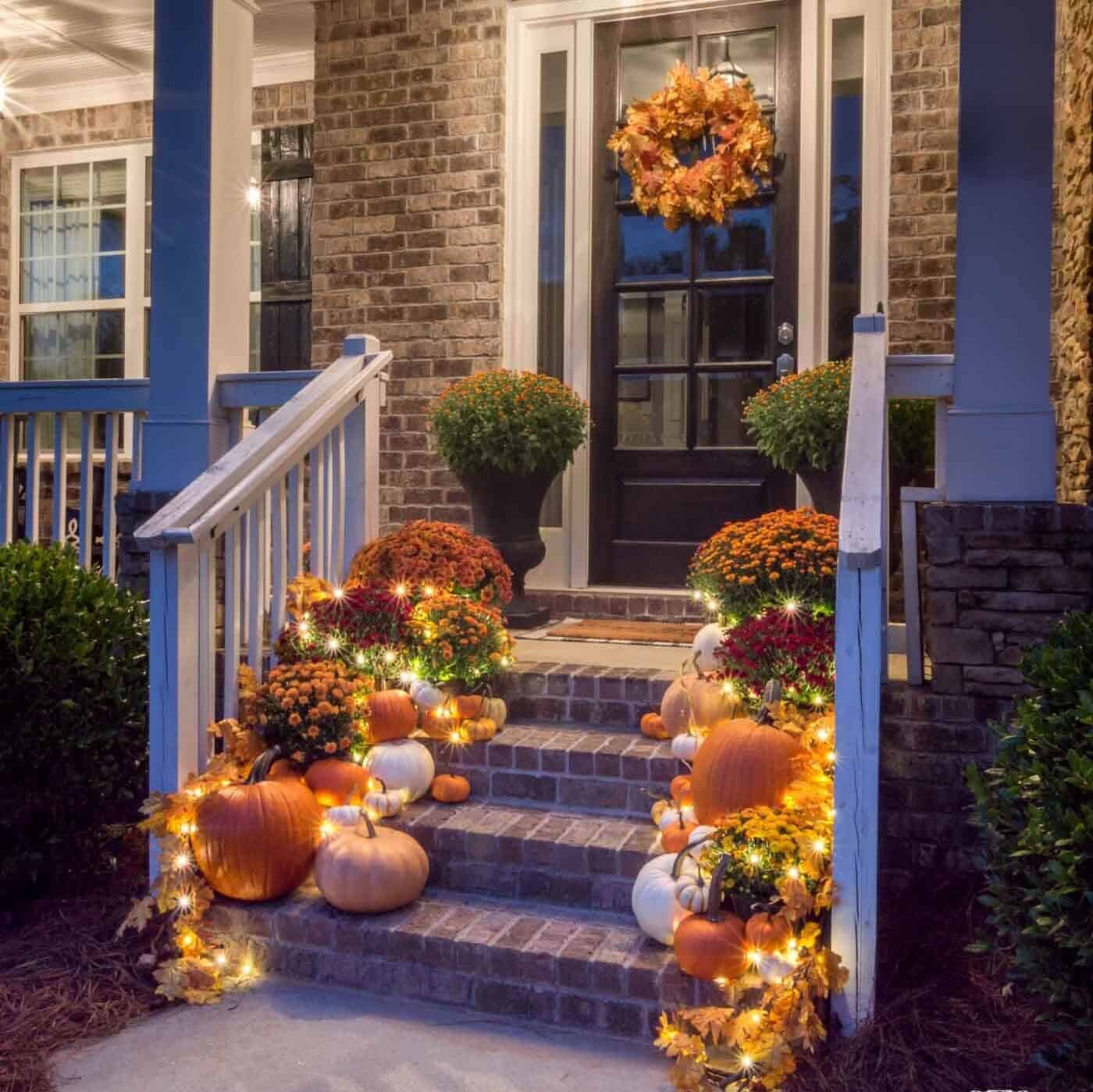 There is no better place to welcome fall than your porch. It is an outdoor living space where you can create warm memories with your friends. Focus here. It's the best place to ring in the season in my opinion. After all, the front porch is an extension of your home where you receive your guests and make them feel welcome. Let's wow them (and the neighbors) from the start.
Decorate with lighting an inexpensive Fall decorating ideas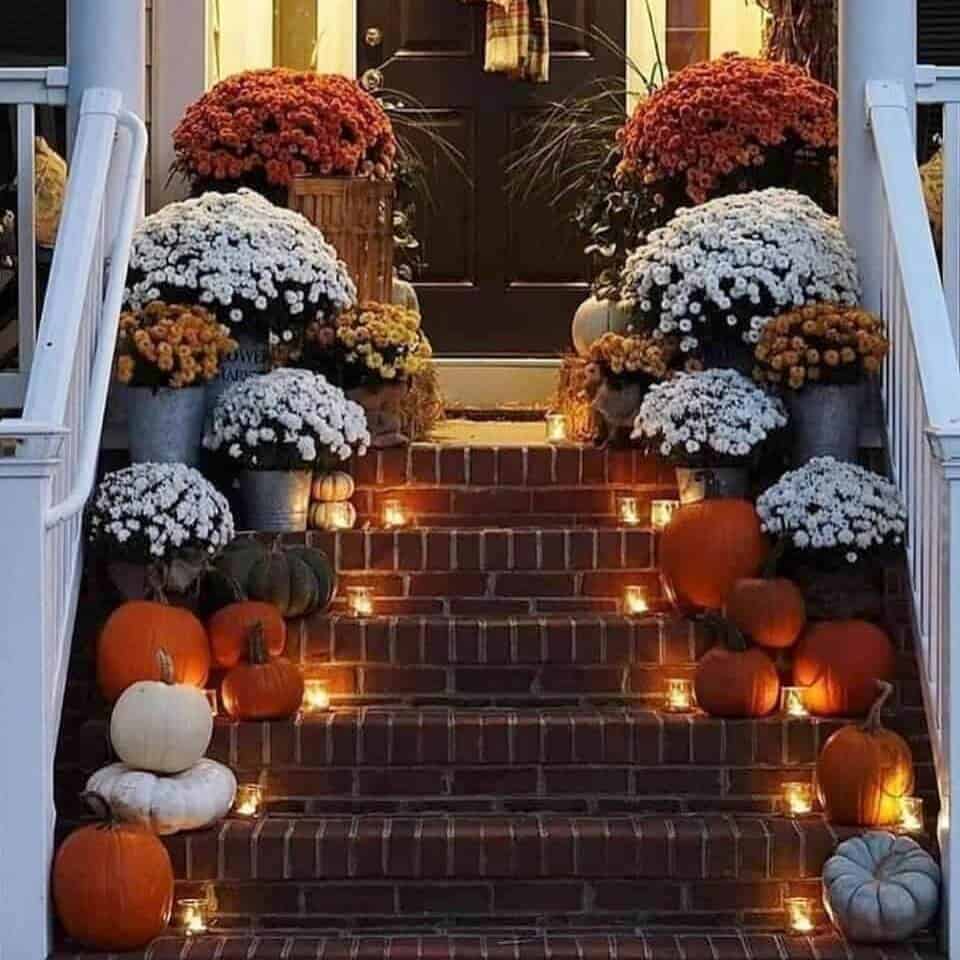 A bit of illumination adds tons of ambiance and beauty. In addition, some amazing outdoor candles or lights are a great cheap fall decor hack. You can make your front porch beautiful and glowing by adding some string lights. Make sure to accentuate it by adding some fall leaves, branches, and grapevines. This is also an inexpensive decoration since all you need is some extension cords and a few low-cost lights, or candles (safely) to get your porch to sparkle.
Make your porch flowery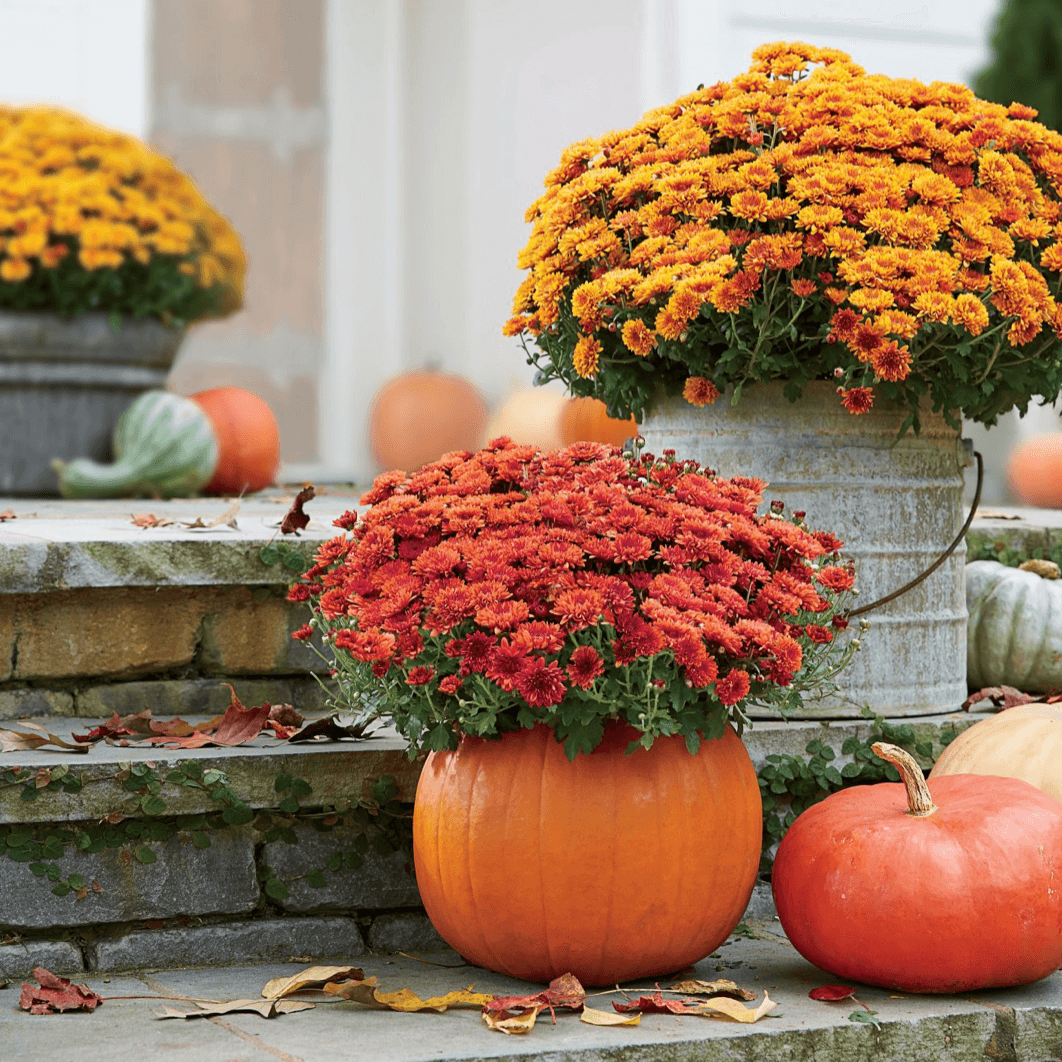 Flowers are a quintessential part of fall, especially chrysanthemums. Nicknamed "mums," these flowers will give a big pop of color on your front porch which is a great inexpensive Fall decorating ideas. Other than Chrysanthemums, you can also consider pansies, viola, celosia, and dianthus to the porch. Consider even filling pumpkins with them too. The look is gorgeous.
Add planters for a cheap fall decor level up
Put some cool-season vegetables or ornamental kale that can withstand fall temperatures in the planters on your front porch. It will add some intricacy to the porch and make it stand out against all the cozy fall colors. You can also add a few tiny gourds to spruce up those planters.
Get creative with your planters featuring these inexpensive Fall decorating ideas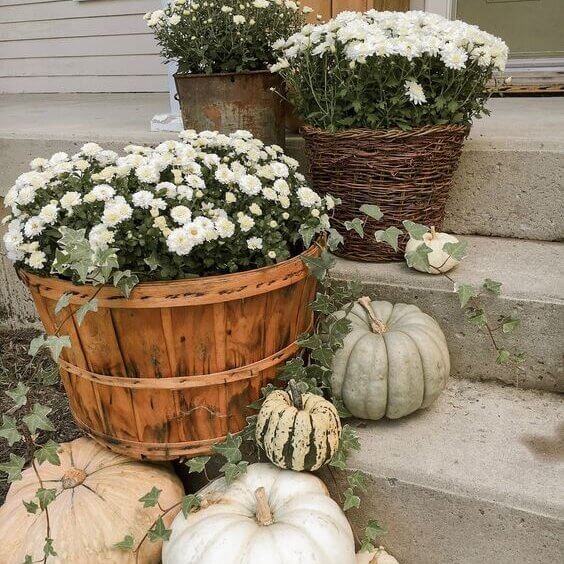 Flowers look beautiful in ceramic planters, but you can level it up by being a bit creative and using a pumpkin "planter" or decorative basket for a real wow moment. This little trick is super affordable and make a big impact. More inexpensive Fall decorating ideas include…..
The ultimate cheap fall decoding ideas – Pumpkins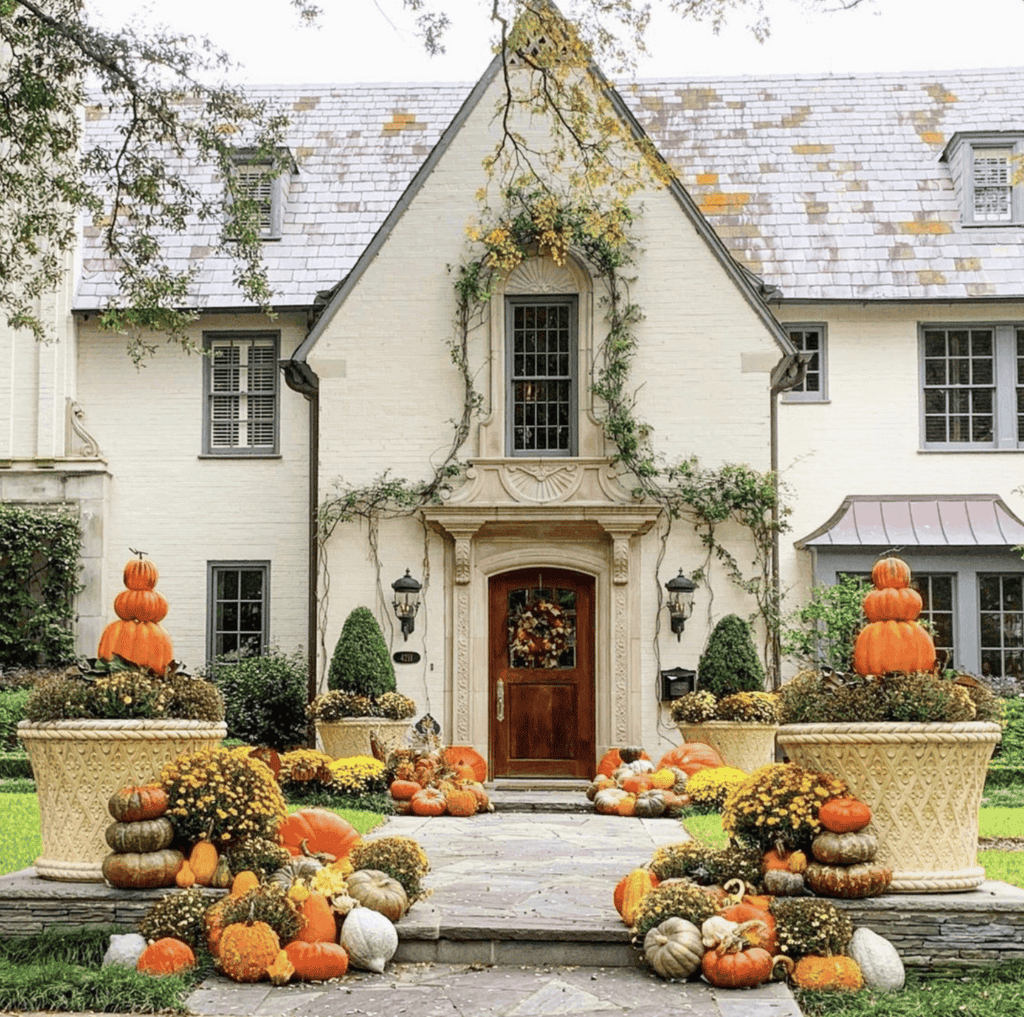 Try to avoid carving every single pumpkin you purchase for Halloween. In this way, you can use them to decorate well into November. After Halloween, you can even just flip those jack-o-lanterns around and use them as decorations throughout the rest of the fall.
Use a fun doormat my favorite cheap fall decor level up
Along with prepping your doors and windows to welcome fall, invest in a doormat with some funny or quirky quotes. You can also make DIY mats using acrylic paint and stencils that you can proudly show off to your guests.
Add a scarecrow
A scarecrow is a classic fall decoration. You can make it effortlessly using easily obtained and affordable materials. All you need is some hay and some old clothing. In addition, you can include any extra hay in your fall decor.
Use hay bales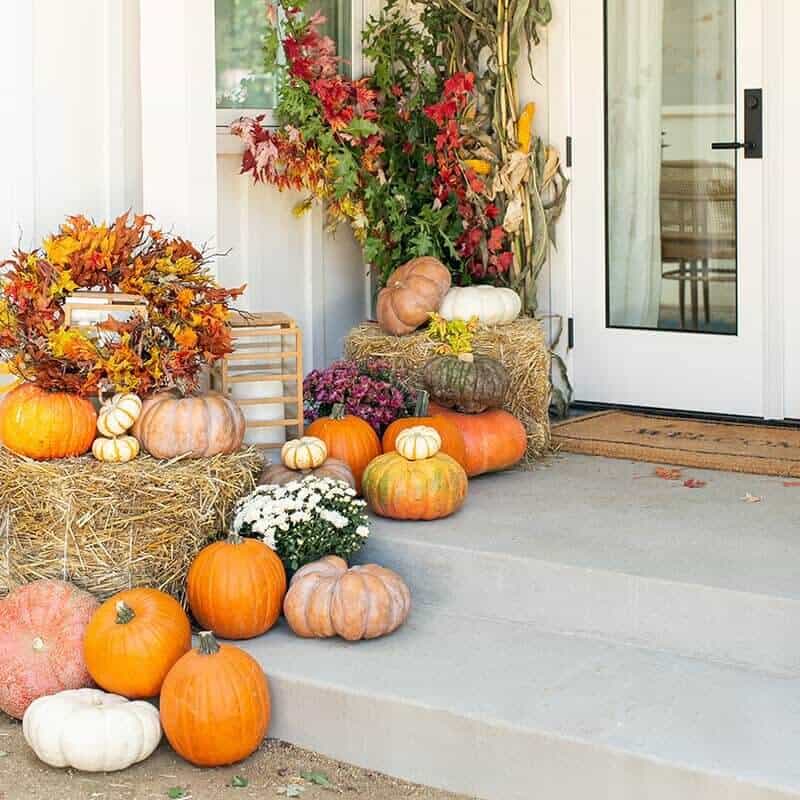 This is a simple way to give your porch a fall-like atmosphere. You can find hay bales at craft stores, flower markets, farmer's markets, and cattle feed stores. You should also add some carefully positioned pumpkins or even a checkered blanket to it to give it a cozy look.
Add Fall themed wreaths
There is nothing like too many flowers. Along with the flowering plants in the planters, you can hang some wreaths on your front door to give it a cheerful look. Make the wreaths using fall colors like yellow and orange. If you want to try out a wreath that goes beautifully with all door colors, use cotton wreaths. You can also add a few pine cones to the wreath so that you can carry it over to the winter decorations as well. If you have a bigger front door, go for a double wreath to make your entryway look magnificent.
Decorate with corn stalks
Another cheap fall decor – Corn husks are easily available during the fall, and they can be used to make garlands and wreaths to decorate your porch. You can also make a DIY project out of it and make plenty to decorate your door, windows, and porch furniture. Since cornstalks are not identified with any particular season, you can continue using them way into winter. This will surely save some money out of your pockets on winter decorations.
Use a basket for decoration
You can use a basket like a bushel basket or a wicker basket to spruce up your fall porch decorations. Fill the basket with some mini gourds and pumpkins and tie some colorful ribbons that match the other decor. You can also fill the space in the basket with apples, pine cones, or some fall foliage.
Use vases and urns
You can arrange vases, urns, and similar containers in groups on your porch and steps with dried leaves as another one of my great inexpensive fall decorating ideas. Use existing containers instead of buying new ones to save money. Try to choose ones that follow a fall color theme, even if they do not match.
Experiment with neutral colors
You need not stick with yellows and oranges for your fall decor. You can experiment with neutral colors like white for a rustic, antique vibe. Combine it with corn and pumpkins to get a contrasting yet accentuated look. The nice aspect is that you can save money by using many neutral decor items since they can be used for all seasons.
Add fall furniture
Furniture is an important part of my favorite inexpensive fall decorating ideas. You can use them to sit on the porch and enjoy a piping hot pumpkin spice latte and for decoration as well. Throw in a rustic chair or a rocking chair or even a stool to have a classic look. You can also add a cozy seating area with a lot of blankets and pillows in fall colors like yellow, orange, red, or brown. This will make the sitting area look warm and inviting. If you are planning on using furniture for decoration, you can throw in an uncarved pumpkin here and there to get a fall look. You can also add flower wreaths or even corn garlands to the furniture to give it a comfortable, rustic vibe. You can also repurpose your old furniture for decor, thereby reducing the cost.
If your porch is small, go for a small table paired with a chair or maybe a bistro set. Make sure that your porch does not look crowded. If you have a larger porch, arrange the furniture in such a way that you get a symmetrical spread-out look. You can also add a breakfast table with fall decorations to have a functional and stylish space.
Steps are a great please for inexpensive Fall decorating ideas
When preparing your porch for fall, don't forget about the front steps since they are the first thing your guests will notice. You don't want the steps to look too crowded or too bare. Line the steps with some mini pumpkins and potted flowers or branches are a great cheap fall decor item and really help to usher in the season.
Inexpensive Fall Decor Ideas for the minimalists
Too much decor may not always be the best decor. Even if you are someone who shies away from extravagant decorations, you can still make your porch look inviting for fall. Wish your guests a good fall by keeping a simple wreath and a couple of pumpkins on your porch. You can also choose a decor that stands out against your door color to make it more noticeable.
Decorating your porch to welcome fall is just one of my favorite inexpensive Fall decorating ideas. You can decorate your porch without spending too much money by repurposing old and easily available materials. You can also DIY a lot of decorations to beautify your porch on a budget. Be creative and use unique and quirky ideas that will attract the attention of people. Include everyone in your family in the decoration project and make it a memorable fall activity.
Conclusion
No get on out there, and set the mood with some fun inexpensive fall decor. In the end, Fall is a great season to celebrate and these ideas will get you moving in the right direction. I hope you will give some of them a try. Happy Fall to each of ya. Love y'all. xoxoxo