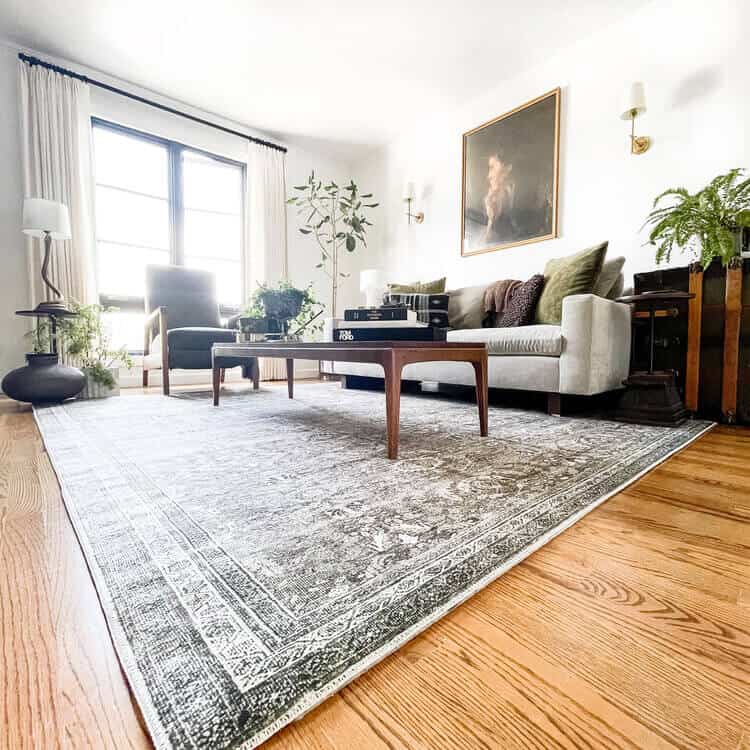 I just love a refresh, but then again, most of y'all know that about me. I am into any kind of quick swap out really; art, throw pillows, styling objects, etc. But, non-often make a bigger impact than a brand new rug.

Over the weekend I decided that with the change of seasons I too was going to turn a leaf – and swap out my vintage Turkish rug with something a bit moodier.
Wow! I can not believe the difference and it was so easy.

This rug is super affordable and introduced some much-needed contrast to space. I loved my other rug, don't get me wrong. But, the challenge I was having with it was that it was a bit neutral when paired with our gray Harmony Sofa. I have always envisioned this space to have a bit more pop for both the couch and recliner.

So I was thrilled with my friends over at @rugandweave was open to helping me out with a new rug. Do you love her?

She is the Loloi Antique Moss – from @rugandweave and I am beyond obsessed. I had been hoping to grab one when she first came out a few months ago but she is crazy popular and sold out fast. It's easy to see why.

She is the perfect rug for most rooms because she has an approachable patina, deep greens, and brassy undertones that are sprinkled throughout and pair great in my living room. Now, the floor isn't a simple shade of sand – but rather a moment full of texture and contrast, and balance. It's all about the details over here guys. I just love how the room feels more anchored now.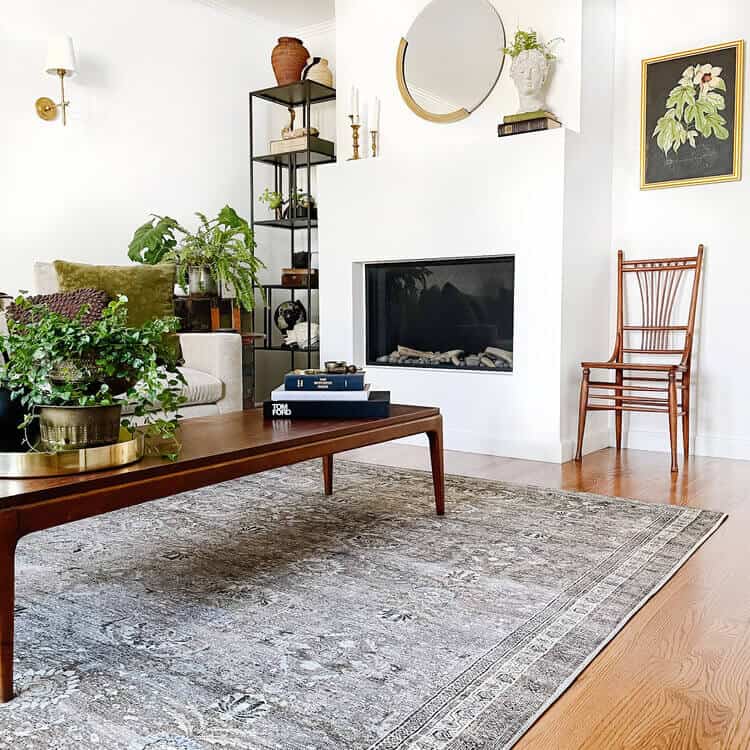 Are you in need of a rug refresh? Please don't wait as long as I did to do it. There is no need, especially now that there are so many amazing and affordable rug options out there.
Here are a few tips that you might be in need of a (new) rug:
You don't have a rug

I am listing this first because frankly despite all the things I am about to say I am always hard-pressed to find a reason not to have an area rug. Even over the carpet! Area rugs help define a zone in your home and help the home feel intentional and complete. If you are able to get a rug, I would. My favorite affordable options are linked here.

Comfort

Hardwood floors are beautiful, albeit not the most comfortable to lay on while watching TV or playing with the kids. Get an area rug to soften the room for a more enjoyable floor sitting experience. I love this rug, and it's even comfier with this is non-slip pad. It really feels like a cloud under your feet.

Noise Reduction

If you live in an apartment or have neighbors above or below you having an area rug can really help to prevent the noise transfer from home to home. It's a really kind and sometimes required step in some leases. I highly recommend runners for long hallways and rooms with hardwood if you have people below you. Also, they look great so why not.

Protection

Let's face it – chairs and coffee table legs on bare wood or tile can over time damage both surfaces. An area rug can help to protect these sensitive surfaces and preserve their overall look and beauty.

Stains or Odors

If your current area rug or carpet has stains or odors that just can't be cleaned you should bite the bullet and get an area rug. Sometimes, the mental drain on a carpet that is frayed, stained, or worse is just not worth it. You deserve a nice home with a beautiful carpet. Go for it!

Visual Interest

This was me, before the update. I know a lot of y'all loved my previous living room – I did too but it was falling a bit flat. I am fortunate enough that I was able to find the perfect moss-inspired rug to fit into my space and look gorgeous. If your room needs to be taken up a notch, grab an area rug that makes a statement with a strong visual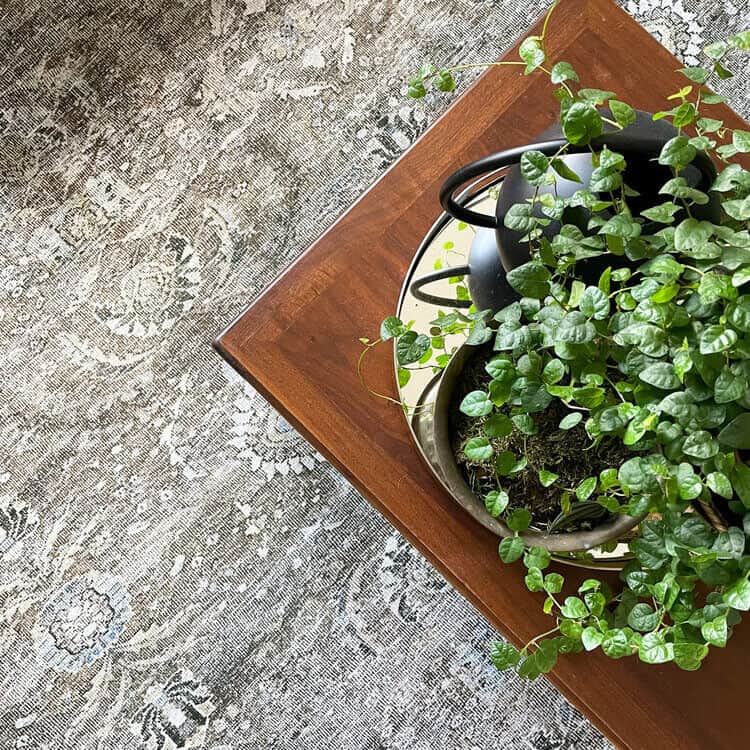 If any of the above apply to you, I say go for it. There are so many amazing and affordable rugs out there and they come in a ton of beautiful colors and convenient sizes for any room anywhere.
For more rugs that I have and love head here.
Also, follow along with my stories and adventures on Instagram. If you love this rug you will also love the rest of what my friends over at Rug and Weave have to offer. Give em a look – you won't regret it. xoxo