I can't believe I am finally saying this. We have a cozy cottage, you guys! Like for real. If you've been around for a while, you know that I've been on the hunt for an enchanted forest escape – away from the hustle and bustle of the city.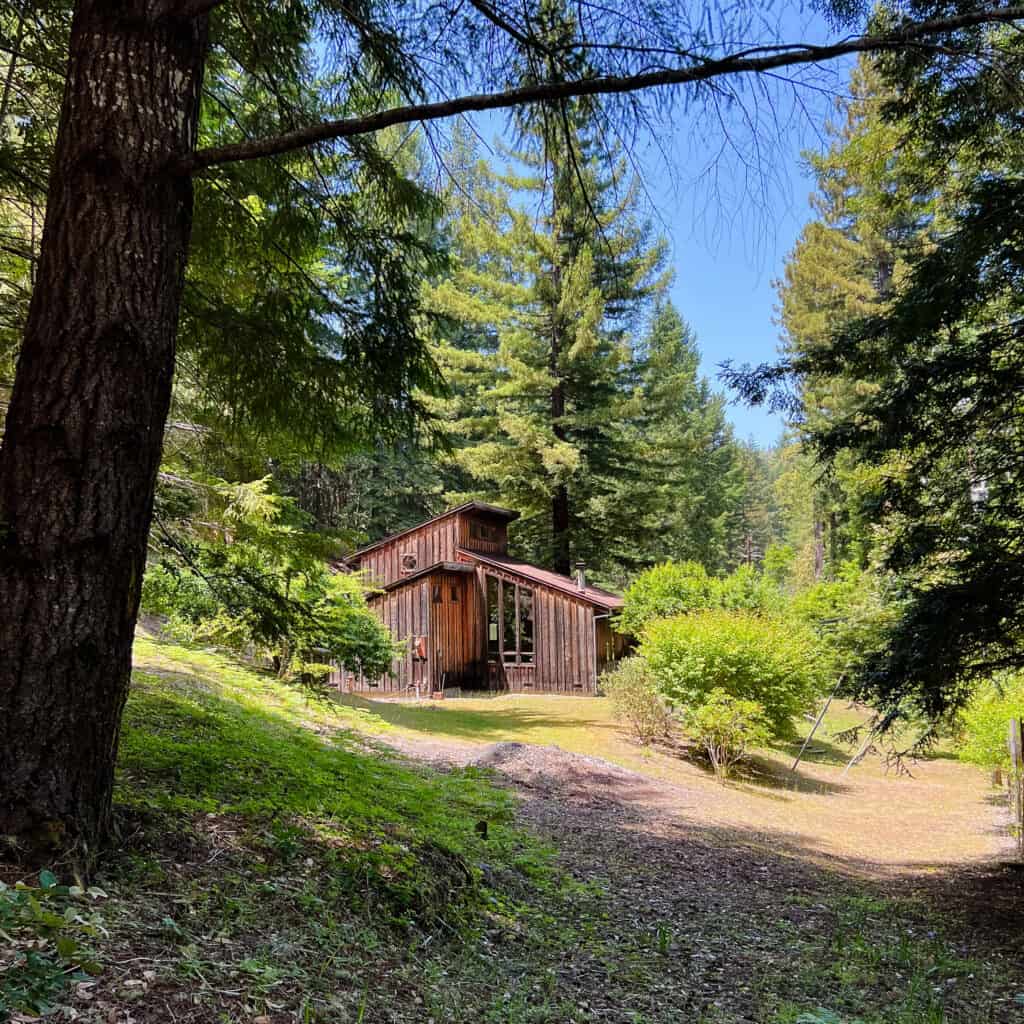 Here's the thing. I wanted it all when it came to this cottage; lots of land, mature landscaping, charm, privacy, and a creek touched by wildlife. Seems impossible, right? Think again. I'm here to say if you're patient, diligent, and work hard enough you too can achieve the impossible dream. Check out my new cozy cabin. I mean those roof peaks are literally perfection that just feels oh so me – a bit vintage and modern all at once.
The cabin is just a short two-hour drive from San Francisco up Highway 1 famous for its breathtaking world-renowned views, and bucolic landscapes. I swear it feels like you are in a romantic comedy on the drive. I'm working on a post to show y'all the drive. It's a whole experience I can't wait to share.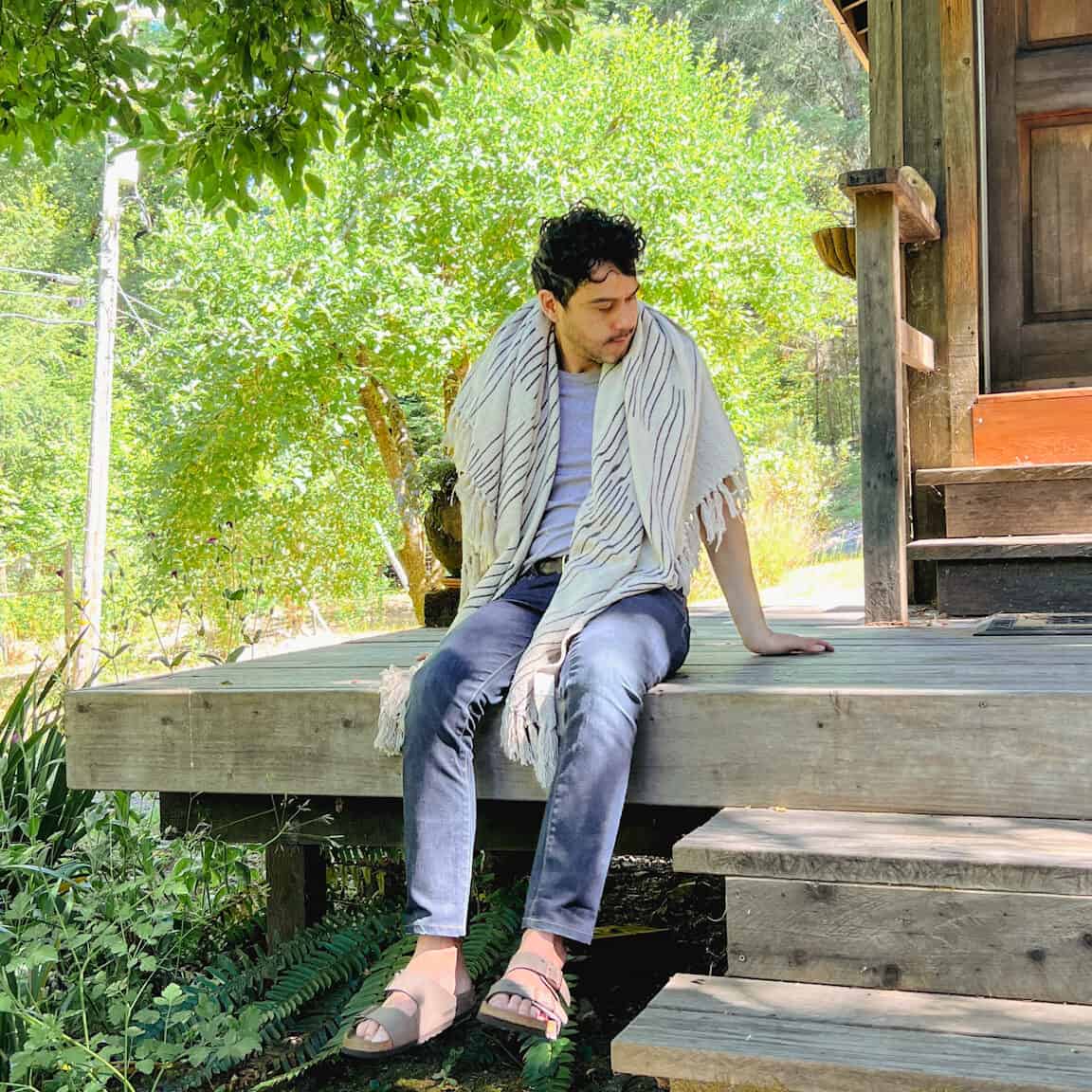 After a winding country road, my new cottage rests nestled on .75 acres of land surrounded by redwood forest, mature landscaping (yes, I have a rose and butterfly gardens) kissed by a creek on the southern corner – it's literally a slice of haven. The build is from 1980 and boasts a wicked cool peaked roof, redwood siding, and a two-story 2/bed 1/bath floor plan. The single bedroom is in a loft upstairs.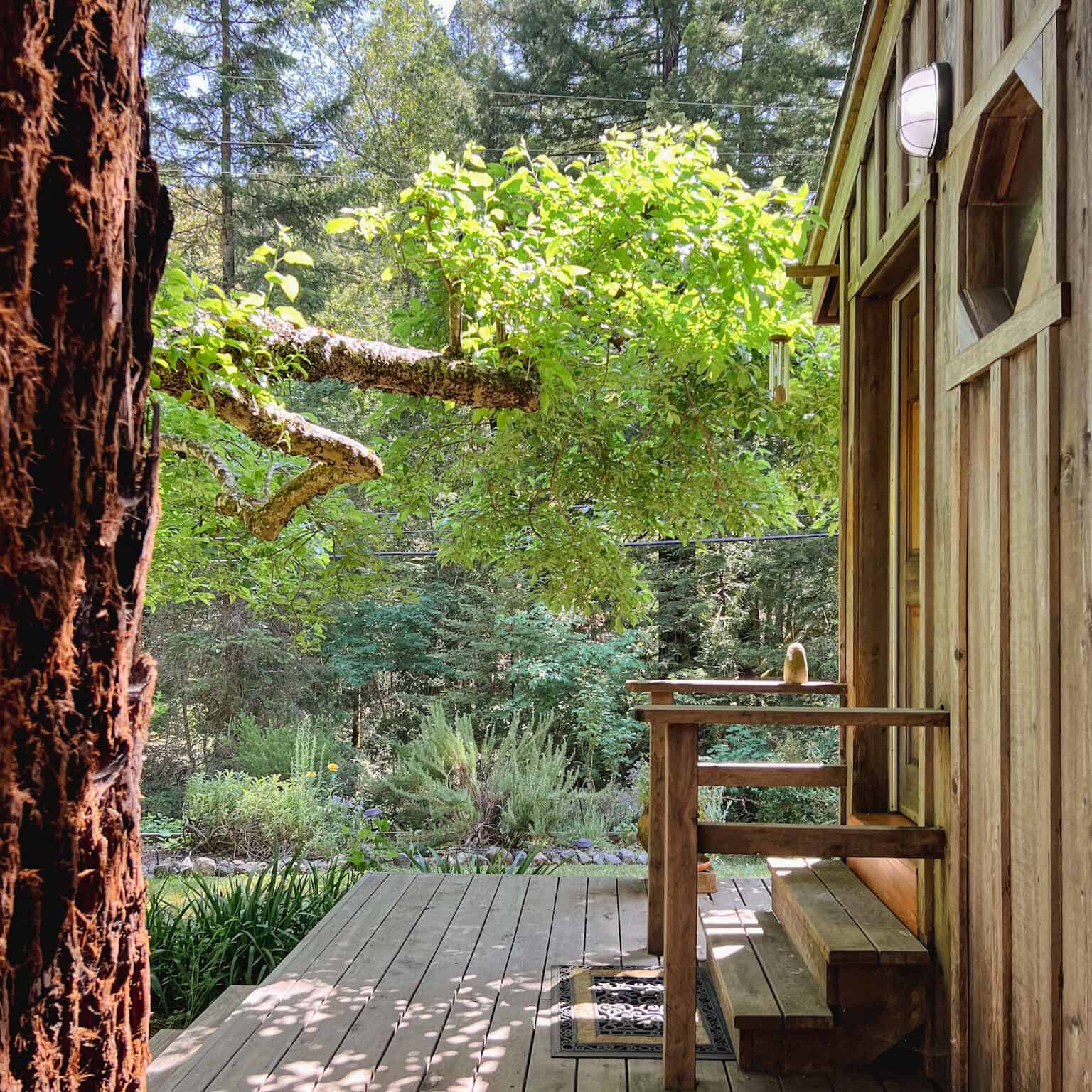 When you walk up to the front door, you are greeted by an ancient redwood tree that is hugged by yet another tree that produces apples – yes apples. Charmed I know! Just peep the pentagon window and wind chime. The delight doesn't stop there. The living room has an inspired wood-burning stove, and huge cathedral windows with ceilings that kiss the sky. I swear it brings the meadow beyond it right into your lap.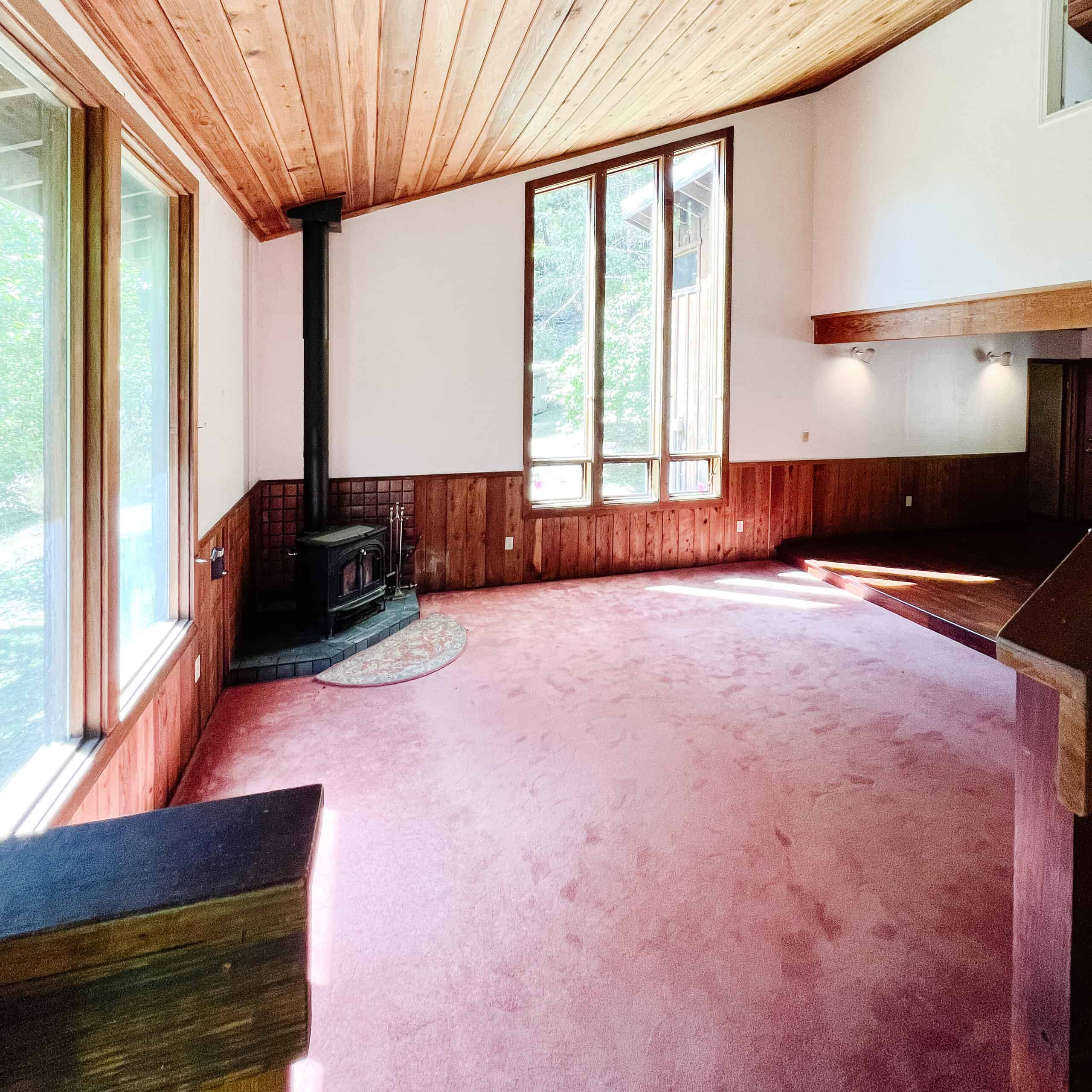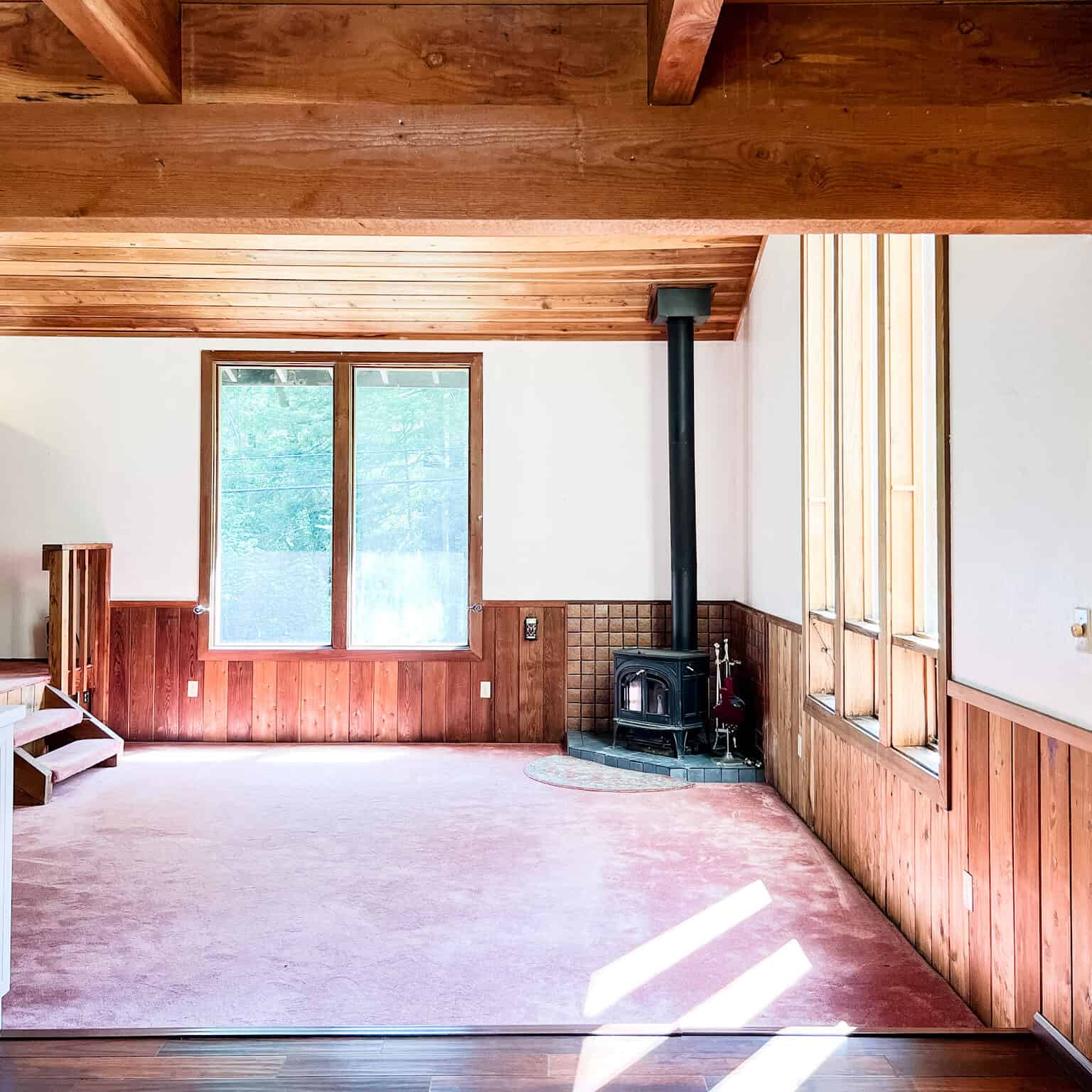 The pink carpet will be the first thing to do. Don't worry – soon to be replaced by reclaimed wood. Not enough? There's a literal library – yes, library. I am already planning for my full Disney Princess moment complete with a vintage library ladder and brass rail. This seems like the perfect place for me to work and draft blogs for y'all don't ya think?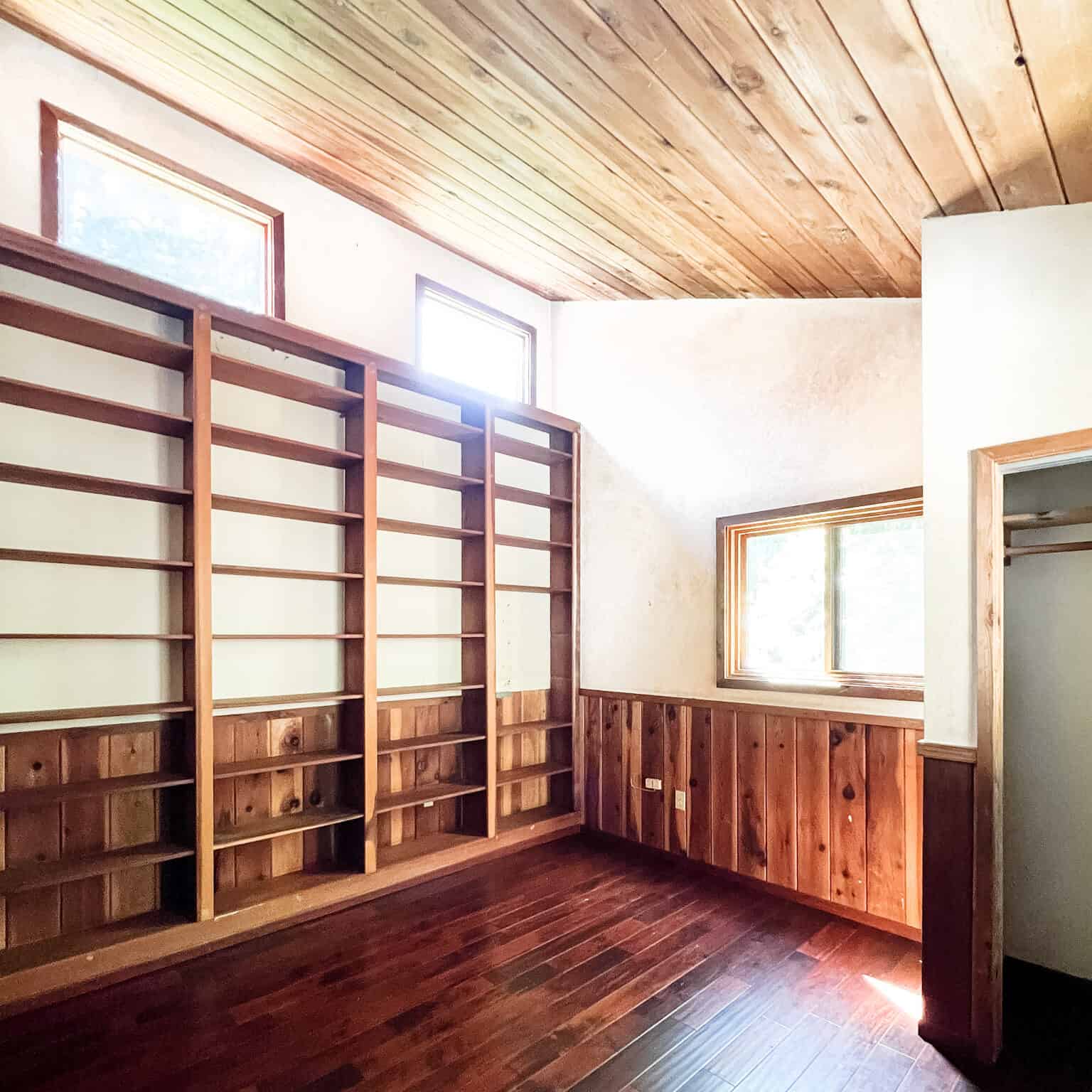 Even better, the property boasts mature apple and cherry trees with flower gardens and raised vegetable beds. Still not enough? How about the detached artist's studio – the previous owner used to restore antique tapestries here. What's not to love?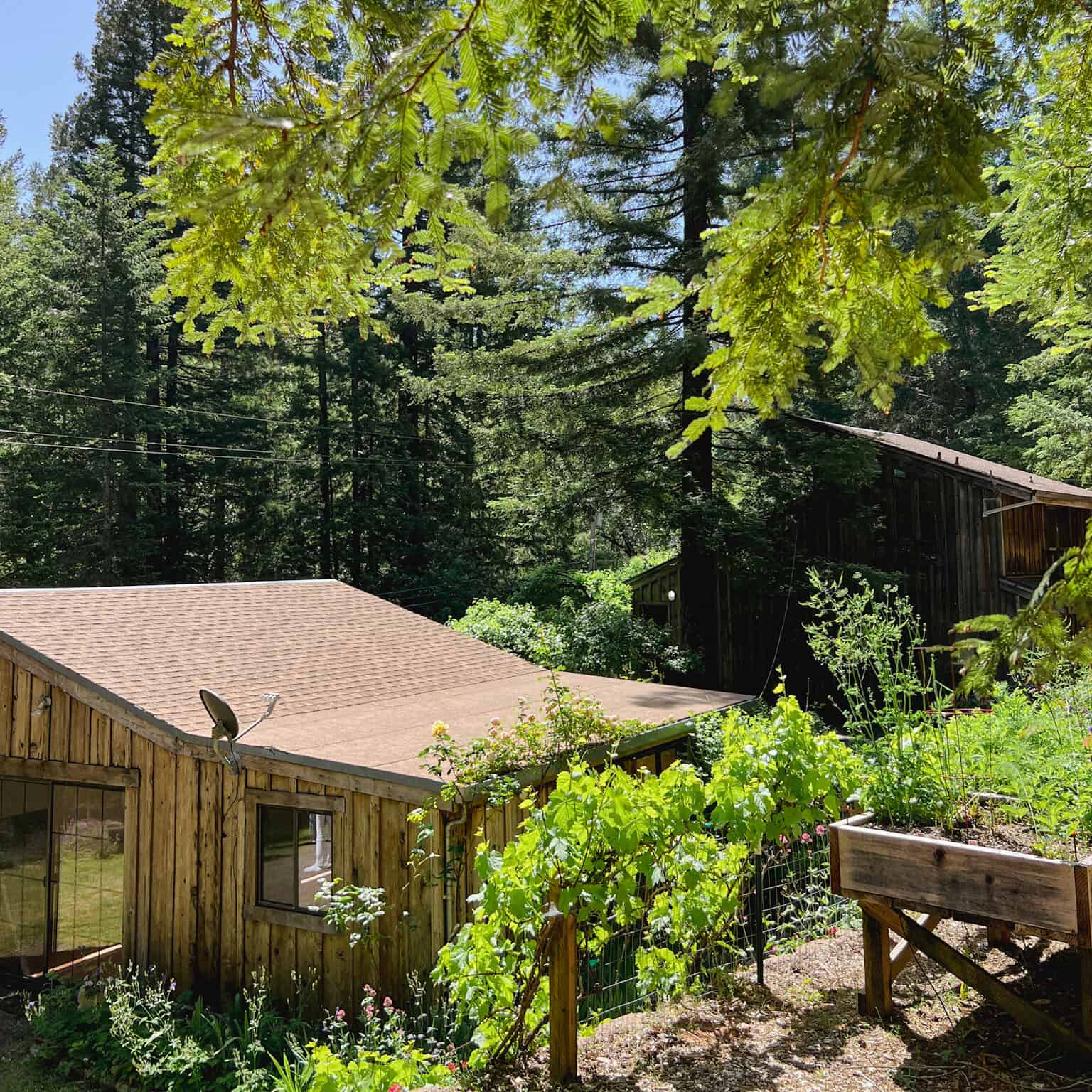 Of course, I have big plans with this specific vibe. You know I can't wait to make this space all my own. Let's just say everything is going to be vintage and thrifted. I want those layered comfy vibes with a china hutch full of mismatched china with vases stuffed full of wildflowers from the garden in every corner. Swoon.
I'm gonna tackle a full gut of the kitchen, bathroom, and living room. I haven't stopped dreaming about the revised floor plan complete with an upstairs bathroom addition, and maybe even one more bedroom. Stay tuned. It's been changing daily – sorry not sorry.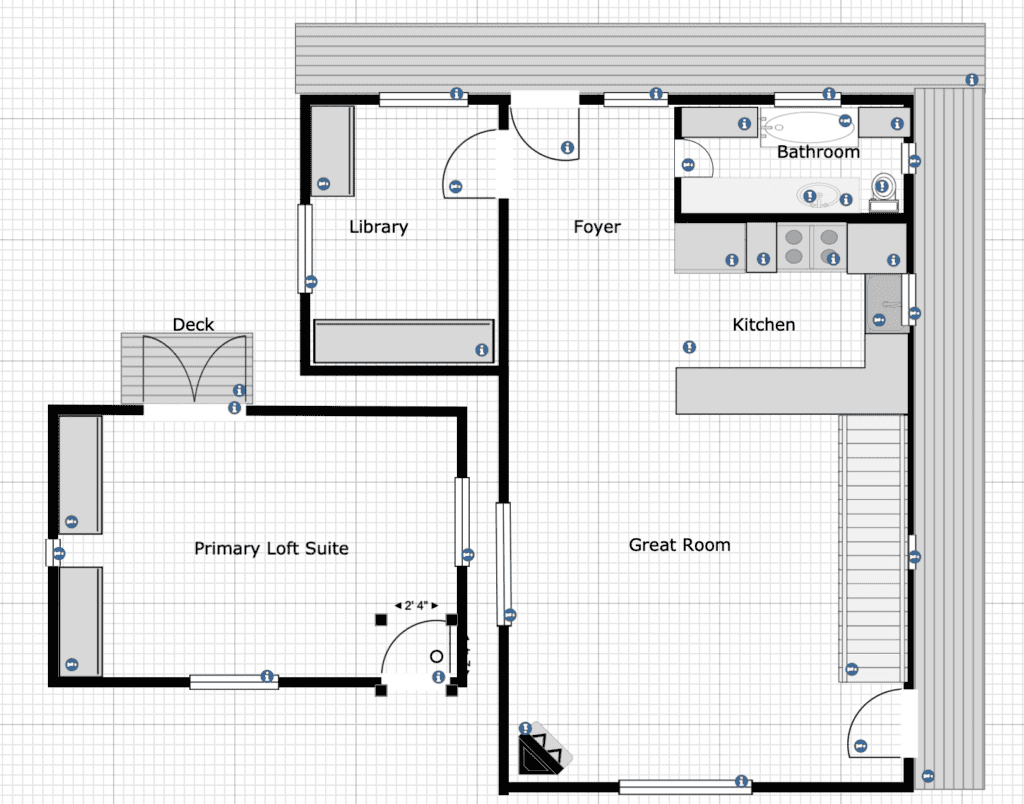 The kitchen does have these incredible beams that I am itching to stain and string a giant brass rail the full length of it. Just wait til you see what I do with it. Let's just say we are hanging dried herbs and brass cookware immediately. There's a pesky step down into the living room, we will level that out first as I want to update the flooring and have bar stools placed up and unto a vintage island. While the kitchen is in good condition, it's not me. Here's the moody kitchen remodel vibe I am going for.
Naturally, a cottage home this remote needs some work. For starters, we must make sure the well is in tip-top shape. No one wants to get poisoned! The home is quenched via a creek well that has a gravity pump that has two 2,500-gallon tanks. Surprisingly it's in pretty good shape, but we at least need a new filtration system and pump.
Cross your fingers. The hard work won't stop there, fumigation is in order, I can't talk about the rodent I found without cringing. It's not too late to turn back now, is it? I kid I kid. But for real. Ick.
The upstairs bedroom boasts more vaulted ceilings and even more cathedral windows. Those peaked roofs really do make a statement on the interior too. What did I do to deserve this? Thankfully there are some gorgeous original pine floors. A little sand and stain will get these in tip-top share too. In addition, this sweet deck is nestled through gorgeous French doors where you can step out and look over the hillside. The deck needs work. But it's a fix we can do.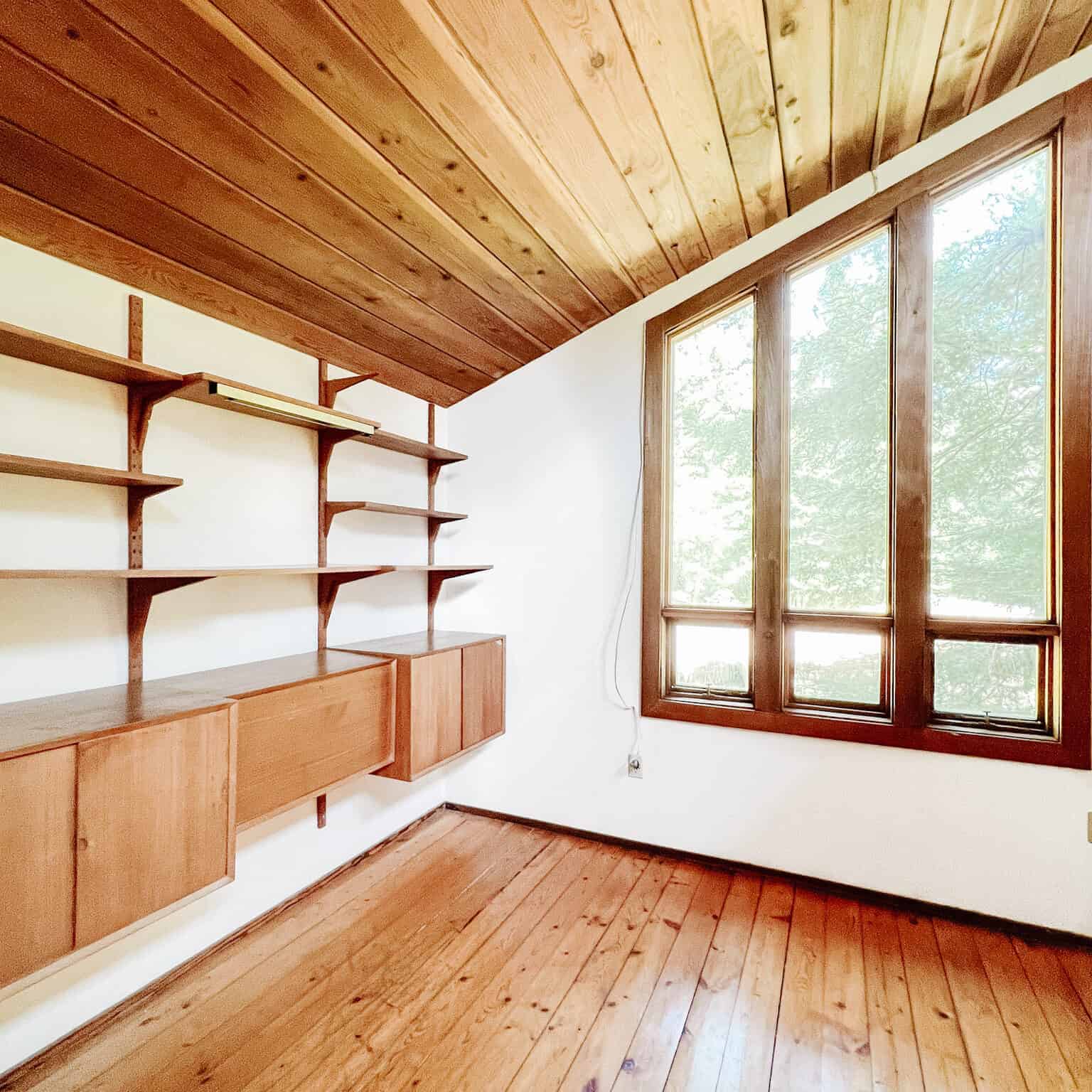 There are a few other big-ticket items before any of the fun begins. We must repair a roof leak – luckily there was a new roof installed in 2010, The septic is draining surely – surely a sign of roots in the pipes. This isn't going to be cheap y'all.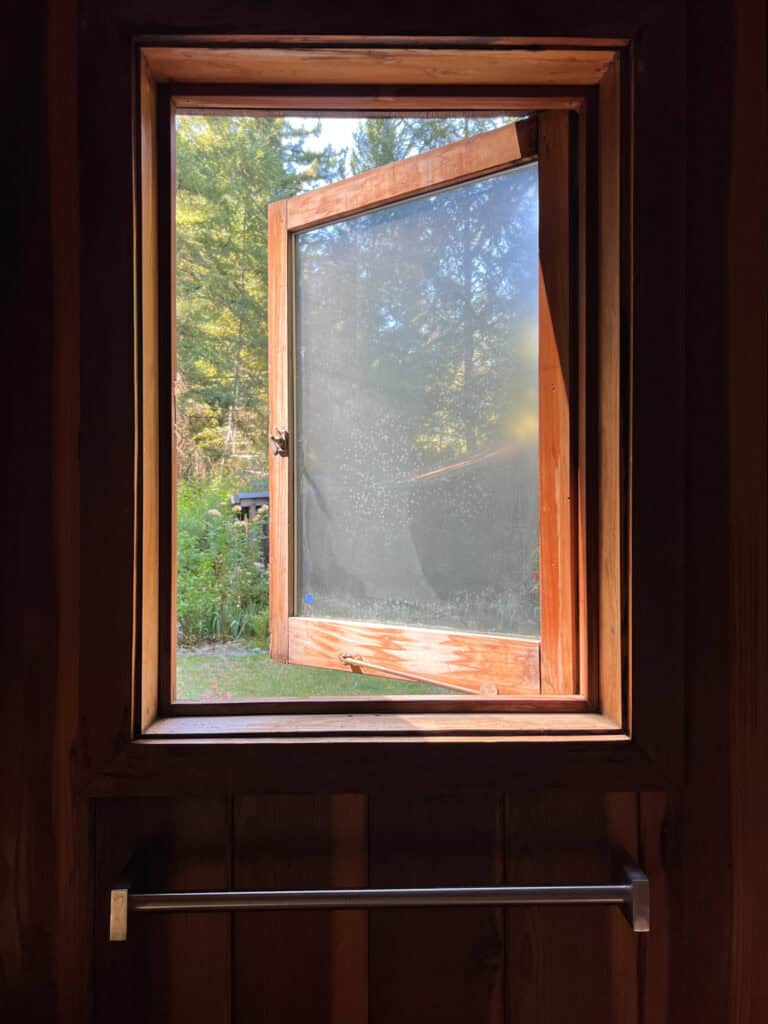 But I'm up for all of it. I hope you are too because I am taking y'all with me whether you like it or not. You can't get rid of me that easily. After all, this is going to be my biggest and most ambitious renovation yet. Just look at this bathroom and decked in original wood windows and 1970's tile. I can't wait to make it magic.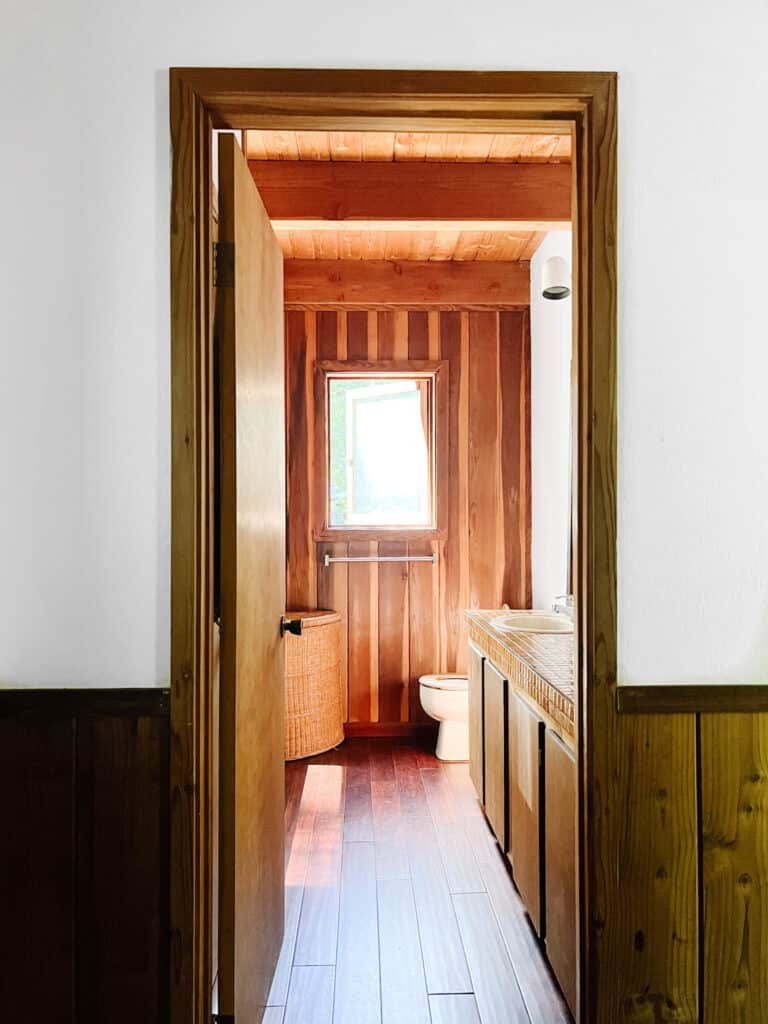 Like always, we are going to do it together while on a budget – one detail at a time. There will be at least a few coats of Chantilly lace white paint and statement wallpaper too.
When it's all said and done, I hope to wake up in my moody cabin, sip my morning coffee and stroll through the rose garden, feeding the chickens (more on that later) and writing blogs from my (soon-to-be) hammock (and library) on the creek.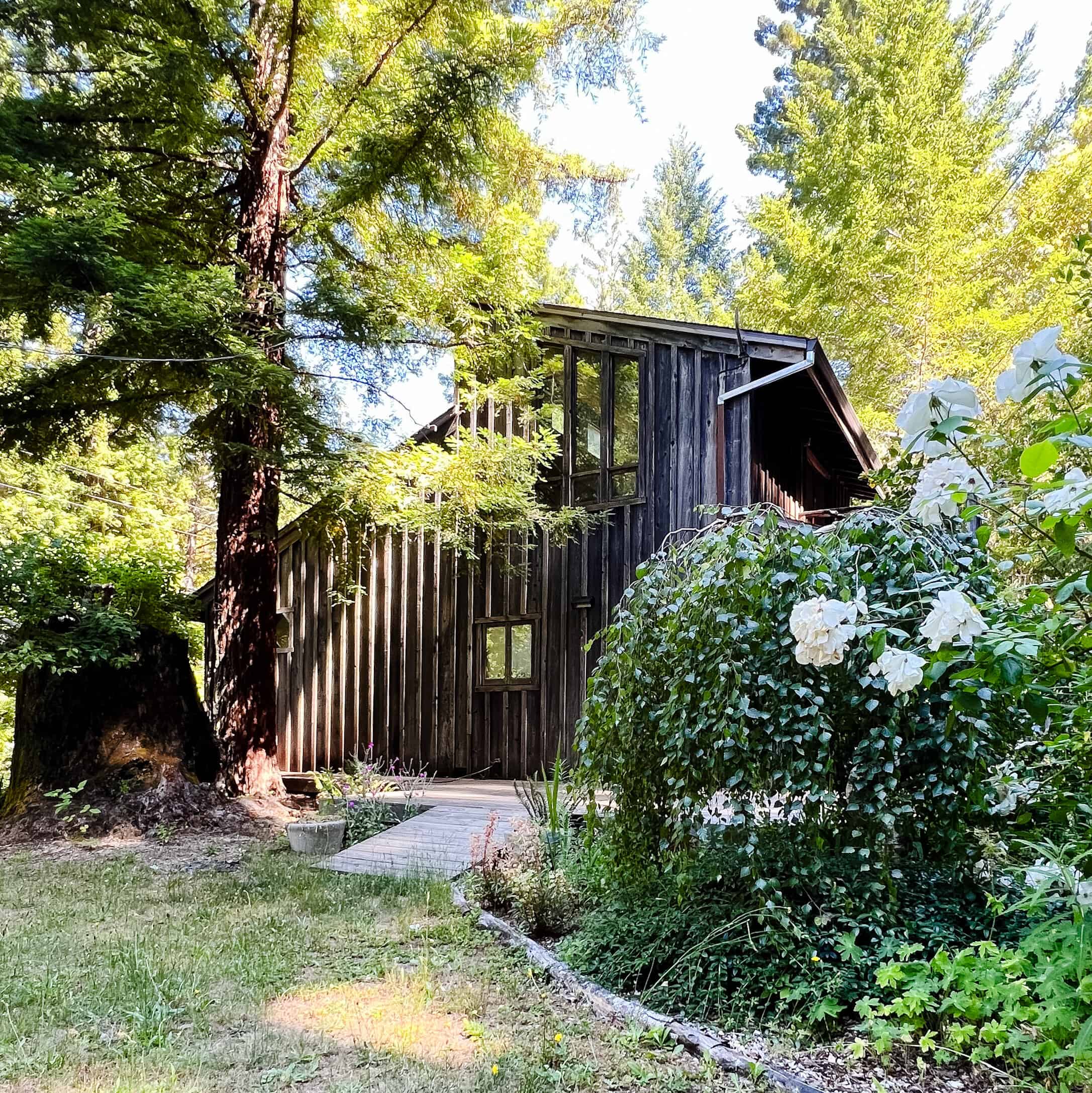 Oh, please say you'll stay for the adventure? Promise? Dreams to come true you guys – thanks for helping me achieve them. Stay tuned for more. It's going to be amazing! xoxo