Good news, a Front Door Replacement is one of the easier DIY projects you can tackle. Yes, it's true. Plus, it's also one of the best ways to instantly improve your home's curb appeal. If you want to make a big impact – with minimal effort this tutorial is for you. Before, we get to work, here's a few things to consider.
An Overview of a DI Front Door Replacement Process
Remove the old door, door trim, and door frame
Install & level the door sill
Set and screw your prehung door
Insulate the door using foam & fiberglass insulation
Apply finishing touches—such as stain or paint—as needed.
Take a Closer Look at Your Current Front Door
The first thing you'll want to do is to determine the complexity of your DIY front door replacement project. Will you need to replace both the door and the door frame, or just the door itself?
Pro tip: Unless you're absolutely in love with your current door frame, I would recommend replacing both at the same time as the tight seal of a pre-hung door will make your life much easier. You can save a bit of money by keeping your old door frame, but it's usually only a minor cost saving and could lead to you having a door frame that lets a draft in. No one wants that! Of course, if you are just restoring or painting your door, and things are in good condition, keep them as is.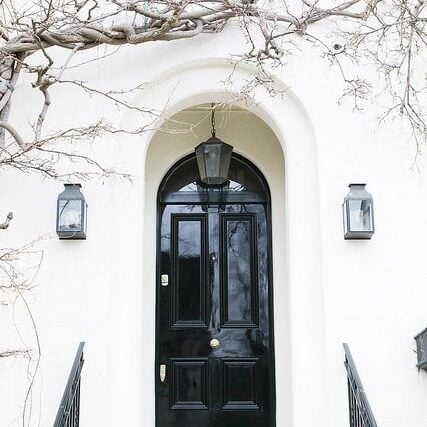 After that, check on the condition of your door itself, the door handle, lockset, weatherstripping, hinge pins, and hinge size. Write down any imperfections on a piece of paper. (WHAT ARE WE LOOKING FOR)
Speaking of door handles here are my favorite brass door handle options.
You'll also want to check the integrity of the current door slab if you're considering going with a slab door. If there's wood rot or any other type of irreparable damage, you won't have a choice: you'll have to go with new hardware!
Grab all the Necessary Measurements for a DIY Front Door Replacement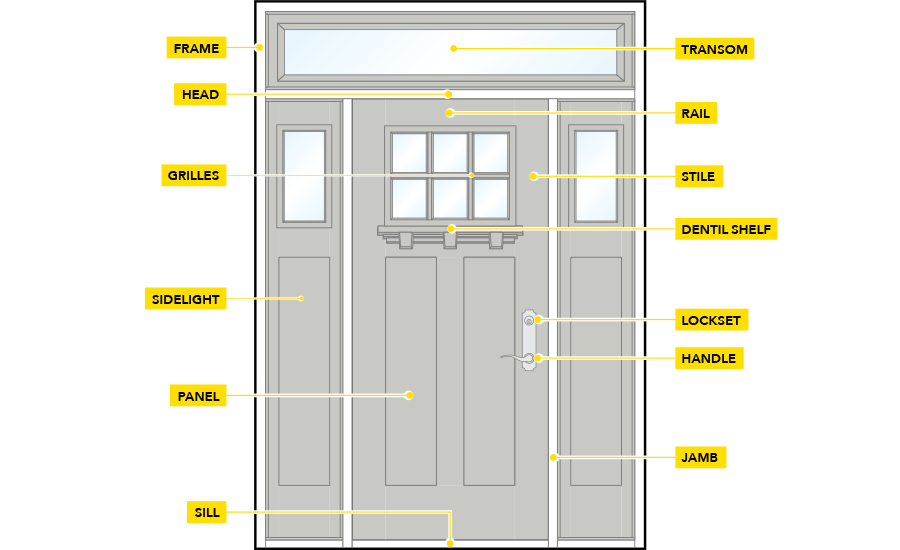 While you're checking everything for wear and tear, you'll also want to write down the measurements of your door. Having the door width, height, and thickness written down will help streamline the shopping process later. Be sure to grab these.
Find the Right Replacement Door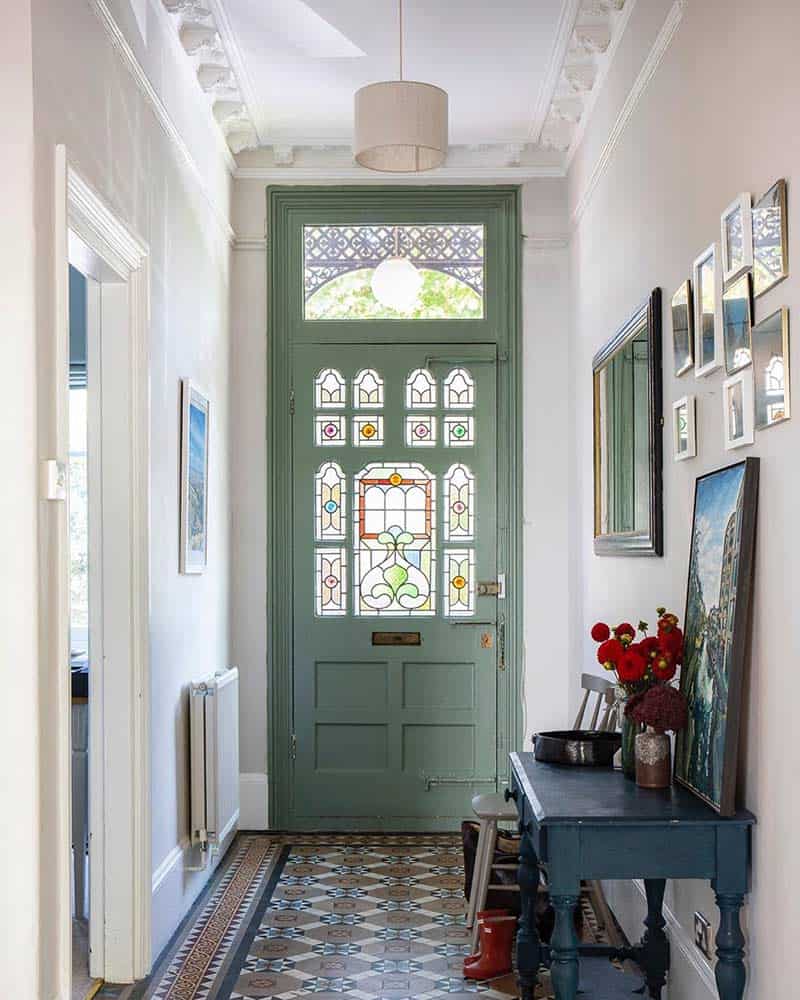 Using the measurements you've written down, start to shop around for the door you're going to use in your DIY front door replacement project. I often shop at Home Depot, but you can also source via salvage yards, and even on Amazon.
Figure Out What Size Door you Need For Your DIY Front Door Replacement
Although there aren't technically standard sizes for exterior doors, most doors will fall into one of the common sizes listed below, which should give you plenty of options to choose from. Check to see if your measurements match the most common options.
Here are four of the most common front door sizes :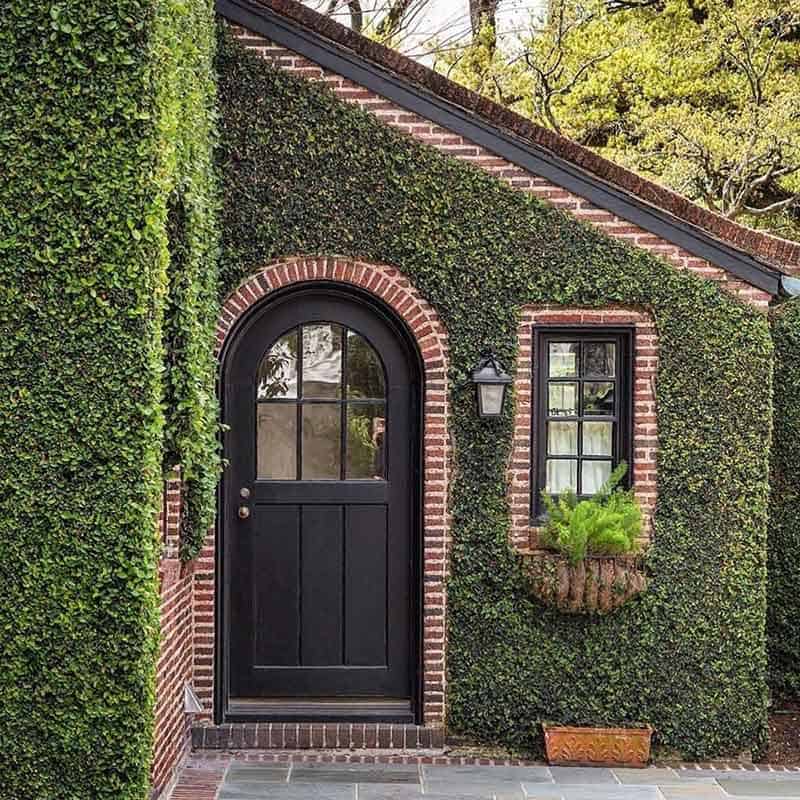 6'8" (height), 3' (width)
7' – 8' (height), 24" – 42" (width)
8' (height), 30" – 32" (width)
1.75" is the standard door thickness for exterior doors. Of course, If using one, make sure that your storm door will also fit on the door frame of your new front door installation.
Curious about other standard door sizes? Click here to learn about the standard sizing of interior doors!
What material is Best DIY Front Door Replacement?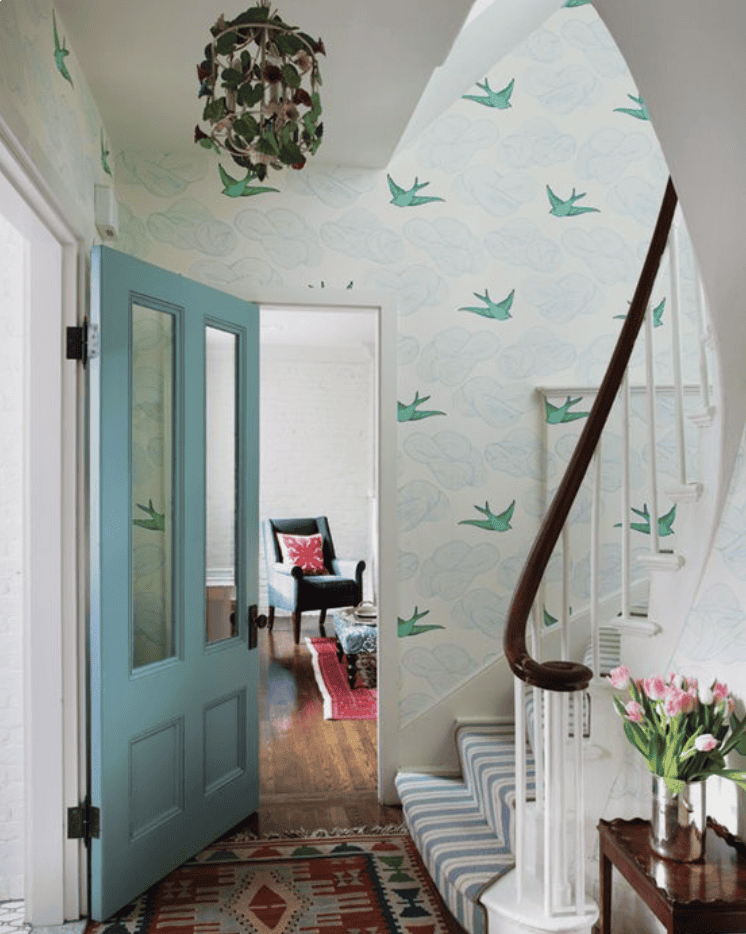 Naturally, dimensions aren't the only thing you'll want to consider. The material of your door is important too. Different materials offer different levels of durability and will require more/less maintenance. The most common options are metal, steel, fiberglass, and wood. Exterior steel doors are the most durable and provide the best defense. Fiberglass doors are slightly less durable but require less maintenance because they don't rust as easily. I prefer wood for its traditional look and think it just "feels," the best, but it does require maintenance and is a bit more costly. A steel or metal door tends to be the most affordable. Remember that the material you choose has a big effect on the cost of your new door. So keep your budget in mind!
How do you want your front door to look?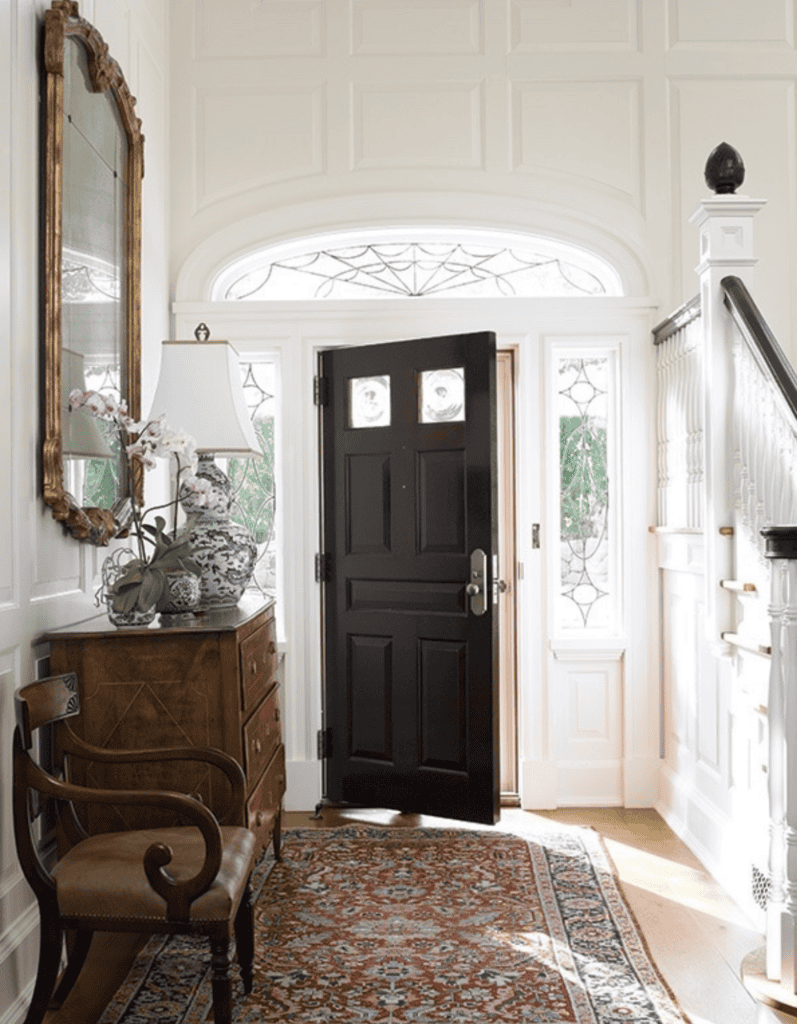 For entry doors, "design" has two levels to consider. The first is the visual effect. Does this new door match the aesthetic of your home? Perhaps you're looking to switch things up. Consider a Dutch door design like I did last year. I am still obsessed with the impact and added light. The most important part is you think about how you want it to look; sleek, rustic, windows, door knockers, etc. Here are some of my favorite door design inspirations to get you started.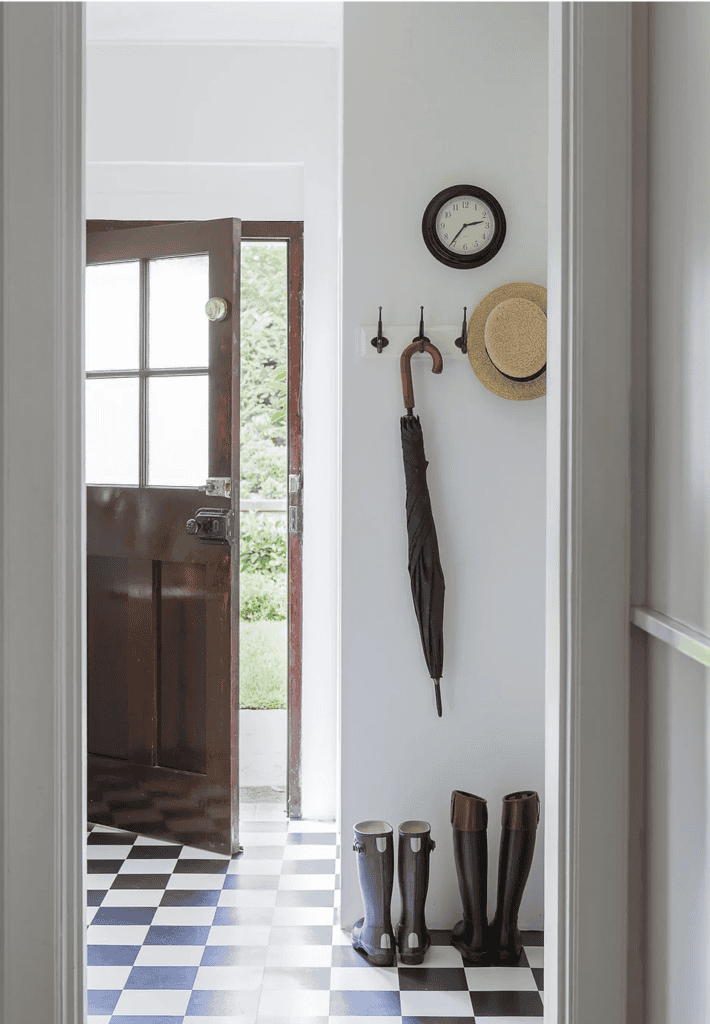 The second design aspect is functionality. You'll want to make sure your door has good insulation/weatherstripping if it's a pre-hung door. Security is also a consideration, making doors with deadbolts, strong locks, and reinforced frames is important.
If your chosen door integrates glass into its design, look for a model that uses Low-E glass. This particular type of glass is designed to reduce energy loss, which will help keep your electric bill lower. Grab your new door, with the proper measurements, and aesthetic then it's time to get the work.
Grab Your DIY Front Door Replacement Tools and Materials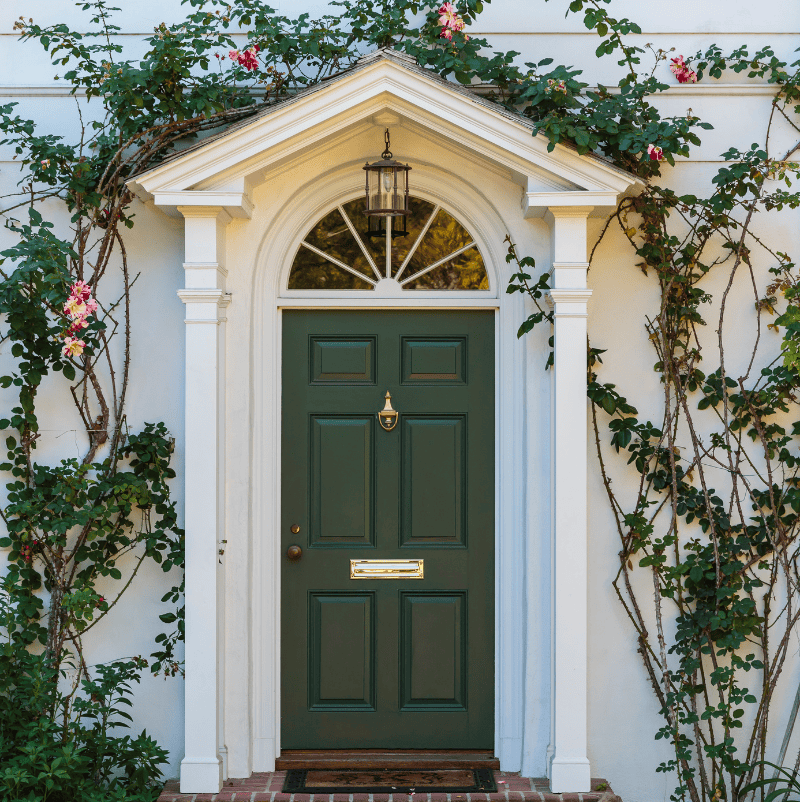 Once you have your new exterior door in hand (or while you're waiting for it), you'll need to gather the right tools for the job. Depending on which type of DIY front door replacement, the special tools you'll need will vary.
To replace the door only, you'll need the following items…
Utility knife
Chisel
Hammer/nail gun
Pry bar
Screwdriver/drill
Measuring tape
Hardware (screws, nails, hinges, handles, locks, door knocker)
Your choice of door
To replace both the door and the frame, you may also need the following items…
*The exact items needed will vary depending on your particular door, the included hardware, and how you choose to install it. If ordering from a big box store be sure to consult your sales associate.
Remove Your Old Door and Frame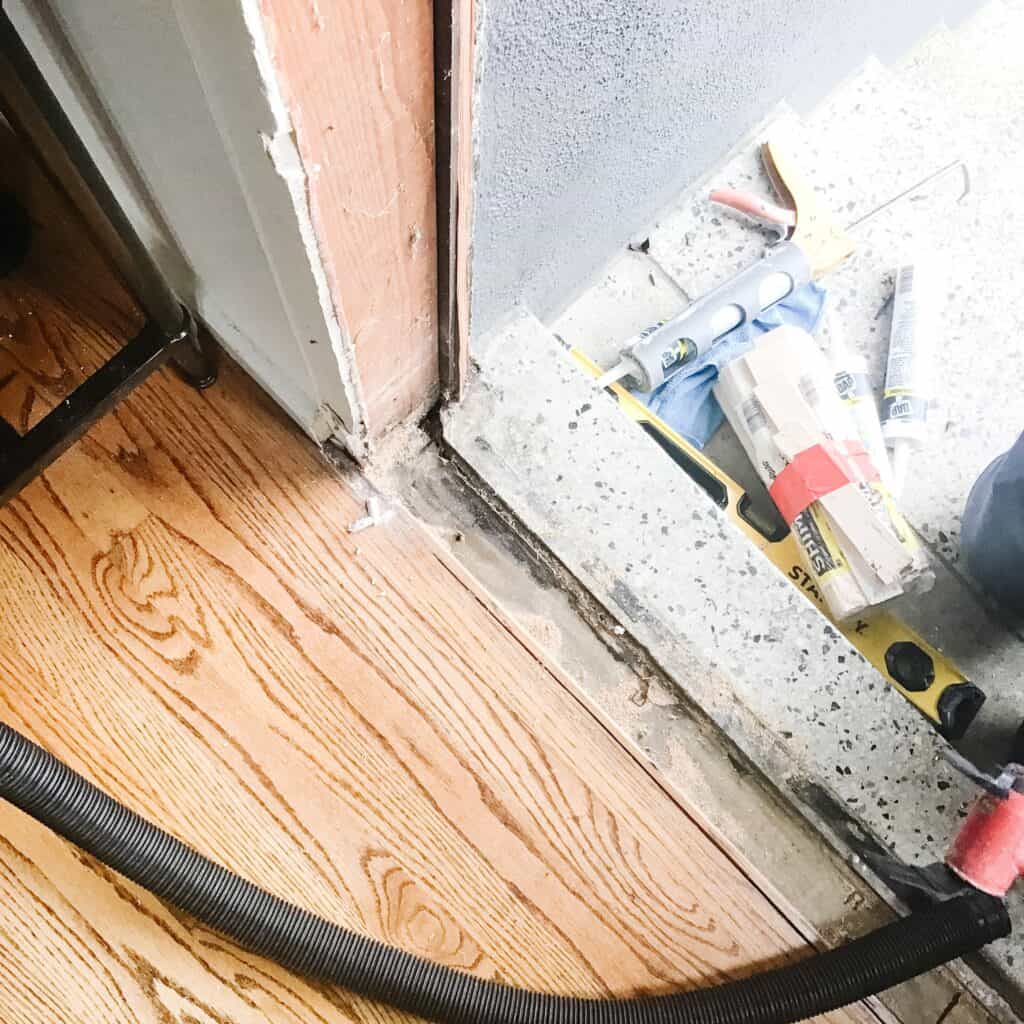 If replacing both the door and the frame, you can start by using your chisel and hammer to pry the door hinges out until you can lift the old door from the hinges. Remove it and set it aside.
If you're planning on reusing the frame during your DIY front door replacement, you can simply detach your current door from the pre-existing hardware like the hinges. Attach your new slab door to the pre-existing hardware and make sure the door swings as it should.
I recommend placing door shims below the door (on top of the sill) while doing this to prevent damaging the hinges while removing them.
To remove the frame, cut through the interior trim caulking using a utility knife then use a try bar to separate the trim from the frame. Use this same method on the exterior trim, then remove the door jamb using your pry bar.
Install Your New Door and Frame
Next, you'll need to install the sill plate. This is a good time to install a drip cap, which will help protect the sill from moisture. When installing the sill, you'll want to use shims and make sure the sill is level before using caulking to attach it.
The sill should be right above the floor surface, with enough clearance to ensure the bottom of the door won't scrape while opening/closing.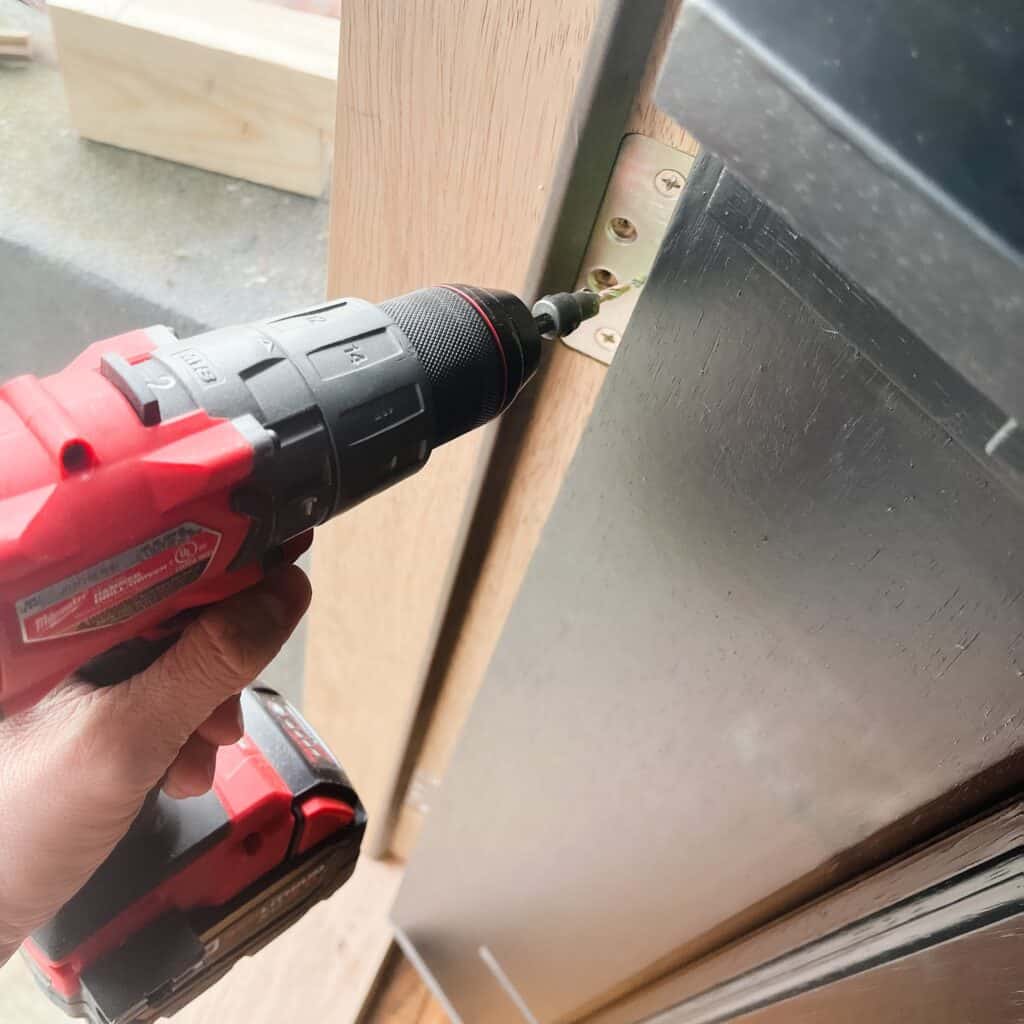 At this point, you should test with the door frame, sliding it into place and ensuring the door won't scrape. If anything doesn't fit within the rough opening, make adjustments as needed with a sander.
Note: leave the retaining brackets on the door while testing.
Once you've made sure that your door will fit, apply caulking to the sides and top of the opening before sliding your door frame in place. Use shims to position the frame, and ensure your frame is both level and centered before loosely securing it in place with galvanized nails.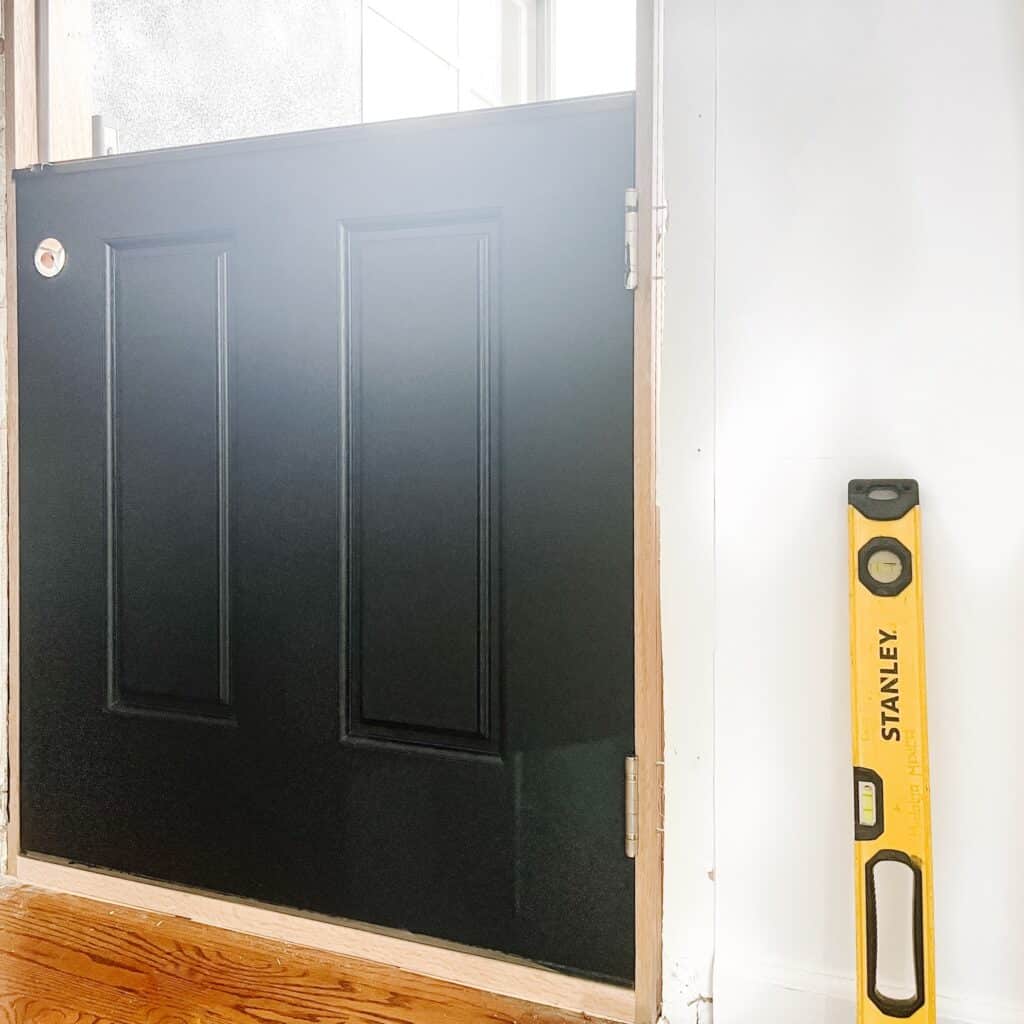 After the door's been secured, re-check that everything's in good shape and add additional shims as needed. You'll need to do this on both the hinge and latch side of the door. Cut off any extra shim material that hangs out.
Finish securing the door by drilling 3-inch screws into the door hinges. You'll also want to drill into each shim and around the inside of the door frame. Every screw should be placed 16 inches apart.
Insulation & Finishing Touches
With that out of the way, you can move on to the insulation process. Use foam insulation to fill the space between the framing and the doorjamb from the inside. You can add fiberglass insulation once the foam has dried. Cover this with your interior trim.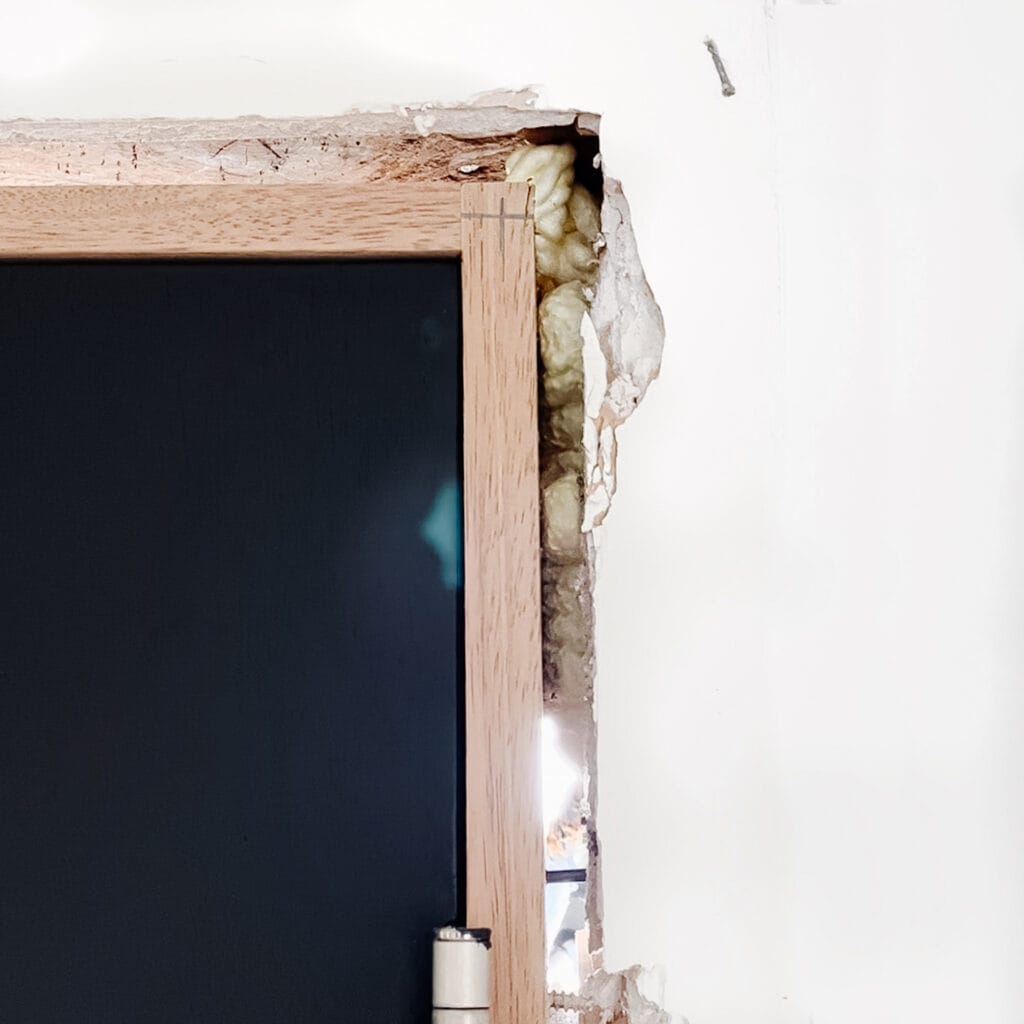 Next, head outside of the door and add caulking between your door trim and the siding. You'll lastly need to affix the strike plate to the door jamb and install your doorknob/lock.
Congratulations, your DIY front door replacement is complete!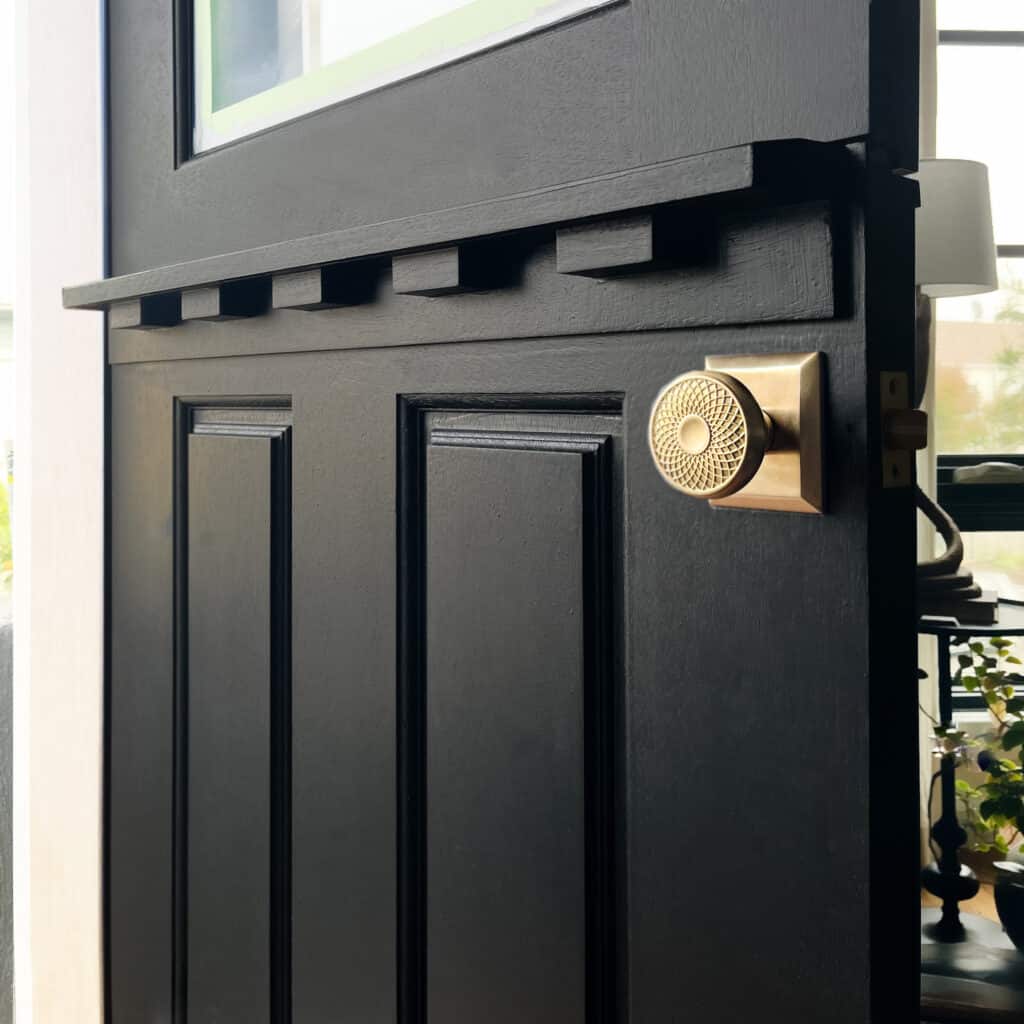 Commonly Ask Questions on How to Complete a DIY Front Door Replacement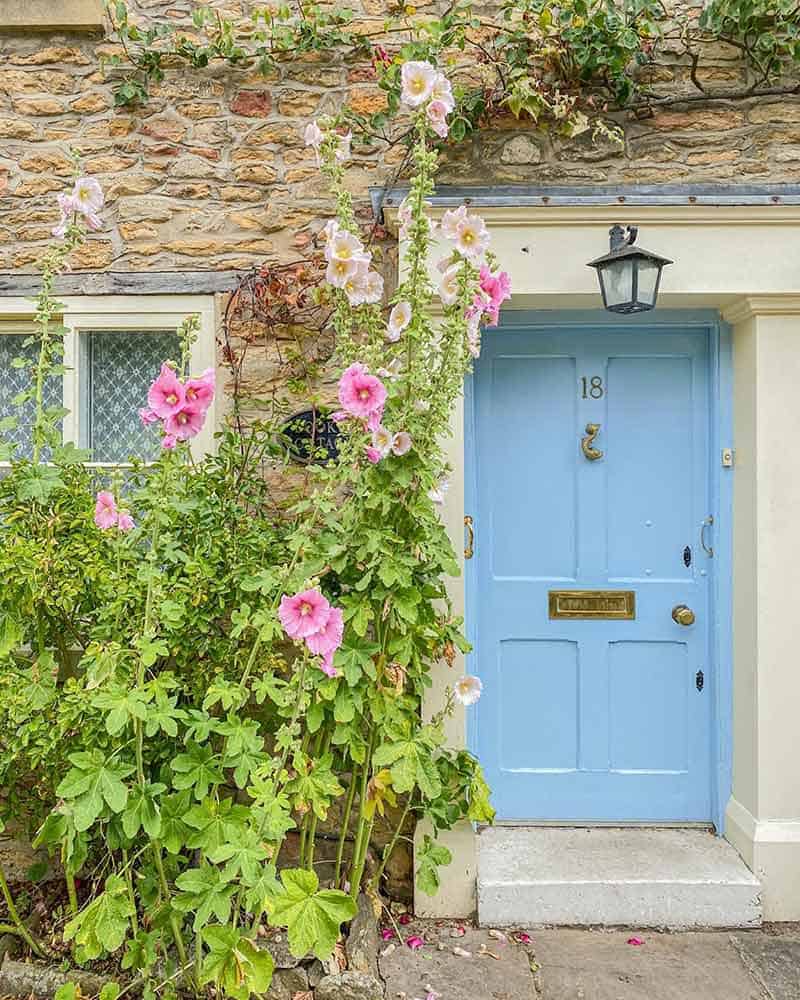 Can I replace an exterior door without replacing the frame?
You sure can, so long as your old door frame is in good condition. However, if it's cracked, warped, or suffering from wood rot, then you'll need to replace the frame as well.
Can I replace my front door without removing the frame?
Yup! However, you will want to make absolutely sure that your door is placed correctly before securing it in the pre-existing frame.
Is it better to replace door or Prehung door?
Prehung doors are generally the preferred option for exterior doors. Although slightly more expensive, they have the benefit of already being weather-tight. If you decide to simply replace the door then whether or not your door is truly weatherproof will come down to your installation skills!
Can you buy front door that is not Prehung?
Yes. Known as "slab doors", these doors are cheaper than their pre-hung alternatives. When installing them, you'll need to first ensure that your door is creating a weather-tight seal in the doorway, then install the door knob.
Is it cheaper to buy a Prehung door?
Usually, a prehung door will be more expensive than a slab door. However, whether or not this is true if your particular situation will depend on a variety of factors.
If you need to purchase or fix the existing door frame, this will raise costs. Of course, installing a prehung door yourself is likely to be cheaper than having a professional install a slab door!
Anyone Can Complete a DIY Front Door Replacement Project!
Well, that pretty much covers the process of completing a DIY front door replacement! As you can see, the project itself isn't too complicated.
In fact, even a single person—without help—can install a new door in just a single afternoon (although the process will be much easier with an assistant!
Whether your own door is in a state of disrepair or you simply want to update the look, replacing your door is a great project to take on. Besides looking amazing, you also benefit from increased weather resistance, improved home security, and possibly even a lower electric bill. Trust me guys, it's worth it!
If you're looking to make your doorway a bit more "you" then getting a custom slab door may be worthwhile. However, in general, I'd recommend going the easy way and using a prehung door. You can always optimize the look later on by painting your door, or installing something special (like this vintage door knocker)!
So, did you learn anything new? If so, let me know in the comments (I love to hear from you guys!). As always, thanks for reading. Until next time xoxo