How much does it cost to remodel a 5×7 bathroom? If you've been considering a bathroom remodel, you've probably asked this question yourself. I know I did when I started my primary suite bathroom renovation three years ago.
If you've read any of my previous bathroom decor and design posts, you might already know that the total cost depends on many different factors including; labor costs, size, materials, location, and permit fees.
You may also have additional project fees associated with updating the bathroom itself like painting the door or upgrading your door hardware etc. that aren't directly related to improving the bathroom itself but will contribute to the overall project.
But don't worry. This guide should give you a good rule of thumb, or general idea of what it takes to remodel a small bathroom – as I did. I sure wish I had someone tell me these things when I started.
Of course, you can save a ton by doing the work yourself as opposed to hiring a general contractor or interior design service. I did a bit of it both given I have the skills. With so many variables, sometimes hiring out is best – I go over both costs here.
Let's dive in and answer "How much does it cost to remodel a 5×7 bathroom?"
How much does it cost to remodel a 5×7 bathroom?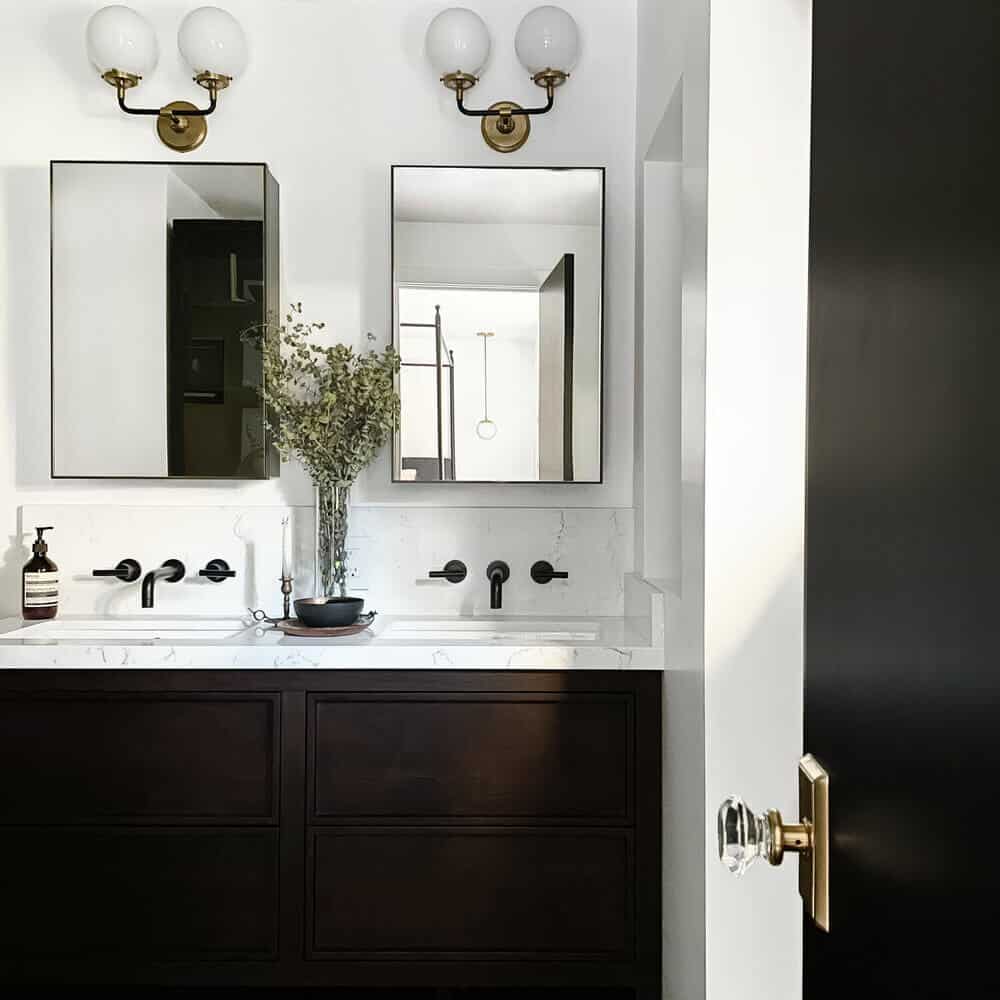 The national average to remodel a small bathroom ( 5 x 7 guest bathroom) is around $6,500. Even a small area with only 35 square feet of space can add up. Of course, this varies by region, but generally, you'll see a nationwide price range of $4,200 to $9,600.
I spent almost $10,000 on my bathroom renovation. with a few fancy splurges like my stunning Mcgee and Co. brass scones.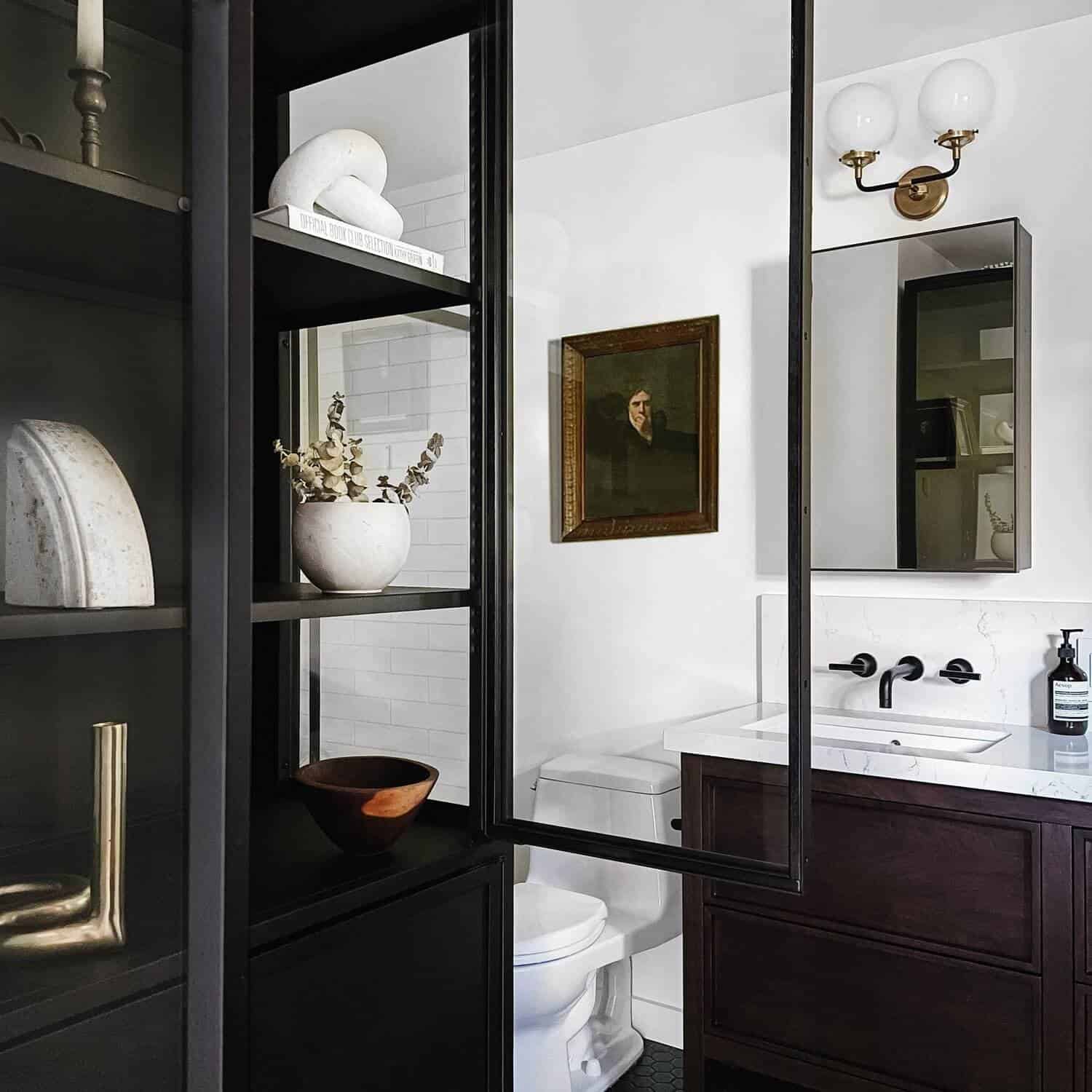 There are four main expense categories you'll have to think about when trying to figure out your total budget. These stay the same and are fairly consistent with any type of bathroom renovation, whether you're just doing a simple shower makeover or renovating the entire bathroom.
The Four Categories
Materials – This category covers any and all materials you'll need for the project, such as faucets, pipes, toilets, sinks, floor tile, paint, towel bars etc. You should also include any other additions you plan on adding to the room—such as this luxury shower curtain— or shower system when trying to calculate this category. If you're planning on doing the renovations yourself, you may even need to buy new tools for this project.
Permits – Generally speaking, you won't need a permit for surface-level cosmetic renovations like installing ceramic tile. However, any type of structural, plumbing or electrical work will almost certainly require a permit. Check with your local government to see how much this will cost.
Pro tip: Are you having the work completed by a contractor? The cost of the permits is often included in their quotes. Be sure to ask and confirm that they cover the inspection work too.
Labor – This category generally includes only contractor and specialist work, but could also include the price of an interior designer (should you choose to enlist one). Don't just go with the first quote you're given. You should always shop around to find the perfect balance of quality and value. I insist on at least 3 quotes and only go with a contractor or sub that I can get a reference from.
Additional Expenses – This category encompasses all unforeseen and unexpected expenses. For example, while your bathtub could look fine on the exterior, the support underneath the floor could have water damage, which would need to be addressed! Even if you think everything will go right, it's always best to be prepared for when something goes wrong. Whatever quote you get. Be sure to consider a 15% overage on both time and price.
Some considerations about remodeling all at once or taking a phased approach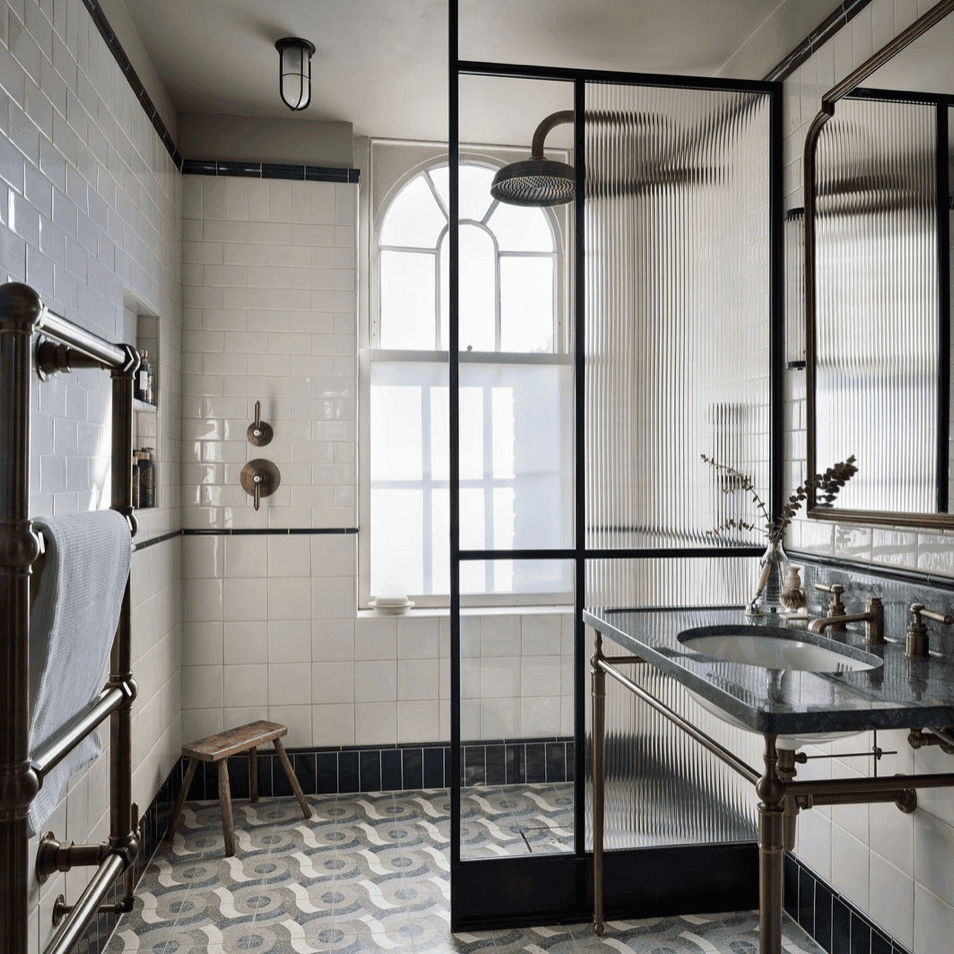 As we already knew, "how much does it cost to remodel a 5×7 bathroom?" is a pretty complex question. To help you try and get a clearer answer, it's a good idea to consider the project as a whole before you begin renovating.
The best way to do this is by first identifying the main focus(es) of your small bathroom remodel. This can be focusing on new tiles, replacing your fixtures, swapping out a mirror, or the floors. Really think about what you want to do – because it will prevent having to redo things later and be able to plan ahead so installs go smoothly. For example, if you are going to move the placement of your shower, you gotta do plumbing and permits first. Don't Do your wall title before that etc. Once you've determined the scope, and laid out an order of operations you can move on to the additional fun tasks like side renovations and purchasing bathroom soap holders and accessories. Don't forget to measure before you buy!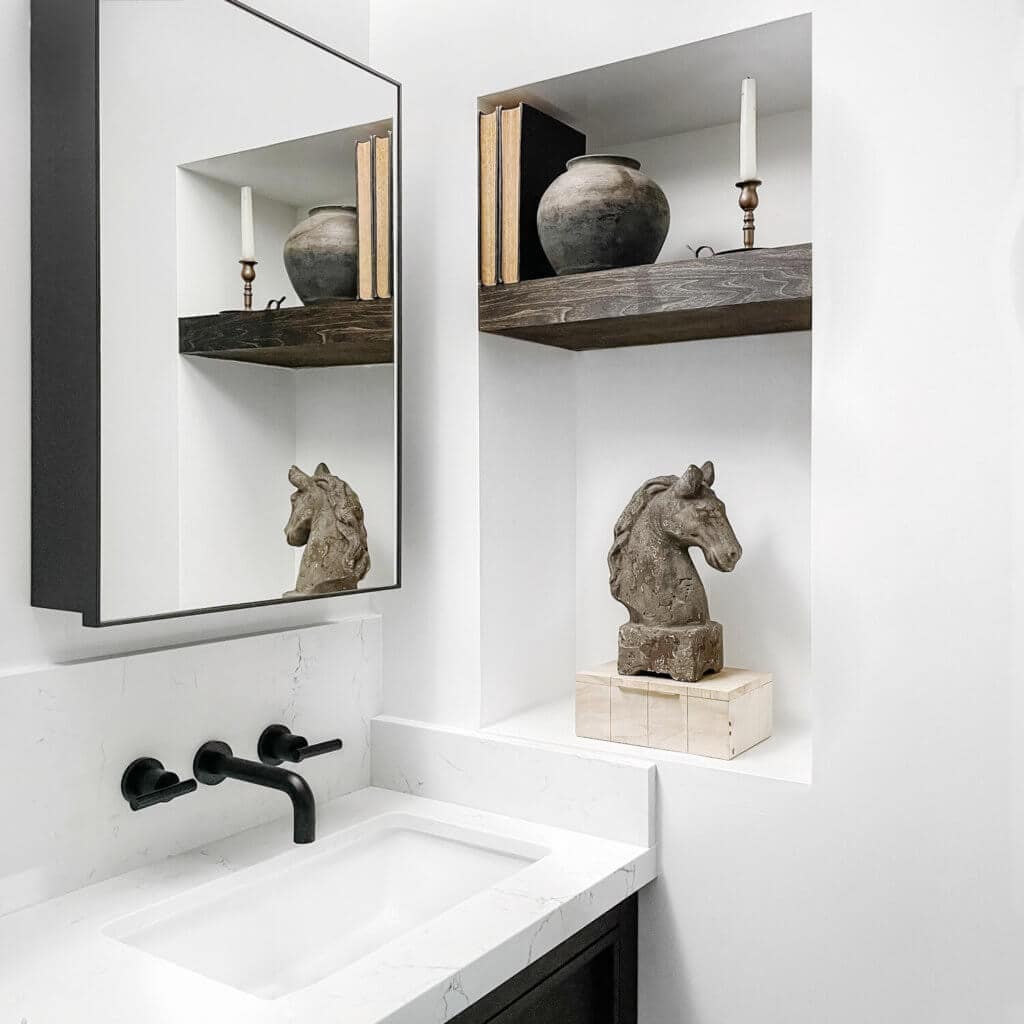 Lots of people want to redo their entire bathroom, but often the upfront cost of such a large project is too high. As such sometimes it's a good idea to split things up into smaller phases. I support this! It's my personal experience, that it's best to have a big plan for how to address everything ahead of time, and if you want to phase things out you can. This helps to avoid mistakes and redos down the road.
It's fun to replace everything—from the tiles and the paint to the tub and new fixtures—but don't be afraid to simply upgrade your tile or fixtures if you want a big change on a tight budget. If you're unsure where to start, check out my article on styling tips for ideas and inspiration.
Common areas to remodel in a bathroom
Okay, now that we have our general ideas and a big punch list of things we want to improve with some thought about the right order to do them in. It's time to sort out all the things we can remodel and decide how much does it cost to remodel a 5×7 bathroom.
Fortunately, you probably won't need to replace everything in the room. Compare the idea of your finished bathroom to your current one. You'll need to figure out exactly what needs to be replaced. Do you need a new shower makeover? A new sink? Different tiles?
Think about the things that can stay, or be modified to align with your vision. For example, let's say you like the design of your current vanity cabinets, but you want a different color. You can save money by resurfacing your cabinets, rather than completely replacing them. Don't love your mirror? Simply swap it out. These things make a big difference.
Some items such as towel bars are also affordable so it just makes more sense to replace them, rather than trying to make them work. If you do happen to be looking for an upgrade, here's a beautiful towel bar that I recommend. Other items—like light fixtures/sconces—may be a bit more pricey to place.
Bathroom Remodel areas to consider:
Shower
Sink
Vanity
Floors
Tile
Lighting
Towel and hanging systems
Faucets
Shower System
Toilet
Medicine Cabinets
Ventilation
Window
Electrical
Lighting
Sewer connection
The biggest costs will come from wanting to move locations of plumbing, installing new showers, replacing wall and floor tile, or installing new faucets. In addition, installing new electrical. But the good news while these things add up – bathrooms can be some of the more affordable places to upgrade. Just go for it!
Be sure to look at how everything plays together. Here are my pro tips for how to design a space. Chances are, you'll have items that need to be paired perfectly with your new renovations, such as the shower door. If you're upgrading from a tub-shower combo to a walk-in shower, making sure everything feels cohesive is important for a designer look. Here's a great bathroom mood board I created to get my bathroom look for less. Want more inspiration? Here are some of my favorite bathrooms on the web.
How much does it cost to take the DIY approach?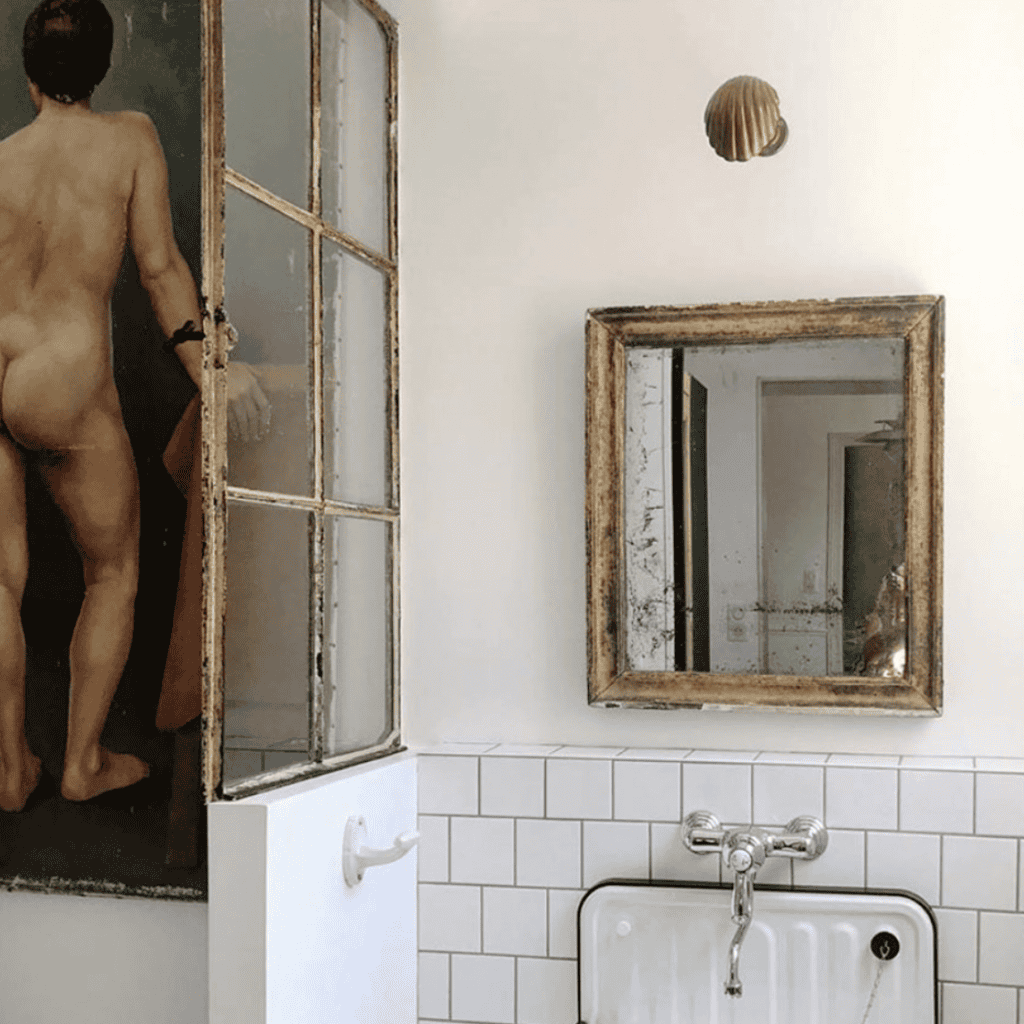 We've gone over all the various expenses you'll need to consider, as well as the typical cost of renovating smaller bathroom. It will definitely make a big impact on your new bathroom, but it can also make a big impact on your wallet!
By now, you're probably wondering " how much does it cost to remodel a 5×7 bathroom if I do the work myself?" You're not wrong to think that: with average labor rates running from $50 to $75 per hour, doing the work yourself can certainly help lower the cost of your remodeling project.
That said, you'll be the one responsible for all of the work on your home improvement project. Not only will you have to source the materials and appropriate permits yourself, but you'll also be the one tasked with fixing any complications that come up. This is okay though, you just want to be extra thoughtful on your approach.
If you do decide to do it yourself, make sure you have all of the required tools (such as a hammer, caulk, plumbing wrenches, grout, etc.) on hand.
Having to buy additional tools can also cut into the amount of money you're saving by doing it yourself. Some people forget this. Compare the amount of money you'll need to spend on tools to the hourly labor rates you'll be saving to see if it's worth the hassle.
Even if it seems to be, whether you should take the DIY approach or the contractor approach ultimately depends on the complexity of the project. While retiling your floor is a relatively straightforward job, redoing your entire plumbing system is not. Just something to keep in mind!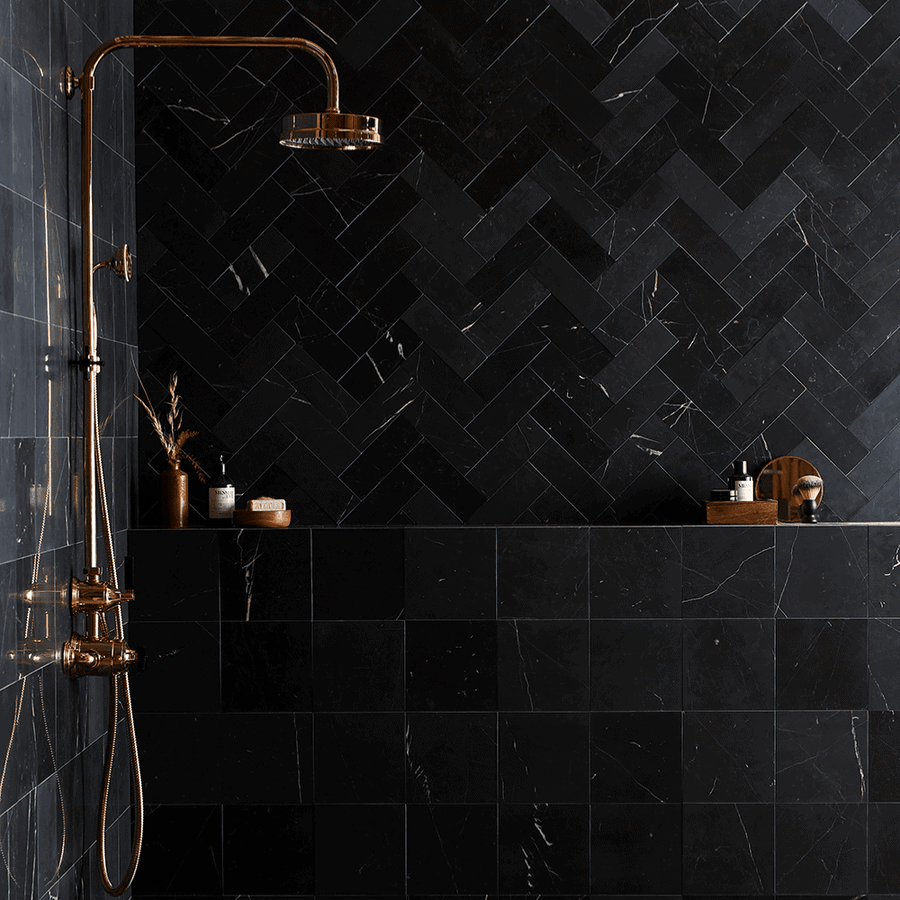 Commonly asked questions about how much it costs to remodel a small bathroom
How long does it take to remodel a 5×7 bathroom?
Although the average project only takes 23 days of work to complete, it will take about four and a half weeks to finish as the average licensed contractor doesn't work on the weekends.
What is a reasonable budget for a bathroom remodel?
As mentioned above, the average cost is $6,500. However, depending on the complexity of your remodel and the upgrades you're making, a budget of up to $16,000 could be objectively considered "reasonable."
Is 5×7 big enough for a bathroom?
A 5×7 bathroom is often thought of as the minimum size for a bathroom. It's just big enough to fit a toilet, shower, and vanity sink. However, maneuverability will be extremely limited and a bathroom of this size isn't very accessible to those with mobility issues.
What is the best size tile to use in a small bathroom?
I recommend using a tile between 6" – 8". There are many different types of tiles and multiple ways you can install them, so I always suggest creating a mockup before committing to an idea.
How much does it cost to tile a 5×8 bathroom?
For a 5×8 bathroom, you can expect to spend between $1,000 to $1,500 to demo and tile the floor. A 5×7 bathroom will be slightly less.
How Much Does It Cost to Remodel a 5×7 Bathroom: A Summary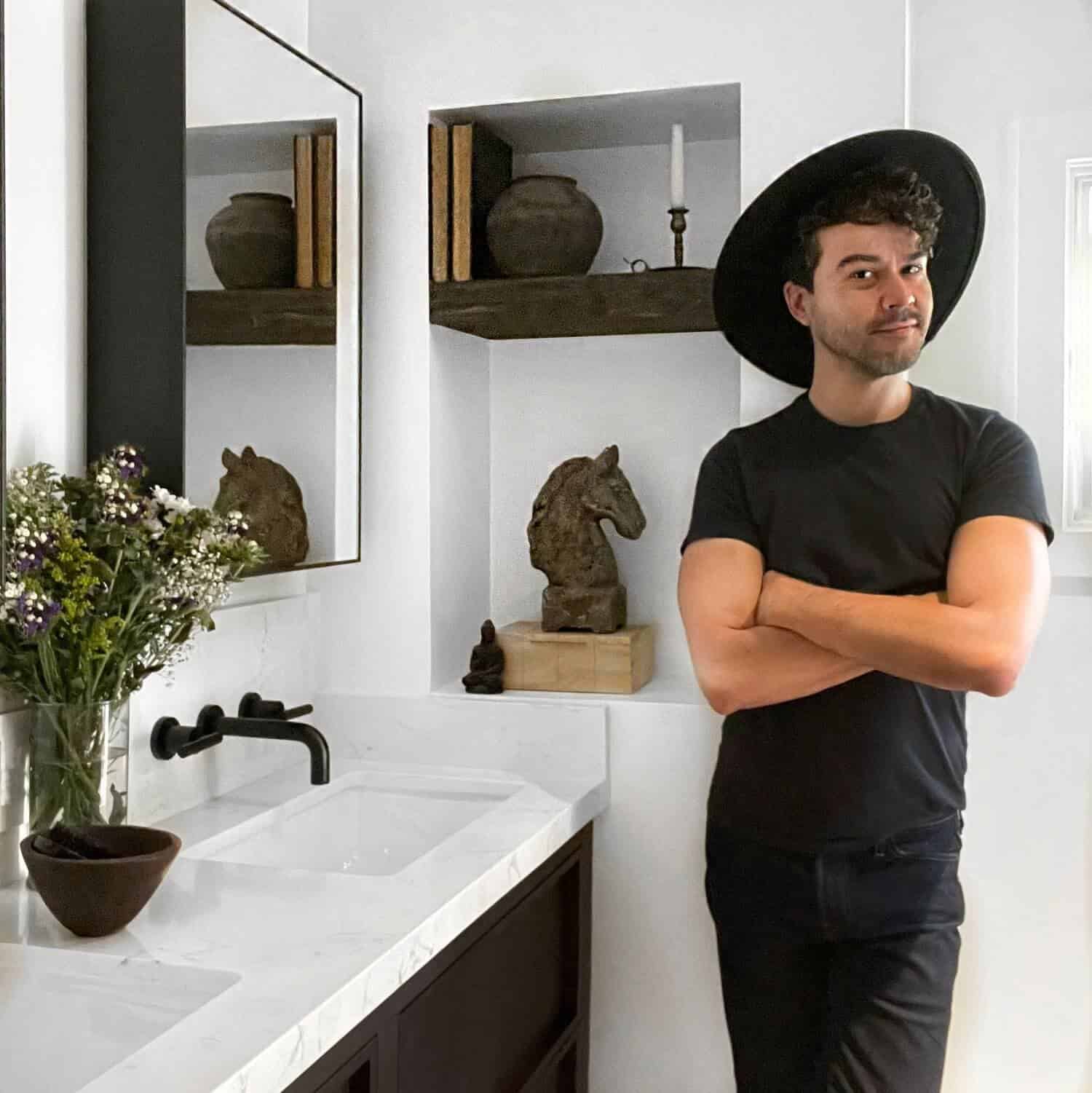 I know it's a lot to take in: a complete remodel is much more than a small bathroom renovation! Creating the new look you're after requires a lot of thought, from general considerations (like the quality of materials) to specific requirements (like those high-end fixtures you've had your eyes on!).
Beyond the actual bathroom remodeling, there are tons of additional side projects you can tackle like upgrading your toilet paper holds or installing brass door handles. It's really impossible to answer "how much does it cost to remodel a 5×7 bathroom?" because it can literally cost as much as you're willing to pay!
That said, once your upgrades are done, I promise you'll be happy you hung in there. True, the size of your bathroom might not be spacious, but—with a bit of effort—it doesn't need to be to look amazing. Simply turn on the shower, light one of my favorite scented candles, and enjoy your newly remodeled dream bathroom!
So, did this article give you guys any ideas or inspiration? Let me know in the comments below. I hope you enjoyed reading it (I'll have another one ready for y'all very soon.)
Until next time! xoxo