I'm pretty sure by now, most of you guys have seen my DIY corner bench dining table. It's the Beyonce of banquettes if you ask me (although, to be fair, I might be a little bit biased!).
If you have a keen eye, you may have also noticed that my built-in banquette bench has in-seat storage. So this banquette is really the ultimate fusion of form and function.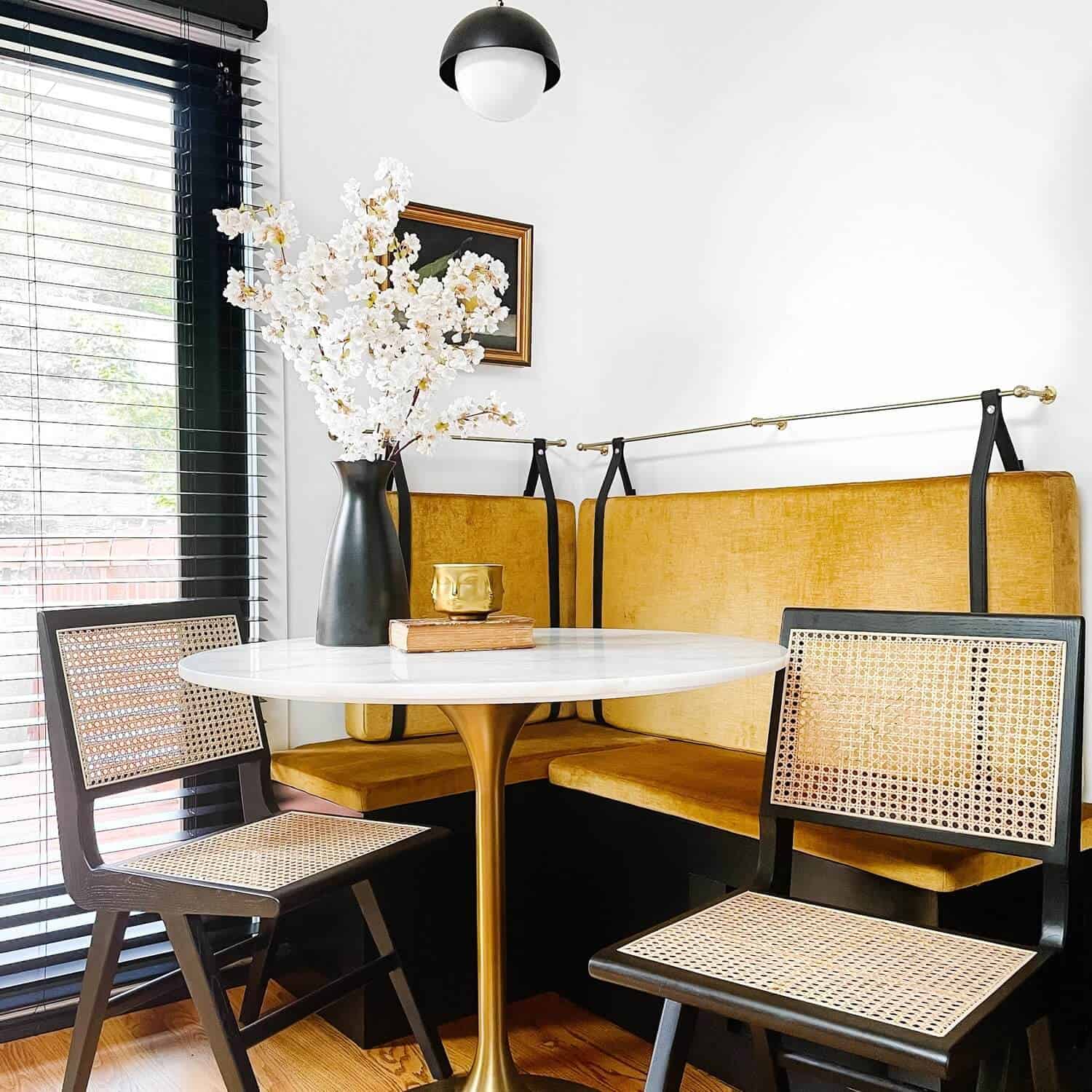 Believe it or not, building your very own banquette can be done rather easily – mine was custom-made with the help of some friends during my home renovation. But, never fear.
I documented the entire process along the way. Anyone can do it, even if it's your first time with this type of project – I swear!
The thing is, a banquette can be a great solution for adding tons of comfortable seating when space is fairly limited (like it is in my eat-in kitchen). Plus, y'all have been asking for a DIY tutorial since I started blogging, and you know I can't say no to you guys.
Give the people what they want, right? So today, I am sharing my straightforward process for creating your very own banquette.
Don't be scared, the carpentry can be done rather easily even if you are a beginner. The final result is well worth it. You might even start asking yourself why you didn't think of it sooner. I know I can't get over how much I love mine!
So, are you ready to have the perfect place to enjoy breakfast treats, delicious dinners, and everything in between? Great, then let's get started!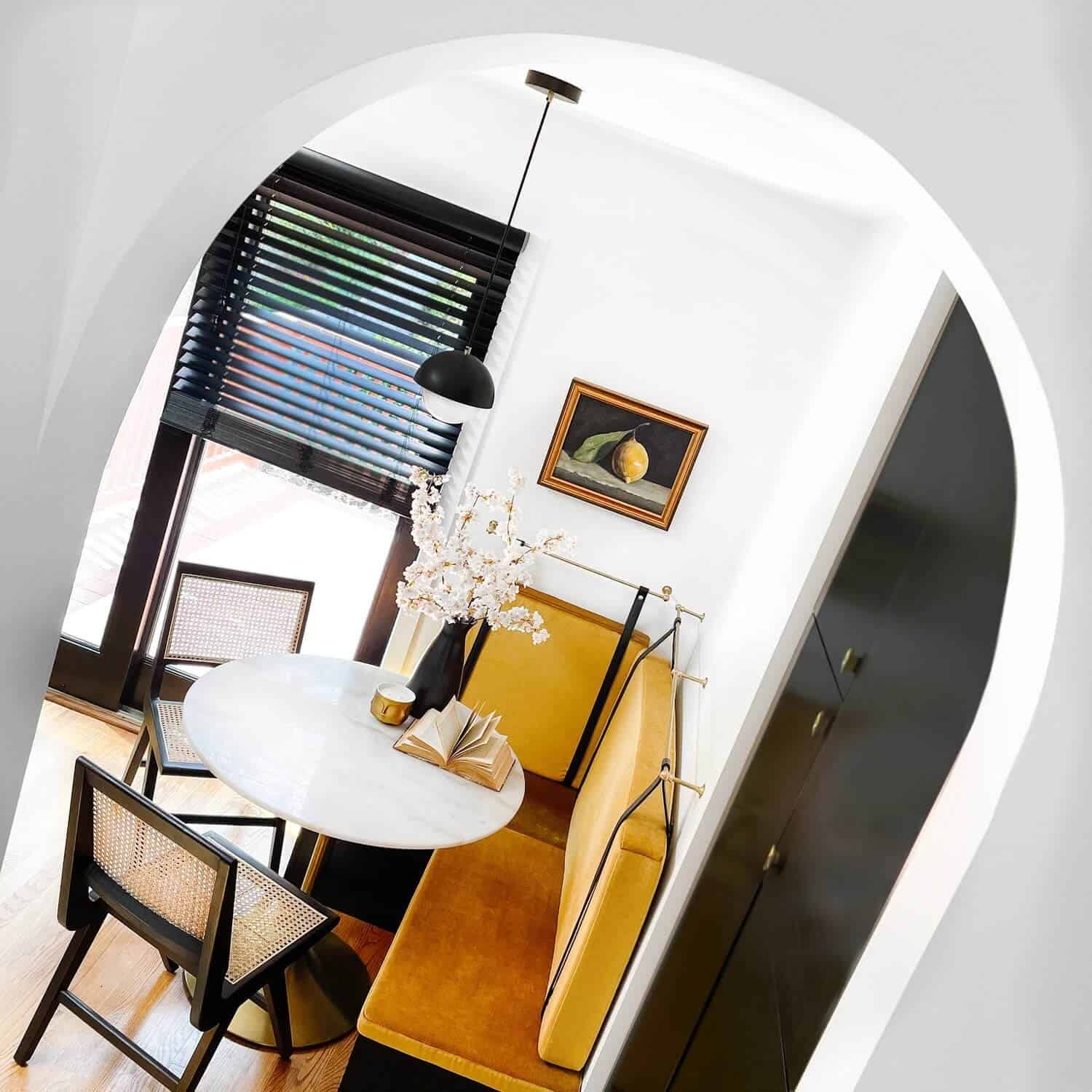 What You'll Need
1" wood screws
Plywood and 2×4's (to measurements)
Custom or ordered cushions
Leather hanging straps
The Process
To get started, I've listed all the steps you need to follow in order to make your own banquette bench with storage, plus a few tips that will help make your bench even better. Ready? Keep reading!
Measure Your Space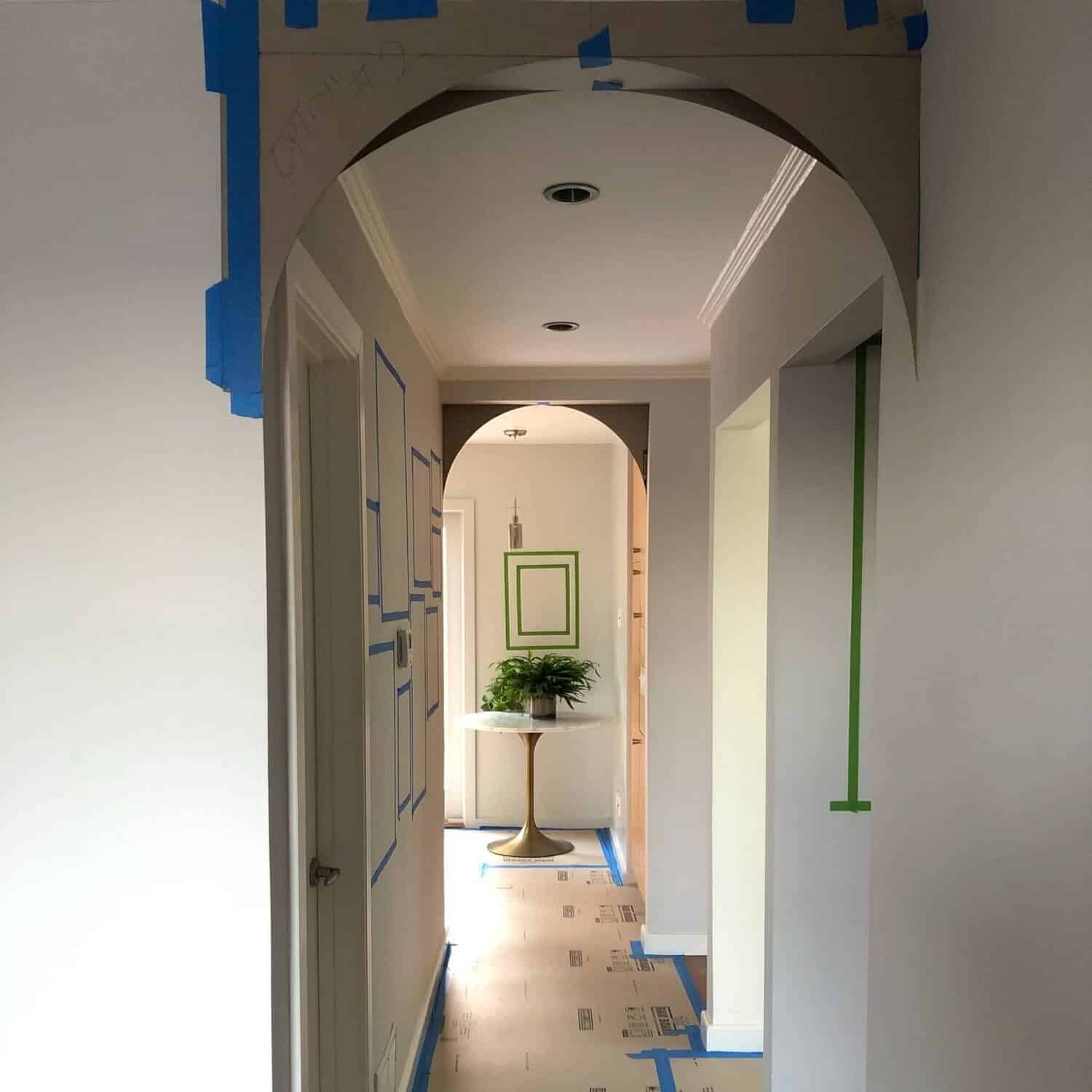 As always when it comes to DIY projects like these, the first step you'll need to do is to measure! Determine the floor and wall dimensions to find the length you want the DIY corner bench dining table to run.
A simple way to find out the ideal seat depth and height for your banquette seating is by using a dining chair as a guide.
My bench is L shaped so I measured for each of the two walls where the L shape bench would ultimately run parallel to.
My Banquette dimensions are:
Longest length: 56"
Shortest length: 37 "
Bench depth: 19"
Bench height 17"
Rip Down Lumber to Measurements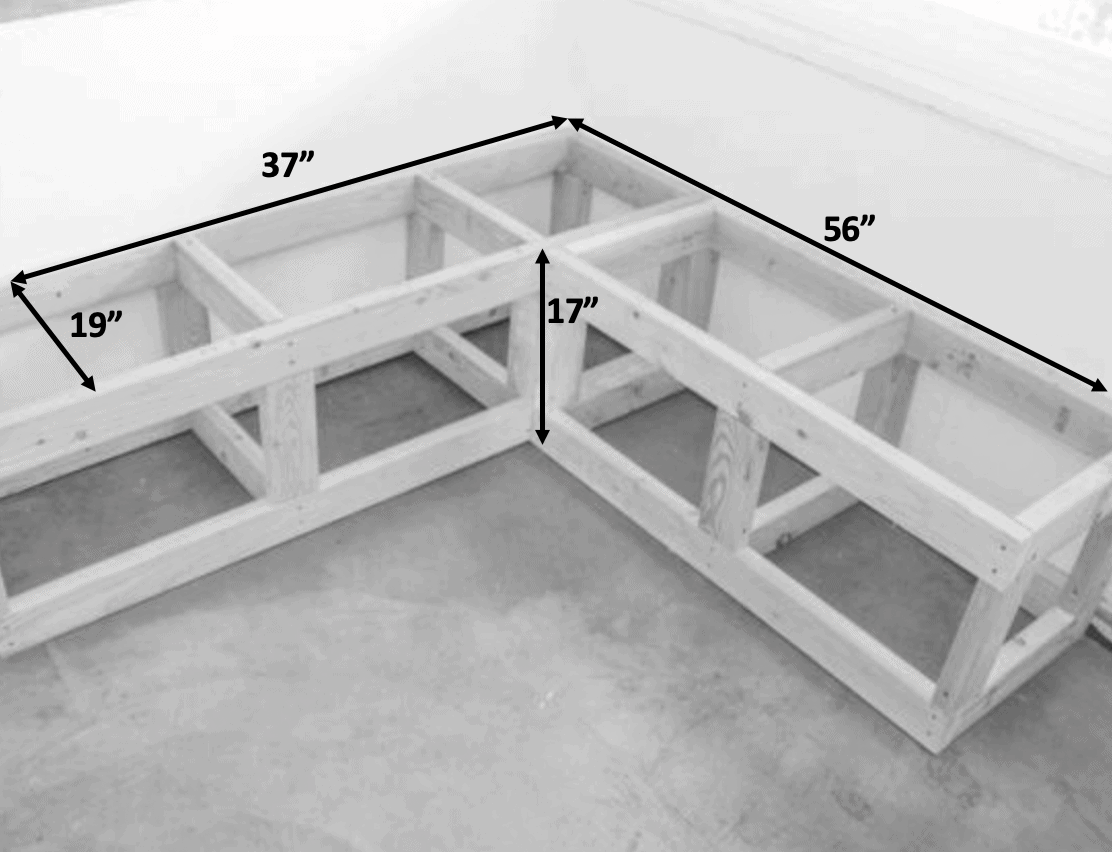 I used birch plywood to create the banquette's frame. Start by ripping your boards down with a table saw in line with your required measurements.
It would be great if you can find someone to help you with this particular step so that your helper can support the wood's weight in the process. Safety first!
You can even get the lumber for your dining nook cut down for you at Home Depot if you are not quite ready for this step.
Pro Tip: For an L-shaped bench like mine, make sure you start with the longest side first and begin measuring and cutting from there. I used a trim piece at the end for a more finished look.
If you want to do that simply aim to measure from the edge of where you want the bench to be. Then, remove the ply board equal to the thickness of the trim pieces that you will use to cover up the framing.
In my case, the trim details were 1" thick and 1/4" for the board overlay. Just be sure to take that into consideration.
Assemble the "L" Frame
For your 2×4 frame, simply cut two 2×4's to the size you need to start. The length of my longest wall is 56" so I started there and cut two (one for the front and one for the back).
The depth of my bench is 19", so I then cut two 2×4s to 15", then simply placed them inside the 56" pieces perpendicularly creating a complete rectangle shape.
Once you have the frame laid out in front of you, don't be afraid to dry-fit it. Make any minor cuts or tweaks that you need.
No need to stress! Just make sure you get the base of the "L" laid out properly first, then simply build on top of it.
Don't nail anything into the floor or walls yet! We want to make sure everything is perfect—right angles and all—before doing so.
Be sure to include a center piece in each rectangle if you need the added support. Once you feel good about the placement of the base frame, go ahead and nail (or screw) them together.
Do the same for the top by mirroring what you just did, but attaching the shorter bench side to the longest piece. Just minus out the dimensions of the depth and attach the shortest side into the longest. You're already halfway there!
Face the Frame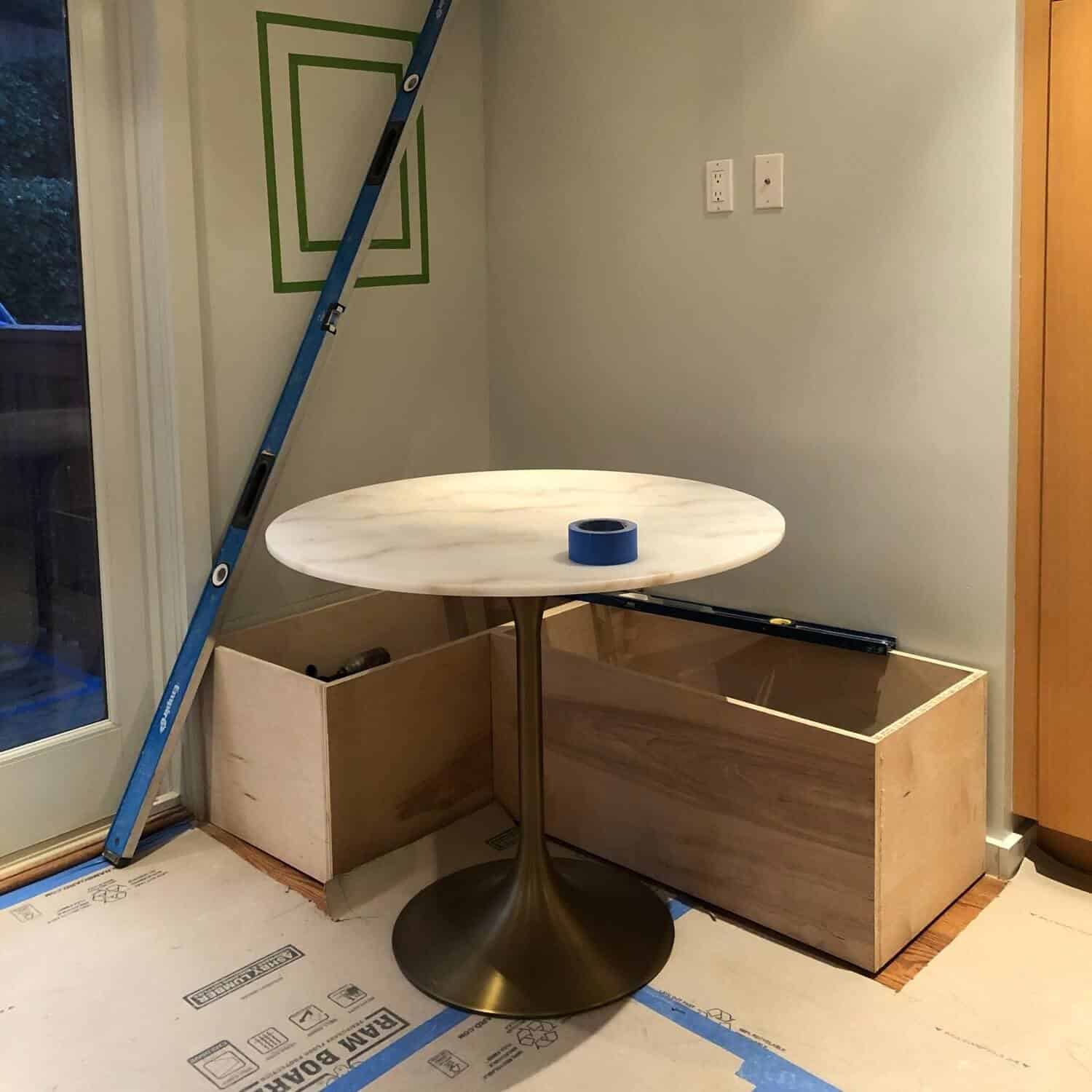 Next, we want to face your newly built DIY corner bench dining table frame by attaching the front, side, and bottom panels together using wood glue with 1×4 poplar. It's thin and sturdy, making it perfect for this purpose!
First, add the back panel before adding both side panels. Once you have assembled everything properly, screw all the individual pieces together using 1" wood screws to reinforce the entire structure.
The key to this step is to ensure that each "face" is now covered with a properly fitting piece of wood!
I like to do it piece by piece so that I don't pre-cut everything and then end up with an inch too much (or too little). But, that's just my style. Make sure each edge is seamless and fits flush at each corner before attaching them with screws and wood glue.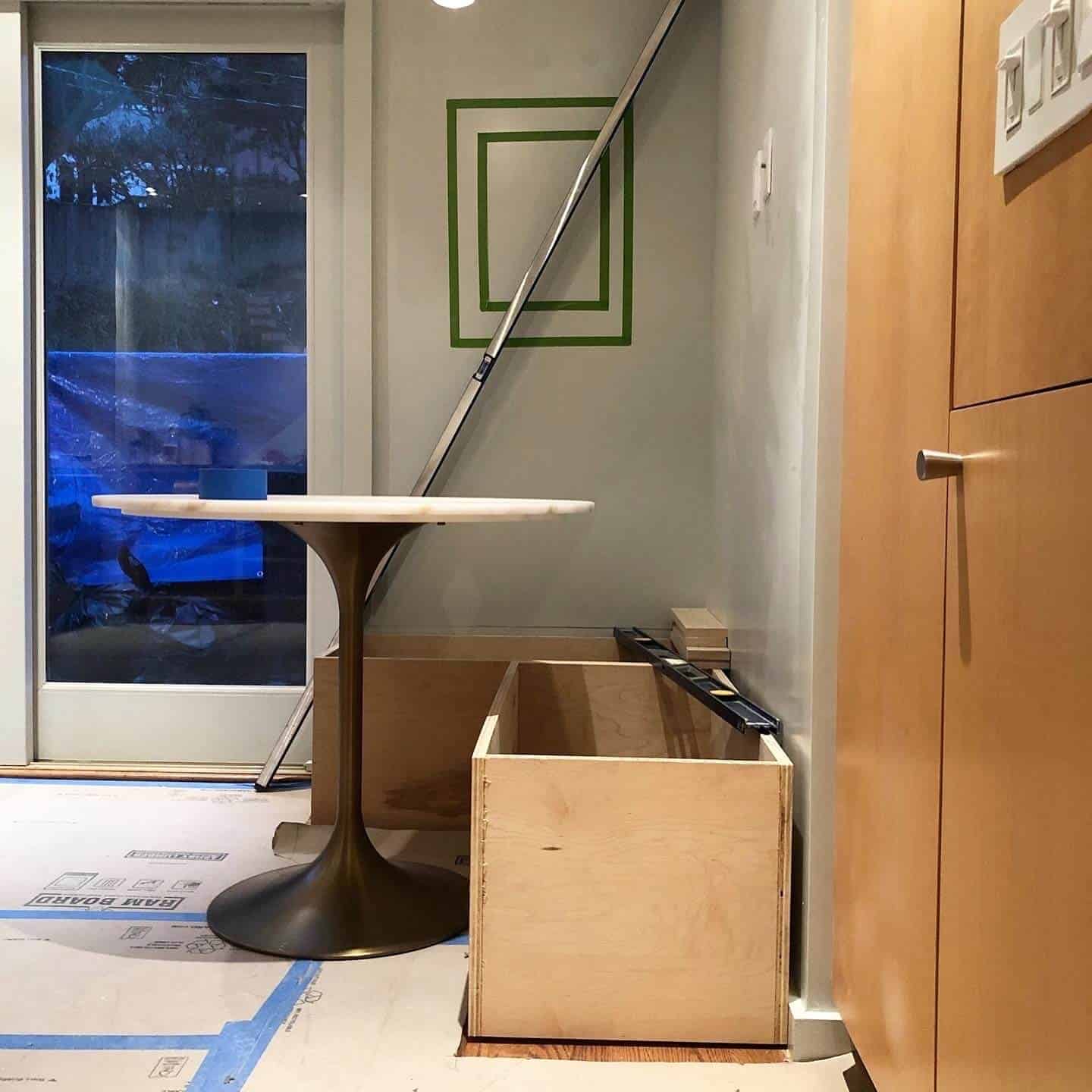 Make the Lid
Using more poplar, start framing the bench's top lid. Use the circular saw to cut the wood to the desired length and width for your benchtop.
You can start by tracing the dimensions for your bench's hinged top door, which will give access to the extra storage space in the kitchen banquette.
Be sure to calculate the hinge's size as well, and jigsaw in a hole in which you can grab and lift. Since this lid will sit just inside the bench, you will need something to grab to open it.
Again, I like to have the lid rest flush just inside the frame on the 2×4 on each side.
Install the Hinge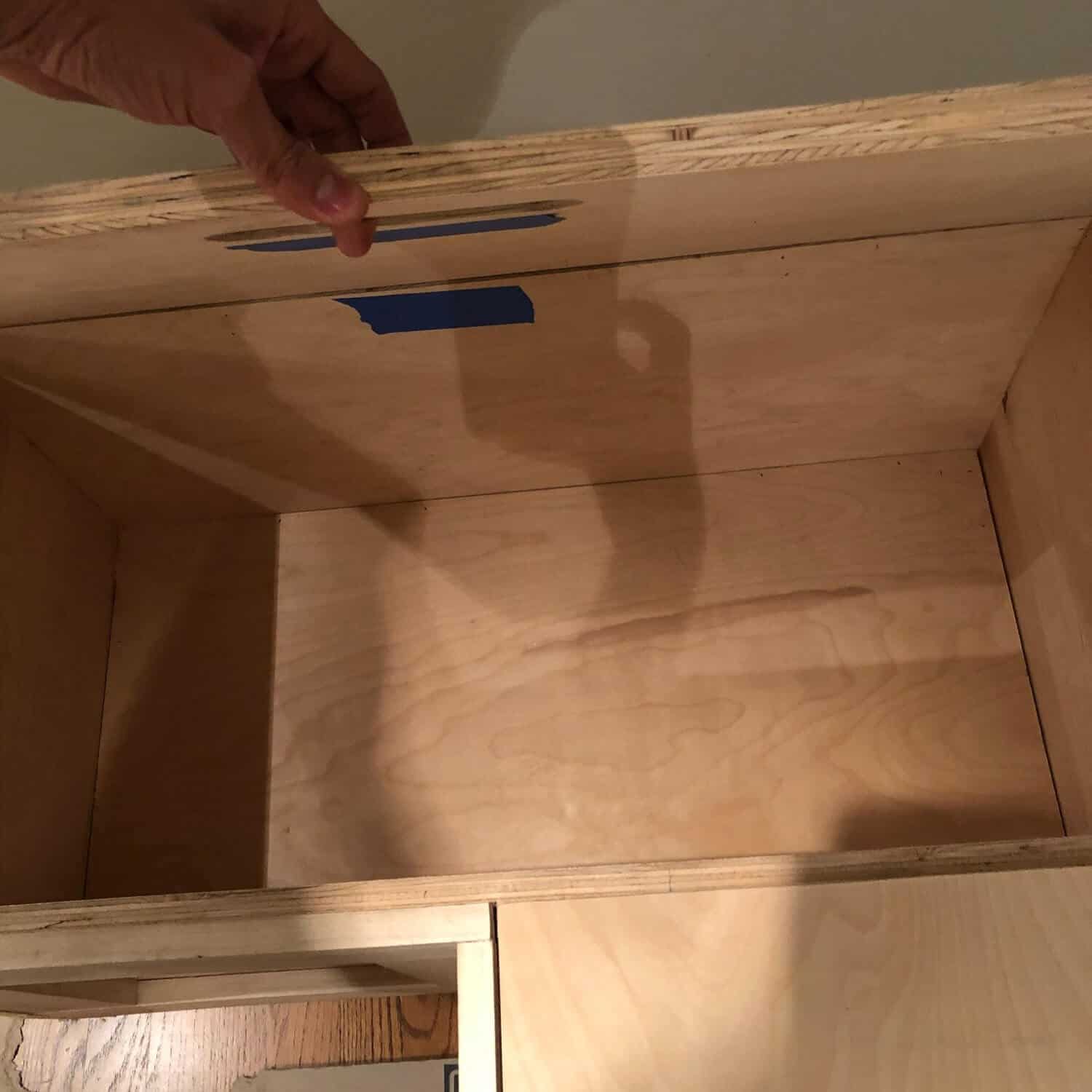 Once dry fit, simply attach piano hinges inside the storage area of the bench, ensuring that it is perfectly flush with the door's edge. I placed mine where the blue tape is seen above.
It's a good idea to test it out before committing: make sure it opens and closes as intended! If the lid is off slightly you can simply sand it down or make any necessary cut adjustments. I like to have the lid resting on the back 2×4 because it provides extra support when someone sits on the banquette.
After you get one lid cut to perfection, do another to complete the other side, but remember that this will be either shorter or longer (depending on which lid you made first). Make sure they don't bump into one another.
See below and notice two things: one, that the lids are different lengths, and two, that they both sit flush inside the frame.
Install the Bench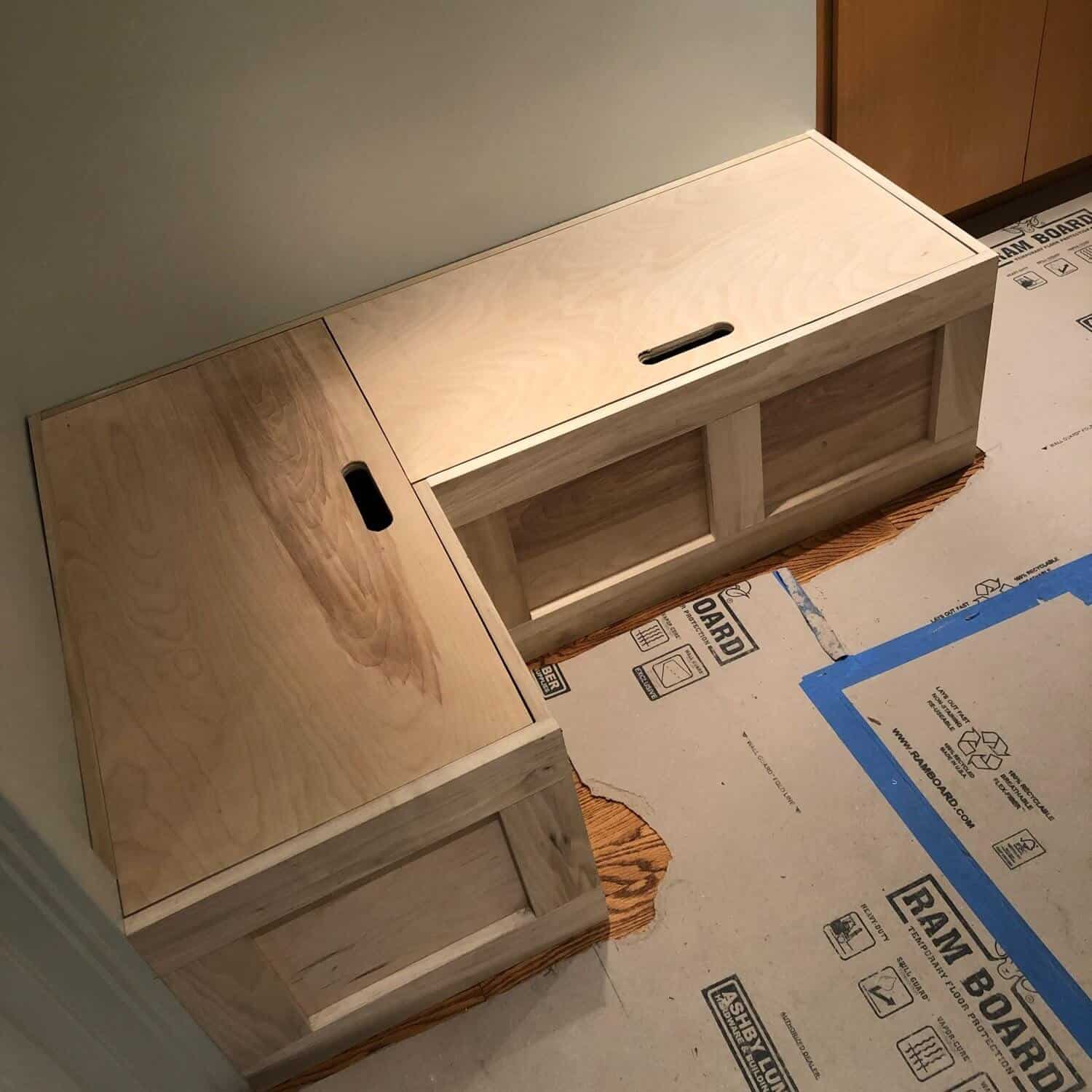 Now comes the exciting part! The next step is to install the DIY corner bench dining table bench. Ensure that the top surface is level by using my favorite level, then attach the bench to the wall studs by using wood screws that are approximately 3".
You can screw the base of the bench directly into your floors too, but you don't have to.
Adorn Each Face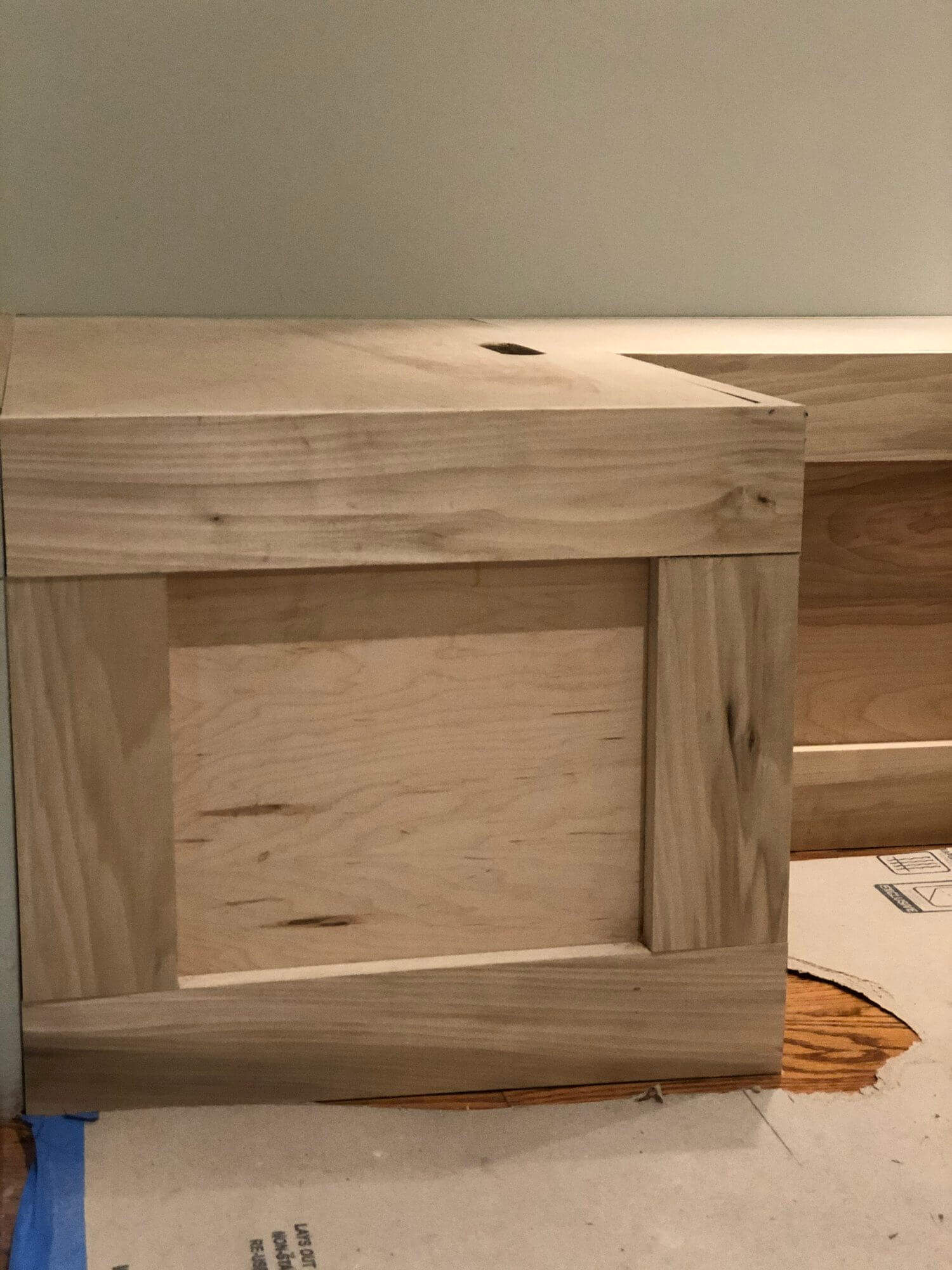 To adorn the face of the bench, you can always dress it up with beadboard. Simply cut it to the proper height, then apply construction adhesive or spray adhesive to the back before installing it with finishing nails. This will help make the front of the bench look much more presentable!
Prime and Paint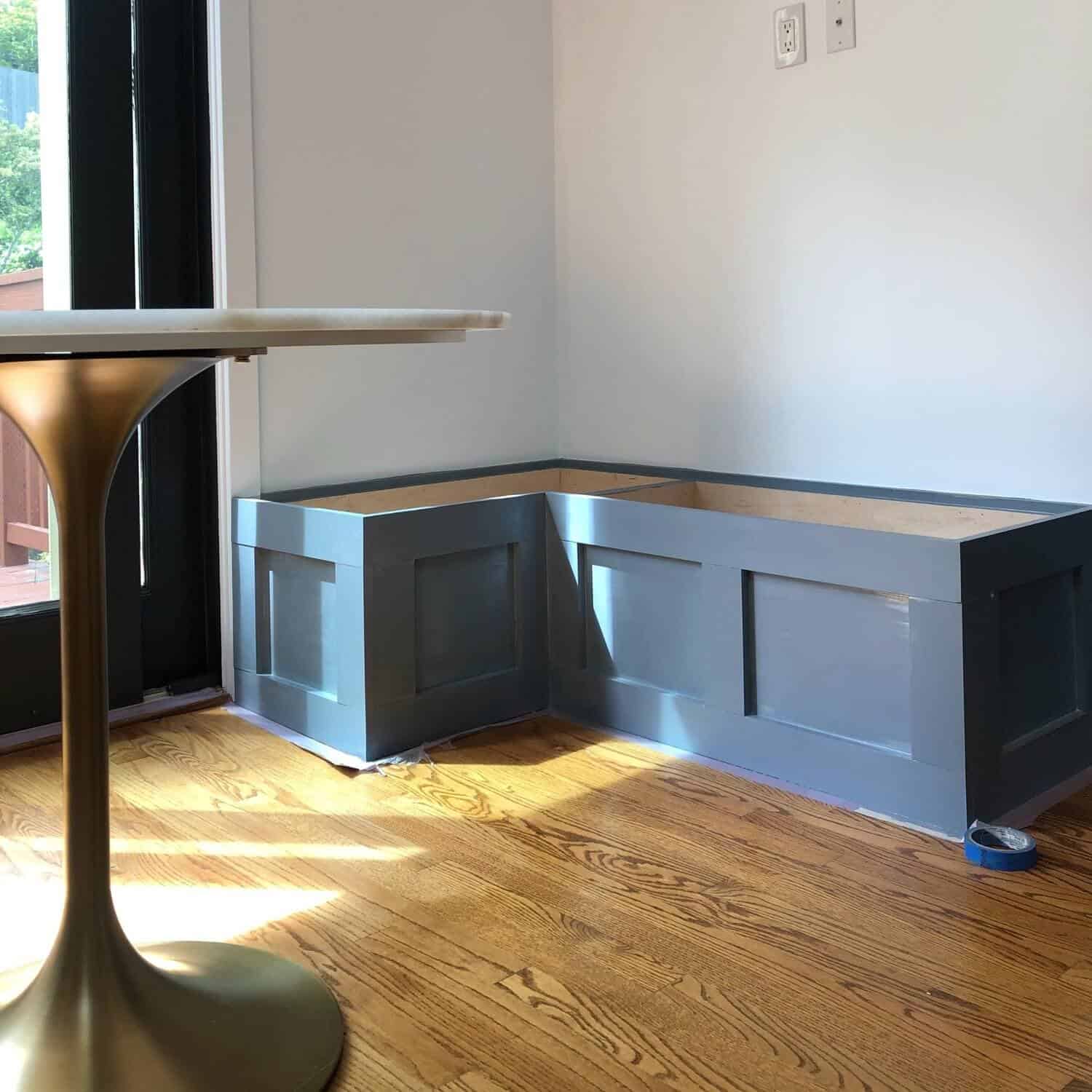 I wanted a traditional yet modern look. To achieve that, I simply added a classic box frame detail around each face. Then, I primed and painted it with my favorite black paint for an ultra-modern level-up!
Be sure to use a paintable wood caulk if you have any seams where the bench meets the wall or where the framing is not exactly flush.
You can fill any nail and/or screw holes with wood putty. Let dry and then paint or stain (I suggest two coats). Similarly, if you've noticed any scratches or scrapes on your DIY corner bench dining table, you can get rid of these before painting by filling them with wood filler.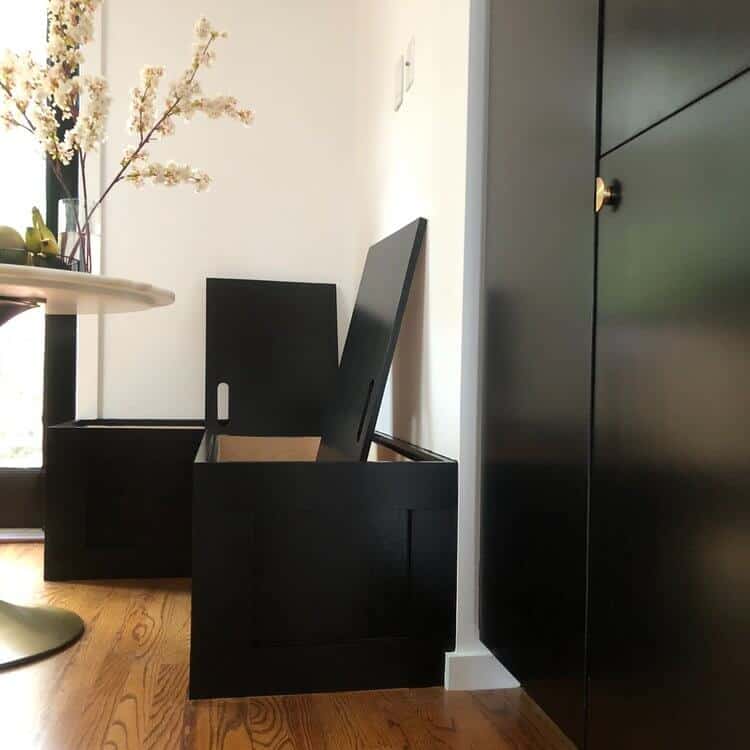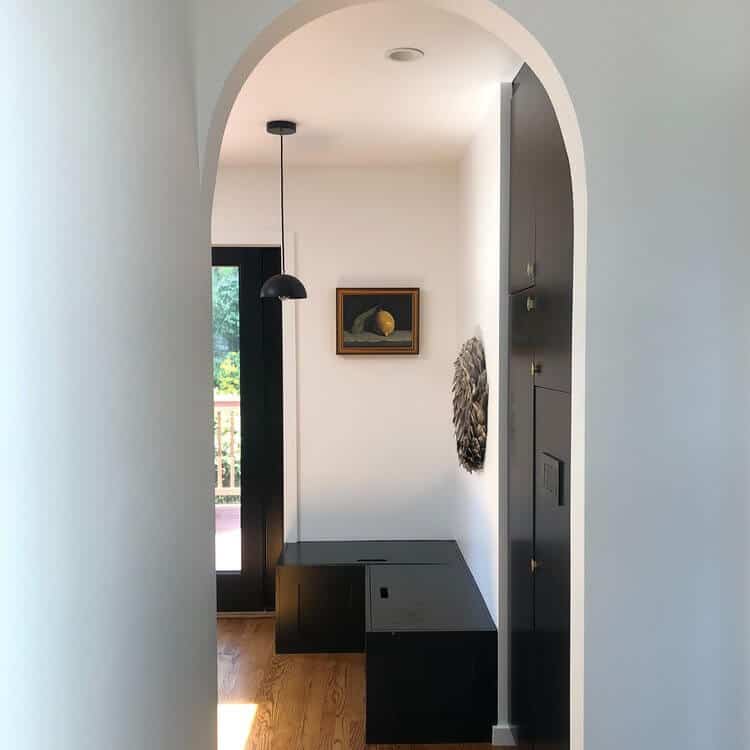 Towel Bar Back Cushions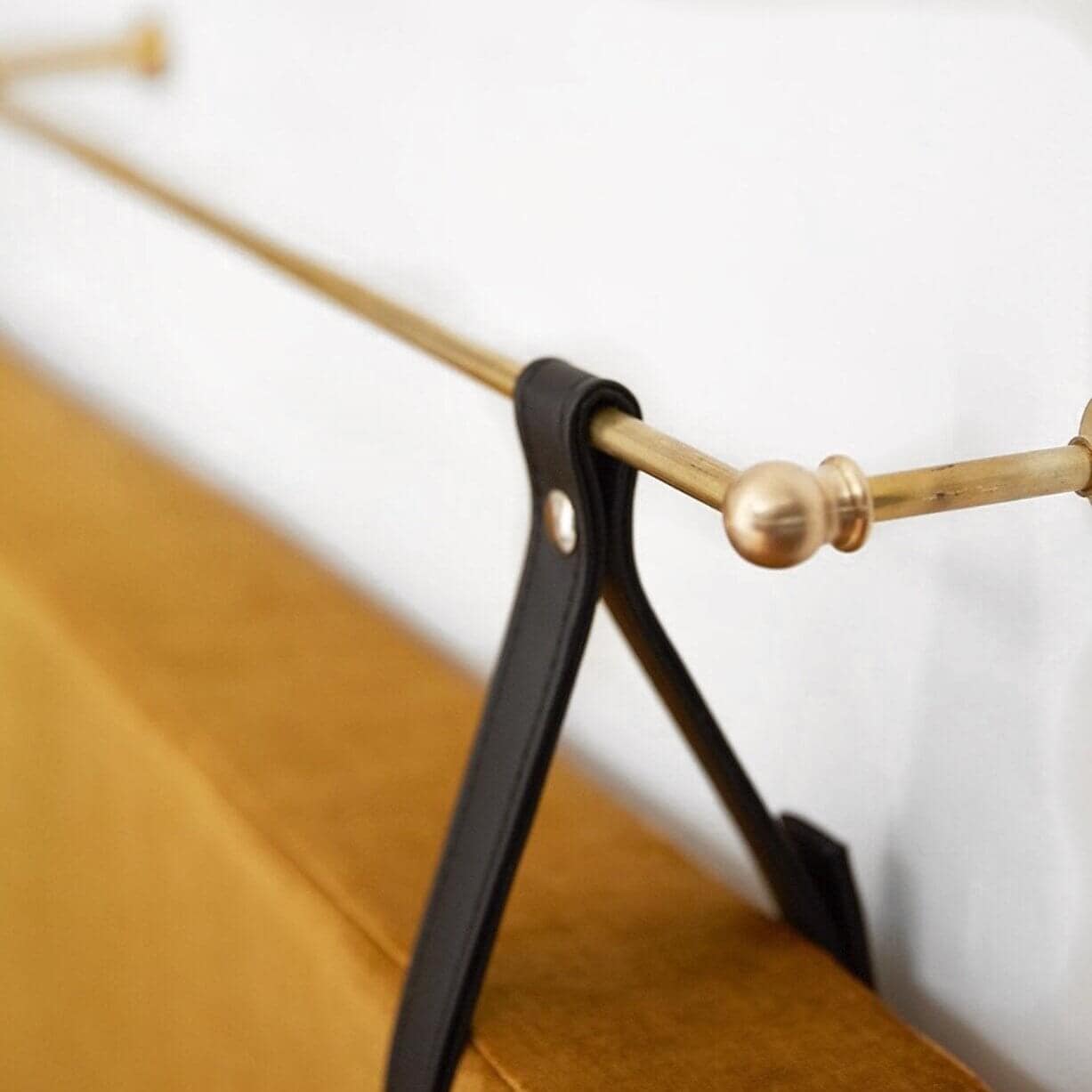 Now, let me share with y'all a huge cost-saving tip that looks like a million bucks. If you've seen the banquette before you can probably guess what it is. For extra comfort, try suspending cushions (more on that below) to provide back support using bathroom towel bars!
Yes, towel bars! I got my brass ones from Pepe & Carols (in case you wanted to use the exact same ones I did). Simply order them to the custom length you need.
Then install them with the provided screws—ideally into the studs at the height you need for the cushions to rest—and use leather straps to keep 'em in place.
I absolutely adore my DIY banquette bench and the addition of the suspended cushions just gives it an extra appealing element.
Get Custom Cushions Made
As for the cushions themselves, I had mine custom-made by a local upholsterer. Guys, it was worth it and it took no time. They are filled with a foam insert and wrapped in the Golden Savoy Fabric. Go bold and make a moment!
I am so glad that I did. Simply order them to your measurements, taking into consideration the height of the wall and the length you need.
Nails Vs. Screws
You always want to make the best choice when it comes to selecting the right components for your DIY corner bench dining table. This is especially true when you're creating something that's going to be weight-bearing: the last thing you want is for your bench to fall apart while you're sitting on it!
Well, in your efforts to ensure your corner bench lasts for a long time, you've probably come across the nails vs. screws debate. I'm using the word "debate" for a specific reason: neither option can be dubbed the perfect solution!
While the final choice is up to you, I thought it was worth laying out the pros and cons of each. With these factors in mind, it should be fairly easy to make your final decision!
Nails
Nails have a few different factors going for them. They're often the go-to choice for DIY projects, mainly due to the fact that they're quicker to use. This is especially true if you're not using power tools, as it's much quicker to hammer a nail than it is to use a screwdriver.
Another thing nails have going for them is their cost. Most of the time, nails are cheaper than screws, which is definitely a bonus if you need a lot of them. Lastly, nails are just easier to cover up for that "finished look".
Once they've all been driven in, you can simply cover them with wood filler to seamlessly blend them into the wood!
However, nails do have a few downsides worth considering. For one, they don't have as much holding power as screws do. If you're trying to hold down something that will have a lot of force applied to it, you'll need to use fairly long nails.
The next point might not be particularly relevant for this exact project, but it's definitely something you'll run into on other projects: nails don't like to come out! Often, the only way to remove a nail is by bending the wood enough to grab onto the nail with a hammer.
As you'd expect, this can damage the wood, reducing the likelihood that you'll be able to use the piece again without some in-depth touch-up work.
Lastly, nails aren't great if you need to adjust something. While you can—to a certain point—bend nails, this just reduces their structural integrity and isn't an ideal solution.
Screws
Screws excel at every point where nails fall short. Unlike nails, they're excellent at creating long-lasting connections between surfaces. With more holding power for the same length of metal, this makes screws a great option for load-bearing connections.
Whereas nails have little to no adjustability, screws can be easily and precisely adjusted as needed. This comes in handy when you're trying to get something perfect but the measurement is off just a tad.
Of course, they can be easily removed as well. This makes them ideal when it comes time to repair your furniture.
Also, screws are generally less likely to split wood. This isn't a guarantee though, so I always recommend creating pilot holes if you're working with a piece of wood that's likely to break. It's better to be safe than to be sorry!
However, while screws are better than nails in many aspects, they also have a number of drawbacks that are worth thinking about.
For one, screws are more expensive. This is especially true if you're buying speciality screws (although the same is true for speciality nails as well).
Whereas nails can be easily hidden using wood filler, screws don't have this option. Well, you could technically cover the screw with wood filler, but—should you ever need to remove it—you'll have one heck of a time getting it out. Even more so if you're trying not to damage the wood!
Lastly, screws take longer to install than nails. This is especially true if you're pre-drilling holes, or using a handheld screwdriver. I never recommend using a handheld screwdriver. It's time-consuming, cramps your hand, and can get very frustrating.
If you decide to go with nails, then either a hammer or a nail gun will work just fine. However, if you end up using a screwdriver, I strongly recommend getting an electric screwdriver. Trust me: you'll be glad you did!
Are You Ready to Try This Project!?
I can't wait for you guys to try this DIY corner bench dining table project and make your own banquette so you can experience it firsthand. Come on, tell me you'll give it a try! It has been a space of pure joy ever since we did it. Tag @136home if you do on Instagram. I want to see!
Never fear – For those that aren't feeling brave, here's a dupe you can purchase that's readily made. You still need to solve the cushion situation for yourself, but the base is ready to go!
Just be sure to paint it in a gorgeous color to get it ready to match your beautiful home and select a fabric of choice to make it all your own. Xoxo
FAQs
---
Does bench dining table save space?
If you have a smaller kitchen or dining area, chances are, you're trying to make the most of the space you're working with. Fortunately, yes, bench dining tables do save space: in fact, they're perfect for optimizing small spaces!
For rooms with free space in the corner, corner bench dining tables are perfect. If you follow the design I've laid out above, your project doubles as both a dining table and a storage solution!
However, even if you decide to skip the storage part, a corner bench dining table will still save you space as everything is compacted into one corner while also maximizing the seating potential.
The same thing remains true for even regular bench dining tables. Whereas you may only be able to fit two chairs under one side of a table, the bench you could fit under there could likely hold three adults (or four children).
In other words, it takes up the same amount of space but offers extra seating. So, yes, they do save space!
What is the best material to make a bench seat?
That depends: are you talking about the DIY corner bench dining table seat itself or the cushion that sits on top? If you're talking about the actual seat itself, then it's fair to assume that the seat would be made from the same material as the rest of the bench.
While there are a bunch of different materials you could make a bench from, I think wood is the best. Of course, there are plenty of options in this category as well! Here are a few of my personal favorites.
Oak is a classic choice, and for good reason. There are many different species of oak that you can choose from, which offer a fairly wide variety of shades and colors. It's generally fairly cheap, is easy to stain, and is pretty strong (it is hardwood, after all!).
Maple prices vary. Sometimes it's higher than oak; other times, it's lower. Regardless, it's a great option for any DIY bench project due to its overall durability and beautiful lighter shades.
Cherry wood doesn't always take well to staining, but it's extremely easy to work with otherwise. Sturdy and scratch-resistant, this wood is unique in the sense that it will actually darken into a darker color over time!
How thick should wood be for a bench seat?
Like many other things in life, it depends! To figure out the ideal thickness for your bench seat, you first need to determine how long your bench seat is going to be.
Assuming your bench top is 36 inches or less, a thickness of 1 inch should be adequate. However, unless the bench is only for one or two people, it will likely be longer than this. As such, you'll want to aim for a thickness of 1.5 to 2 inches.
Should a dining bench be longer or shorter than table?
Proper sizing is important when it comes to finding the perfect balance between tabletop and seat space. However, whether your bench should be longer or shorter than the table depends on the setup you're working with.
For a corner bench, the table will have to be longer than the bench itself (assuming you're using a pedestal table). Since the table is round, it will curve away from the bench. You don't want to have to stretch for your food so make sure to choose a large enough round table!
If you're using a square table for a corner bench then the table can be of equal length or slightly shorter than the bench.
For regular, rectangular tables, you should aim to have the bench and table of equal lengths if you want the "full-length" look. If you'd prefer to be able to slide your bench underneath the table, then you'll need to have your bench slightly shorter than the distance between the legs of the table.
While the length of the table is definitely something to consider, you'll also want to keep the height of the table in mind. If it's too low, you won't have enough room for your legs. Too high, and you'll have to stretch just to eat a meal.
This is why—above—I recommended using a dining chair as a guide!
How wide should a bench be for a dining room table?
As before, the answer depends on the type of table you're talking about! For a corner bench breakfast nook, you'll want to have a minimum of 21 inches of width for each person.
With that in mind, you should base the width of your proposed corner bench on the number of people you routinely anticipate seating at the table. For a family of five, this means you'd want to have each bench extend 63" from the center to the end (when measured from the inside).
This would allow three people to fit comfortably on either side, with space for one additional person if needed. However, if your eat-in kitchen uses a regular bench & table arrangement then the answer is a bit more open to interpretation.
Generally, though, a width of 42 to 52 inches is enough for two people. 53 to 80 inches should be enough for three adults, whereas benches over 80 inches can sit four or more adults.