I love so many things in my home and one of those things is this amazing fireplace.

She greets you warmly when entering through the front door into our living space, offering warmth and beauty. She especially shines on cold and foggy San Francisco mornings, which if we are being honest are most days here.
We went back and forth on whether or not this investment was worth it. The initial space did not have a fireplace, and to us at least it seemed glaringly missing. We factored many things into the decision but really tipped the scales in favor of taking this on was that in San Francisco there isn't really a day when you couldn't use it if you wanted to.
We just love having a fireplace now, she adds the focal point and much-needed personality to the room. In addition, she also functions as a space that can be re-invented over and over again. Not the actual fire I mean, but the mantle. I just love changing her up regularly with my favorite styling items. If you follow me on Instagram @136home you will see that I change it up almost monthly.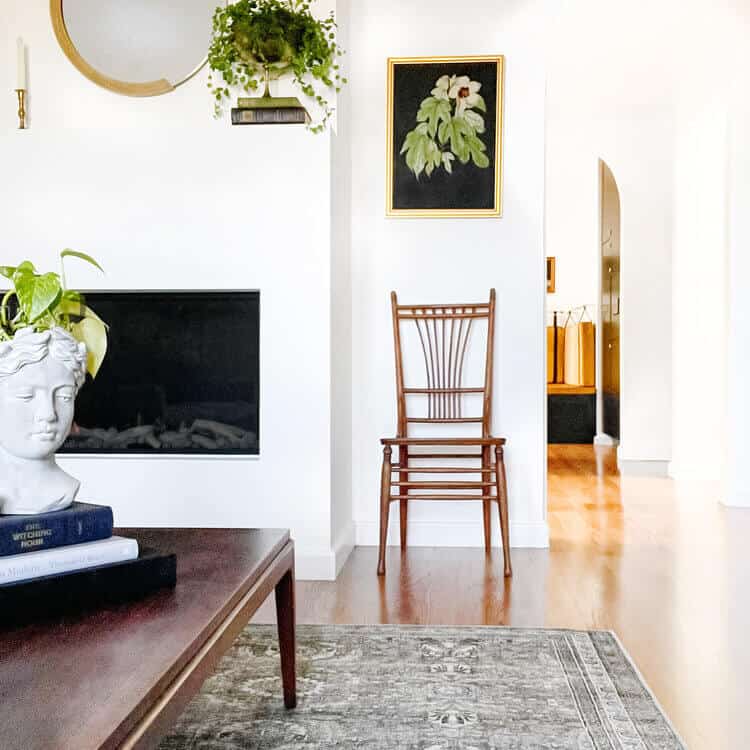 Do you guys do that too? Sometimes when I am feeling in the mood for a change, I will move art around, grab old books, candlesticks, or even broken branches from trees in my neighborhood. I get so excited when I find the perfect one. I hurry home and get to work displaying them on the mantle right away.⁠
⁠
If you have been around you know that I love renovations, but sometimes it's the simple act of moving a gorgeous piece of art to a new space or picking a bunch of flowers and displaying them in a vintage vase that can make all the difference. These small acts can help refresh and re-invent a space on a budget in an instant.⁠

Currently, I am on the hunt for real cherry blossoms. They only bloom for a week or so here in my neighborhood and they are everywhere. But, I have these incredible faux stems that I use all year long. But I digress. Let's get back to the fireplace.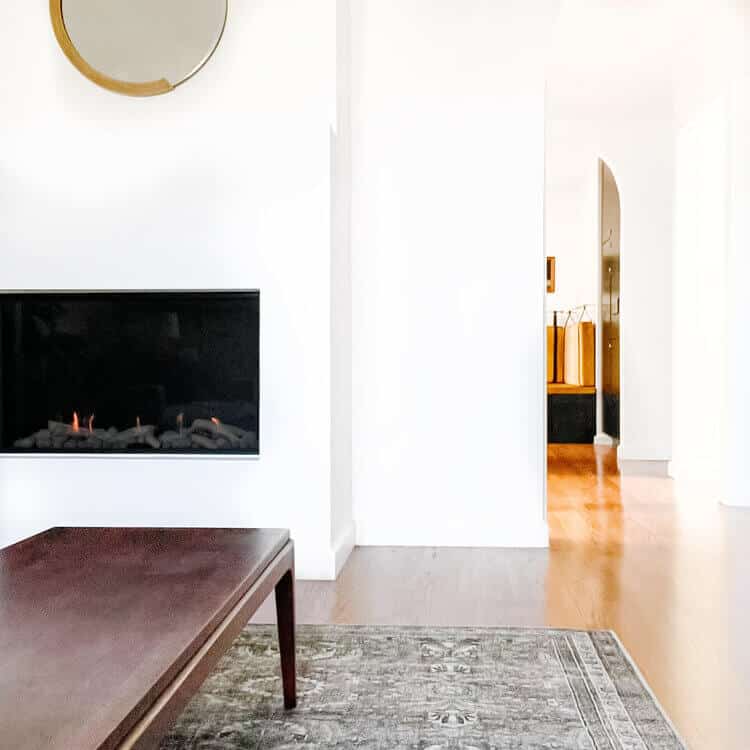 I get lots of questions about this fireplace. Many love the minimal and streamlined look and want to know I did it. I accomplished this by selecting an insert from the guys over at Blaze Fireplaces via Lyric Fireplaces. We went with the Lyric 90H Front Facing model, with a top vented option. I didn't want the clunkiness of the vent to be on the front of the fireplace which in my opinion creates a ton of visual noise. The decision to vent from the front paid off huge.
For the mantle, it was clear that I wanted it minimal, with no overhangs, french curved accents, or wood. It was important to me that everything be quite angular too. The reason? I wanted the fireplace front to be the star and not have the viewer's eye drift up too much. I balanced it slightly by insisting that the face be not directly centered as well. It is just about 2/3 down from the top creating some additional interest and not feeling heavy by being exactly centered. Big thanks to my favorite friend Leo over at Leo Cesareo Designs for helping me get together proper plans for the city permitting process. I am so grateful for his support. Know when to ask for help guys!
To seamlessly incorporate into the rest of the house I matched the smooth, white sheetrock. Like the rest of the house, I wanted the surface to be quiet to be able to act as a perfect backdrop for modern accents and vintage finds. These crisp whites really let each object shine! Lots of people told me I was going to regret not having a proper wooden mantle. It's safe to say I think I have proven them all were wrong.

In the end, adding a fireplace to a home is no small feat. It takes time and budget. You need to work with the city to get a permit where I live. This includes having to draft plans, make sure the gas is hooked up, and that it vents properly via a flume to the exterior of your home. All of this can be done safely and easily with a contractor. I highly suggest working with one for this type of project. Sometimes ya just gotta know when a DIY might not be the best (or safest) option. You don't want to accidentally do something that could be dangerous later.

With that being said it's so worth it. Just be sure to budget accordingly. I am sharing my full budget breakdown below. Remember I am in the San Francisco Bay Area and we tend to be on the higher end fo of things when it comes to construction and labor costs.

Once the fireplace plans were approved, and we got it installed to the frame and hooked up to the gas line it was smooth sailing. The toughest part was simply waiting for the fireplace insert to arrive and deal with the city. But, isn't that always the case?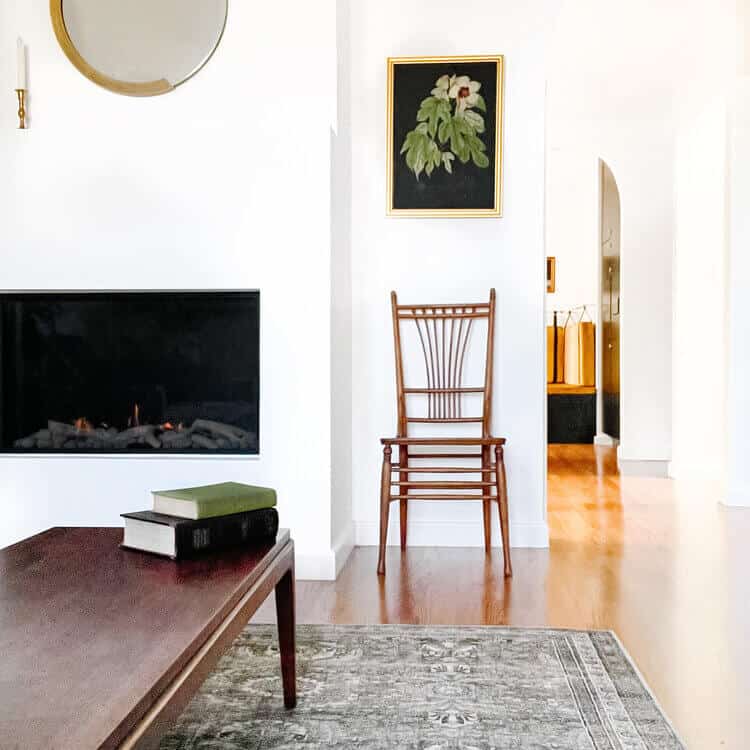 It was all so worth it in the end! It was pure joy when we turned the fireplace on for the first time, and of course styling, the mantle is always a blast, all year long. Now, I have a hard time imagining this space without the roar of a beautiful fire.
Budget:
Fireplace Insert $9,000
Install Insert $500
Framing $500
Sheet Rock $400
New Gas Line + Hook-Up $1,000
New Wiring $300
New Breaker $400
Venting $750
Additional Labor $750
Surface Finishing $600
Total Cost: $14,200

How do you like our fireplace? Let me know if you think it's as great as I think it is. Also, I'd love to hear if you are considering adding a fireplace to your how home. Follow along with me on Instagram for more on fireplaces, DIY, and curating a home you love over time – one detail at a time. Thanks for being here. xoxo.