Whether you prefer a mild Italian sausage or the classic breakfast sausage, there's no doubt that nearly everyone loves hot links! Just like other breakfast foods such as eggs and pancakes, sausages are one of the meals that are often prepared in a skillet.
Let's be honest though: using oil to cook sausages in a skillet isn't the healthiest option. Eating lots of fried food – even pan fried – isn't good for your health in the long run, which means you'll probably want to ditch the habit sooner rather than later.
Still, sausages are just good. So, what's a guy to do? Well, friends, that's what we're here to talk about: how to cook hot links in your air fryer.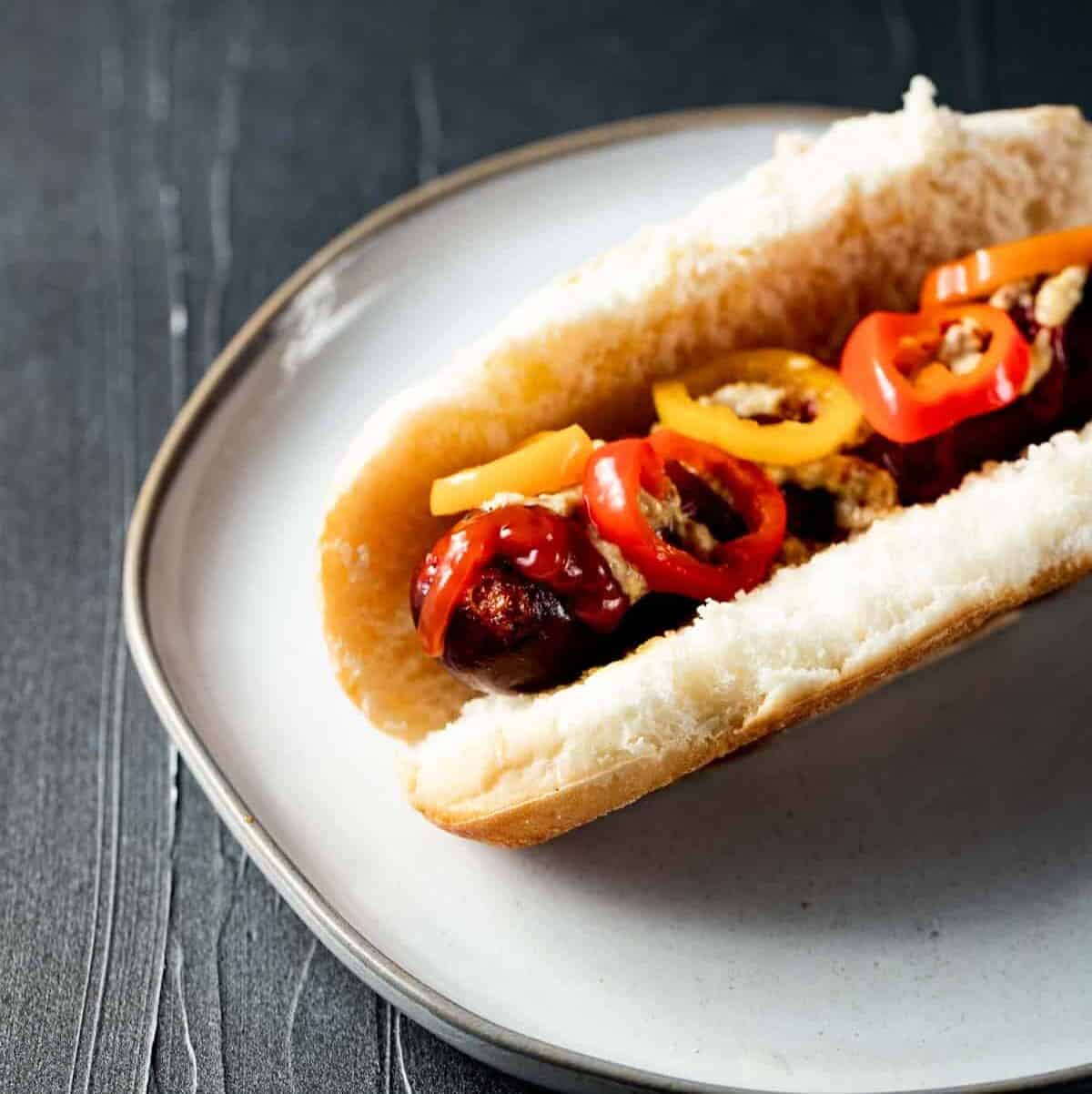 How to Cook Hot links in air Fryer Quickly:
Arrange links in your air fryer basket or tray. Set the temperature to 400°F / 200°C and air fry for 7 to 10 mins. Shake the basket or flip the sausages halfway through cooking time to ensure the sausage links get a nice golden brown and cook evenly.
If you've already read any of my other favorite air fryer recipes then you know that, not only does the air fryer offer plenty of healthy recipes, but it's also often the easiest way to prepare food.
Below, I've gathered some of my favorite air fryer recipes for making sausages. It may seem simple, but there are actually a few different ways that you can prepare these scrumptious links. I'll show you the recipes soon enough – but, first, let's go over the differences between Italian sausage and breakfast sausage.
The Various Types of Sausages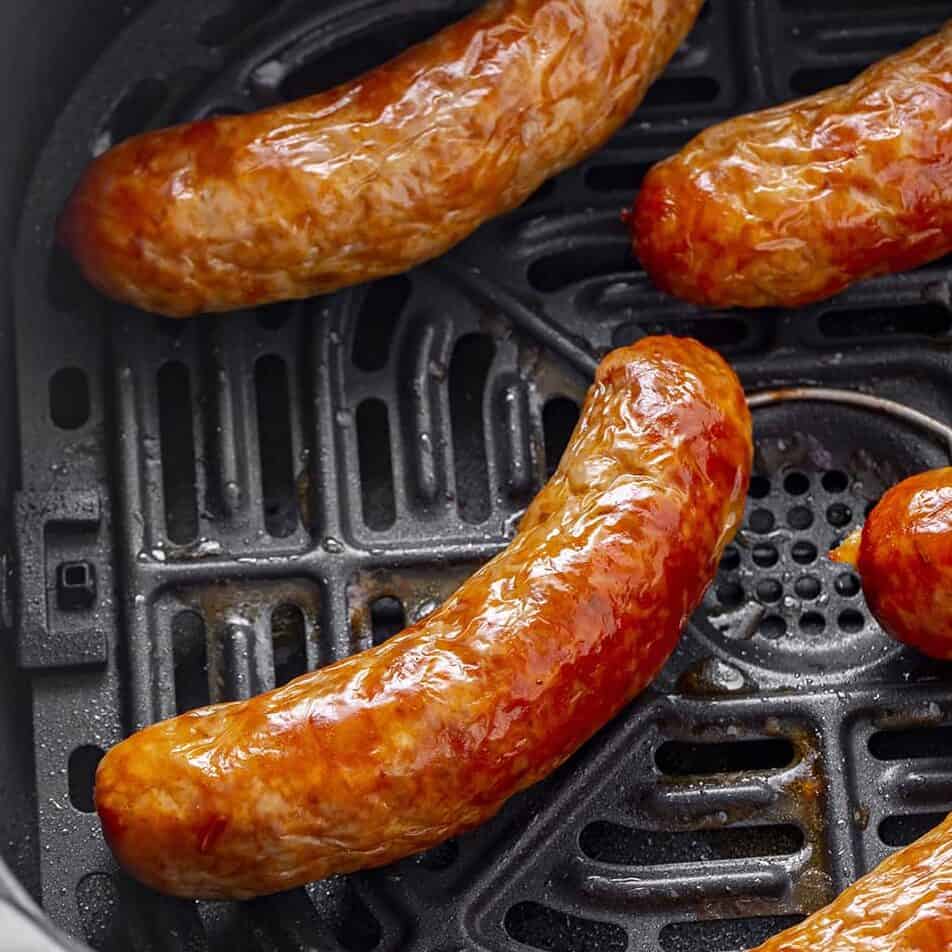 When you ask someone to tell you their favorite type of sausage, you'll generally get one of two answers: Italian or breakfast link sausages, which are arguably the most common types.
If you've tried them, chances are, you've probably noticed that there's a significant difference in taste. This is because the primary seasoning in Italian sausages is usually fennel, whereas American breakfast sausages usually rely on sage and nutmeg for their flavor.
Unlike the Italian versions, breakfast sausages can be found as links or sausage patties. However, both of these sausage types should be easy to find at your local grocery store and look alluring when placed on these simple dinner plates!
Most mainstream types of sausage are made from pork, but—if pork isn't your thing—there are alternative options available (such as turkey sausage and chicken sausage).
Fortunately, you can make a hot link in your air fryer, regardless of what it's made from. Whichever style of sausage you choose, you'll find an easy recipe below that'll be sure to elevate your breakfast without sacrificing your health. And while it's cooking, don't forget to prepare yourself a nice hot cup of coffee using this premium coffee maker!
The Benefits of Using an Air Fryer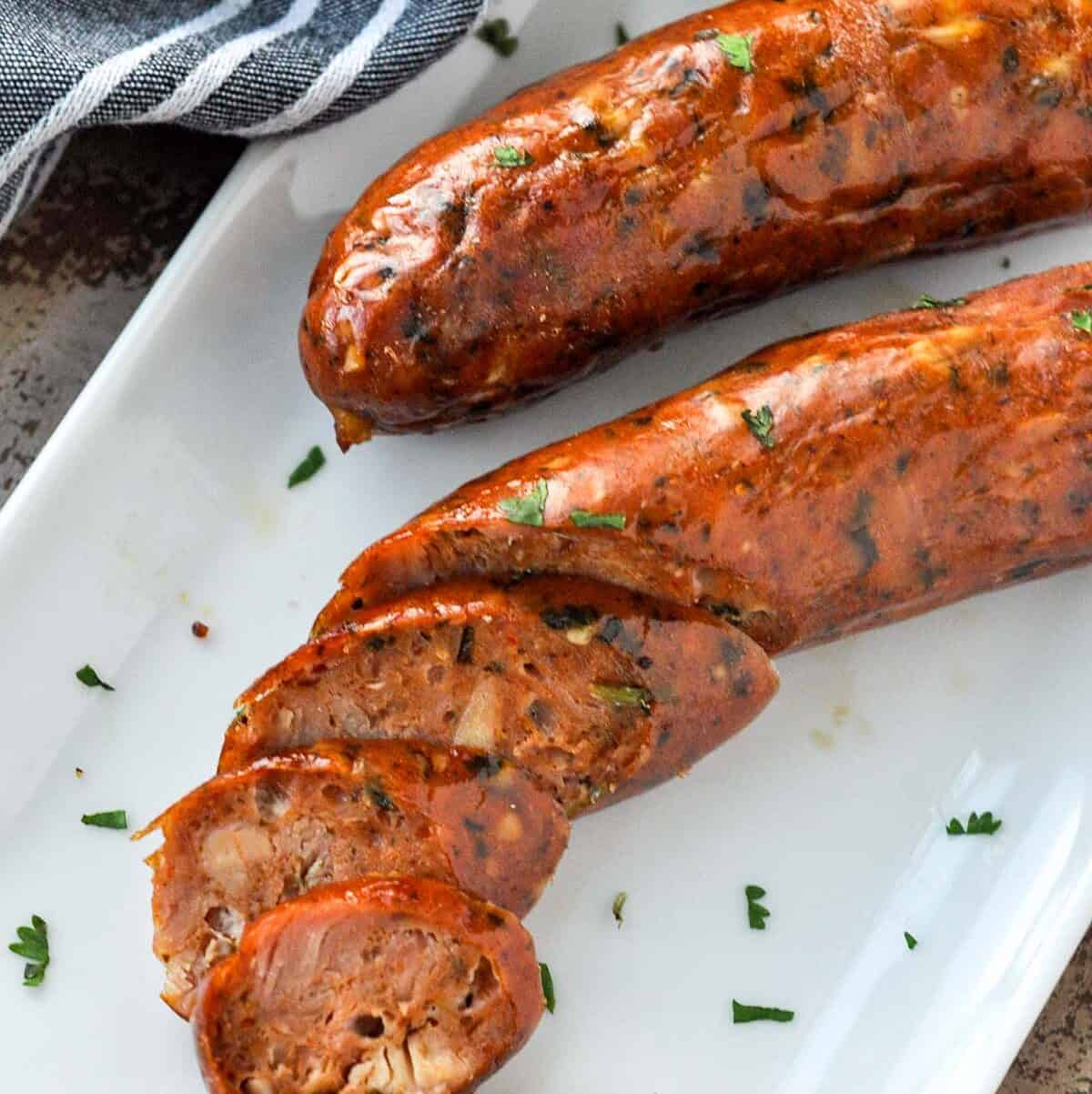 When it comes to cooking, the air fryer is a game changer. Pan-frying your meal might give you juicy sausages, but it leaves you with lots of excess grease to clean up. If you air fry sausages, the process is simple & the cleanup is quick.
That's why I think that preparing hot links in your air fryer is the best way to go. It's healthier, cooks quicker, and tastes just as good. Using an air fryer is so simple, even a first time cook will make it through without a hitch.
The only issue you could possibly run into is not being able to cook enough sausages at once. Fortunately, I have a solution for that (check out this XL air fryer!). If that one is a bit bigger than you need, don't worry—there are plenty of smaller ones available if you shop around.
Alright, ready to get started with the "recipes"? Let's fry!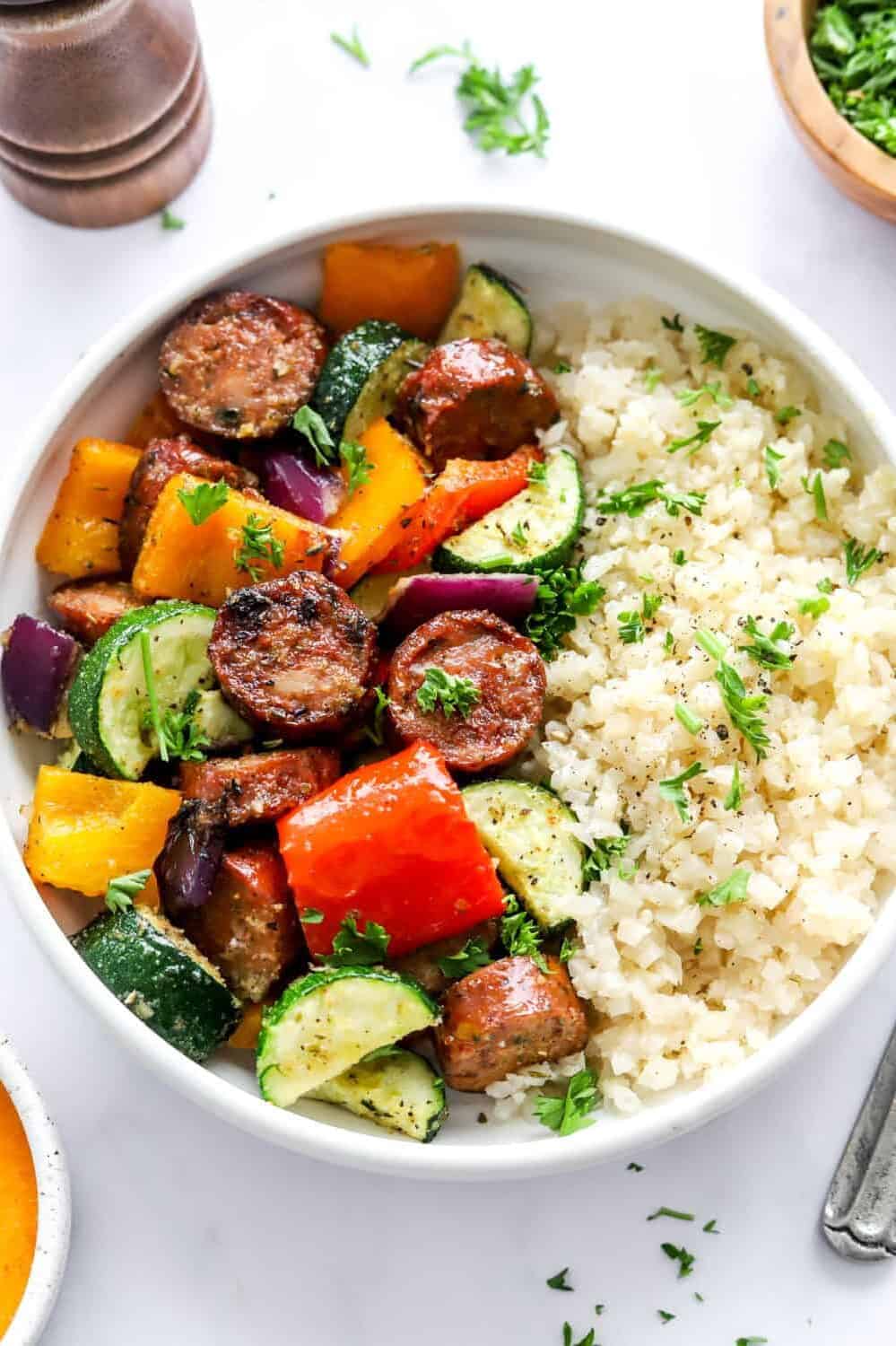 If you're the type of person who prefers hot Italian sausage to the American variety, then this is the cooking method you'll want to follow.
This hot link in air fryer method takes less than 20 minutes to complete, but still tastes like old-fashioned cooking done right. Consider adding these vintage-style stools to your kitchen bar if you really want to hone in on the sense of homegrown vibes!
Recommended Preheat Time: 3 minutes
Cook time: 11-12 minutes
Cook Temp: 360°F
Ingredients:
Italian sausage
Sliced pepper (optional)
Sliced onions (optional)
Directions:
Begin preheating your air fryer. While it's heating, gather your sausages and any other ingredients you'll be using (such as sliced pepper or onions).
Place your ingredients in the basket. Once the basket is preheated, it's time to add ingredients. If you're just cooking sausages, add them directly to the basket and insert into the air fryer in a nice even layer. If you're adding peppers and/or onions, spray the bottom of the basket with cooking oil first. Then add the peppers/onions and place the sausages on top.
Cook for five minutes. After the first five minutes have passed, flip the sausages over and cook for an additional five to six minutes.
Remove the sausages from the basket. Quick, easy, and done: enjoy your meal!
This next recipe for air fryer breakfast sausages works with both links and patties. Cooking a hot link in your air fryer doesn't take very long, but you should still have enough time to warm up some hot tea in the meantime (speaking of, here's my favorite electric kettle and kettle combo!).
Breakfast sausages aren't very filling on their own, so I'd recommend pairing them with some eggs and perhaps a bit of toast. This should give you enough food to keep you satiated until lunch, without requiring much additional effort!
Recommended Preheat Time: 4-5 minutes
Cook time: 8-10 minutes
Cook Temp: 390°F
Ingredients:
Directions:
Preheat your air fryer. Set it to 390°F and let it preheat for between 4 to 5 minutes.
Place the sausages in the air fryer. Let them cook for 4-5 minutes, then flip them over. Cook for an additional 4-5 minutes. Depending on the thickness of your sausages, you may need to add or subtract a minute or two.
Remove the sausages. It's time to eat!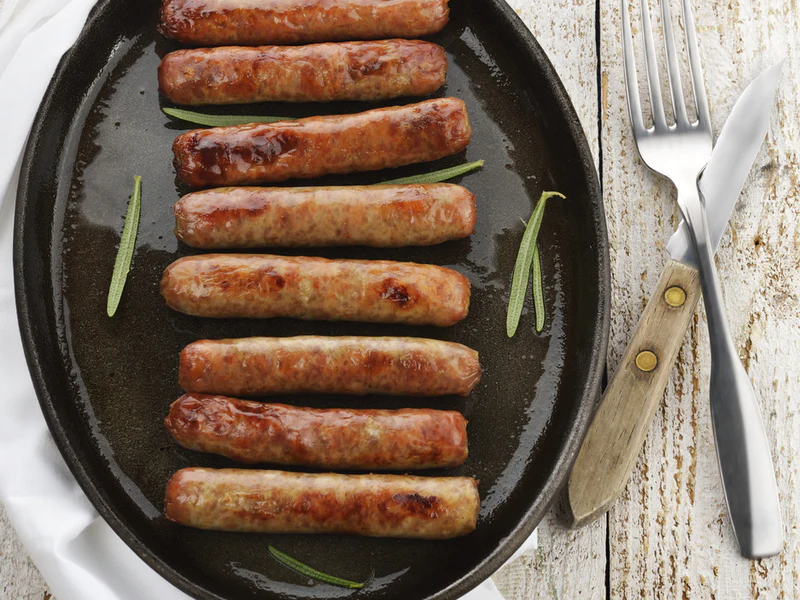 This last recipe can be used to cook pretty much any type of sausage (you could also use the same method as an alternative to my hot dog method, though you'd need to reduce the time).
Unlike the previous hot link in air fryer method—which used a higher temperature—this method reduces the cooking temp to 370°F. If you're running into issues with your sausages overcooking, switching to a lower temperature should help.
Recommended Preheat Time: 5 minutes
Cook time: 12-15 minutes (uncooked), 8-11 minutes (cooked)
Cook Temp: 370°F
Ingredients:
Sausage (Uncooked or pre-cooked)
Directions:
Preheat your air fryer. It should be completely preheated in about five minutes.
Place your sausages in the basket. Make sure not to layer the sausages; cook them in small batches if necessary.
Cook the sausages. The required time will vary, depending on which type of sausages you're cooking.

Uncooked sausages take anywhere from twelve to fifteen, depending on the sausage thickness. Cook for 6-7 minutes then flip the sausages over. Continue cooking them for another 6-7 minutes.

Check your temps. Assuming your sausages have reached 160°F internally, they're good to eat! If not, you'll need to place them back in the air fryer for another minute or two.
FAQ
How do you cook hot links in an air fryer?
You can use any of the hot link in air fryer recipes above. Since these are each tweaked to match a specific kind of sausages, those recipes should give you the best results. But what if you want to try the air fryer method but don't want to use any of the above options?
Well, a good place to start is by cooking your sausages in the air fryer at 400°F for 8-10 minutes. Flip halfway through to ensure even cooking. You may need to slightly adjust the total cook time based on the thickness of the sausages you're cooking.
What temperature do you air fry sausage links?
Most recipes recommend cooking your sausage links at a temperature between 360 and 400 degrees F. This will affect the length of time your sausage takes to cook. However, the internal temperature of the sausages is far more important than the temperature you cook them at!
Are hot link sausages already cooked?
While some sausages come pre-cooked, many options you'll find on the local store shelf will be uncooked sausages. The answer varies depending on the sausage in question, but you should be able to find the answer on the label.
Can you eat hot links uncooked?
You should always ensure a proper internal temperature – even if it's precooked. While most people know that eEating raw sausages isn't a good idea you may not know that precooked sausages are not safe to eat without being cooked. A good rule of thumb is that your sausage is ready when it reaches an internal temperature of 160°F. Use a meat thermometer to make sure your sausages have reached this temperature before eating them!
How long should you air fry a hot link?
The time it takes to cook a hot link in an air fryer varies, depending on the thickness of the sausages and the temperature you're cooking them at (most recipes fall between 8-15 minutes).
If you're trying to cook sausages but can't fit them all into the basket, it will—of course—take longer. Fortunately, you can eliminate these extra minutes required by looking at larger air fryer models, which will offer more basket space.
Remember, overstuffing your basket won't allow the hot air to circulate around properly, which will actually increase the cooking time!
It's Easy to Cook a Hot Link in Your Air Fryer
If—like me—you try to have a stress-free morning routine, then cooking your sausages in the air fryer just makes sense. Prepping the air fryer basket takes no time at all, cooking requires mere minutes, and cleanup is a breeze!
There's even one more benefit I haven't mentioned yet: leftover sausage! Pan-frying sausages leaves them covered in oil, making things quite messy when you're trying to store the leftovers for later. Air-fried sausages have far less grease.
Simply wrap them in aluminum foil (or parchment paper), place them in an airtight container, and put them in the fridge. You can either reheat them later or incorporate them into your next meal.
Well, that's all I have for you guys today. I hope you take some time to look over each recipe card and find an easy air fryer recipe that you really love! Y'all seem to love them (and you guys know I love my air fryer dishes!), so I'll keep adding more as I find them.
As always, thanks for reading! xoxo