So, you want to learn how to decorate a living room with a fireplace? Good news. You're in the right place! There are tons of different ways you can decorate with and around the fireplace in your living room to get a designer look.
I've included a bunch of my favorite decor ideas and suggestions for you can consider. I hope you can tailor them to your space. I personally think that they work every time. By the time you get the end, you should at least have a few great options to get going in the right direction. I can't wait til' you see my three favorite items for a mantle! I remember just how hard it was to decorate after I added a fireplace (and the budget) to my home. So let my tears be your joy. Like for real guys – we're friends.
Of course, you can always head over to my heavenly home accents post if you want even more decor options, but I know that this post will get ya moving in a great direction. Let's dive in:
Start with the Fireplace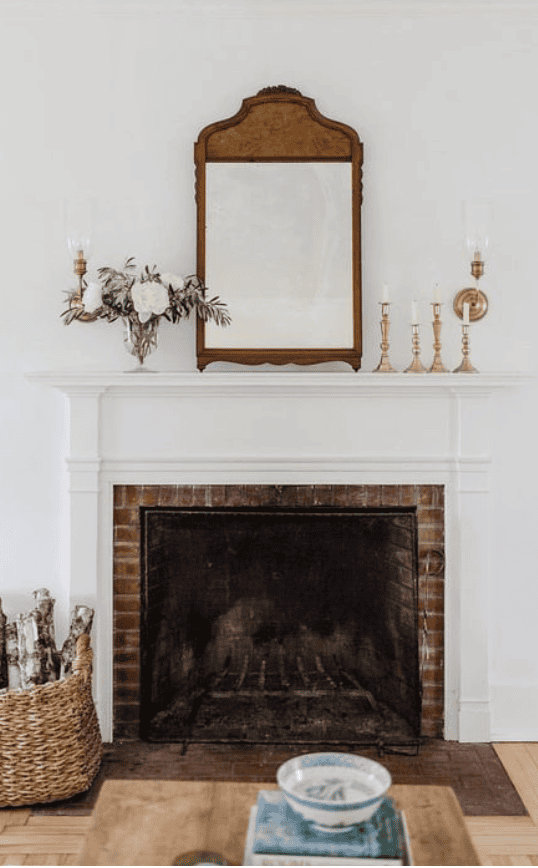 If you're trying to figure out how to decorate a living room with a fireplace, the fireplace itself is the perfect (and logical) place to start. After all, the fireplace will essentially be the focal point of the room, so it makes sense to begin here and work your way out.
My three all-time favorite ways you can do to decorate a fireplace are…
Decorate the Mantle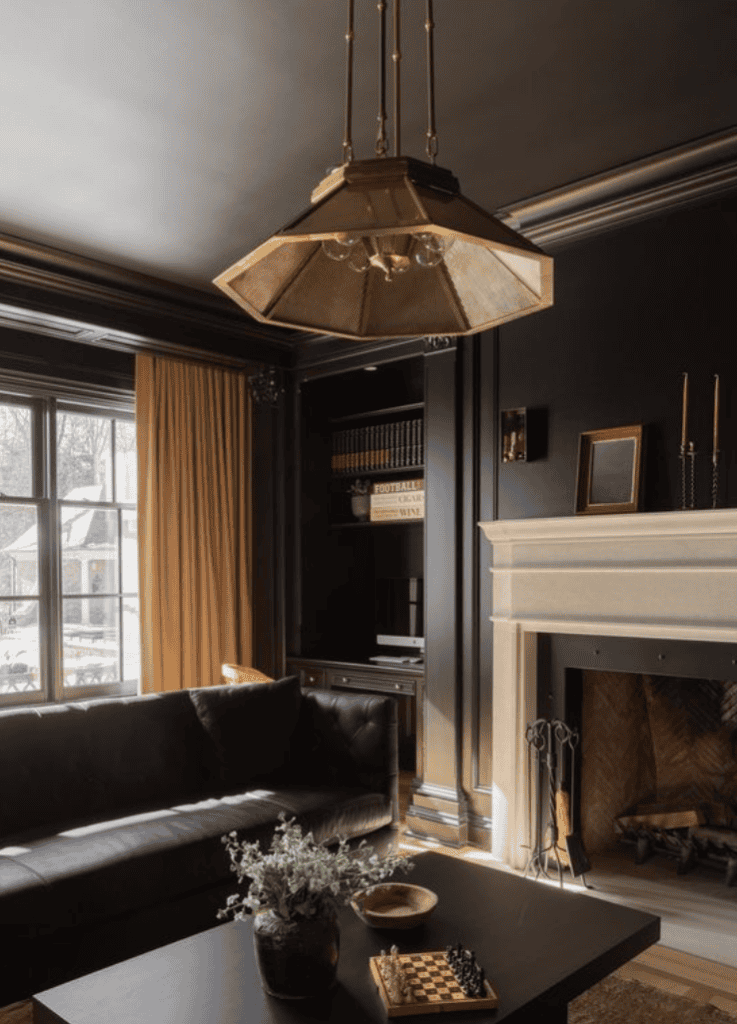 The top of the mantle is a great place for smaller decorations like faux flowers. Other great options include small distressed pottery, figurines, vintage books, trinkets from past travels, and brass candlesticks. Many people also like to place family photos over the mantle. I totally support you here – but for me – I prefer to save family portraits for office spaces and hallways. Keep the mantle minimal with only three groupings at most. I love candle sticks, a vessel with flowers, and vintage books.
Of course, you can put pretty much anything on top of the mantle, but you want to make sure the design elements of your display look good next to the decorative elements of your fireplace. This doesn't mean they have to match though: contrast and texture are key.
The best part about decorating the top of the mantle is that it's easy to adjust later on. There's no need to shoot for perfection the first time. Try some different options you can always make changes!
Reface the Fireplace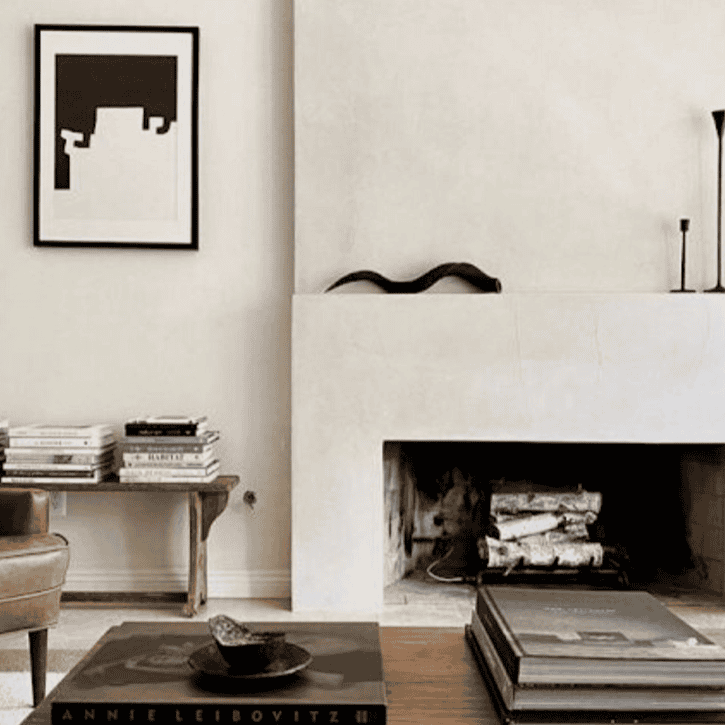 The decorations on the fireplace mantel serve to accent the fireplace itself. However, you don't need to stick with the "look" of your fireplace if you don't like it. Have a brick fireplace? You can always paint it. You might be shocked but some white (or my favorite black paint) can do.
If you're looking to give your family room an entirely different vibe, you could can also consider tiling the face of the fireplace instead. When it comes to tiles, the options are nearly endless. Whether you have white walls, black walls, or any color in between, you'll be able to find a complimentary type of tile. But don't be afraid to resurface yours.
Fill it with firewood or twinkly lights and candles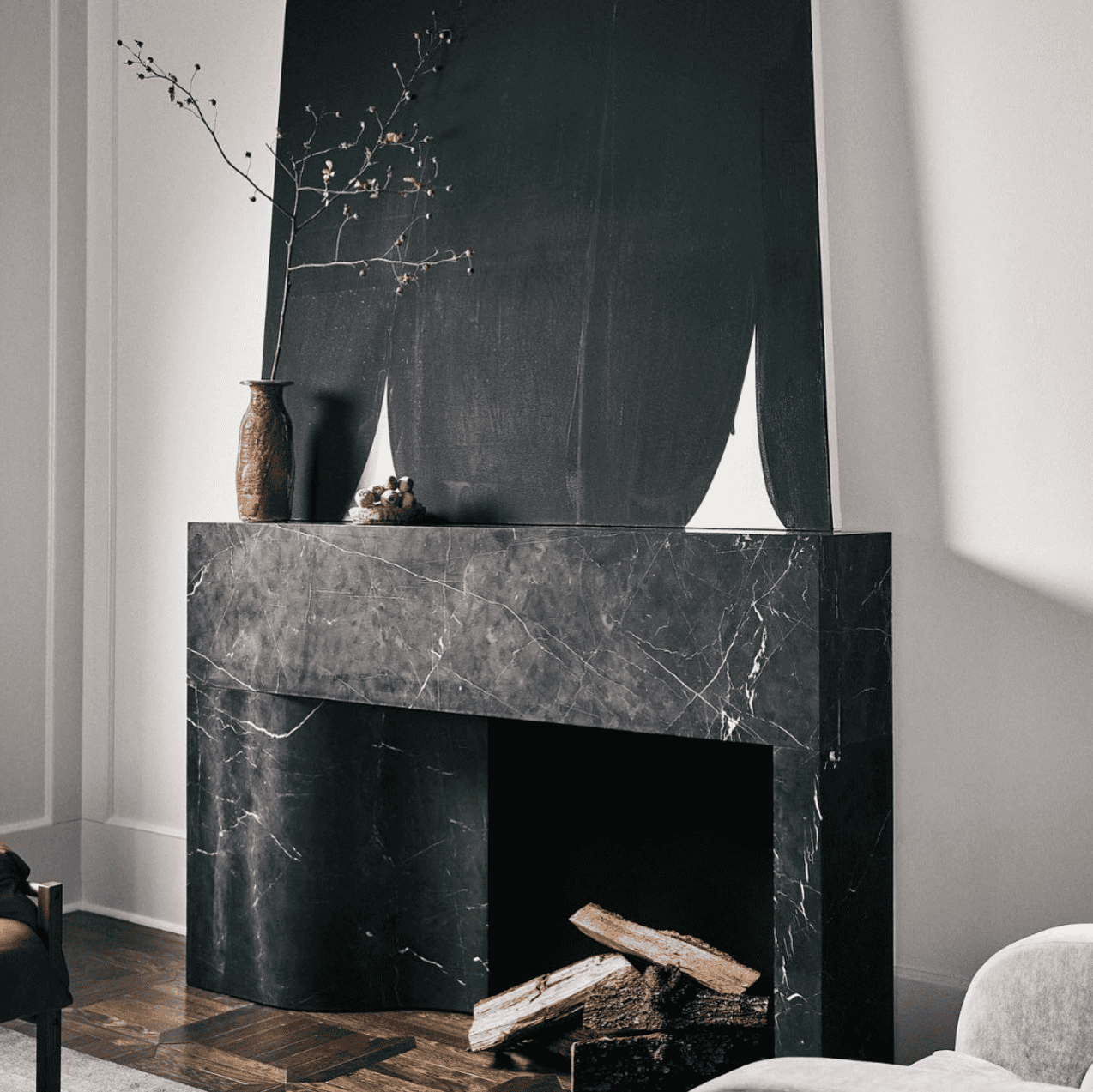 This decor trick is timeless. Many homes have a fireplace, but never actually enjoy a crackling fire on a cold winter night: these fireplaces are purely decorative. Not to worry, however, because even a non-working fireplace ends up being the focal point.
There are a few good options, but one that I particularly love is filling the front of the fireplace with decorative firewood. This completely fills up the space while also offering a hint of "the outdoors," while adding a ton of texture.
Of course, the downside of thus option is actually obtaining and stacking the wood. Fortunately, they do sell decorative logs and firewood at most grocery stores. Feeling magical? Grab some faery lights and string them about. Even better? Grab some flameless candles and have them turn on when the lights go down automatically. The vibe is truly effortless and charmed. Okay, I've gone overboard…but one more. Some people even use their fireplace as a storage location for their favorite vintage books! The looks is so Dumbledore and I'm here for it.
Heading Above
The next thing you'll want to consider when trying to figure out how to decorate a living room with a fireplace is the wall space above ot. This is beyond controversial. Let's get serious for a second and chat about the options.
Mount a TV
This is a common instinct and functional decision, and one that you'll see in many homes. It works because people don't need to planter furniture layout around two focal points; and easily gravitate space planing to focus at the fireplace – makes sense right? Not so fast…
You'll want to take a few precautions when installing or mounting a TV above a fireplace. The heat can damage your TV if the proper steps aren't taken, so I recommend checking out this article to ensure you're good to go. We're friends, right? So don't be mad – but I personally advise against mounting a TV above a fireplace. It just never looks as beautiful. There I said it. So I assume you are wondering….
How high should a TV be above a fireplace?
In general, you want your TV 60″-68″ inches above the ground. If you have to lift or strain your neck in any way, it's too high, period. Now on to my favorite things to mount above a fireplace…
Display Your Favorite Art Pieces with Branches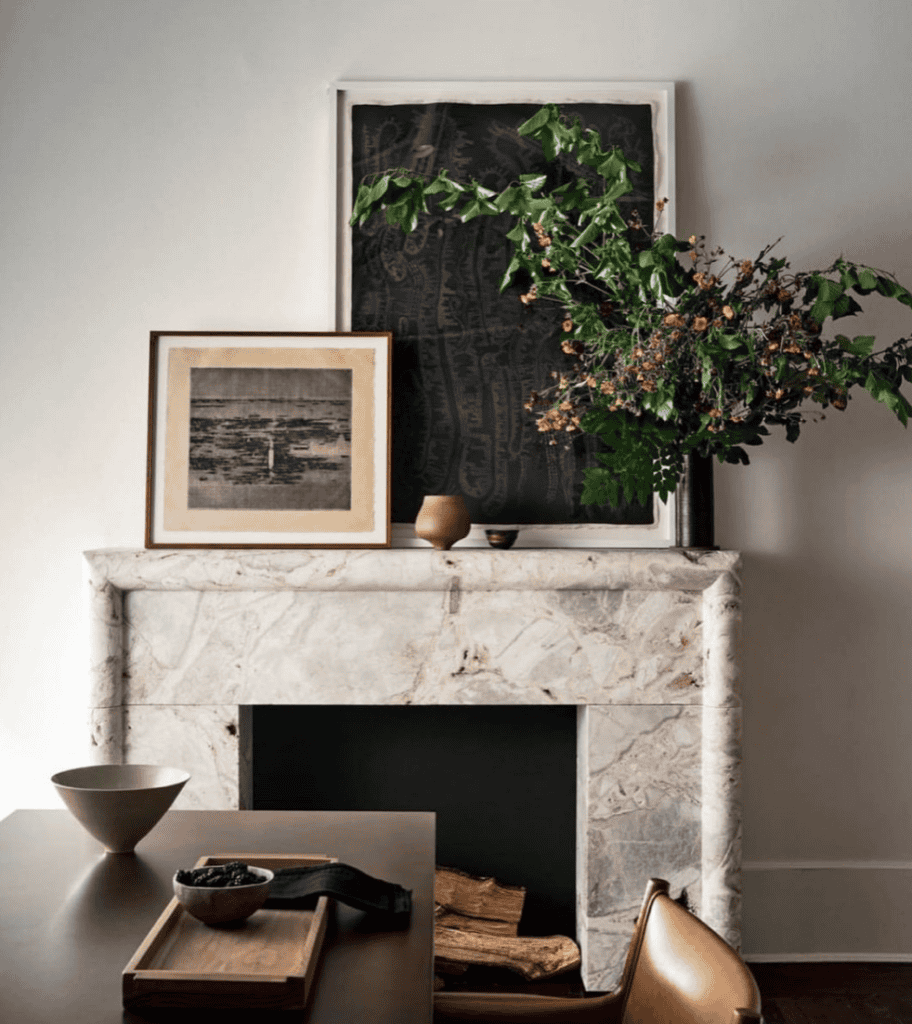 One of the best ways to make a wow moment is to display your favorite art piece above the fireplace. If your favorite piece is large, you can display it alone. However, if space permits (AKA you have high ceilings and a collection of favorites), you could always arrange a stunning collection of wall art instead – just don't crowd too much and consider the mantle elements too.
Place a Mirror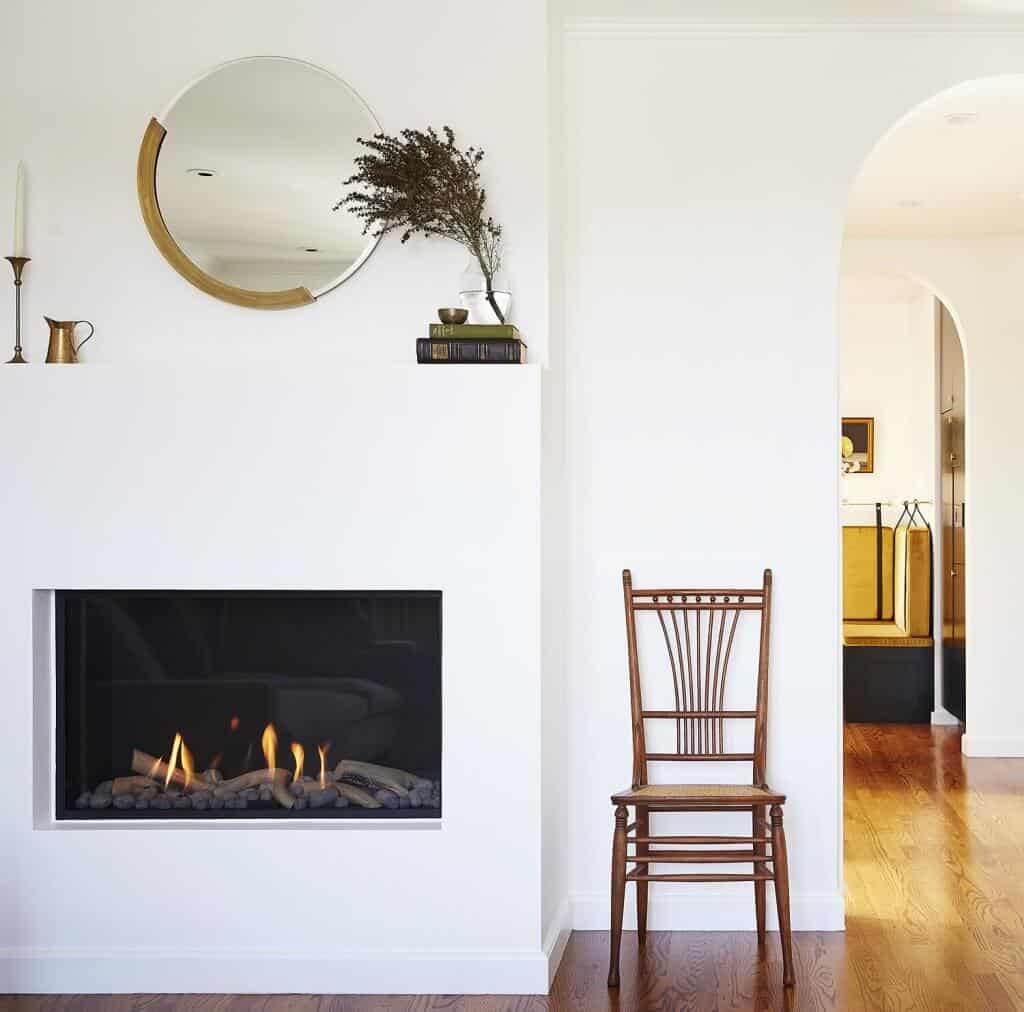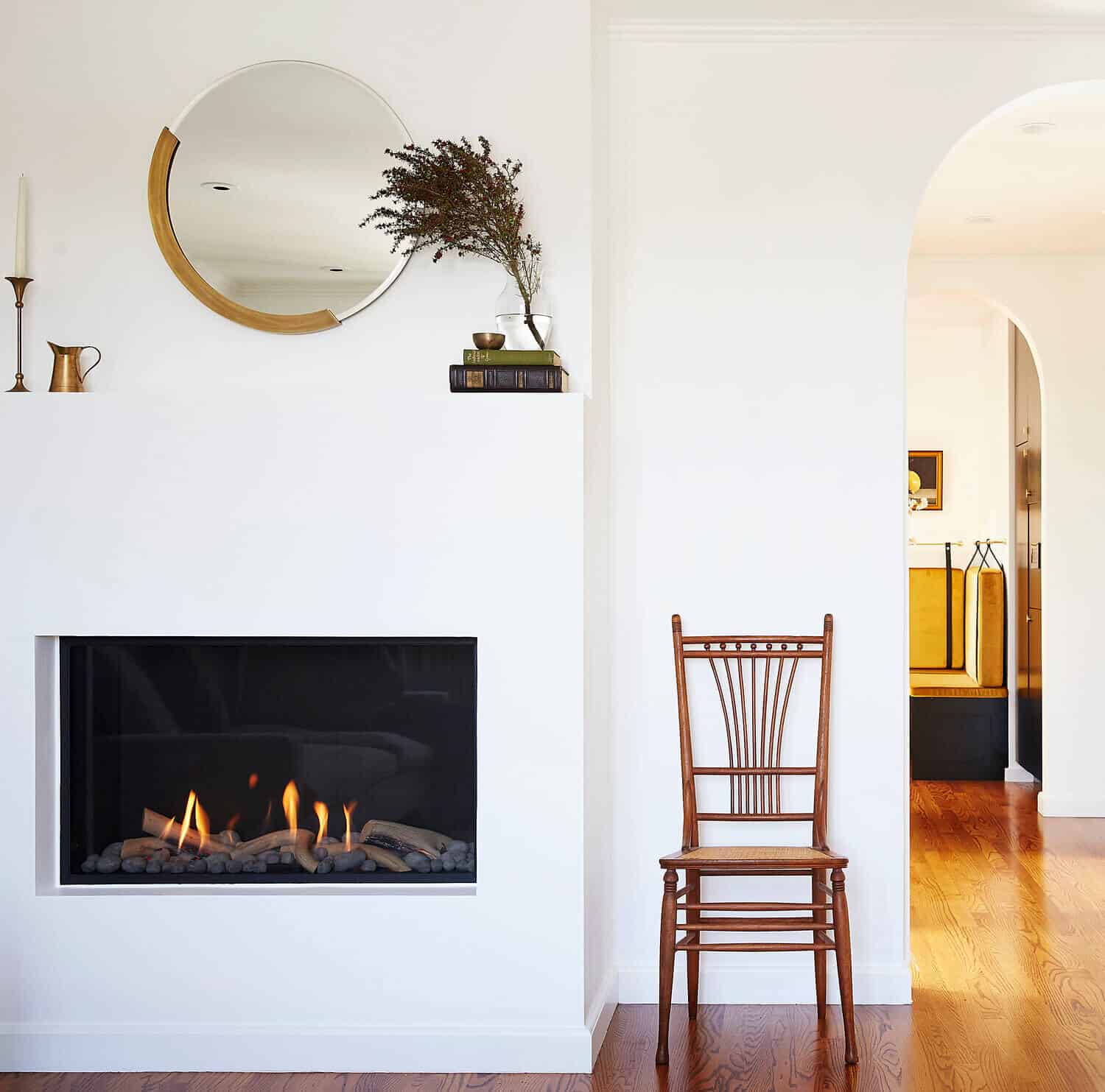 Another great option is placing a mirror over your fireplace I love this Hamilton Hills mirror. While a mirror doesn't offer the same visual diversity as hanging art does, a mirror will give the illusion of a bigger room. A mirror can even help increase the lighting of your living room. This is a dupe for the mirror I have above my fireplace.
Spreading Out to the Sides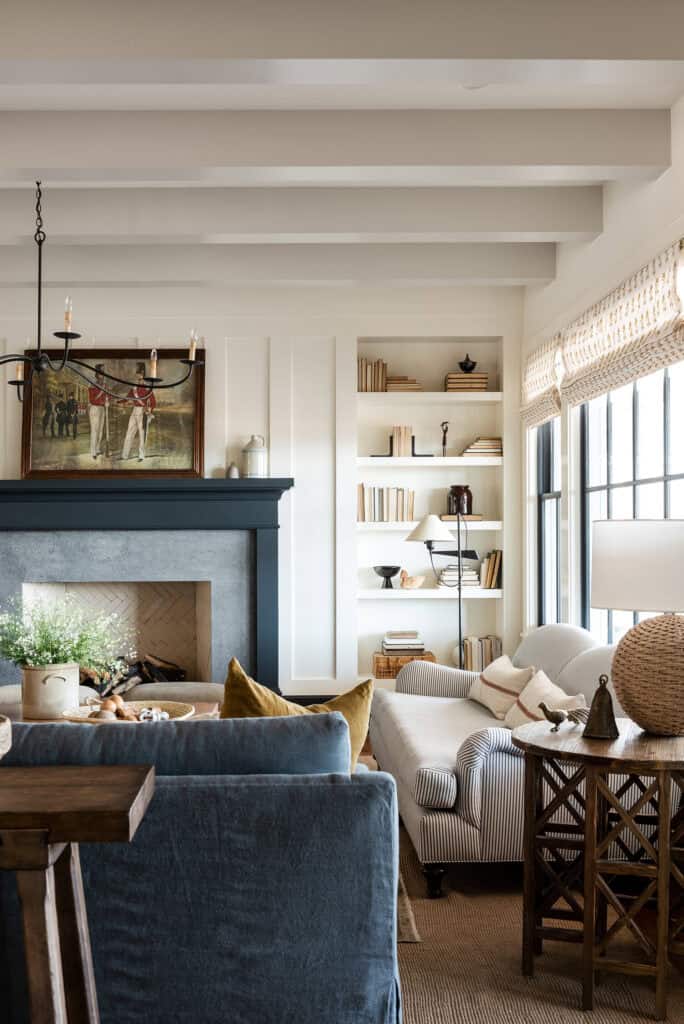 Step three of how to decorate a living room with a fireplace: move to either side of it. If your fireplace is centered in your living room, arranging items symmetrically is a can't-lose decor strategy.
If it's not, you'll need to put a bit more thought into your overall layout. Still, a corner fireplace can look just as—if not more—impressive as a centered fireplace, so don't think of this as a bad thing. Think of it as an opportunity.
I've mentioned a few different ideas you can implement below, but these might take a little bit of time to complete. If you want to see a change right away, I recommend picking up some houseplants to begin the decor process – like this Monstera plant.
Add More Storage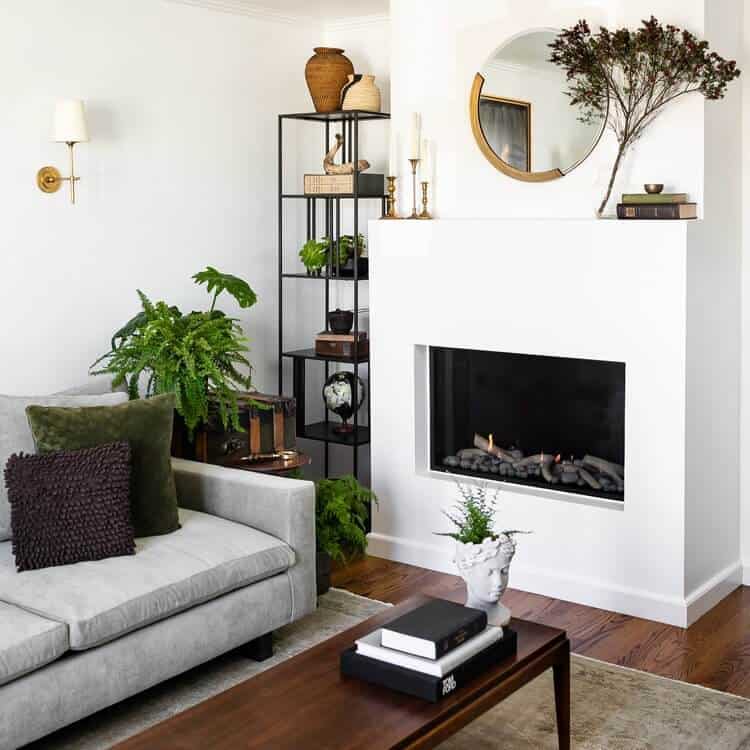 Adding more storage space next to your fireplace is a great idea. Not only do you now have more space to store items/decor in your living area, but you also benefit from the visual influence of whatever storage solution you choose. My favorite options are built-in bookcases, or floating shelves. I placed this narrow bookcase next to mine for a less expensive and less permanent option. This is great open shelf option for either side of a fireplace too.
If you do opt to add more storage, I recommend choosing something that you haven't used in the room yet. If your new storage solutions match the ones placed on the opposite wall, it tends to reduce the visual impact – so keep it spicy, and style them with your favorite thrifted finds.
For smaller spaces, I recommend installing an arched bookcase.These look amazing and offer additional storage space without imposing on the room.
Paint the Walls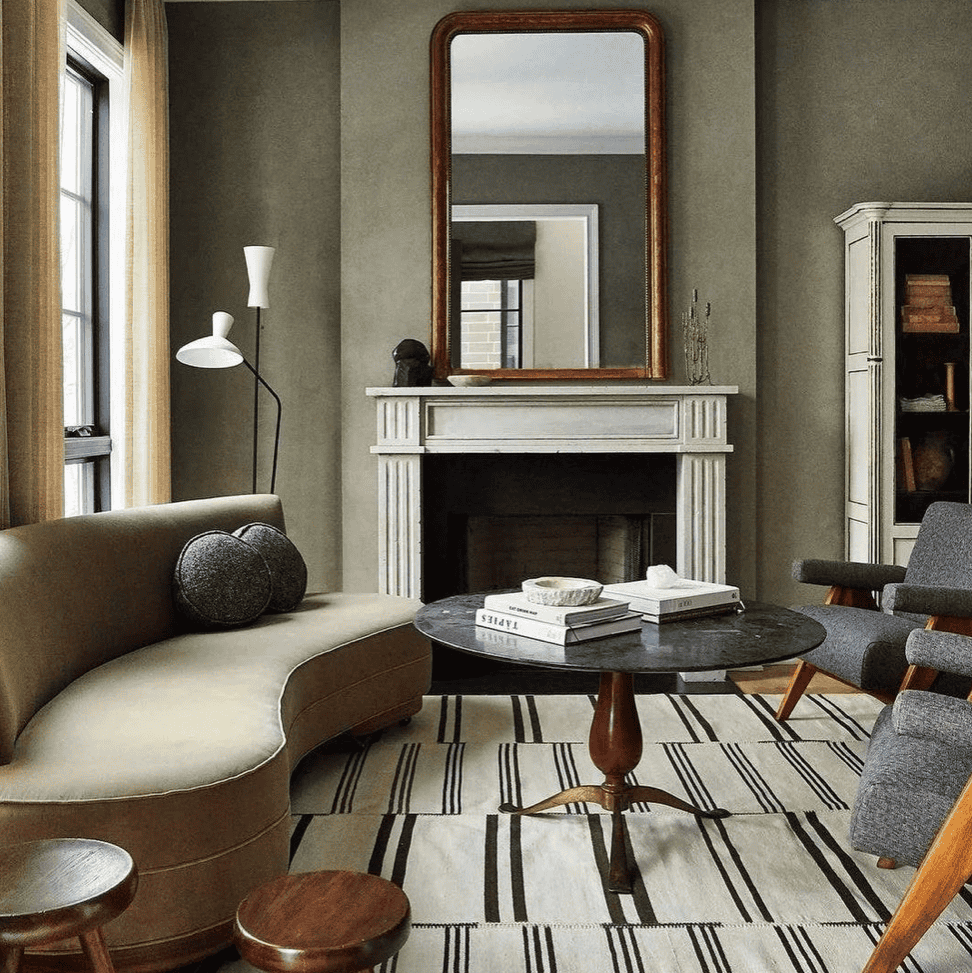 One of the easiest ways to bring a dull room to life is by changing the colors of the walls! You can paint the entire room the same color—I always recommend this neutral yet versatile white paint—or just paint the wall with the fireplace the same as an accent wall for a seamless look.
Whites, grays, and blues are common choices, but you can always switch things up a bit to fit your specific space. You can even paint your accent wall black. If you don't feel like painting, check out my post on how to install your own wallpaper. This can be a dramatic level up too.
Arrange Art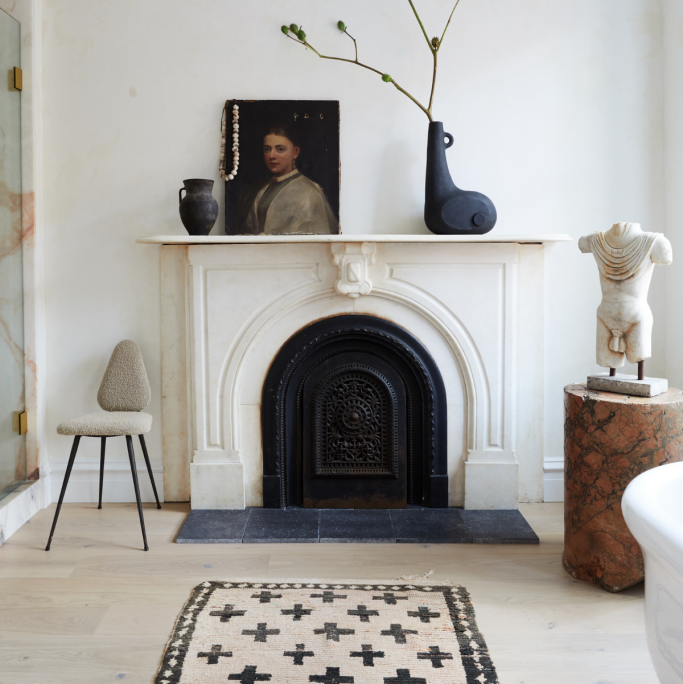 Placing affordable yet beautiful art on the side of the fireplace (rather than above it) is an excellent way to display your wall art – speaking of, here's a Target art canvas I particularly liked.
As you guys already know, displaying wall art is a great thing to do when moving into a new home; it instantly changes the entire "feel" of the room!
The same logic applies here. By installing and arranging art, you can complement and enhance the interior design of the rest of the room with minimal effort!
Addressing the room decor is critical for knowing how to decorate a living room with a fireplace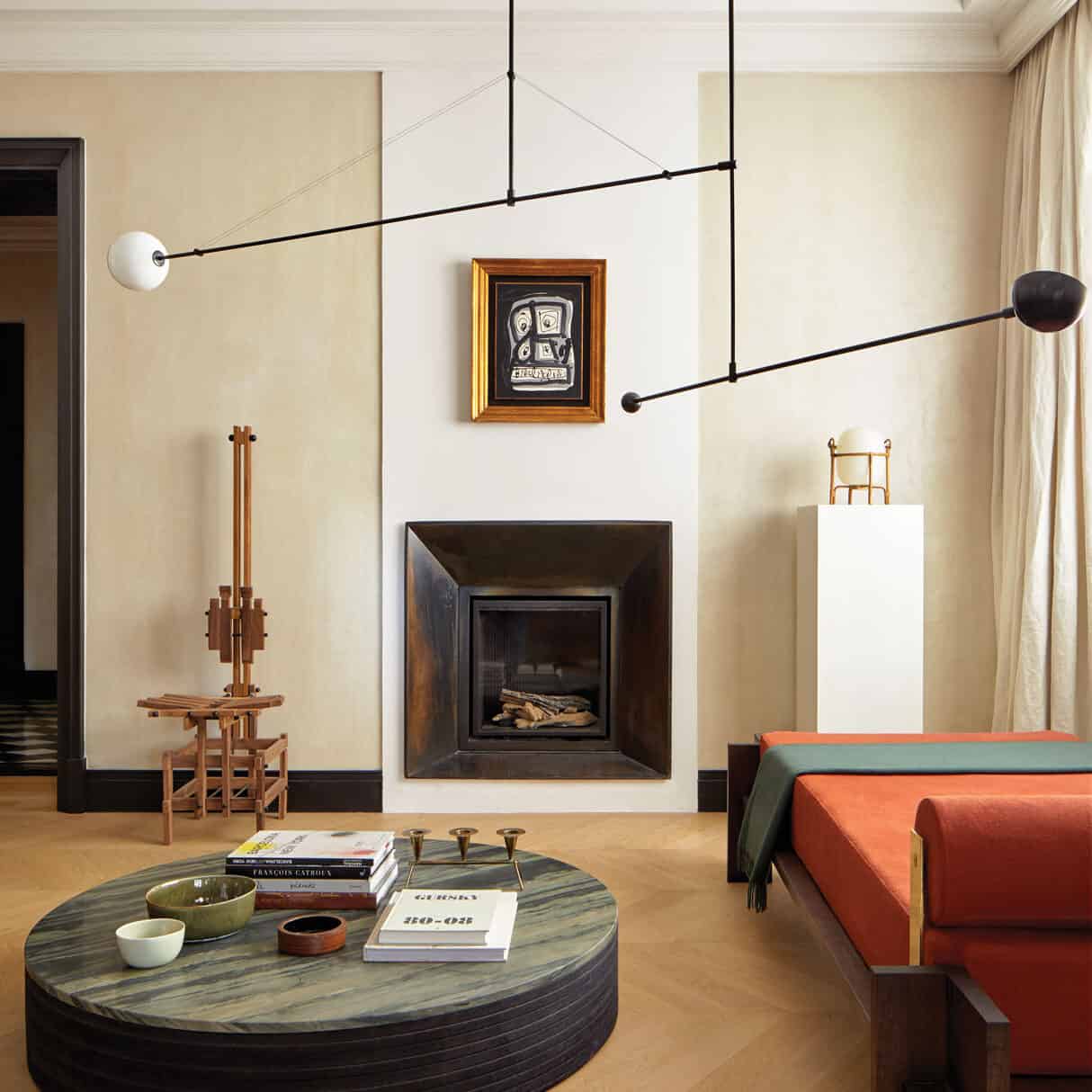 Now that we're done decorating around the fireplace, let's approach the process of how to decorate a living room with a fireplace on a grander level: decorating the entire room!
There are many standard items you'll find in a living room, such as a coffee table or a TV unit. I will mention a few things I think are worth keeping in your living room, but—for the most part—we'll be focusing on how to pick and place room decor.
how to decorate a living room with a fireplace – place with purpose
When placing furniture in your living room, you should have a general idea of how you'll use the room and what potential problems could come up. This may seem like overthinking, but trust me: it will make everything go a lot smoother! Here's how I layout a living room step by step.
Do you plan on having lots of guests over? If so, you'll need to ensure that you have the extra seating for them, complete with enough space for multiple people to easily move in & out of the room without colliding. Don't forget great coasters.
Will you be eating in the room? If so, will your choice of furniture be easy to clean around/under? What about TV placement? Can you enjoy the sight of the TV and the fire from the same seated position?
These are the types of questions you'll want to think about when placing furniture. Confused? I'm so sorry! Don'y be. Head here.
Decorate Around the Shape of Your Room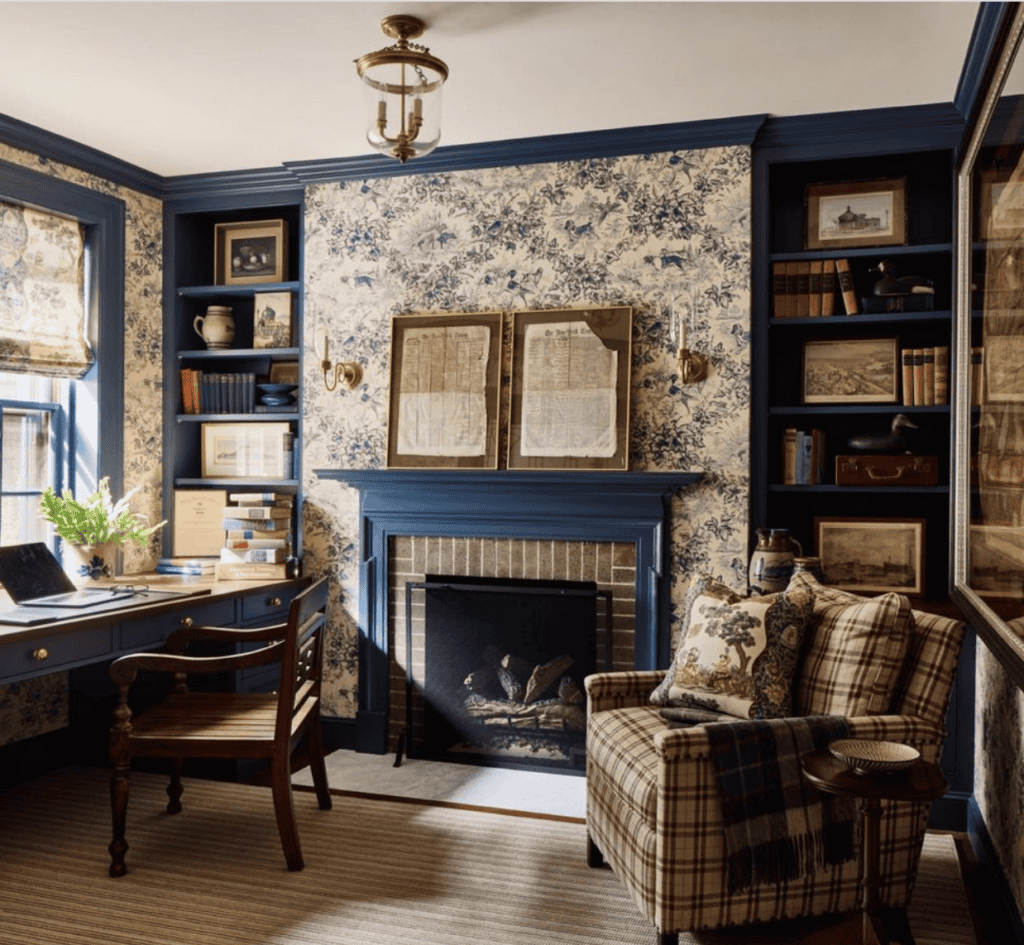 Your living room layout should follow the general shape of the room. With the fireplace as the focal point, arrange the seating area so you can easily enjoy the views of the fire while sitting.
Unless you happen to have a large area to work with, you'll want to take extra care to ensure that there's plenty of spacing for entering/exiting the seating space. Of course, you'll also need a good coffee table like this one.
Many people decide to simply place a couch in their living room and call it good, but I would recommend placing multiple chairs instead – if space allows. Be sure to not plac anything too close to the fireplace and create a ton for people to gather infront of it. This will allow everyone to have their own space to relax while still being close enough to enjoy each other's company.
You can reinforce this shape with an area rug. While many rugs are square or rectangular, a differently-shaped rug can be perfect for curved, corner, or non-symmetrical rooms!
Select Complimentary Furniture to decorate a living room with a fireplace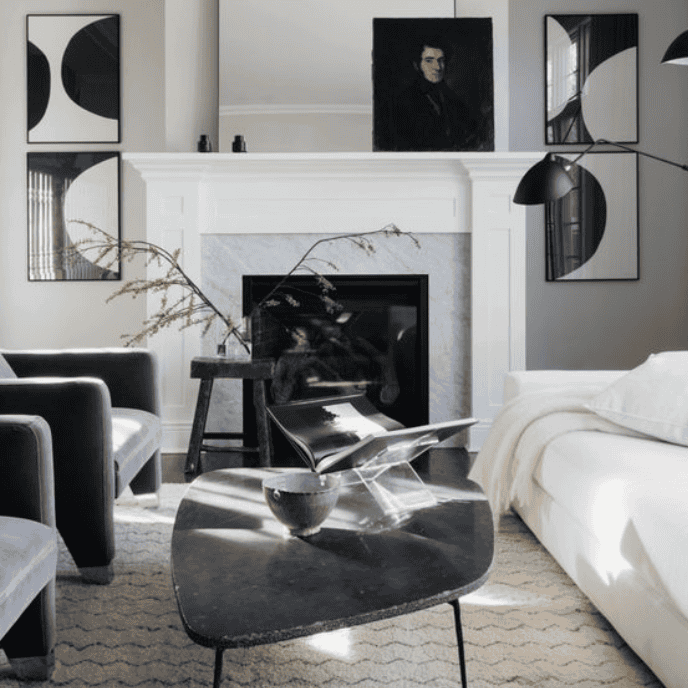 By this point, you've likely established a "vibe" for your room. Whether that's classic, modern, rustic, or somewhere in between, you should select living room furniture that aligns with this style.
When shopping, certain items (such as end tables) should be fairly easy to align with your style. However, you might need to get a bit more creative on other items. Consider a few different TV ideas: does the model you're thinking of looking at home next to your choice of decor? If not, you may have to get creative like this guy.
FAQ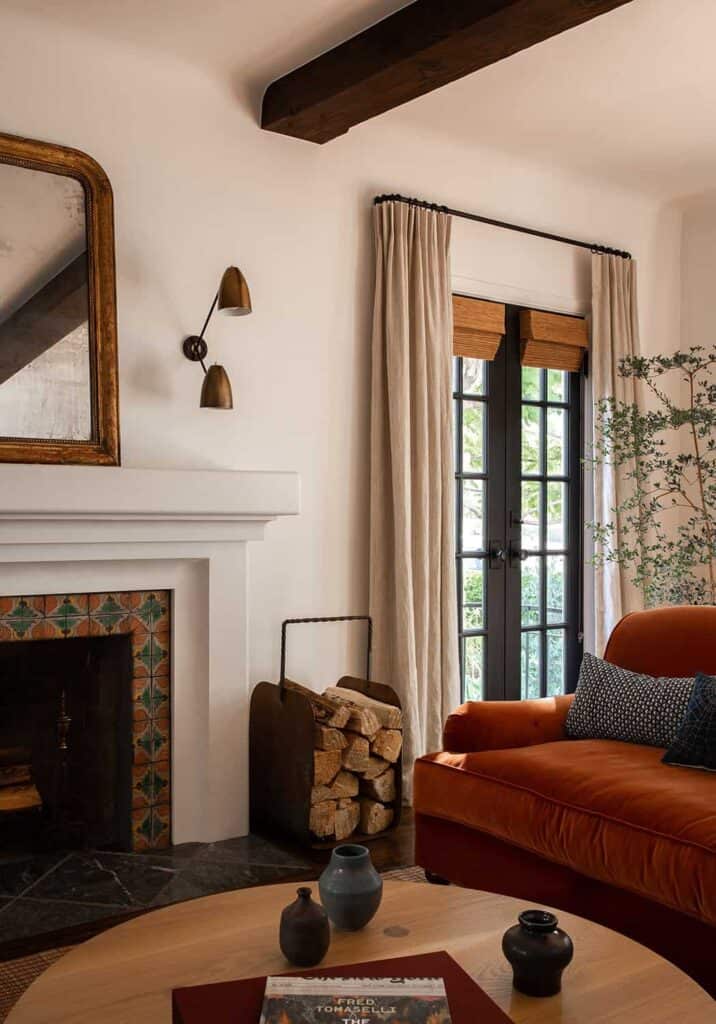 How to style a living room with TV and fireplace?
There are many different ways to style your room! Common options include centering everything around the fireplace (with the TV mounted above), placing the television next to the fireplace, or arranging your room in an L-shape.
How do you arrange living room furniture with a fireplace in a corner?
Ideally, you'll want every seat to be facing toward the fireplace in an L-shape. You can fill in some free space with decorations and additional furniture, but make sure to leave enough space so you can get in/get out of the area easily.
What furniture do you put in front of a fireplace?
If you only have a single couch or chair, place this in front of the fireplace. If you have more seats, it's best to place a table in front of the fireplace. You can arrange the seating around the table, giving you a perfect view of the fire while also offering tabletop space.
What is the most popular color for a fireplace?
Grays, creams, and whites are the most popular. However, blues and even black are also great options!
Should fireplace be lighter or darker than walls?
That depends: do you want to highlight the fireplace, or would you rather the fireplace blend into the background? Choose lighter/darker colors if you want to use contrast to make the fireplace the focal point of the room. If not, uniform coloring is probably best.
Things to Think About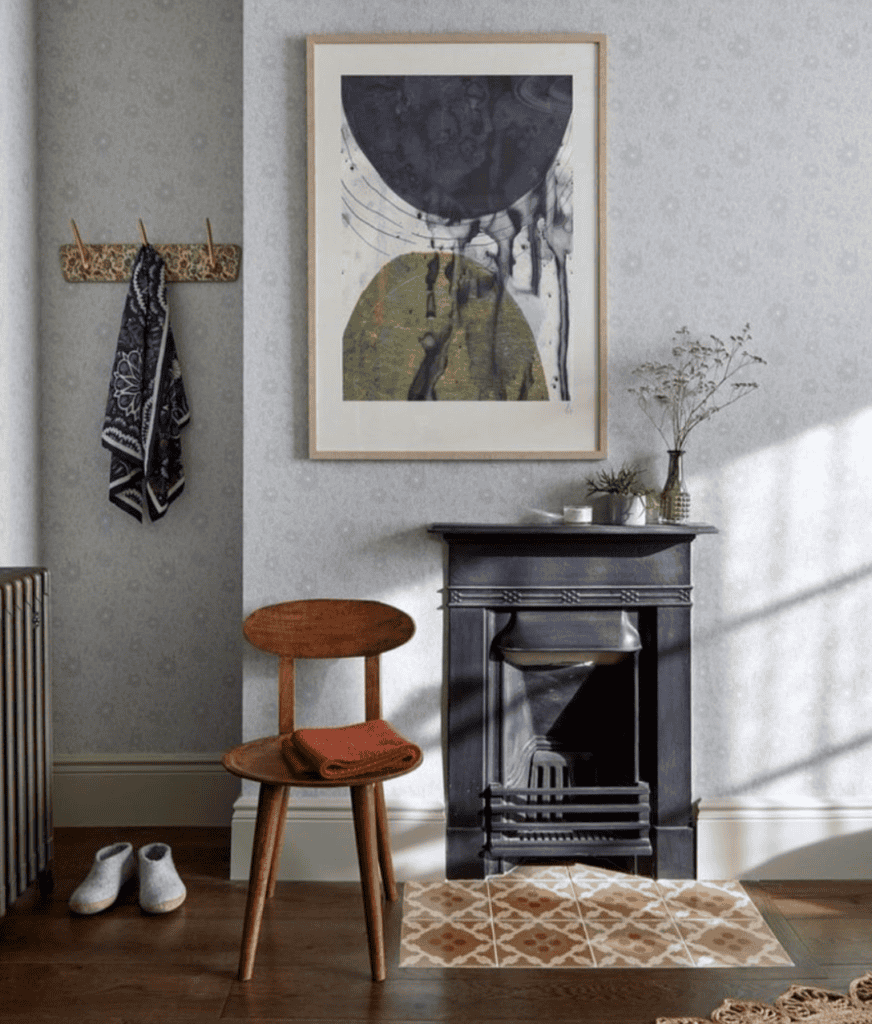 As you've likely realized, there isn't a simple method of how to decorate a living room with a fireplace: the options are nearly limitless! Still—whether you have a traditional fireplace, a stone fireplace, an electric fireplace, or a faux fireplace—the process stays relatively the same. Start with your beautiful fireplace and work out until the room's decorated to your liking!
Well, I hope y'all enjoyed my "ideas & inspirations" for decorating around the fireplace in your living room. Here's some more backstory on my daydream living room decor.
Have you used any of these ideas in your own living room? If so, let me know in the comments below. Until next time! xoxo.