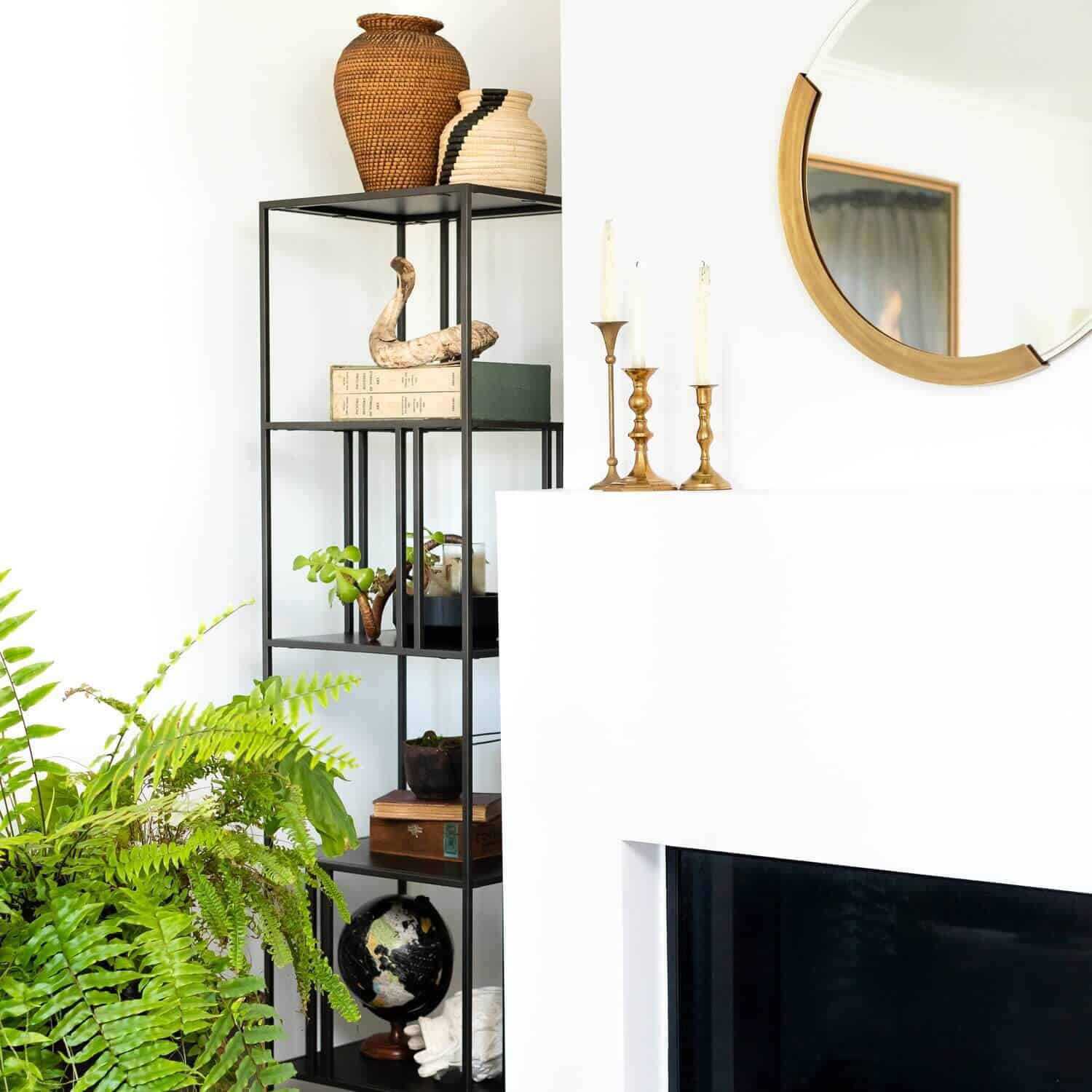 Do you have any particular furniture or decor that you are absolutely in love with? I do! Although I love every single curated piece in my home, I have a soft spot for the round mirror hanging above my fireplace. Even better? Here's a link to my favorite mirror source. Go go go!
This little nook in my living room has always been a favorite of mine, but the mirror really is the main focal point. Do ya see it? A mirror – to me – is an essential styling piece because it almost always helps to create the visual illusion of a larger space. Try adding a mirror in any cramped area of your home and you'll instantly see the difference. Consider browsing the mirrors in the link above if you are looking for some inspiration and not sure where to start.
I specifically chose my round mirror for a few reasons and here they are:
The antique brass crescent shape stopped me in my tracks. I knew it would pair perfectly with the vibe of my space. Try to pick a mirror that will seamlessly integrate into your space and provide a strong focal point.
I wanted a round mirror to break up the rectangular shapes in the room. This creates visual interest and helps the look feel more aesthetically pleasing.
The scale of the mirror needed to not be wider than the fireplace chimney. This mirror fits perfectly in the space – be sure to measure before selecting a mirror.
Round mirrors tend to be versatile and don't go out of style as easily. This has a timeless look that can pair well with almost any design style. It's a smart buy.
The circular shape looks extra modern with an unfinished edge. I just adore asymmetry. I love a modern pop when mixing classic elements into my space.
It was in the budget, I still can't believe the price of this mirror for what you get. It looks like a million bucks – but was an amaxzing deal.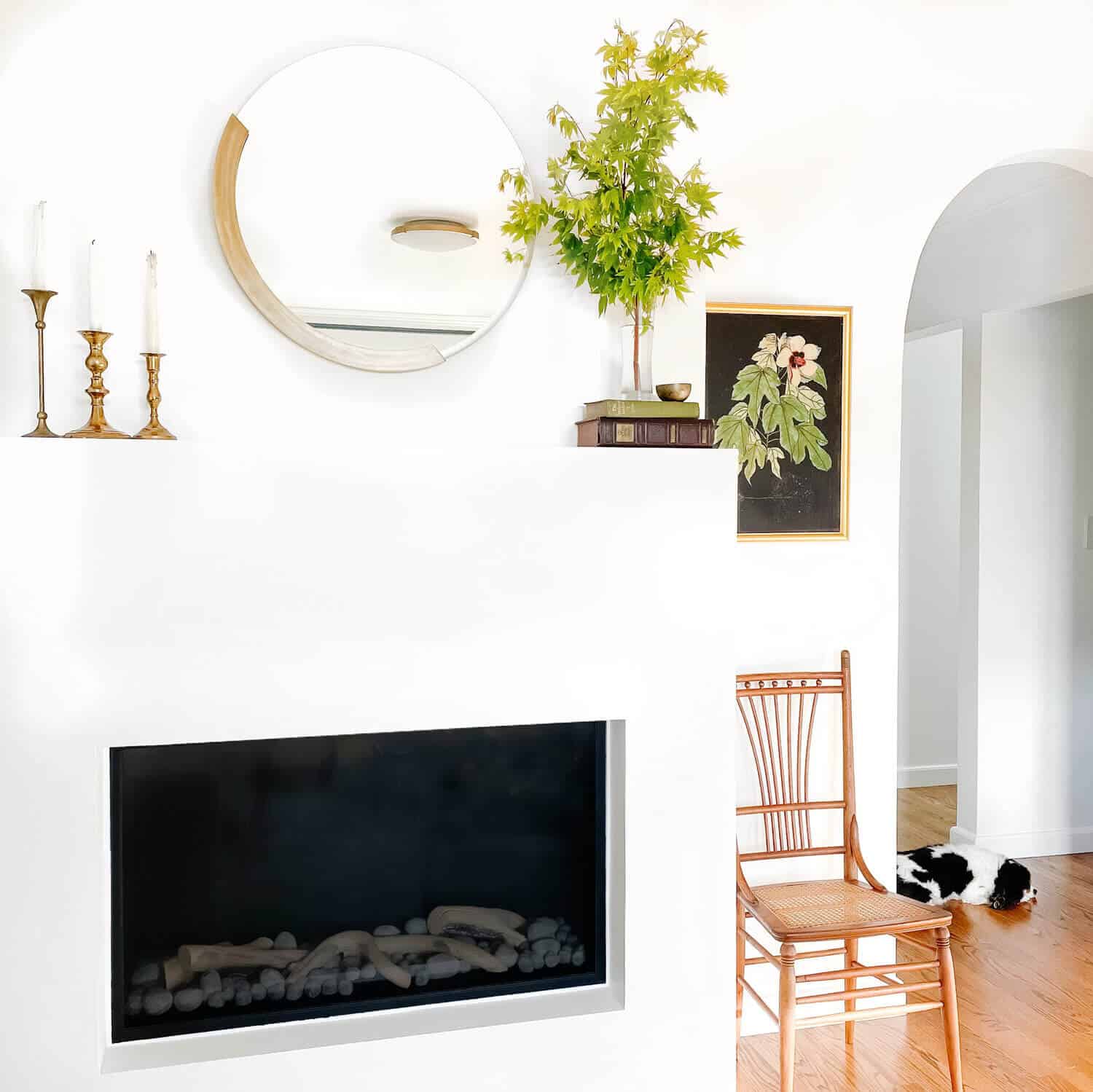 Most of the furniture in my space forms rectangles, so a round mirror helps balance everything out. It also adds a soft and sophisticated element to my room. I just love the crescent frame. It adds a bit of an x-factor, and you know I am here for that.
Pro tip: Be thoughtful when choosing a round mirror for your home and don't forget to consider the space in which you will be hanging it. Remember that a mirror reflects the area directly in front of it. You don't want to be creating the illusion that you have two TVs for example.
There are tons of round mirrors to choose from, but the ones with bronze and antique metal-brushed frames seem to catch my eye the most. Wooden ones are more traditional but they can look a little too dated in my space. All this to say, just be extra intentional to select a round mirror that makes your heart sing – be adventurous. After all, mirrors have a funny way of becoming a focal point. You got this!
To help, I have put together a shortlist of mirrors that I love below all at different price points for ya. Don't l all of my hours of research go to waste. I hope you find something you like:
Which one do you like the best? Are any instant favorite? Do you think you'll hang a round mirror in your living room now if you haven't already? It's going to add so much more dimension and depth to your home, I promise! Let me know in the comments below.
I would love to know what style you end up going for. In the meantime, follow me on Instagram for more home styling tips. After all, a beautiful home takes time and effort, so let's go through this exciting process together! Xoxo