Do you have any particular furniture or decor that you are absolutely in love with? I do! Although I love every single curated piece in my home, I have a soft spot for the wall mounted round mirror hanging above my fireplace. Even better? Here's a link to my favorite mirror source. Go go go!
Take a Break from Rectangular Mirrors!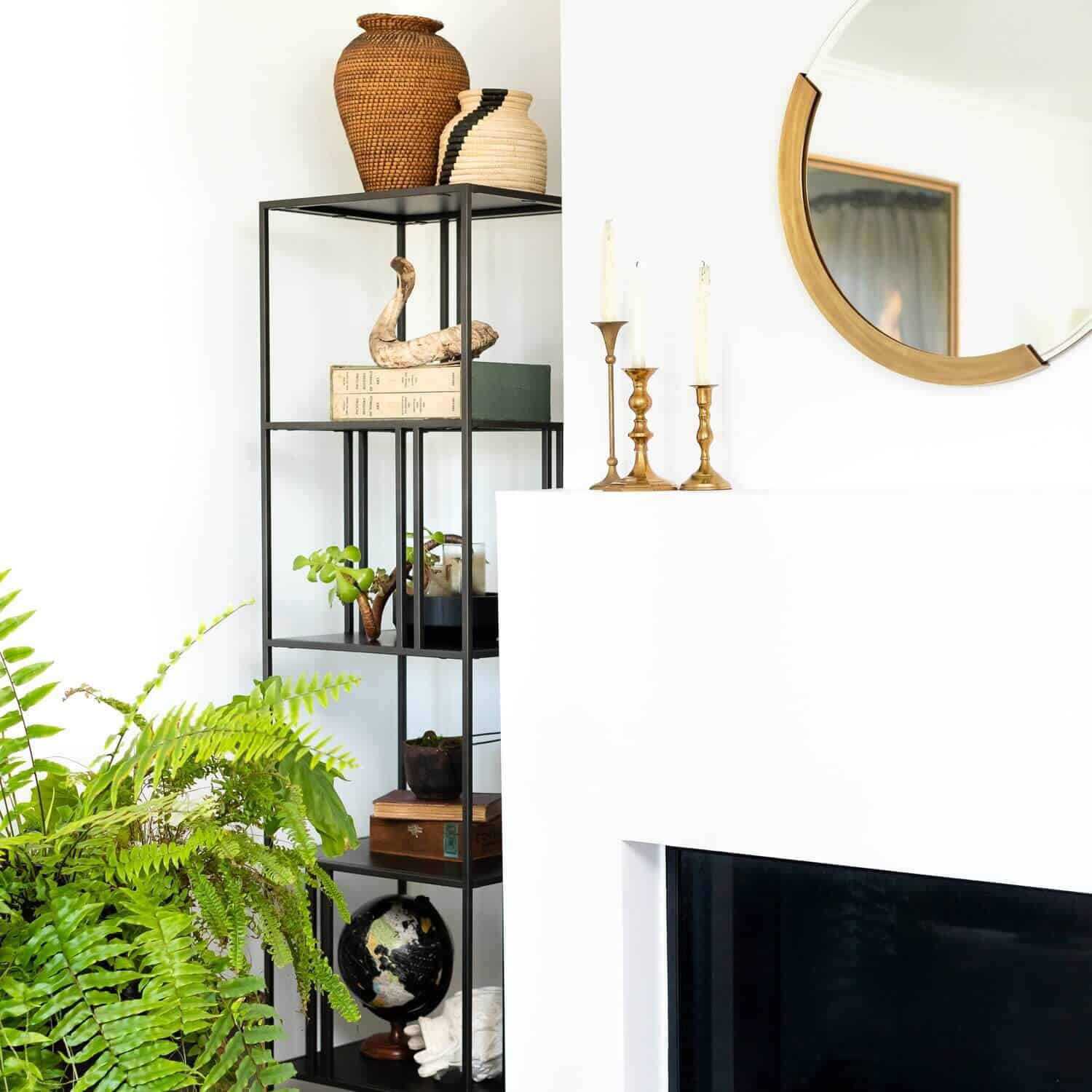 This little nook in my living room has always been a favorite of mine, but the mirror really is the main focal point. Do ya see it? A decorating wall mirror – to me – is an essential styling piece because it almost always helps to create the visual illusion of space.
Try adding a round glass mirror in any cramped area of your home and you'll instantly see the difference. Consider browsing the mirrors in the link above if you are looking for some inspiration and not sure where to start.
I specifically chose my round mirror for a few reasons and here they are:
The antique brass crescent shape stopped me in my tracks. I knew it would pair perfectly with the vibe of my space. Try to pick a mirror that will seamlessly integrate into your space and provide a strong focal point.
I wanted a round mirror to break up the rectangular shapes in the room. This creates visual interest and helps the look feel more aesthetically pleasing.
The scale of the mirror needed to not be wider than the fireplace chimney. This mirror fits perfectly in the space – be sure to measure before selecting a mirror.
Round mirrors tend to be versatile and don't go out of style as easily. This has a timeless look that can pair well with almost any design style (especially modern spaces). It's a smart buy.
The circular shape of clean glass looks extra modern with an unfinished edge. I just adore asymmetry. I love a modern pop when mixing classic elements into my space.
It was in the budget, I still can't believe the price of this mirror for what you get. It looks like a million bucks – but was an amazing deal.
Choosing the Right Round Mirror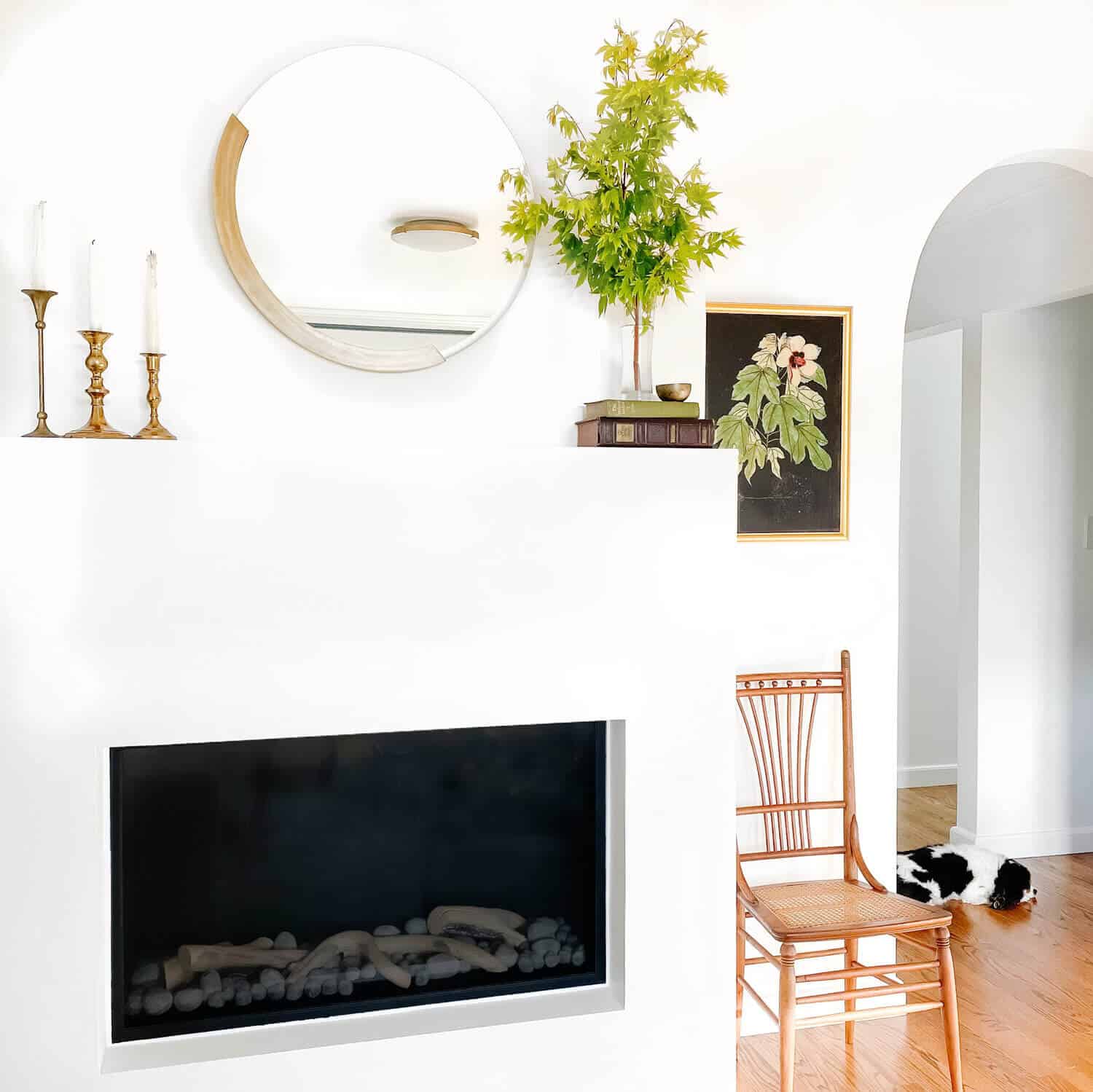 Most of the furniture in my space forms rectangles, so a round mirror helps balance everything out. It also adds a soft and sophisticated element to my room. I just love the crescent frame. It adds a bit of an x-factor, and you know I am here for that.
Pro tip: Be thoughtful when choosing a round mirror for your home and don't forget to consider the space in which you will be hanging it. Remember that a mirror reflects the area directly in front of it. You don't want to be creating the illusion that you have two TVs for example.
There are tons of round mirrors to choose from, but the ones with bronze and antique metal-brushed frames seem to catch my eye the most. Wooden ones are more traditional but they can look a little too dated in my space.
All this to say, just be extra intentional to select a round mirror (or oval mirror) that makes your heart sing – be adventurous. After all, mirrors have a funny way of becoming a focal point. You got this!
To help, I have put together a shortlist of mirrors that I love below all at different price points for ya. Don't let all of my hours of research go to waste. I hope you find something you like:
FAQ
Are round mirrors out of style?
The experts don't predict that round mirrors will ever go out of style… and neither do I! Proper placement of a clean mirror is an easy way to add a sense of "flair" to any living space.
With so many different designs—from round frameless mirrors to ovals—and hundreds of different finishes, you can find the perfect mirror to match nearly any room!
How big of a round mirror should I get?
The best mirror size really depends on where you're placing the mirror. If you're placing it on the wall, then larger is better. Using too small of a mirror will make the mirror look out of place.
Generally, I recommend measuring the height of the space you're trying to place the mirror first. With this measurement in hand, start looking at mirrors that measure slightly shorter in height.
You don't want your mirror to extend from one surface to the other; you should leave a few inches of clearance on the top and bottom!
Why are round mirrors better?
From a practical sense, round mirrors are great because they can offer a variety of shapes in your living space. Like other mirrors, they can also help amplify the lighting and give the illusion of more space.
The curved edges of a round mirror makes them great for functioning as a centerpiece on a wall. Plus, there are many different finishes available!
You can opt for a black circle mirror if you prefer black finish; a slightly lighter option is a mirror with brass finish undertones. There are also round mirrors with wooden edges, and even mirrors without finished edges! Shop around to see what you like.
Can we put round mirror in living room?
Round mirrors aren't really limited to one spot in the house, making them extremely versatile. You can use one as part of your entryway wall decor, a bedroom mirror, a bathroom vanity mirror, a living room mirror, or even a kitchen mirror!
Round mirrors are especially popular as bathroom mirrors, though you'll want to make sure the frame is bathroom safe (due to the humidity). Placing these mirrors in bathroom entryways or above your bathroom vanity looks simply amazing!
Should I buy my mirror online or in a store?
I like buying mirrors online due to the large choice of options. However, if you just need something simple—like a basic black round mirror—then you may be able to find what you need at a local store.
However,what if you're looking for the perfect entryway mirror to match your entryway wall decor? In that case, the black round wall mirror might not make the cut. Fortunately, you can just go online!
That said, there are some extra things you'll need to consider when buying online. Some mirrors will include the proper wall materials (i.e., fasteners suitable for mounting your new mirror).
Always double-check the listing details. If your selection does not, then you'll need to ensure you have the right types of fasteners on-hand for an easy install.
There's also the scheduling of delivery to consider. Some online stores offer their own delivery service, while others may deliver via shipping partners. Make sure to consider any applicable shipping fees when considering your options.
Still, buying online could get you the lowest price. This is especially true for limited time deals! These don't tend to last very long though, so you'll need to keep an eye out (and compare the prices at different online stores) if you want the lowest price possible.
Final Thoughts
Which one do you like the best? Are there any instant favorites? Do you think you'll hang a round mirror in your living room now if you haven't already? It's going to add so much more dimension and depth to your home, I promise! Let me know in the comments below.
I would love to know what style you end up going for. In the meantime, follow me on Instagram for more home styling tips. After all, a beautiful home takes time and effort, so let's go through this exciting process together! Xoxo