It's spooky season around here. How can you not be excited? I have already gone through an entire tin of cinnamon hot tea, and burned through two of my all time favorite candles – the scent is intoxicating and this tea brings me too much joy.
To celebrate, I insisted (again) on getting a million mini-pumpkins and faux solar powered flicker candles to line my front steps leading up to my dutch door that I painted tricorn black. I love the look of this seasonal decor – it's easy to do too! I know I talked about it last week – but the look is too cool not to remind y'all. Anyone else gonna give it a try? Give all the above a peek – you won't regret it.
Looking ahead, it's all about enjoying the season. For me that includes making a ton of no bake blueberry compote cheesecake recipe. My neighbors mom used to make it all the time growing up. It's so quick and easy that it's almost dangerous. I can't stop!
Then, I am off to restore a vintage side table. Why are restoration projects so fun? I feel like the effort and final result are well worth it – especially in-terms of saving money and the wow factor. Here's a peak at what I am looking to restore. Wait til you see the finished project. I digress. Let's get to this week's favorite finds…
We all know, I love a quirky and inky portrait. That's why I screamed (it is halloween after all) when I found this vintage inspired oil painting that anyone can grab. It's not a thrift find. Yes, it's a b it pricy, but sometimes a piece is worth it. Just remember, sometimes a room needs just one piece, like this one – to look like a million bucks. I love her!
I know, I know more art. Bt, it wouldn't be weekly round up without a few stand out pieces of art for your consideration. I loved this Halloween appropriate print that rings in the season with lots interest but in an unexpected way. Isn't she cool? Grab her and that broomstick before they gets away!
Your home needs plants. That's a fact. A home with plants just lives and breathes (literally) better. We recently got a giant rubber plant for the office. We love it. So I wanted to find a version you could order online and have it arrive healthy and ready to go. This one is it, and the price is perfection.
Not sure if y'all know this about me. But, I love incense. The meditation scent is my favorite. They were burning at restaurant I adore in London and I have never been able to find another incense that I like more. But, since it's spooky season – I thought this haunting Raven incense burner would be the perfect way to get in spirit – but with style.
If you have been around, you have seen my snake lamp. What's not to love. But with it getting all Fall around here I wanted to make sure you got a link to her again. She's finally back in stock! When you see the price – you won't believe it.
We have been looking (forever) for a cushion to sit on when we are sitting in front of our modern fireplace. The room is small, so we don't have room for an accent share or stool. This soft sphere cushion in a delicious olive velvet was the perfect solution. I love it, and so does echo.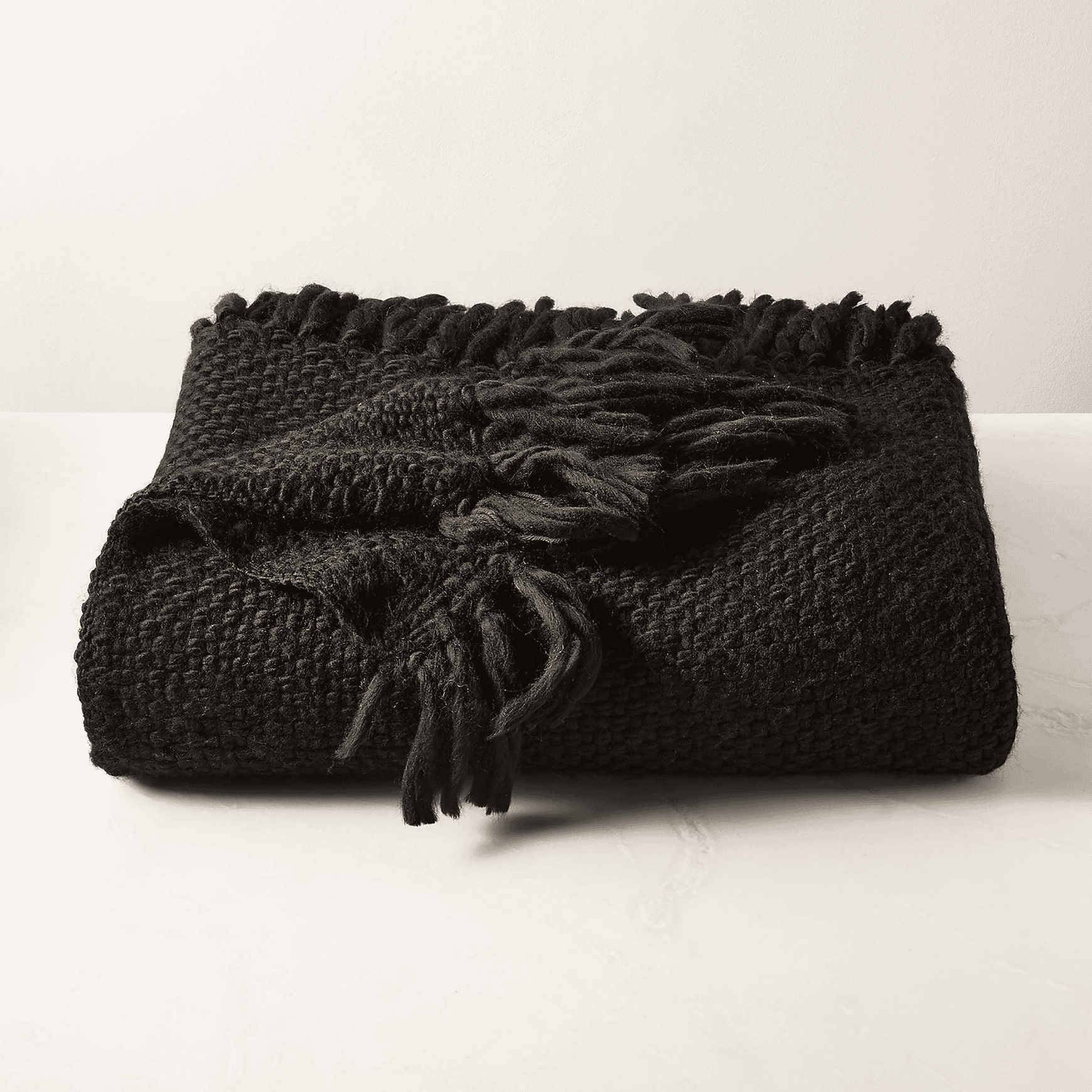 As it chills, you're gonna want a soft gorgeous throw blanket to curl up with at night, and what's more decadent that a wool throw? A Chucky knit and delightfuly decadent throw blanket – that's what. It looks great draped over a couch or those in a woven basket. But it looks best on you. However you use it- curl up quick. It's that time of year.
Look, it takes a lot for me to cover these curls. But, this beanie takes the cake. I wear it at least once a week. It's beyond comfy, looks super cool – and perfect for the fall. Even better? It's less than $20 bucks. You have to get one. If you do DM me. I want to see it on. I am obsessed with mine.
Inspo Winner
Is this haunting space not perfectly perfect, and just in time for spooky season? I adore the dark paneling. Plus, the oil painting, mix of old + new with vintage brass accents and assorted oddities make the space truly inspired. I stay haunted for this guest room. When can I stay?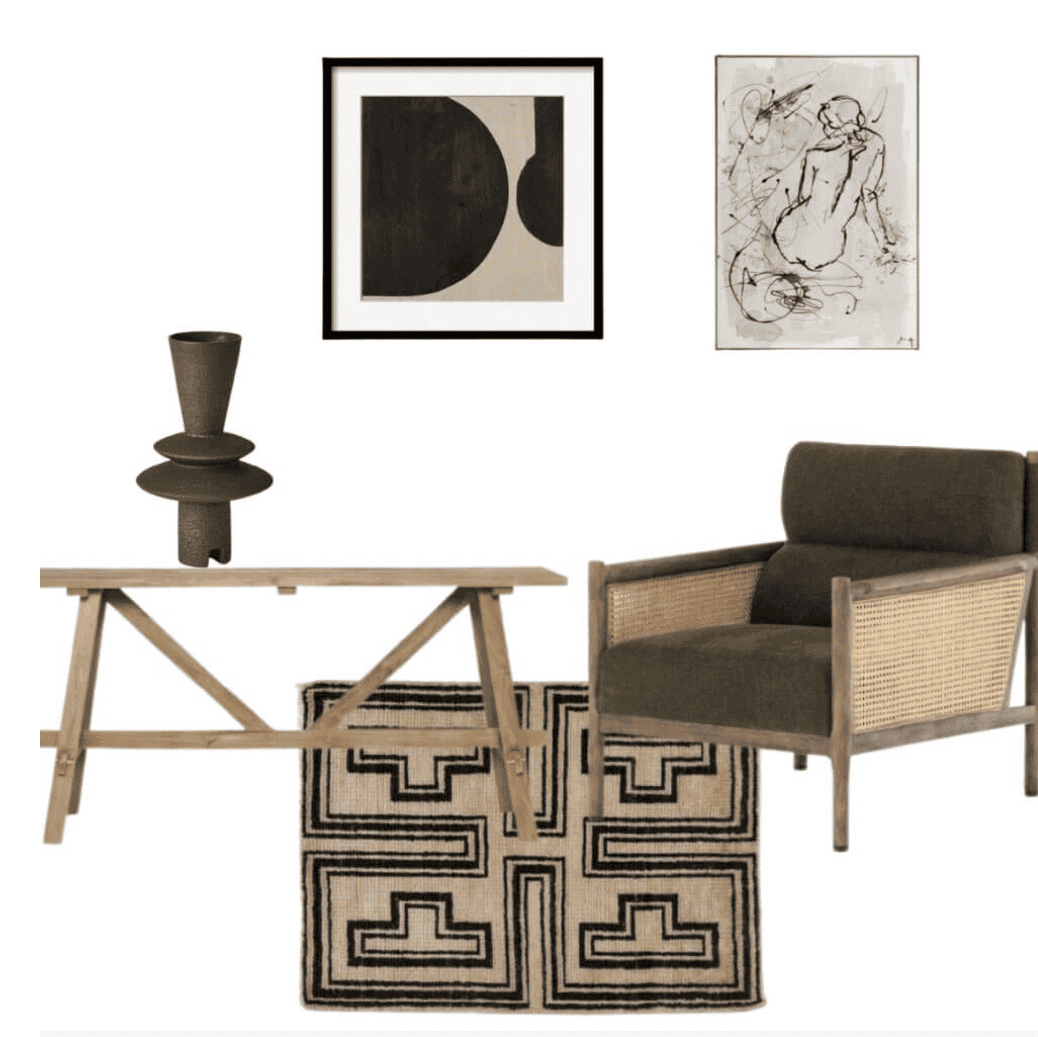 A good moldboard can do wonders in helping your achieve the look and feel you want in your final design. I made this mood board awhile ago, but I know so many of you love it, and have been asking for a link. So here ya go. Make the room of your dreams. You deserve it.
Go enjoy the fall season loves. It's an amazing time of year, but more importantly it's an amazing opportunity to snuggle up, drink lots of hot tea, and get your spooky on. Drop a note in the comments below with your favorite find and why. Love y'all and xoxoxo.