Loves! I'm thrilled to say, my week has been absolutely divine! I've been on cloud nine, totally consumed by the possibility of owning my very own moody cabin. I just can't stop obsessing over the possibilities; I'm envisioning lots of cozy nooks, rustic accents, a dreamy dining space, dusty library and a lived in kitchen. It's all just swirling around in my head. And guess what? We're one step closer to making it a reality (drum roll please) because we've got inspections lined up for our dream cabin after a counteroffer. That's right! You heard it here first. We are in escrow! Can you believe it? Stay tuned for more.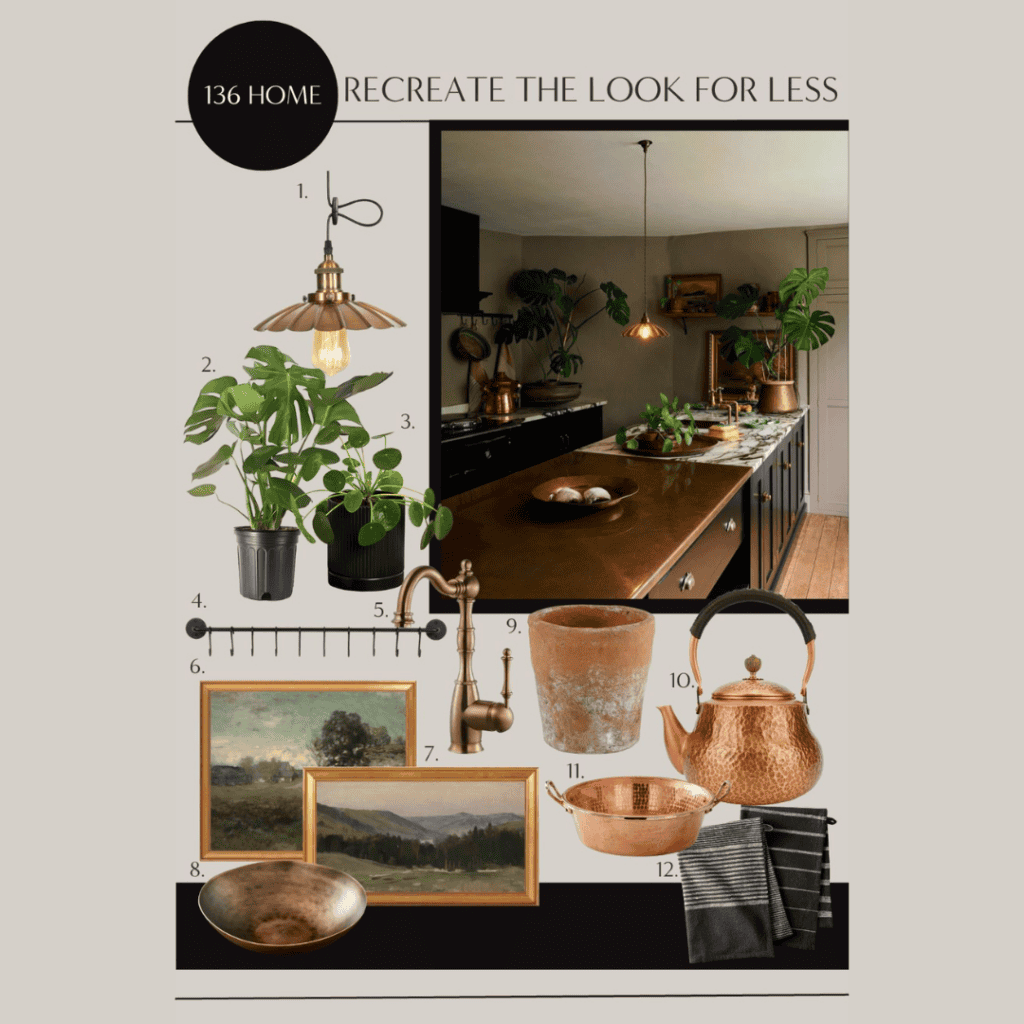 Last week I showed off a moody & antique living room. I just had to share. This weekend I plan on mixing up a delicious cocktail, snuggling up in my living room with Drummer, and continuing my Pinterest search for moody cabin vibes as I plan my dream cabin. Will you stick around for the ride with me?
In that pursuit, I wanted to share a kitchen, that is the front runner for the vibe I want. A delicious mix of old and new. Look at that copper counter top and those pendant lights? Swoon. Can't you picture yourself in here cooking up a delicious recipe here? Here's mood board with stunning pieces that match the broody, yet soothing vibe.
The original Devol Kitchen pendant lights seen in the moldboard are quite expensive. Never fear, loves. I found a dupe that looks just like it for a fraction of the cost. These stunning brass and glass pendant light not only catch the eye but they add some shimmer. There's even and adjustable cable allows you to set the perfect height, creating a customized lighting experience. Add some bistro shelving and your kitchen will be such a beauty!
Next up is a stunning large indoor plant – the Monstera Deliciosa. With its lush green foliage and dramatic presence, they are always a perfect choice to elevate your home – kitchen included. Grab one to bring a sophisticatced burst of nature indoors. Here's everything you need to know about adding a Monstera plant to your home.
This space sings because it has lots of my favorite house plants in it! Including, the Chinese Money Plant. I love their round leaves and captivating presence, again this plant is also an ideal choice to enhance any nook or cranny in your home. They are super easy to take care of too, making them a hassle-free addition. Check out my how to guide for taking care of a Chinese Money Plant here.
This Rail Mounted Pot Rack is going to change the game for your kitchen organization. It's a super sleek and simple addition to your kitchen that is perfect for keeping your pots and pans organized (yes, it comes with hooks!). This rack paired with some simple shelf styling would make the perfect kitchen decor vibe.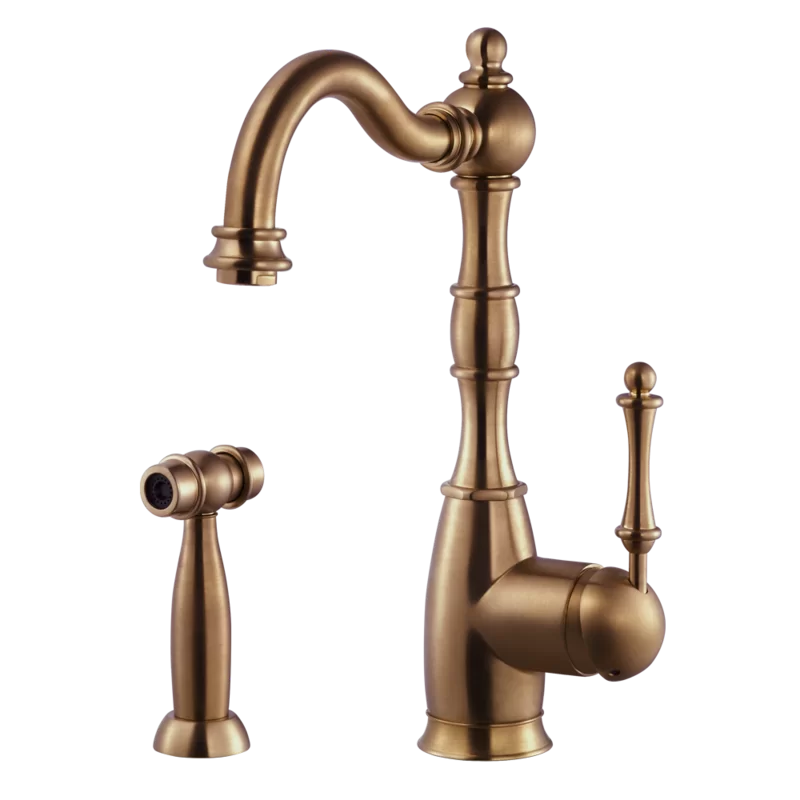 Check out this brass kitchen faucet that will make a bold statement in your culinary kingdom. This traditional design faucet is equipped with hybrid stainless steel and nylon braided hoses, which makes it super durable and flexible. Take a look at these other kitchen gadgets that I can't live without.
Okay, next I found this framed wall art painting that completely matches the exotic and glam vibe of this kitchen. This captivating farm landscape creates such a stunning visual masterpiece and really creates the artful charm vibe. Not your vibe? Check out these Amazon art finds that I'm obsessed with.
Continuing with the art trend, take a look at this beautiful Sunday Drive framed wall art. This picturesque row of pines is the perfect addition addition to infuse your kitchen vibe with a touch of natural serenity and cherished memories. Art should always win in your space!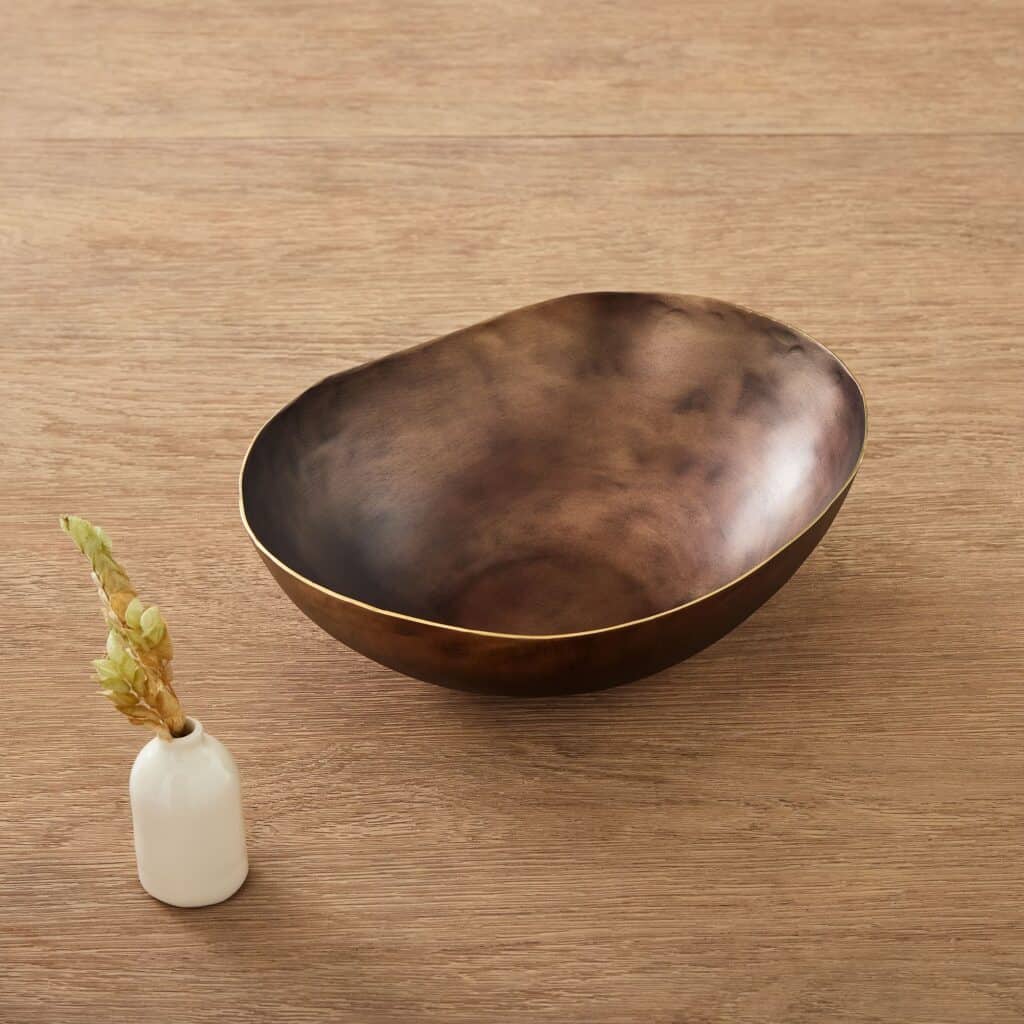 Look at this organic brass metal bowl that effortlessly combines functionality with a decorative flair. This bowl is hand crafted and exudes sophistication and natural beauty that will make your kitchen shine. Trust me, once you lay eyes on it, you won't be able to resist its irresistible charm!
Get ready to add a touch of rustic charm to your culinary haven with this rustic terracotta pot. Its simple yet contemporary design brings a trendy vibe to your space, but it also provides a stylish home for your beloved plants. Embrace the on-trend appeal of this rustic pot and add some DIY kitchen herbs!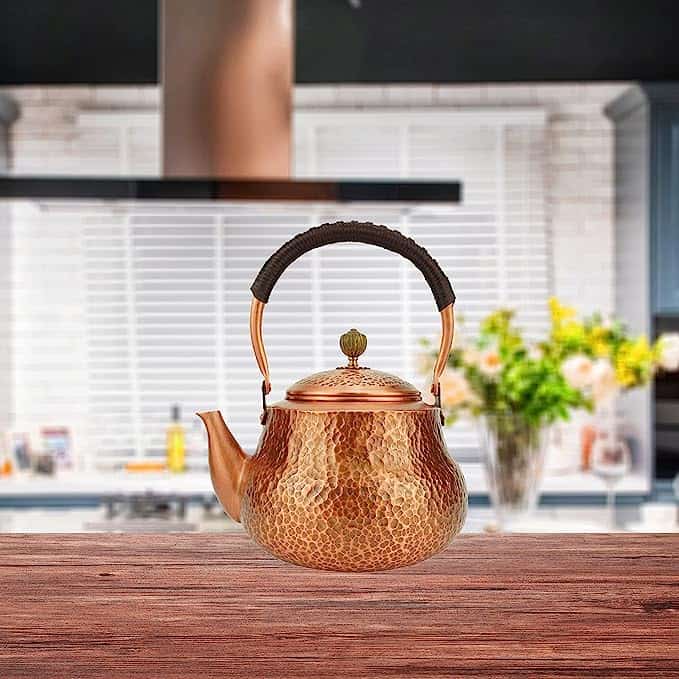 Prepare to be amazed by this handcrafted copper tea pot. Made from solid copper, this teapot not only exudes elegance but also conducts heat with exceptional efficiency. Curl up in your dream living room with a nice cuppa tea!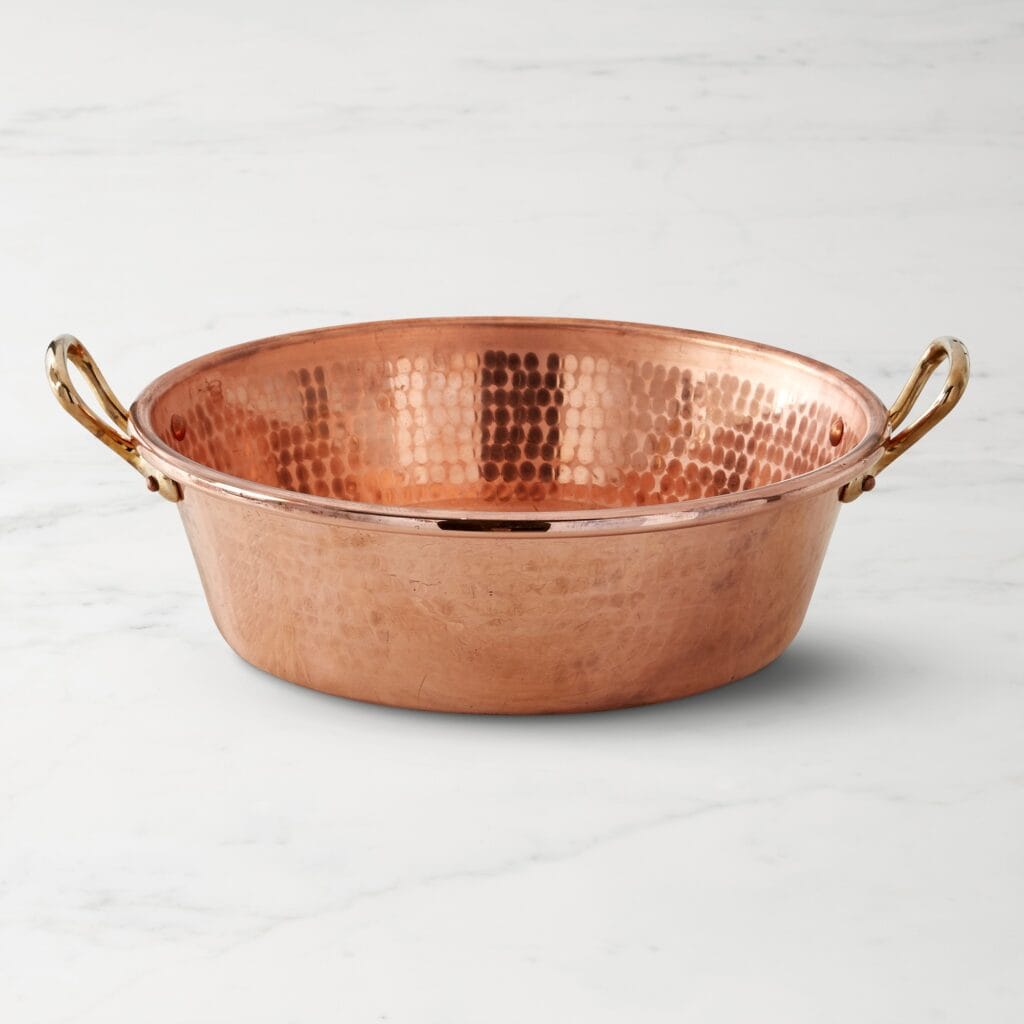 Get ready to be mesmerized by the sheer beauty of the copper jam pan. Hang it on the rail mounted pot rack and watch as this stunning piece becomes the centerpiece, effortlessly blending style and functionality in your cooking oasis. Find some recipe inspiration here!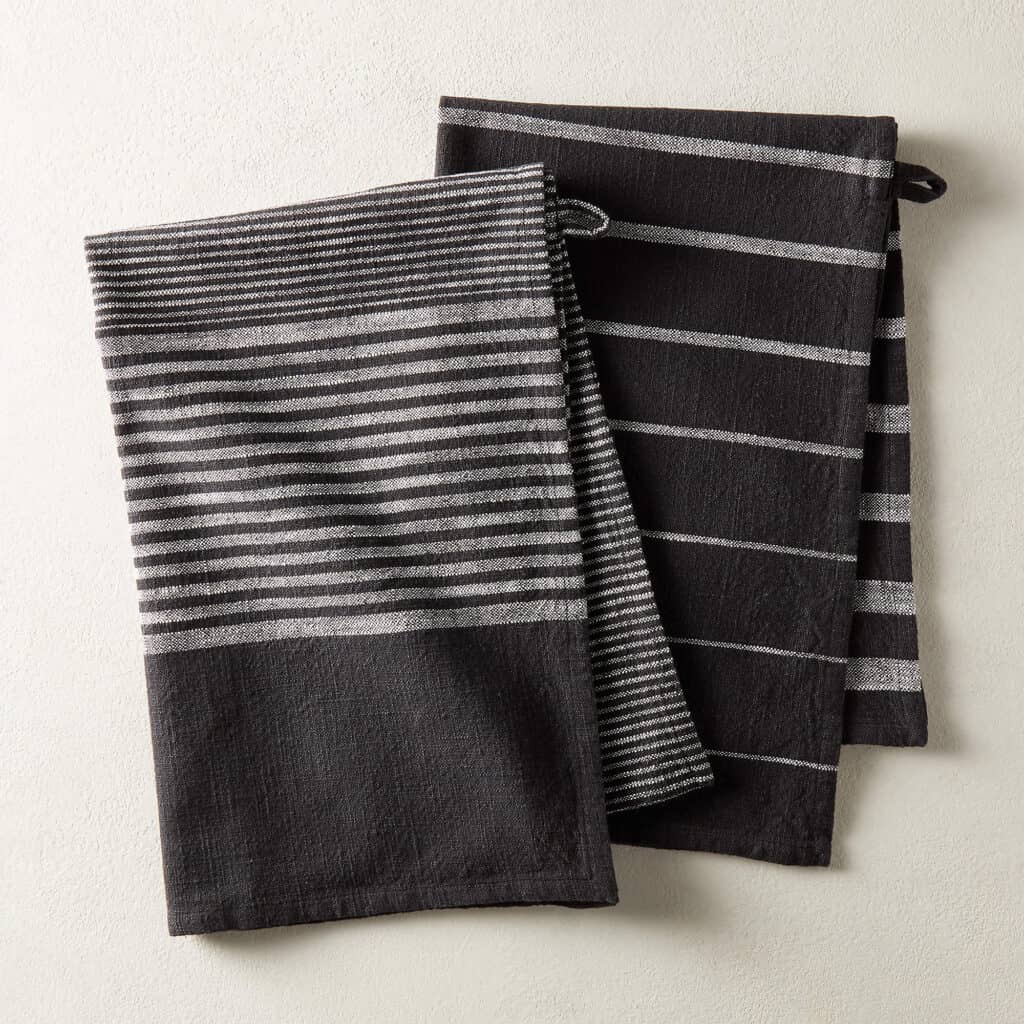 If you're looking to add a touch of modern elegance to your kitchen, look no further than these fabulous organic cotton dish towels. Their chic and minimal patterns add a dash of dimension to your kitchen space. Trust me, you won't be able to resist their simple yet stylish appeal!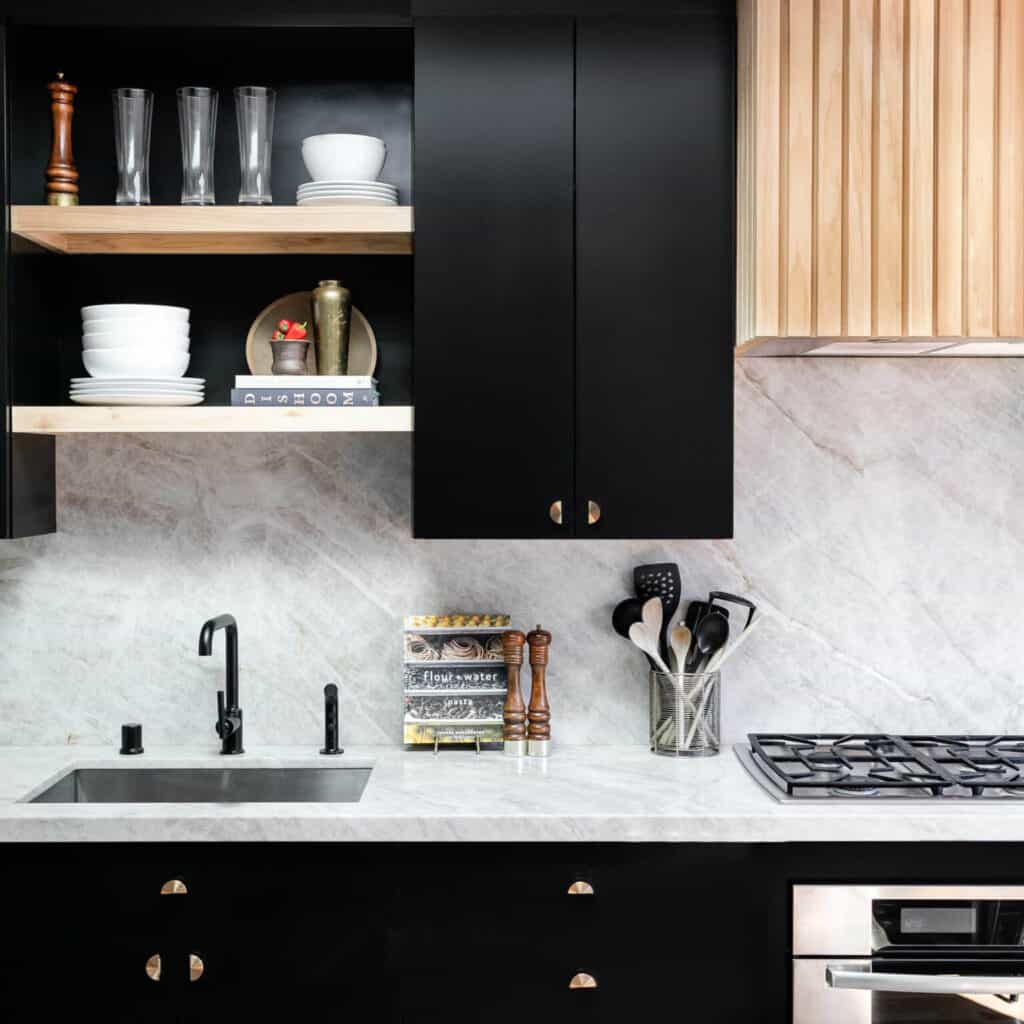 Last up, if you are wanting to transform your kitchen into the ultimate moody space, you NEED to check out the magical powers of Tricorn Black Paint. With its pure black color and zero undertones, this paint adds a touch of sophistication and drama to your kitchen cabinets. Add this simple yet polished look that will leave everyone in awe because black paint is the best paint.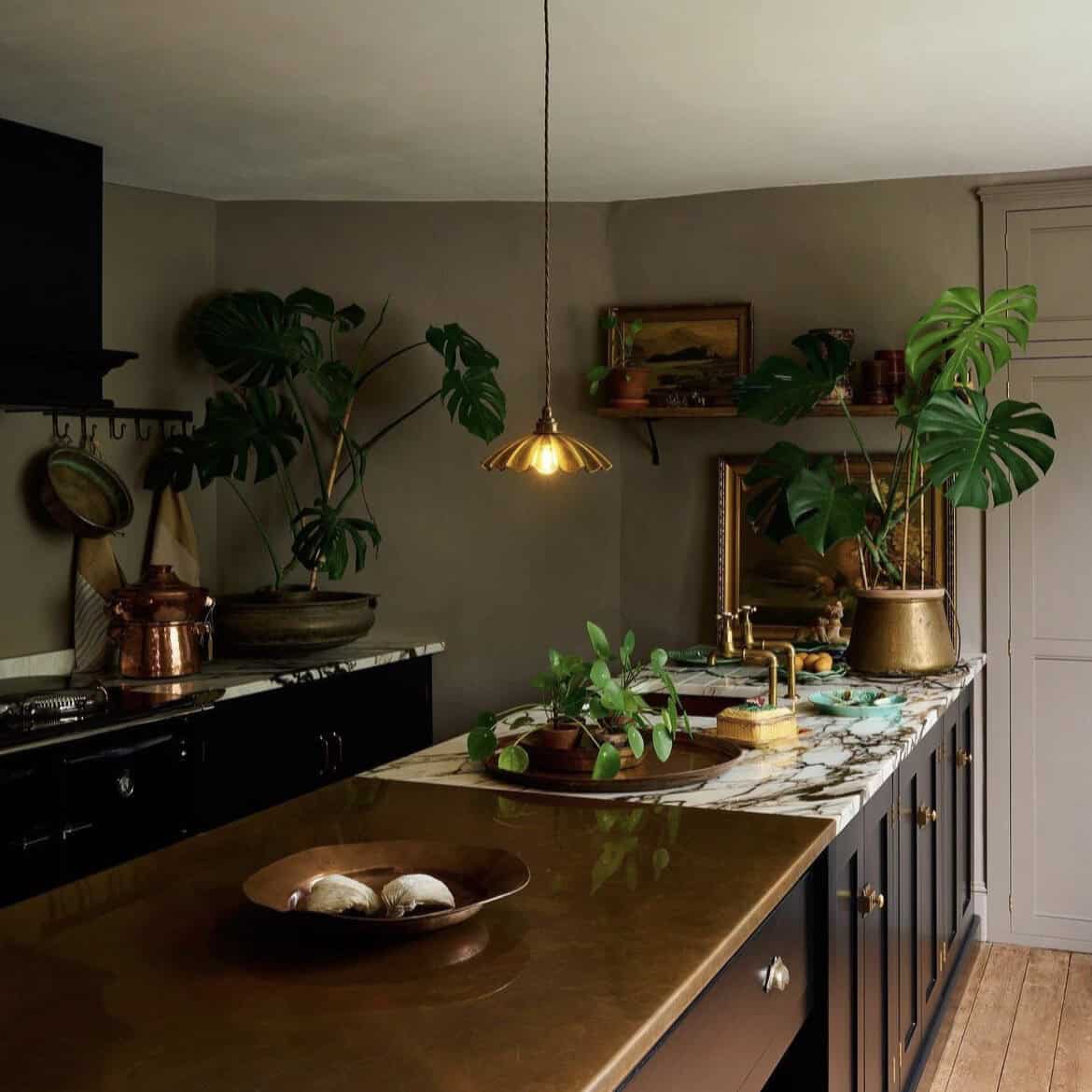 What do you think about this kitchen interior design space? I cannot wait to continue down my Pinterest rabbit hole and share more design space with you! Check out more mood boards on my blog here. Hope you all have a beautiful rest of your week! xoxo