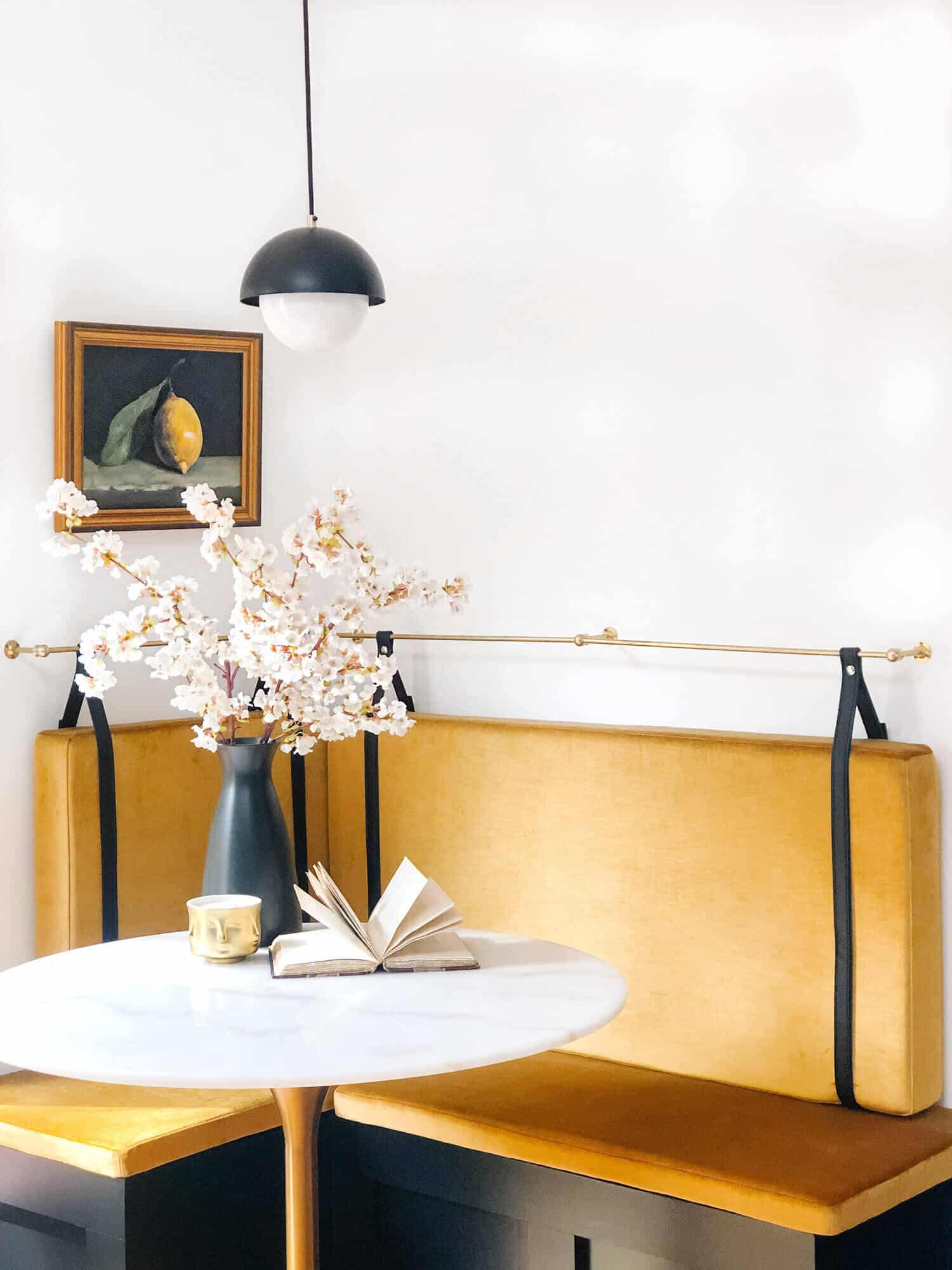 Have you wondered, why there is an added layer of intimacy and coziness associated with round tables? I just love em' in a small space. Even better is a cozy little nook.
In these locations, candle-lit dinners get more intimate, favorite board games become more engaged, and conversations often turn into shoulder grabs complete with belly laughs, and cheer. There's no separation or formality to dampen the mood. When working on my eat-in-kitchen – I knew from the start that having a dreamy pedestal table was an option we would have to consider for my breakfast nook. Not just for the mentions above but, because from a function standpoint they also save on much-needed floor space when square footage is at a deficit – which can often be the case with eat-in kitchens.
But in the end, I had to get this spot right. It's been my personal experience, that home really is made at the dining room table. It's where we unwind from a workday, share life, and stories while connecting with the ones we love.
At first, it wasn't a straightforward interior design decision to bring in a pedestal table. There are some things I had to consider both pro and con.
Round tables can sometimes hold fewer dining room flatware + cocktail glasses than their rectangular counterparts. If not carefully considered they can get untidy. There's also the wiggle room you'd need around each chair. And of course, some people don't like to be too close to others – which I get, but not really. I am a hugger y'all, but I don't think that comes as a surprise to most of ya.
But here's the thing. There are a ton of benefits that made having a round table in my banquette the right choice. Here my top five reasons why we went round: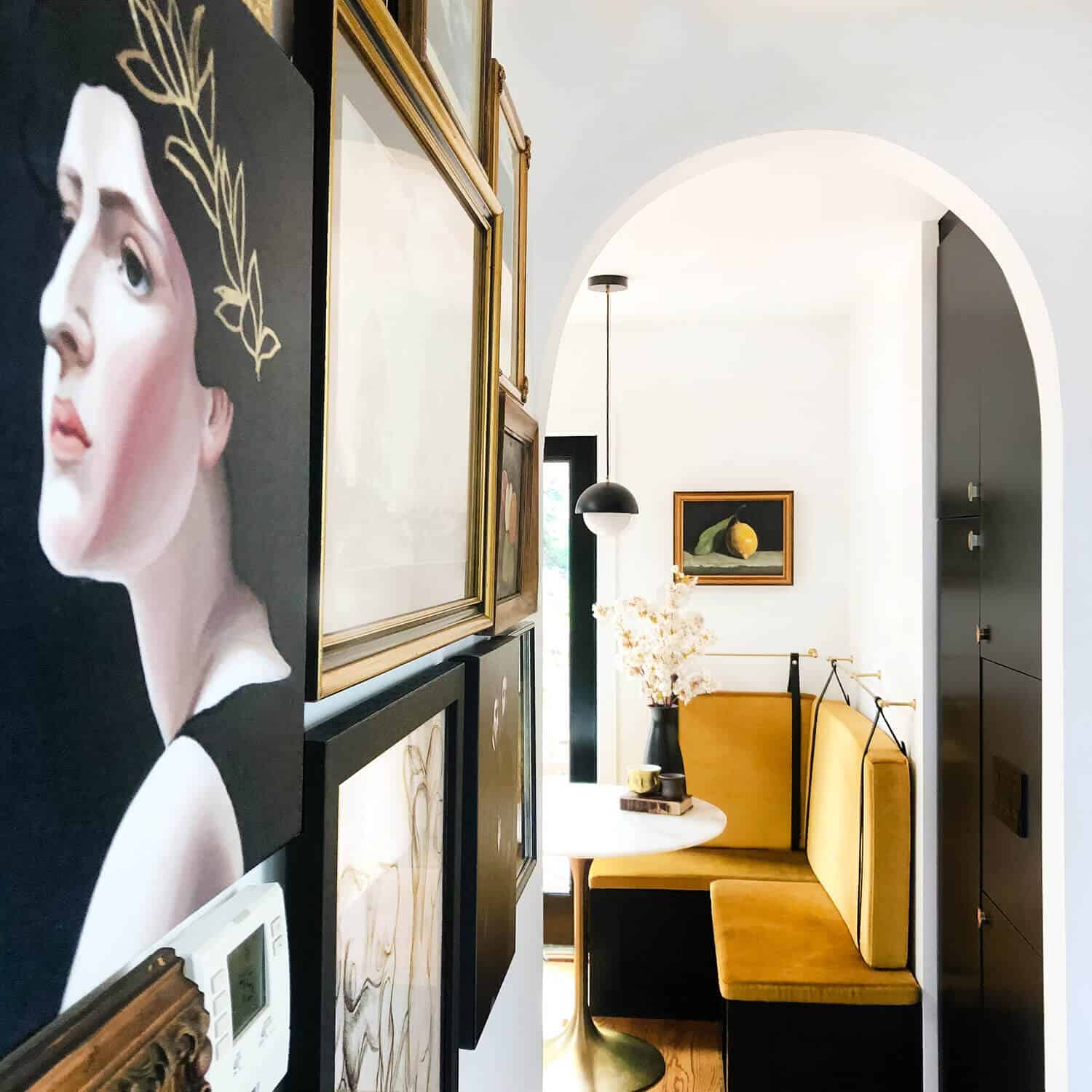 VISUAL INTEREST
A round kitchen table can be a great addition to your home and design. Kitchens tend to have a lot of rectangles. From a design perspective adding varying shapes such as a round table can help add visual interest. This was especially true in my space. The square of the banquette pops with the delicate curve of the tabletop. They are also great styling moments. Check out some of my favorites here.
SAVE BUDGET
In most cases, and round table can not only add visual interest + glam up a small space, but it is often a nice way to save on budget. Round tables tend to be more cost-effective than their rectangular brothers and sisters, while still being able to seat the same number of people.
SPACE SAVER
Round tables, especially if they are on a pedestal can save a ton of space. This was especially critical for us, as our eat-in kitchen is quite small. Consider a round table if you need some extra legroom in your dining room.
GREAT FOR KIDS
Bistro-style tables are a great option for families as they tend to be safer for homes that have kids or seniors due to the absence of sharp edges. If you're a parent, you're sure to get this – dealing with energetic kids zipping in and round tables can keep your heart racing. However, this less unconventional shape can help set you at ease.
INTIMACY
Is there anything more craved than intimacy with the ones you love? Having a cozy corner in your home will help to create more of this for you and your loved ones. A round table gets you elbow to elbow and connected eye to eye. I have found the best conversations happen here. Get yourself a table and lean in guys – Elbows ON.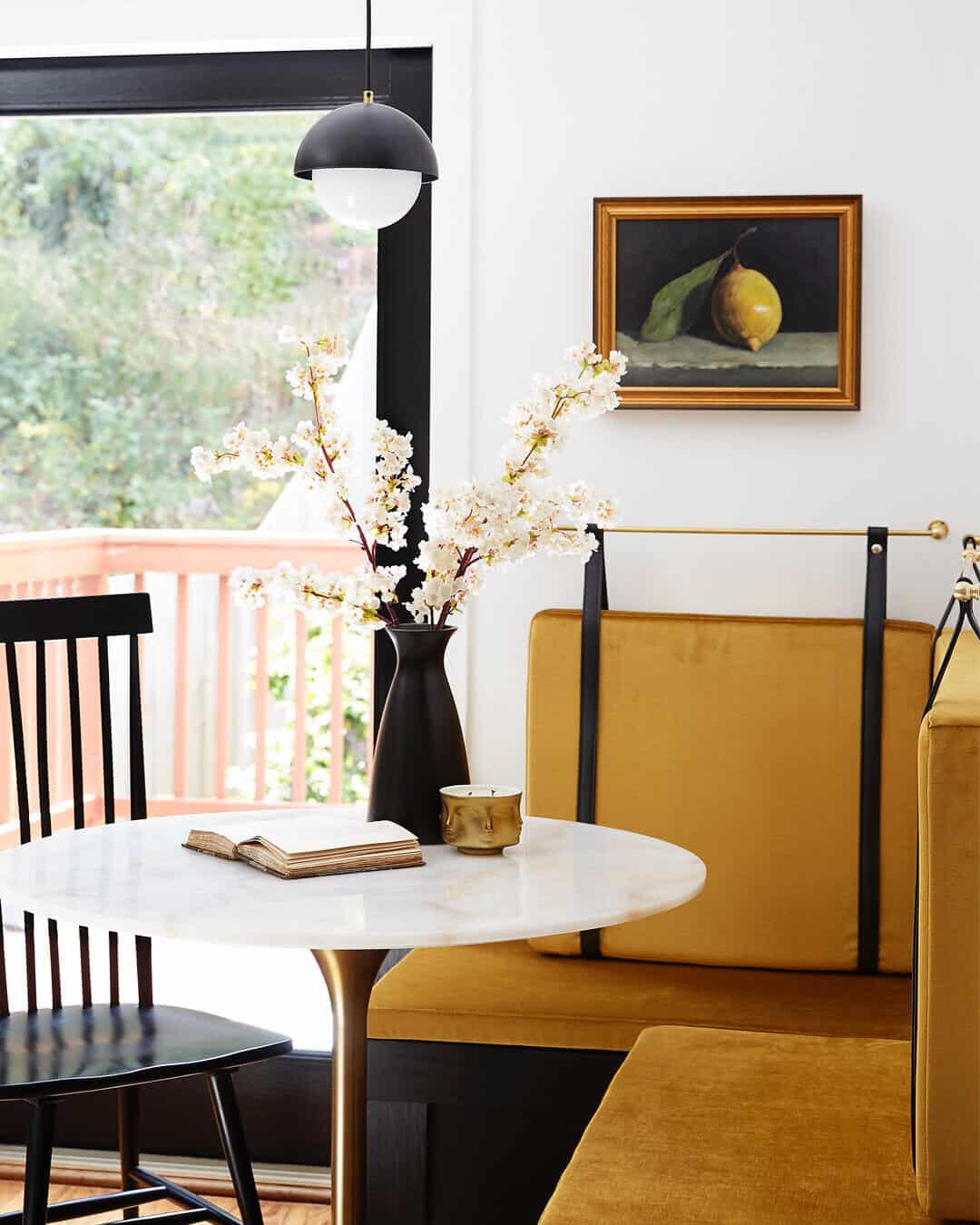 Do you think you will give a round table a try? I hope you will. They are an amazing space saver, often great on the budget, and a smart safe option if you have little ones running around. In the end, they can really help to bring people together while creating moments of joy and intimacy too – at least that's been my experience. If you do want to get the look – everything is linked here.
For more on how I make home one detail at a time head to Instagram @136home and consider signing up for my weekly-ish newsletter to get all the action right in your inbox. You won't regret it I promise. In the meantime, let me know. your thoughts in the comments below – and remember – home takes time. love y'all xoxo.