Do you love a good drink on a summer afternoon, but hate the time it takes to make a "good" drink? If so, you're not alone: I often feel the same way! Fortunately, it's usually around that point when I remember that I know how to make a lemon drop shot, and then my worries fade away. These easy summer cocktails take almost no time to make, taste amazing, and —best of all—are perfect for nearly any occasion. They are the perfect combination of flavors for good reason. These premium cold vodka drinks take only minutes to make and will be sure to impress all your guests!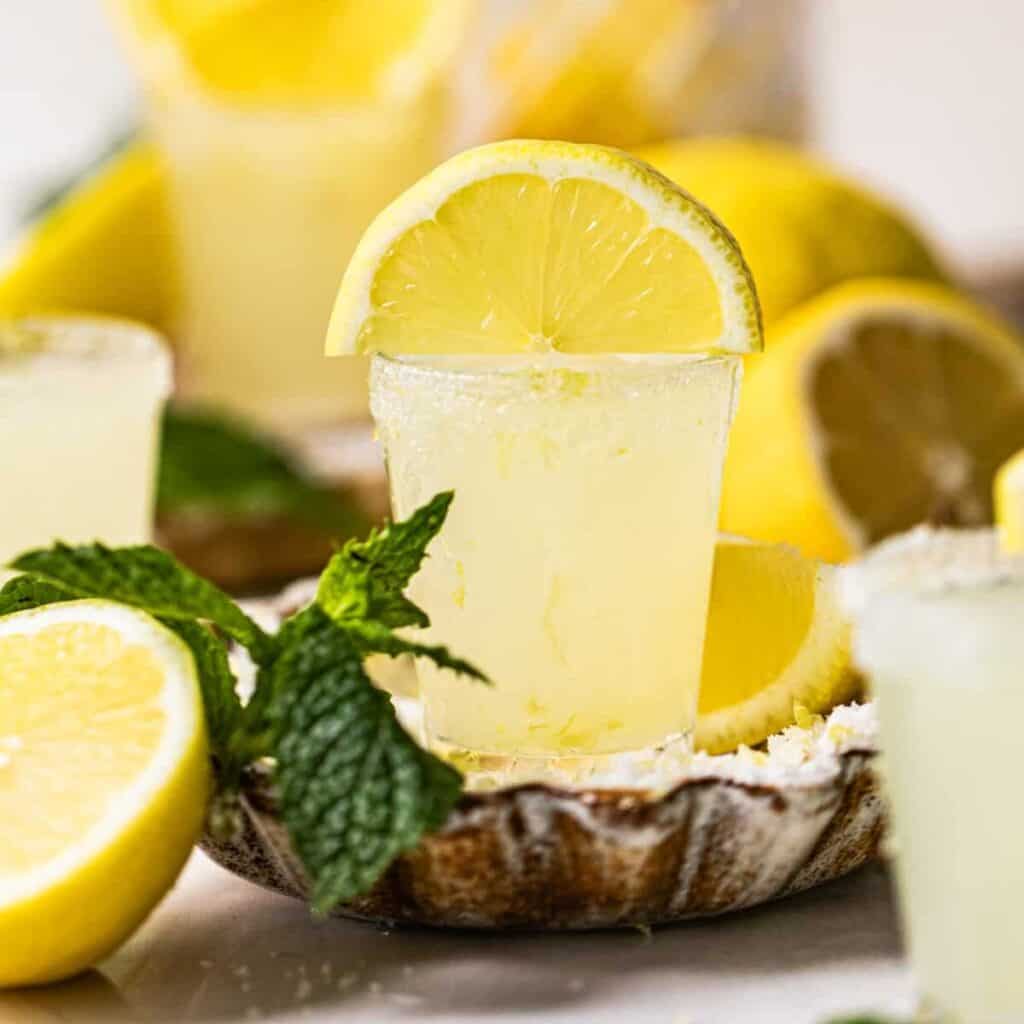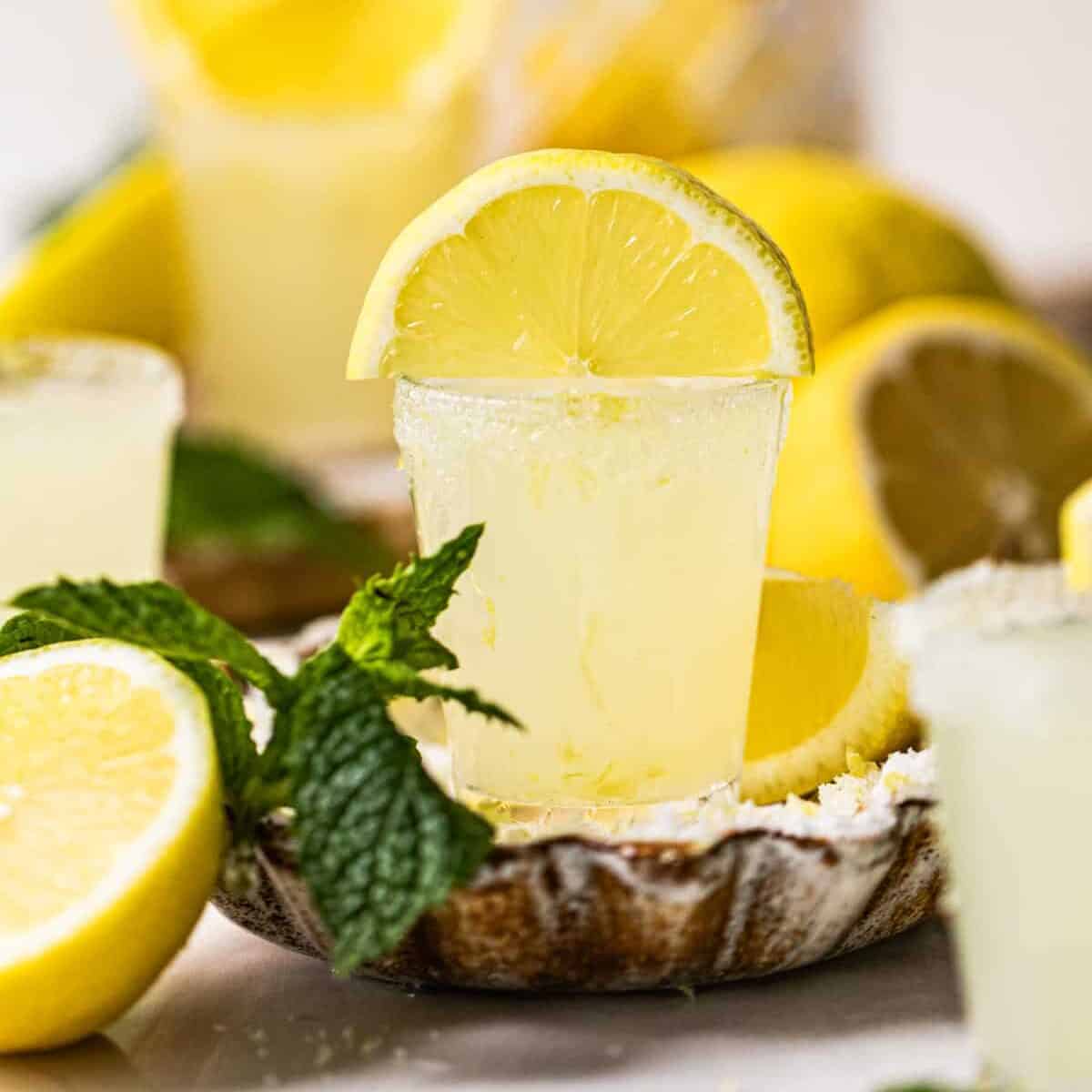 You might be assuming that you'll need top-shelf vodka to make these delicious vodka mixed drink, but fortunately, that's not always the case! Using cheap vodka is more than acceptable, as long as you know which cheap vodka to use. Along with my favorite lemon drop shot simple recipe, I've included a few vodka recommendations, a couple of tips, and one amazing alternative perfect for those up-scale events – Enjoy!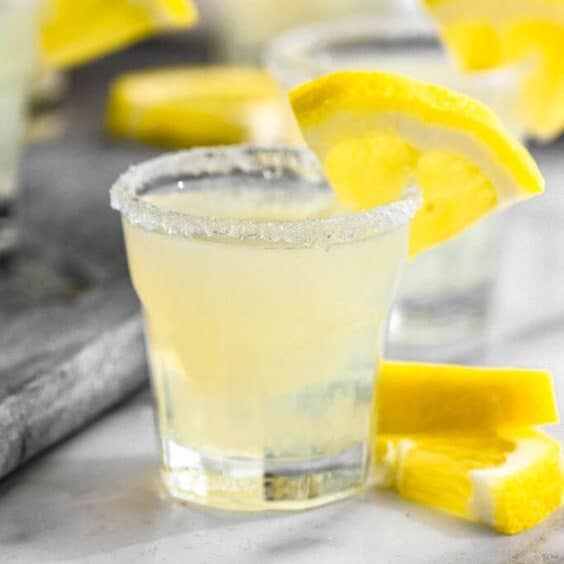 Like many other vodka mixed drinks, this lemon drop shot recipe is quite simple! Whether you're relaxing at home by yourself or have been designated the official party host, these easy summer cocktails can be perfect for nearly any occasion. Grab your choice of cheap vodka or premium vodka, your favorite cocktail glasses, and let's get started!
Fresh Ingredients
Vodka (0.75 oz.)
Real Lemon Juice (0.75 oz.)
White Granulated Sugar (2.5 tsp.)
Lemon (1)
Instructions
First, you'll need to combine vodka with the real fruit juice of a lemon in shot glasses. Take 0.5 tsp. of sugar, and sprinkle this on top of the drink to make a sugared rim.
Next, take your lemon and cut it up to make tangy-sweet lemon wedges. Pour the remaining sugar onto a small plate, then dip the lemon slice into the sugar.
Take your lemon drop drink, then chase it with a sugared lemon wedge! You can even garnish with lemon zest.
How to Rim a Glass With Sugar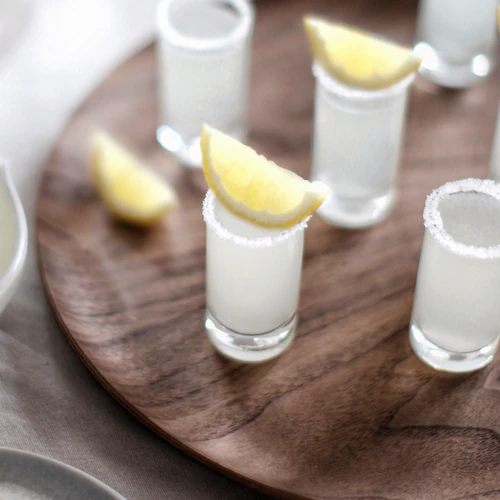 While not every lemon drop shot recipe on this list requires rimming your drink, I find that a layer of sugar is the perfect way to offset the "bite" of the vodka. If you're using premium vodka, the sugar simply enhances the overall flavor profile of the drink.
There's another bonus, too: rimming your drinks makes you look like an experienced party host! Check out my cinnamon toast crunch shot post for some photogenic examples!
Rimming these vodka mixed drinks is quite simple. You simply need to wet the rim of your shot glass and then cover it with sugar. Since these easy summer cocktails use lemons, you can take a lemon wedge and wipe it around the rim of the shot glass to get it wet. Place some sugar onto a plate, then dip the rim of the shot glass into the sugar. Shake off any excess, pour the lemon drop shot, then serve.
If you're worried about the sugar not dissolving fast enough in these vodka mixed drinks, worry no longer: this easy recipe for a lemon drop shot uses simple syrup (rather than plain sugar). True, there aren't many steps to these easy summer cocktails, but consistency is important if you're trying to serve a lot of guests. When using this recipe, I recommend storing the simple syrup in dasher bottles to streamline your mixology!
Ingredients
Premium good quality vodka (1 oz.)
Lemon juice (0.5 oz.)
Simple syrup (0.5 oz.)
NOTE: This recipe requires a stainless steel shaker for the best results.
Instructions
Rim a glass with sugar (using the instructions from the previous section).
Fill your cocktail shaker with ice and then add in the vodka, lemon juice, and simple syrup. Give it a good shake for a bout 15 sec.
Strain the shaker into your glass, garnish if desired, and serve the lemon drop shot right away!
Why I Love These Vodka Mixed Drinks
Once you're confident with a lemon drop shot recipe, chances are, you'll likely find these easy summer cocktails very useful! If you've been designated as the party host, knowing how to make a lemon drop shot will save you a lot of stress. Since you can use either cheap vodka or premium vodka, you can throw a successful dinner party easily (even if your alcohol budget is pretty tight!).
Over the years, I've expanded my party host knowledge and learned how to make many different amazing drinks. Obviously, I can make more than just lemon drop shots, but when it comes to throwing a simple summer get-together at my house, I'll always include these beauties (even for holiday gatherings). Since they taste like lemon drop candies, even the vodka haters tend to change their tune!
Although these drinks are best known as summer or bachelorette drinks, I think they're perfect for nearly any occasion. That said, I wouldn't exactly describe them as "fancy," which is why I've included the next recipe. I've used this up-scale alternative a fair few times as a party host (and you'll soon see why!).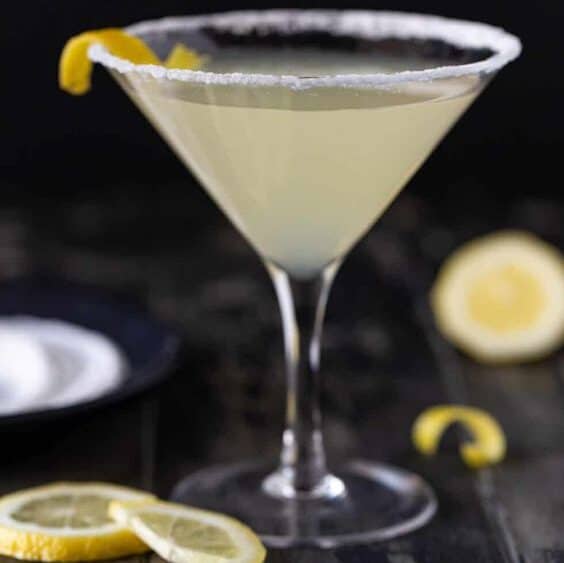 The regular lemon drop shot recipe is fairly straightforward, but it's designed to be drunk in one gulp: what if you want to sit down and enjoy your vodka mixed drinks? Well, if that's the case, then you're sure to love the lemon drop martini! It's similar to the lemon drop shot, but with a bit more flair and a few extra steps. Oh, and it also requires fresh lemon juice (so pick up a lemon juicer if you haven't already!).
Simple Ingredients
Premium vodka (1.5 oz.)
Cointreau (0.5 oz.)
Fresh lemon juice (0.5 oz.)
Simple syrup (1 tsp.)
Lemon twist (garnish)
Note: Maple syrup can be used as a substitute instead of simple syrup!
Instructions
Extract fresh lemon juice using your lemon juicer.
Rim your glass with sugar.
Make a lemon twist by twirling a thin strip of the lemon peel around your knife (for garnish).
Fill your cocktail mixer with ice, then add the vodka, Cointreau, lemon juice, and simple syrup.
Shake until the entire concoction has gone cold; strain into the sugar-rimmed glass, garnish, and enjoy!
Selecting the Right Vodka for Your Lemon Drop Shot
The easiest way to improve the taste of your lemon drop shot recipe is by using premium vodka. Let's be honest though: it's not always feasible to serve only top-shelf liquor as a party host! However, not all cheap vodka is created equally, and using the wrong one will definitely ruin your vodka mixed drinks. To help you guys save face and avoid disappointing your guests, I've made a short list of tried-and-true vodkas for every budget.
When it comes to super cheap vodka, Svedka is my go-to. Offered in both 750ml and 1.5L bottles, you can expect to pay less than $20 per bottle. Smooth and crisp, this vodka is perfect for nearly any mixed vodka drink!
This self-described "modern vodka" is also available in two sizes (750ml and 1.75L), but expect to pay a bit more. Extremely smooth, made in France, and offered in a variety of flavors, Ciroc offers a premium experience at an affordable price point.
Chopin—as a brand—offers vodkas at all price points. Potato, rye, and wheat vodkas are all popular Polish spirits that I've enjoyed from this brand. The reason I've listed this as the "premium" option? Well, although their regular vodka goes for under $30 per bottle, their more expensive offerings often exceed $100 per bottle! As I haven't tried every vodka they offer, I can't tell you which one is the best, but you'll definitely have plenty of options to choose from. Grey goose is a great choice and goes well with a sugar rim, to get that extra lemony goodness. Don't like any of these? Try Absolut citron vodka.
Although many adults enjoy alcohol, this isn't a universal truth. Unless you're 100% sure that everyone in attendance will be drinking, it's always good to offer a non-alcoholic option. With ArKay, your guests will still be able to enjoy the same vodka mixed drinks as everyone else without having to "drink" at all!
FAQ
What is lemon drop shots made of?
These easy summer cocktails are made from vodka, lemon juice, and sugar. Some recipes may use a lemon for garnish, or substitute the sugar for simple syrup instead!
How much is a lemon drop shot?
Prices of these drinks can vary widely. Naturally, they will be cheaper if you make them yourself! However, if you order one from the bar, the final price will depend on the bar, location, vodka used, and—of course—the tip.
What does ordering a lemon drop mean?
Ordering a lemon drop at a bar doesn't imply a specific meaning. However, many bartenders associate this drink with bachelorette parties and don't exactly enjoy making this particular drink order.
How long does it take for a shot to hit you?
You can feel a shot in as little as ten minutes! That said, how much food is in your stomach also plays a factor. If you're drinking on a full stomach, it might take twenty minutes (or more) for the shot to hit you.
How many vodka shots get you drunk?
There isn't any set answer for this: the answer varies depending on gender, the individual in question, and a couple of additional factors (such as mood!). "Feeling" drunk certainly varies a lot, but being "legally drunk" is a bit easier to track. Most experts estimate it will take between 4 to 5 drinks for an individual to be legally drunk. If you're curious about your BAC, a portable breathalyzer can give you exact answers!
How do you take a shot without tasting it?
Personally, I've never found a technique that completely eliminated the taste of alcohol. One TikTok user recommends breathing out before (and after) taking a shot to avoid the burning sensation, but individual results appear to vary.
How do you drink a drop shot?
Most people prefer to "shoot"—or "chug"—a drop shot, consuming the entire drink in one gulp. However, enjoying drinks comes down to personal preference. If you'd rather sip your easy summer cocktails out of a wine glass, be my guest!
Is vodka the healthiest alcohol?
As far as alcohol goes, vodka is fairly healthy. This drink is sugar-free and low-calorie, making it healthier than other alcoholic alternatives like beer.
What are the benefits of drinking vodka?
Some possible benefits include stress relief, increased blood circulation, lower cholesterol, and reduced blood sugar levels.
How much vodka is safe per day?
For everyday consumption, health experts recommend no more than 1-2 standard drinks per day. This comes out to 3 oz. of 40% ABV vodka.
Did You Make This Drink Yet?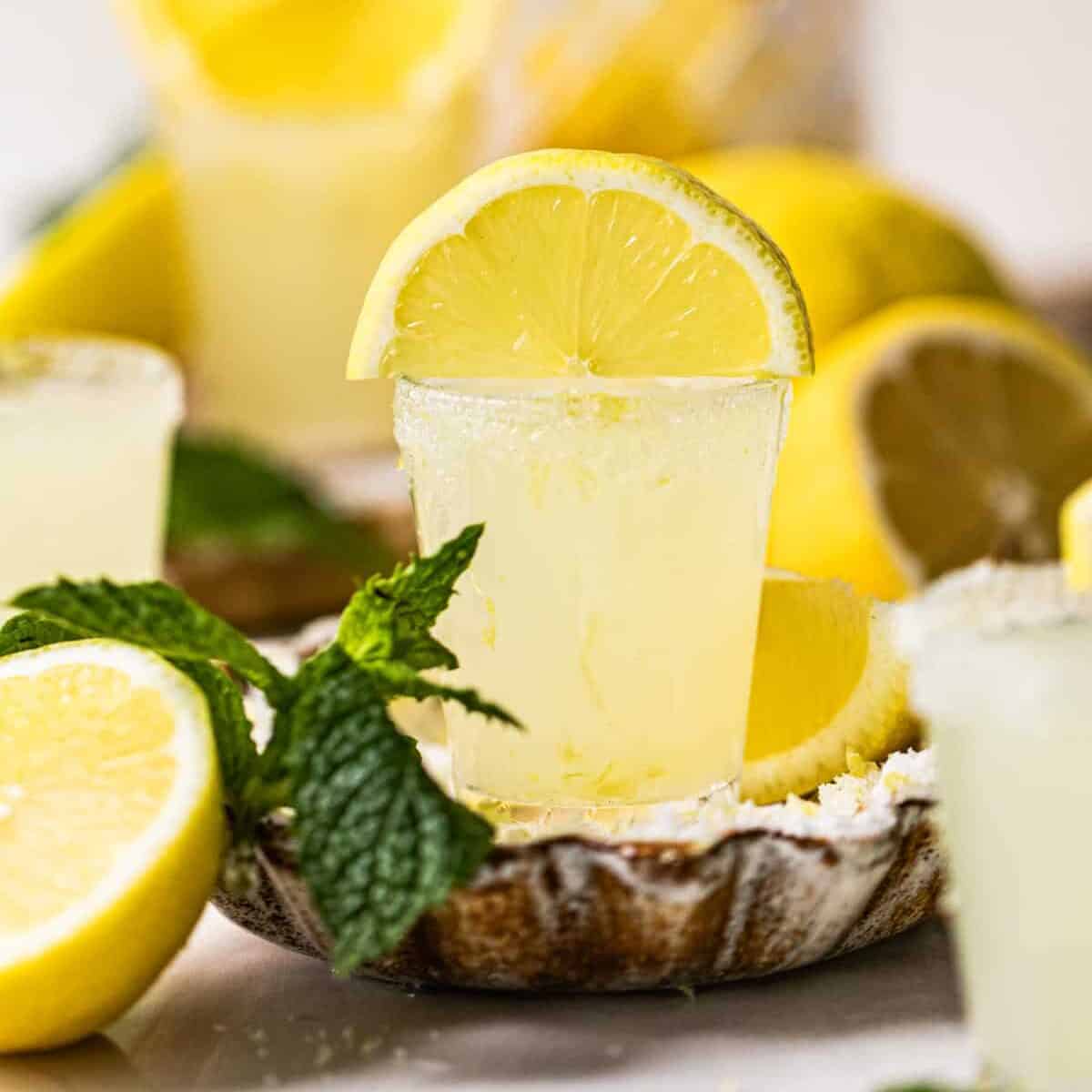 If you've read down this far, then I know you've found your favorite lemon drop shot recipe! Whether I'm drinking cheap vodka, premium vodka, at home, or out on the town, the lemon drop shot will always hold a special place in my heart. I'm hoping it will hold a special place in your heart, too. After all, who doesn't love a drink that's easy to make right in your own kitchen and tastes delicious!?
Let me know how your drinks turned out in the comments below! Which recipe did you like the best? Did you try maple syrup instead of simple syrup? I can't wait to hear from you guys. Thanks for reading (and I'll have more exciting recipes posted soon)!