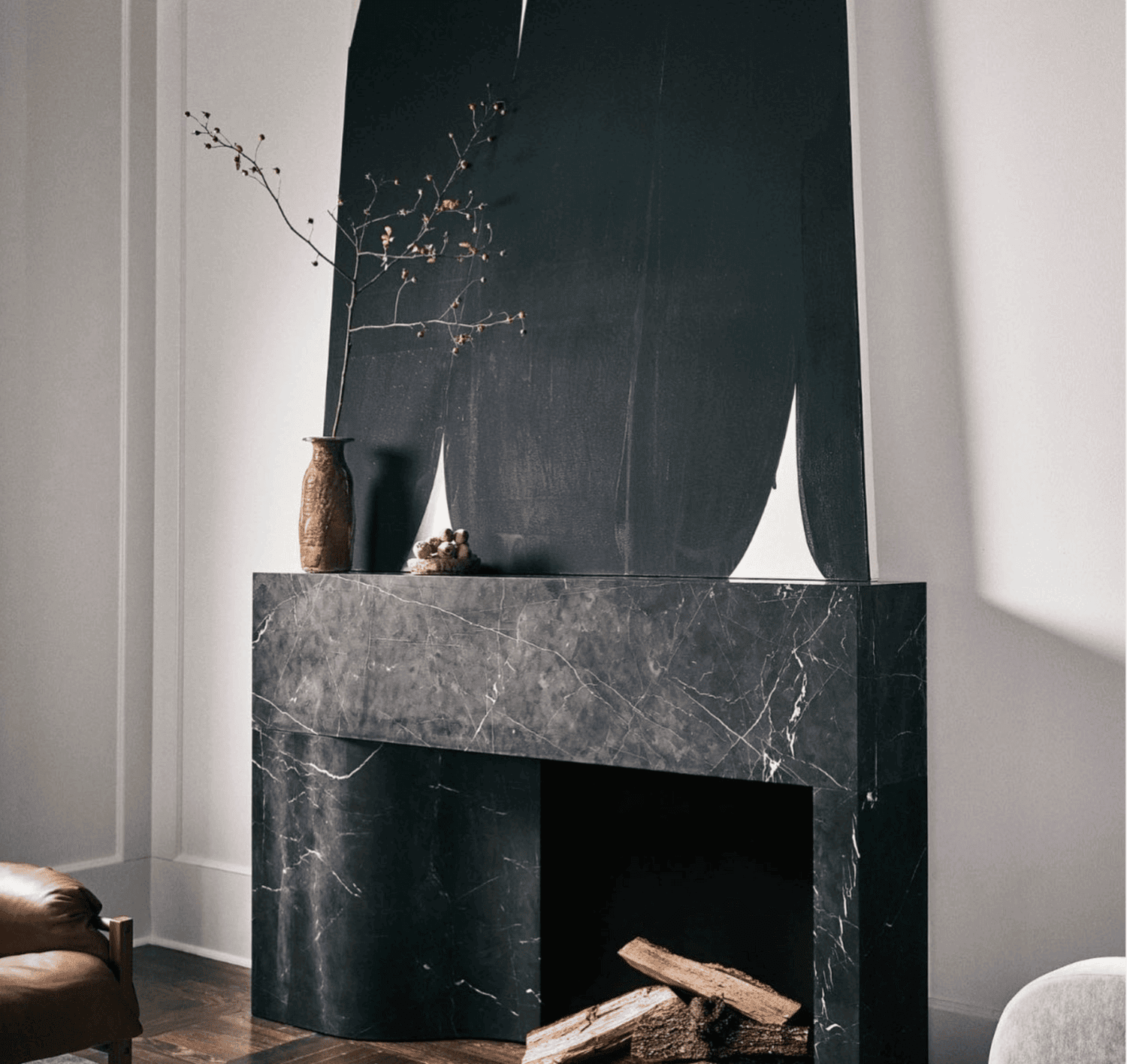 Last week I turned 21, yet again. It was absolutely lovely. It was even more amazing to connect with many of you from Chicago. Thanks for all of the lovely recommendations while I was traveling. I am reminded often of how amazing you all really are – truly. Thanks for being here. I love ya.
It also, just so happened that while I was turning 21, we hit 22K followers on Instagram too. What joy! I remember when it was just 400. Thanks for being here and following along….you guys make it all worth it.
One of my highlights from the trip was getting to check out the Robi House, near the Chicago University campus. It's a Frank Loyd Wright-designed home, and now I want to see all of them in the US. I'm up for the challenge. Also, I literally fell in love with the Peacock Chair. There are only 80 left in the US. Check it out. It's so me.
Finally, my heart is now singing having been able to spend some quality time with my favorite home DIY/Renovation experts Kim + Scott from Yellowbrickhome. They are the best stewards of the city and dear friends that always make me happy. We played in the DIY bunk bed they are building for their daughter, danced to Encanto, (Mariah too), and stayed out late on a school night. We laughed, almost cried (for joy), and lost a camera (ish) along the way. Remember to get out there and connect with people who lift you up and inspire. I promise you will be better for it.
Now, onto this week's favorite finds. I love them all: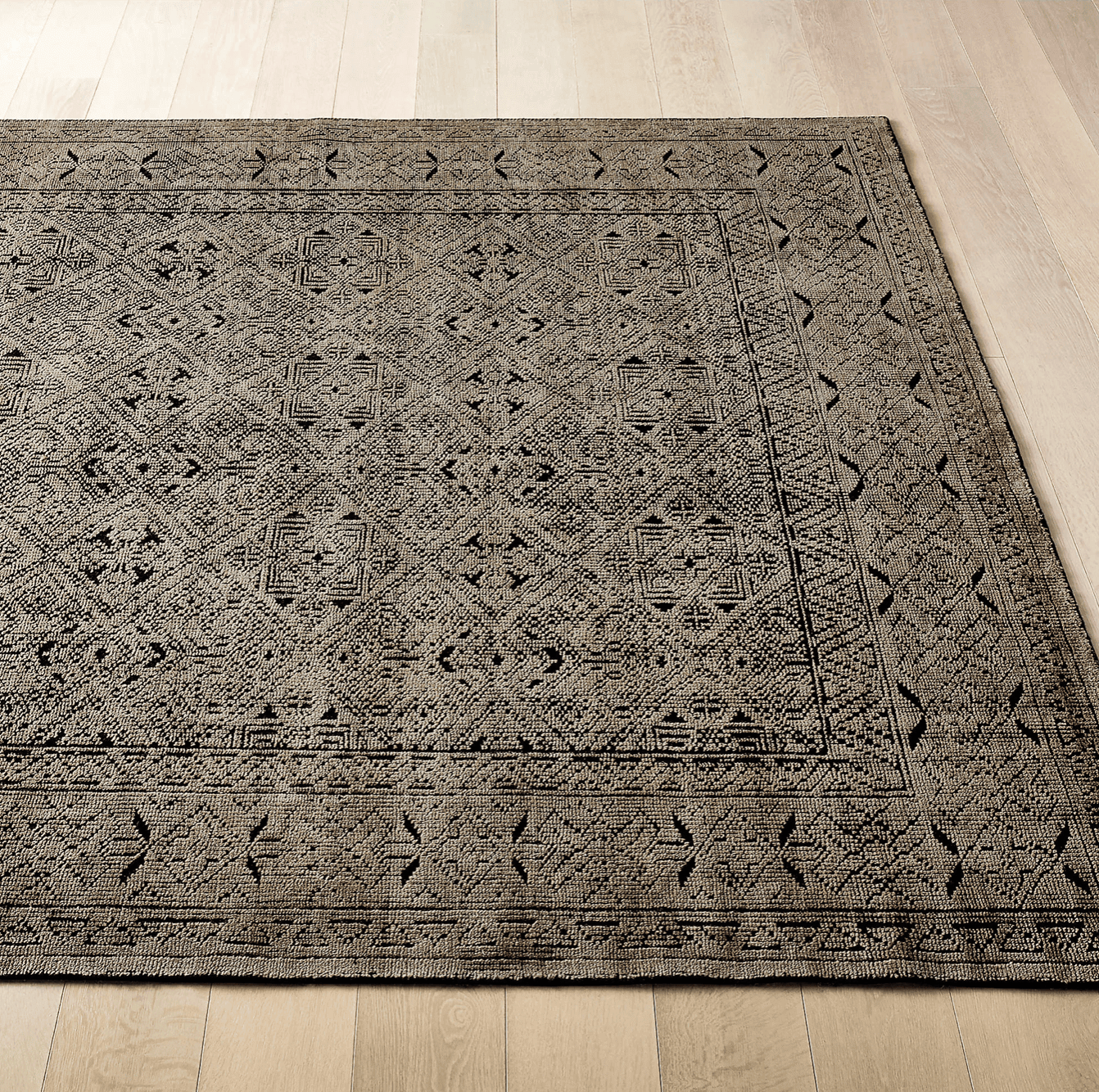 Rugs are literally one of the most important pieces in a space. You need a good one to make a room feel grounded and complete. I love this option because it's NEW but feels lived in. Really, the best of both worlds – plus is affordable for the size. The patina is pure perfection. I can't wait to refresh with this piece.
One of the best ways to make a corner vignette look great is to incorporate contrast and interesting shapes. This side table does both perfectly. I love the burnt finish and oblong curves. Plus it pops against a neutral wall.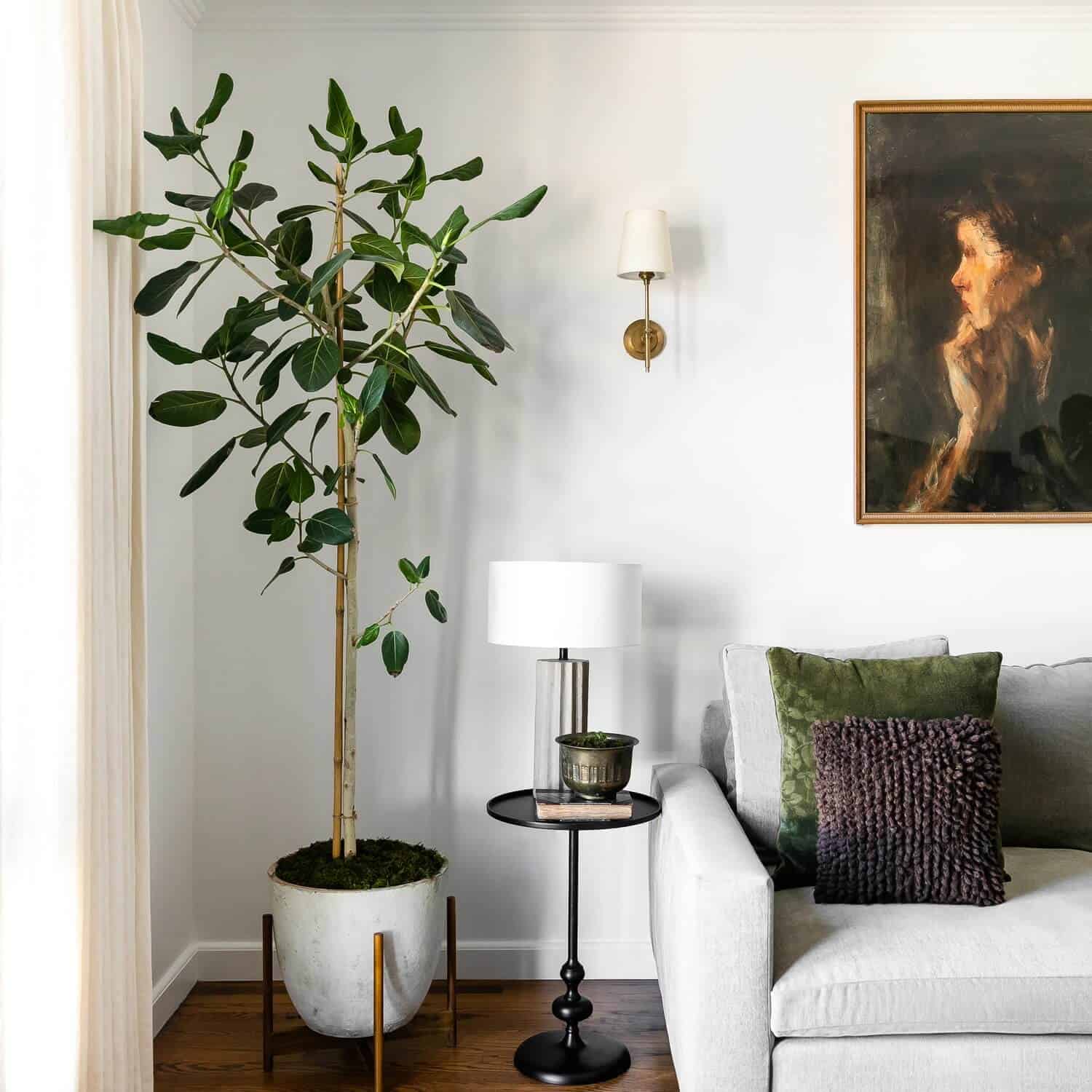 You guys love my Ficus Audrey Tree. I get it, I am obsessed too. I don't know what I would do without her. Finally, I got a link for y'all from where I got mine. They ship to a ton of locations in the US – so hurry up will ya? Get yourself one and head here for a few tips on how to take care of a Ficus Audrey.
There's nothing better than warm pasta and gooey-gooey cheese. Is there? I made this easy pasta dinner dish this week and I am still devouring the leftovers. It's so good and so easy to make. It has rosemary, thyme, garlic, and of course – a delicious black of goat cheese. Give it a try. It's amazing.
Easily Distracted by Plants Tee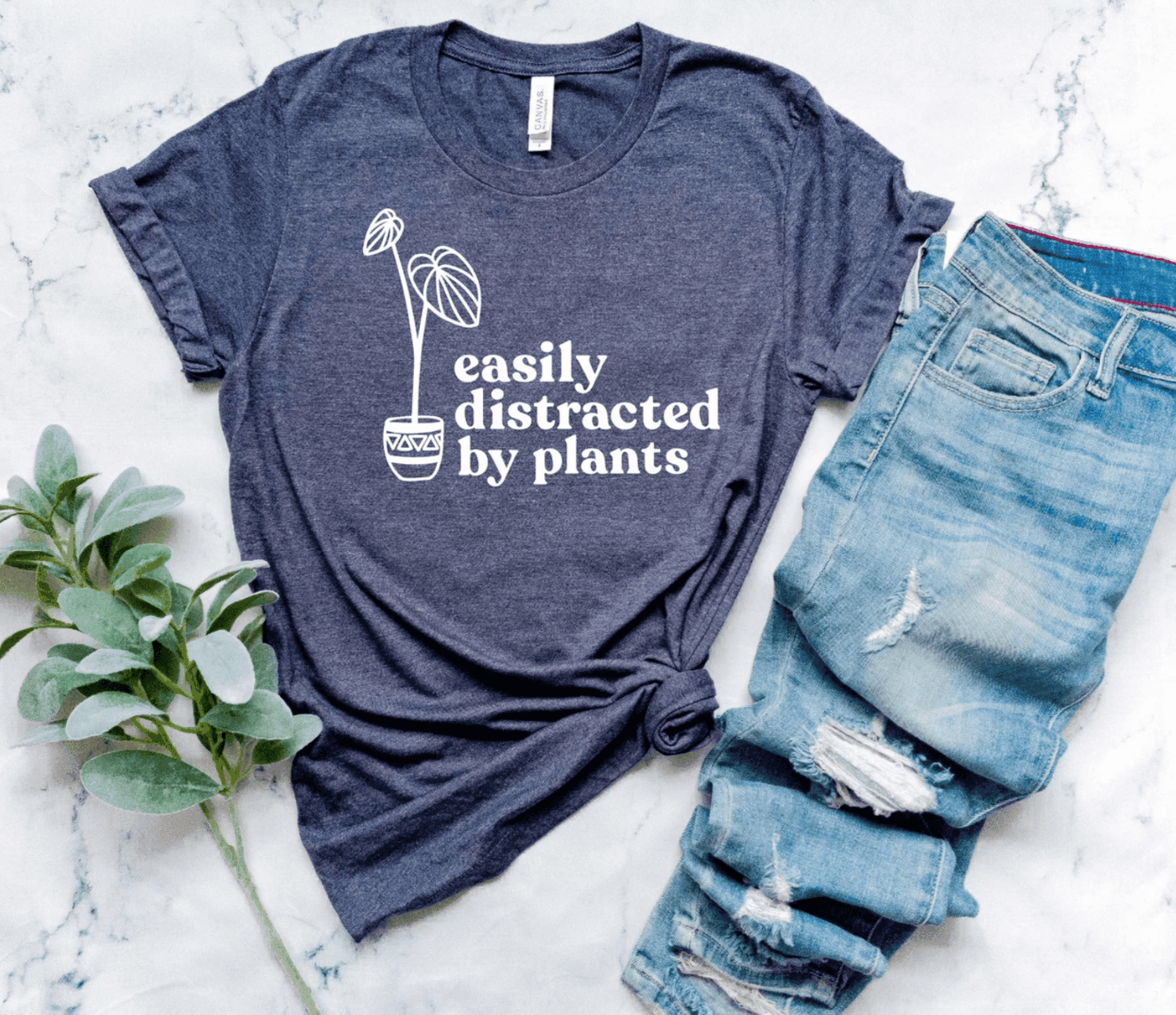 When my girl Sherry over at the Young House Love blog, shared this shirt I knew I had to have it. I mean, is there anything more true than the fact that I am easily distracted by any and all plants at all times?
Easily Distracted by Plants Tee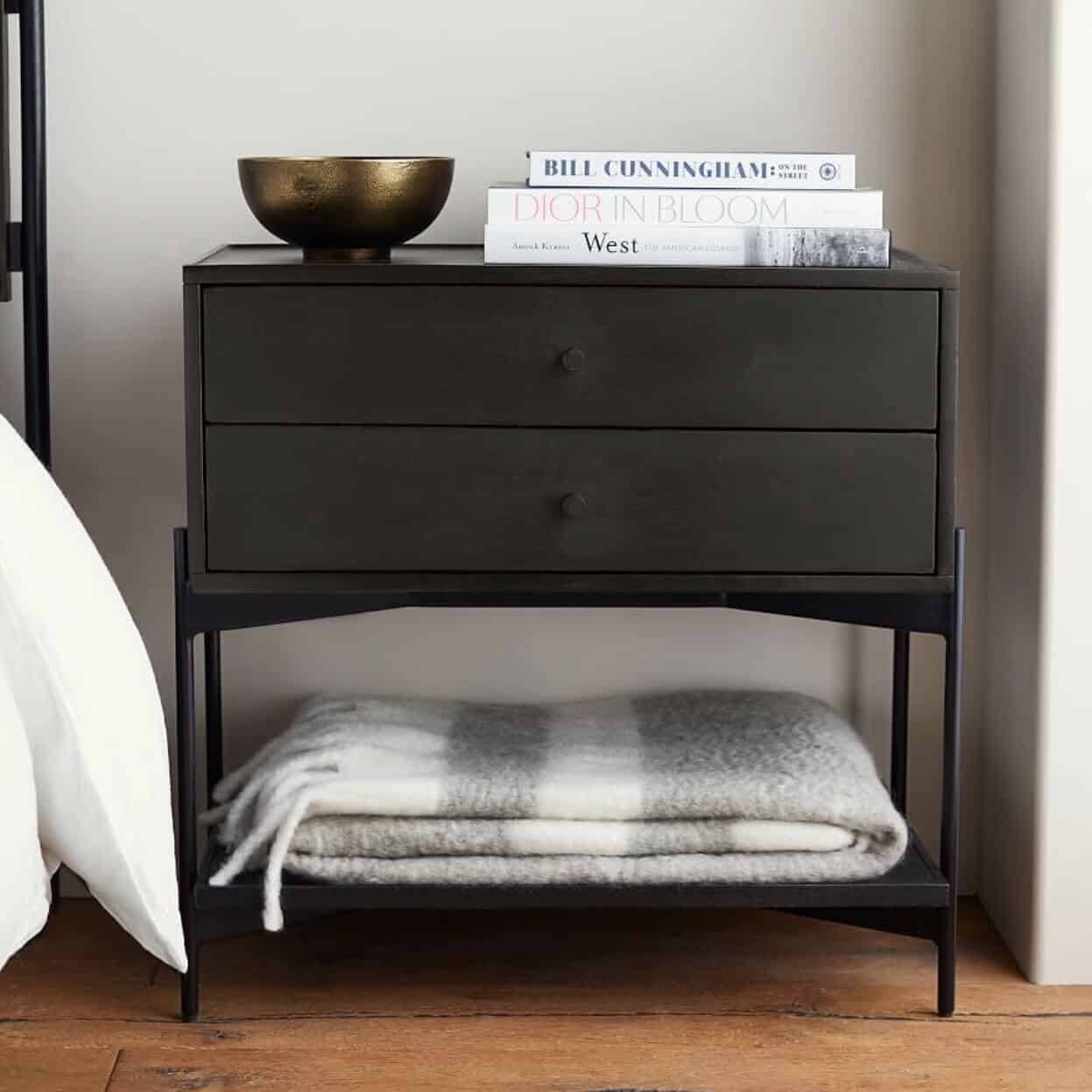 Upgrade the whole vibe of your bedroom with this gorgeously modern and incredibly lux nightstand. The legs are like a sleek cast iron look and any modern classic interior would be a perfect home for this intoxicating piece.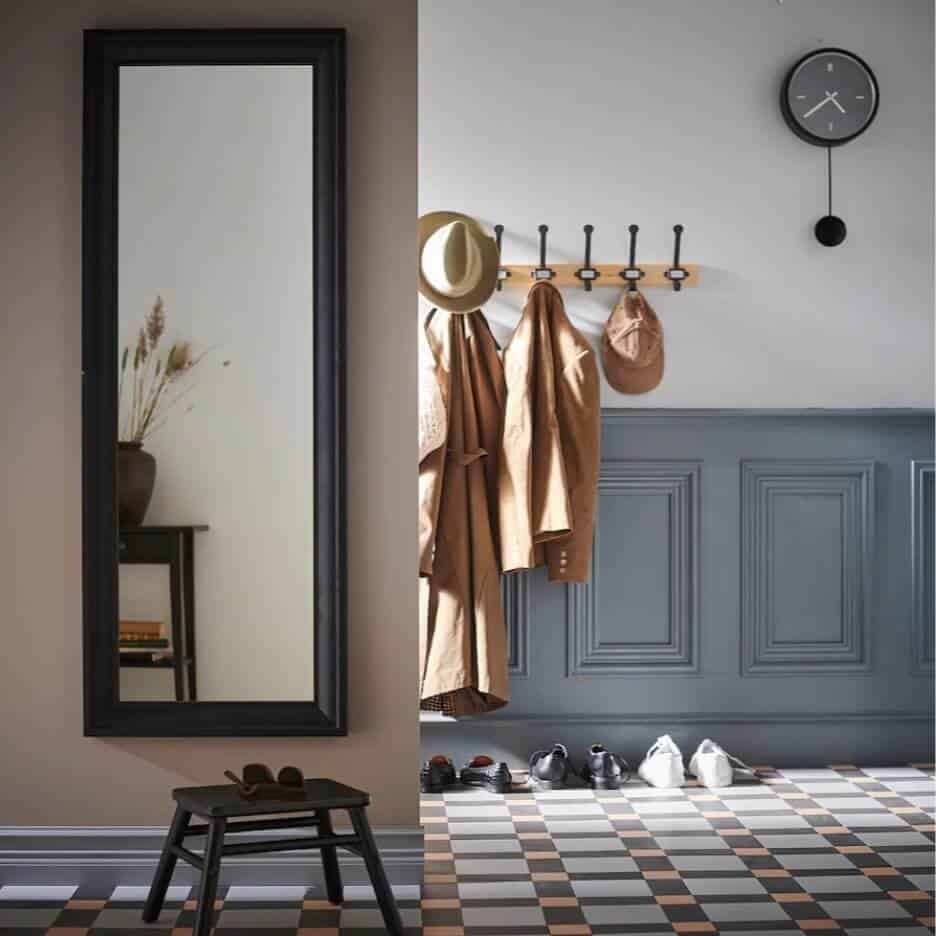 Who doesn't love a beautiful modern classic interiors clock? I know I do. I hit the roof when I found this incredibly affordable decor item that looks like a million bucks. The gentle rhythm of the pendulum is hypnotic, and the look is divine. It pops on my wall and added the perfect "moment," to an otherwise drab corner. Got the time? You do now.
This fireplace mantle and styling by designer Chad Caleb Dorsey made me swoon. It's a sophisticated monochromatic dream. Also, the mantle styling – it's a feast for the eyes with abstract lines, energetic brush strokes, and textured vessels. The black marble fireplace facade ices the cake stunning us all with a handsome finish. I'm shaken. The end.
136 Home Gallery Wall Collection BFF Printshop
Sometimes, people forget that my curated 136 gallery wall collection with BFF printshop started my obsession. It's nestled quietly in my stairwell landing now the Crane Fonda wallpaper. If you are new here – check it out!