It's September, and I have already fallen in love with Fall. The air literally has become cooler and crisper overnight. The sun is glowing a charming golden hue, and the weeping Japanese maple in our front yard has started to transition to an amber shade that I want to bottle up and replace with my (previous) favorite (white) paint color.
Also, I'm not sure if y'all noticed, but I launched a new version of the blog. I just had to. Y'all have been so supportive and I needed to be on a platform that could load quicker, and grow with all the new faces. I hope you love it.
We are still on the hunt for a moody dream cottage. Sadly, we were not able to secure the one we found a few weeks back. But never fear. I have hope. However, Good news! I ended up buying the salvaged clover door you might have seen in stories a few times from a local salvage yard. I could not stop thinking about it. That's how you know you need it. Do y'all wanna refinish it with me? Just look at the clover window and original door hardware. It was so worth the $100 dollars, It won't fit in my current home without fabrication….so I might look into that or just save it for the future. Either way, I am just glad she is mine. But reply to this email if you think there is a room in my current space that you think would look great in!
Okay…but now that the new website is live. Let's get to this week's favorite finds…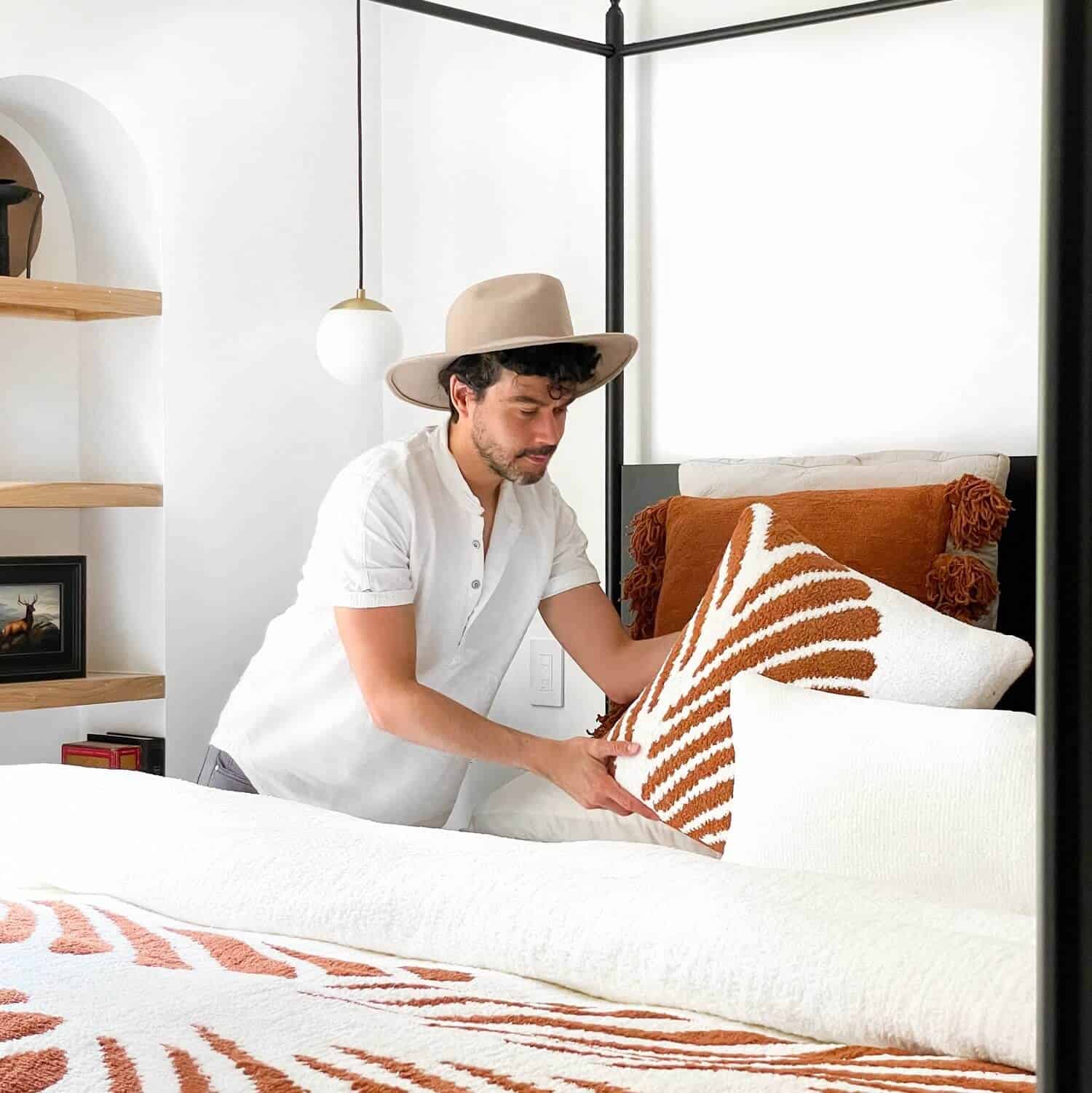 What better way to celebrate fall than with this amber print throw blanket? The matching throw pillow is amazing too. Of course, we all love it. The throw is incredibly soft and is FINALLY back in stock. Grab one now and celebrate the season with new bedding. After all, you do deserve it.
Equestrian Horse and Rider Painting
Nothing makes a space more pointed, than amazing art. We know this. I really fell in love with this equestrian rider and horse art because it has a vintage vibe with strong visual contrast. In addition, it can be ordered in tons of sizes, to fit any frame or gallery wall and can be shipped to you on different paper types. The look and feel are up to you! Go for it.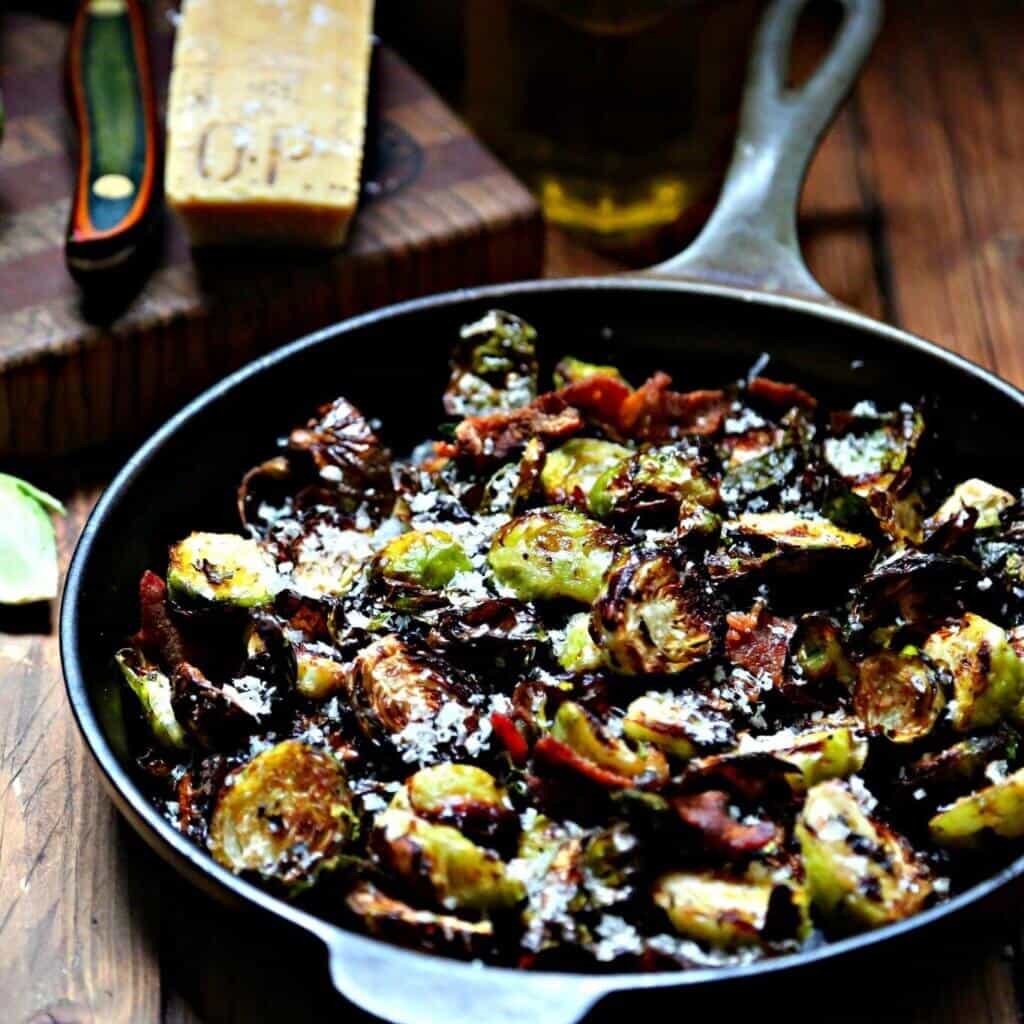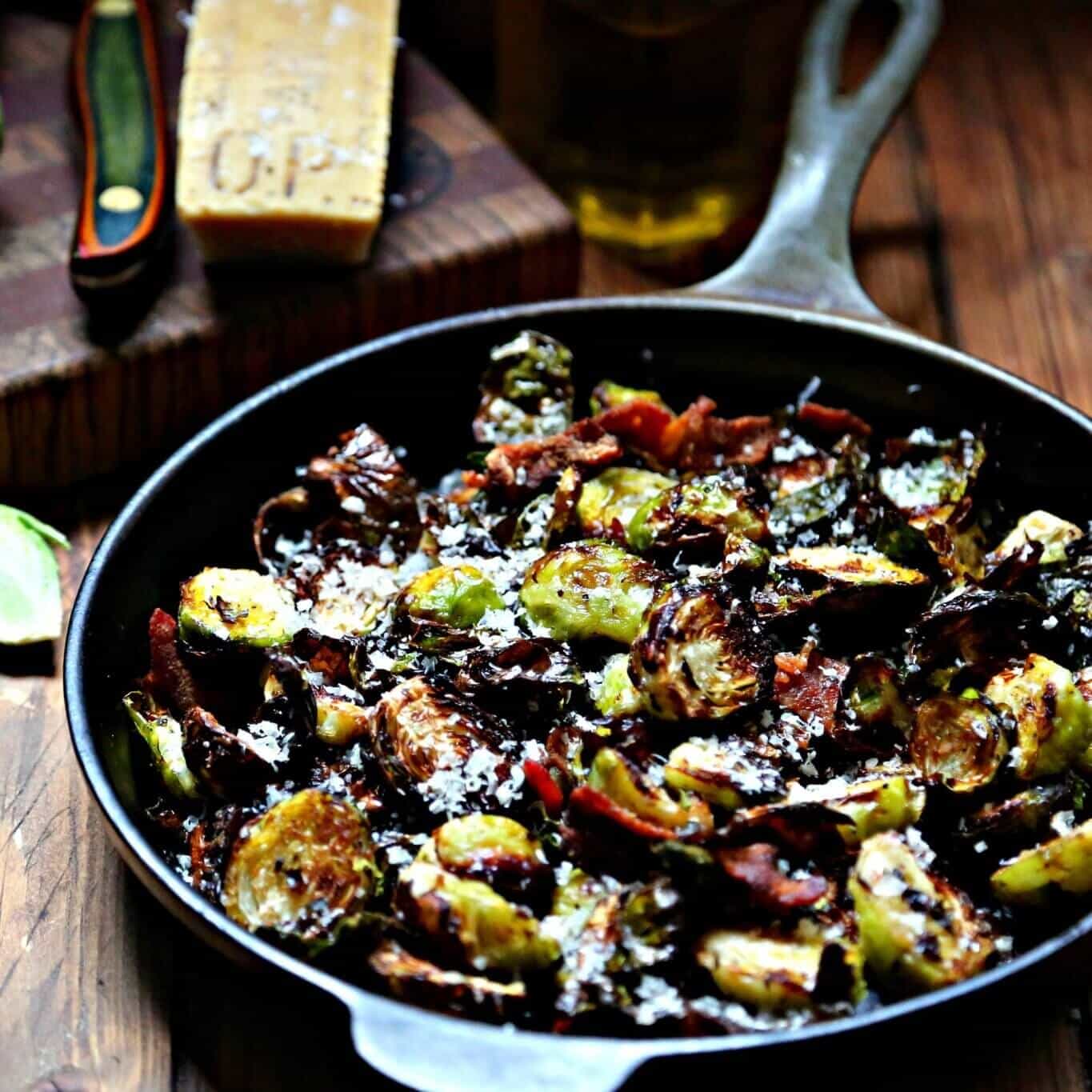 Look, we all need our veggies. Guys, don't argue with me on this one ok? I want y'all to be healthy. So I rounded up four of my favorite air fryer brussel sprout recipes you can make in no time – and in the air fryer. Trust me y'all these are super quick – and delicious. Wait til you try the sweet soy honey glazed version.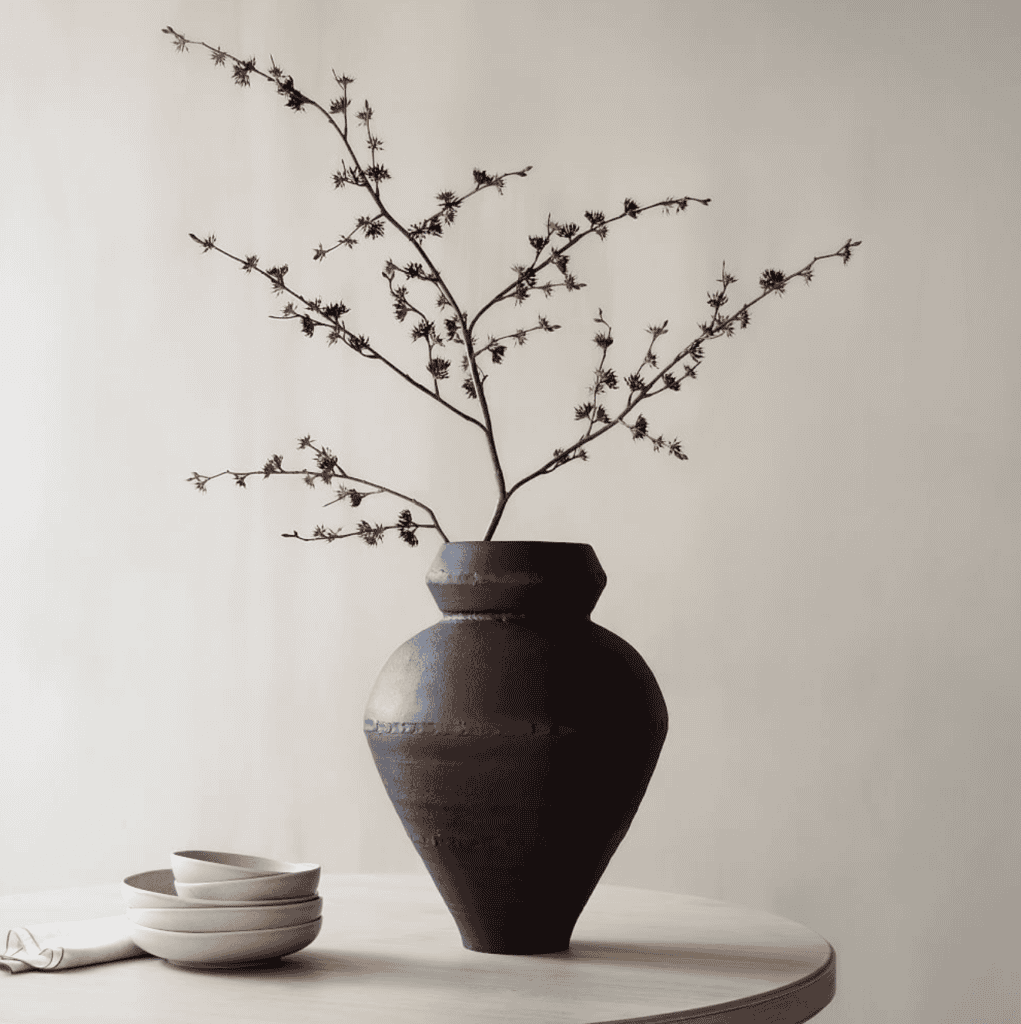 Recently, I posted my favorite inexpensive fall decorating ideas for your front porch. But, this is my favorite affordable decor tip for bringing fall inside. Ditch the florals and try one (or three) of these gorgeous faux Siberian elm branches. Isn't the look amazing? It's modern yet classic. Just the way we like it.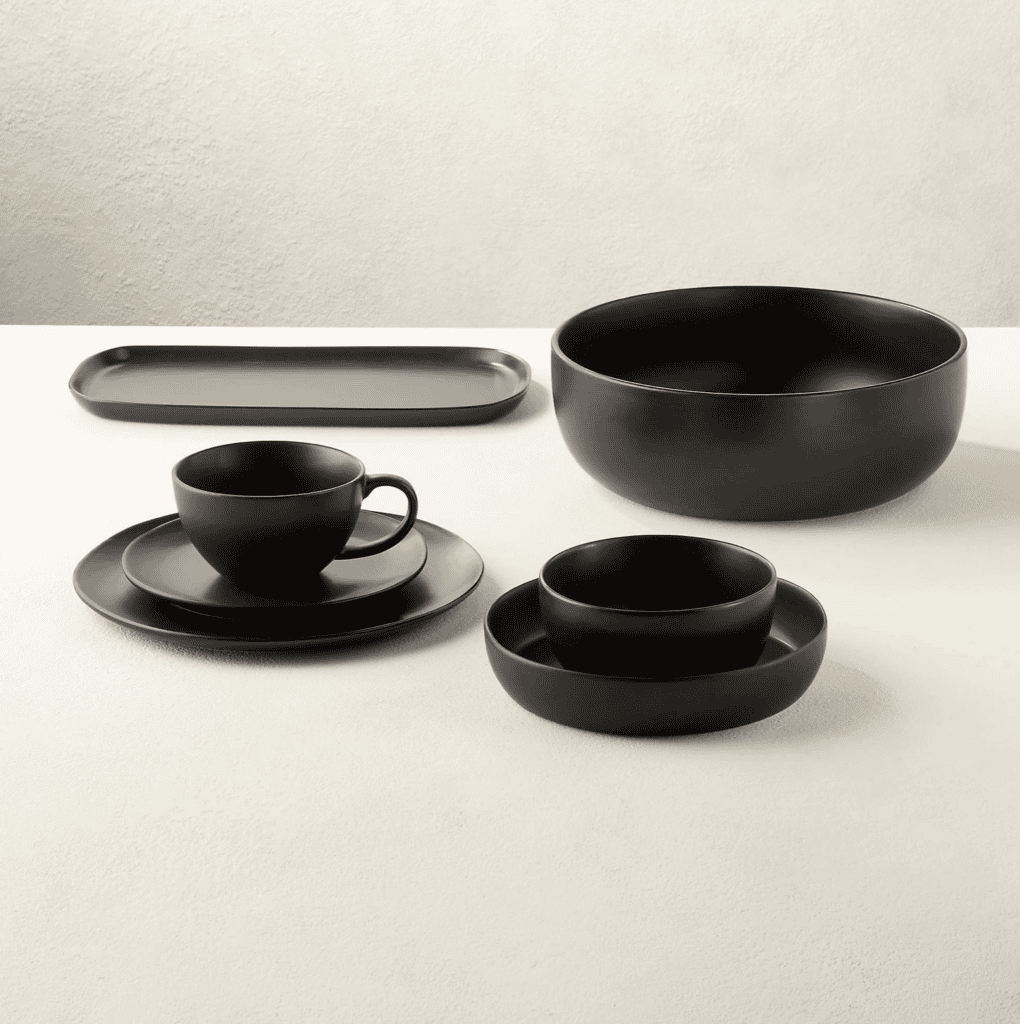 It's important to have sturdy and reliable flatware. But, sometimes you want something with a bit of flare. I was instantly intoxicated by this matte black dish and coffee mug set. They are giving me all the moody vibes, and everything in them looks like a work of art. Who doesn't want their dinner to look like a fancy restaurant every single night? I know I do. Grab them over time.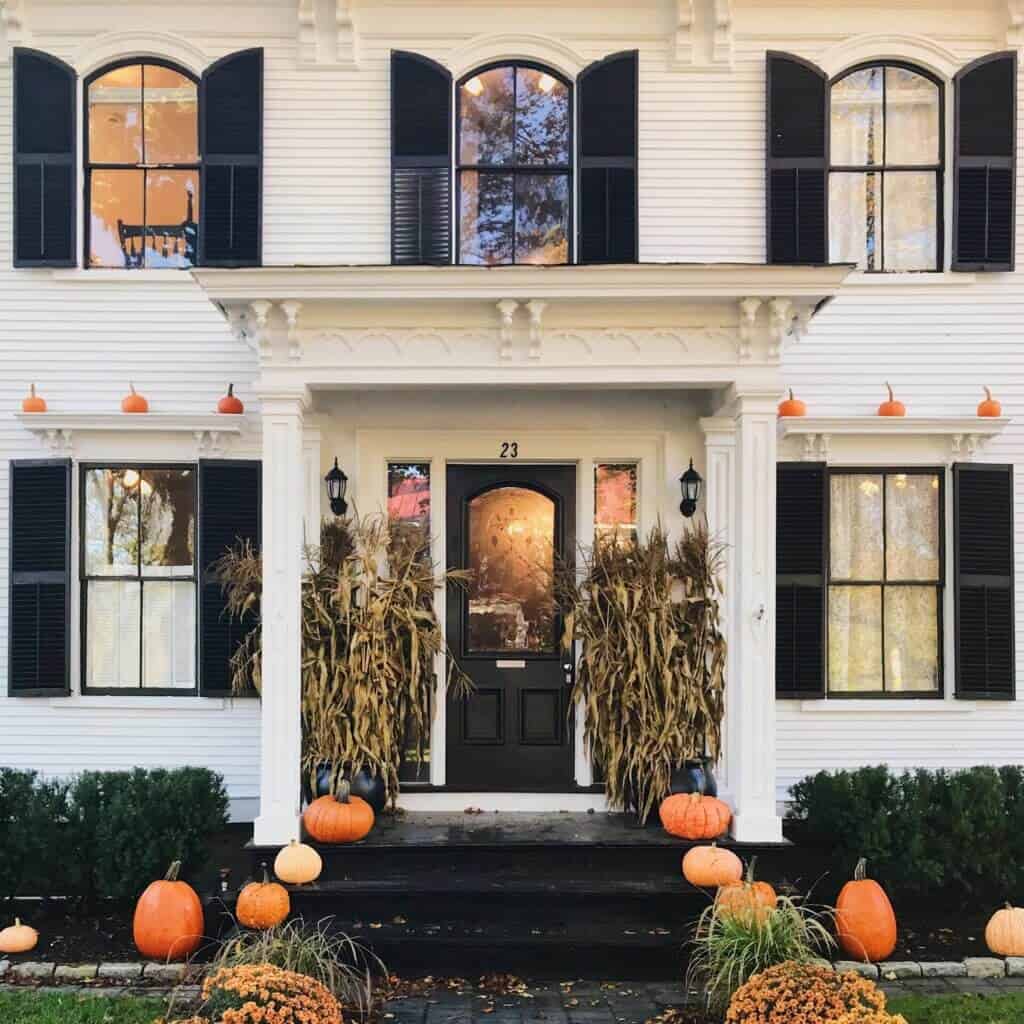 Look, you have to decorate for Fall. Let's not argue ok? I know it can get expensive, so I pulled to together the best tried and true options for creating a Fall porch you will love – that doesn't break the bank. Check these out, and let me know which you do. I'm going for the outdoor candles and pumpkin combo. Wanna see more? Head to the blog on the subject now!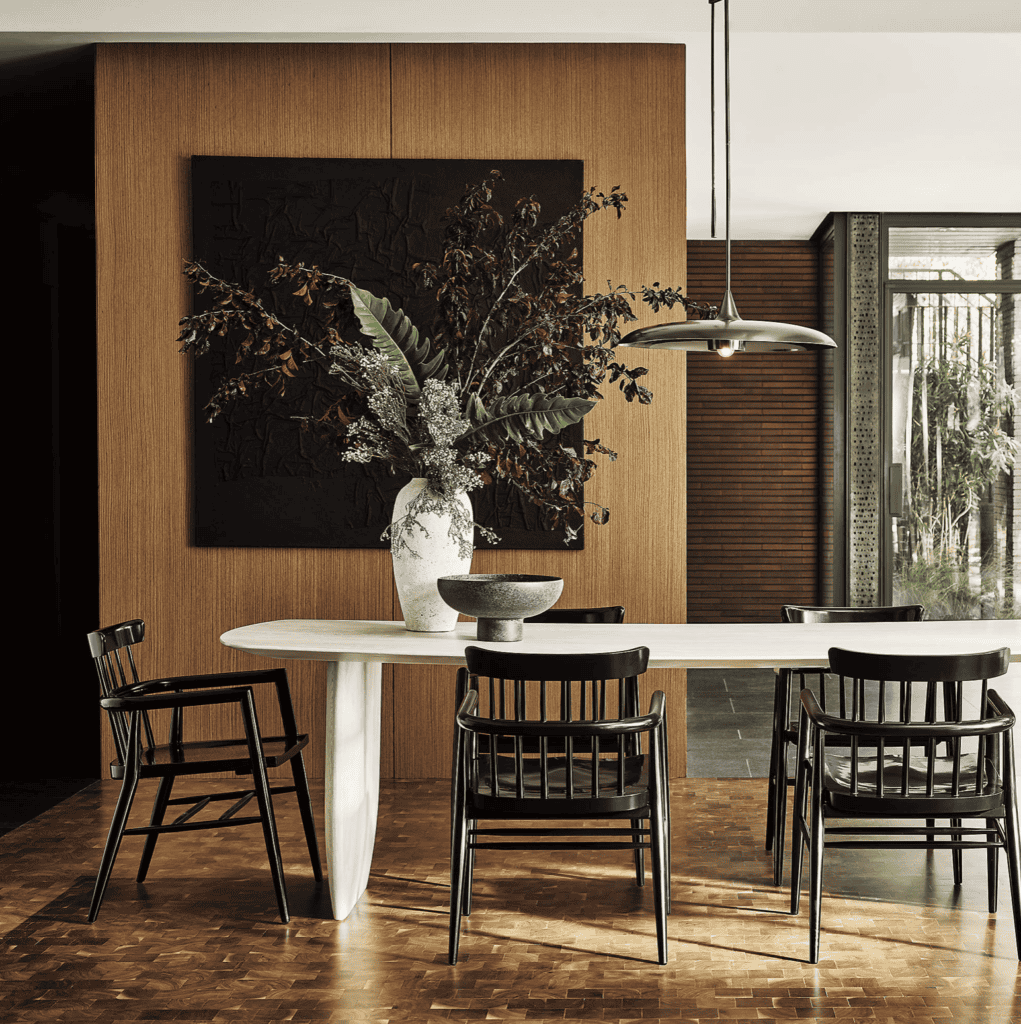 I bet you are wondering what a good, reasonably priced vase looks like for the fall branch suggestion I listed above. Never fear, I'm always looking out for ya. It's this Torino vase that will work all year round. I love the distressed texture and ability for the vase to work will all types of florals, including heavy branches. Grab her, and watch your centerpieces shine.
Inspo Winner
I say it often. But, it bares repeating. Sometimes less is more. Mix old and new. Leave room for negative space, and let each styling accent speak to one another. This cheeky bathroom does it all (lol.)That's why it works. I love the traditional subway tile, paired with mixed metals, and a shell-shaped sconce. Of course, the distressed mirror and peek-a-boo ponytail next to thought-provoking artwork are icing on the cake. No wonder y'all loved it so. I do too. Thanks for being so cool.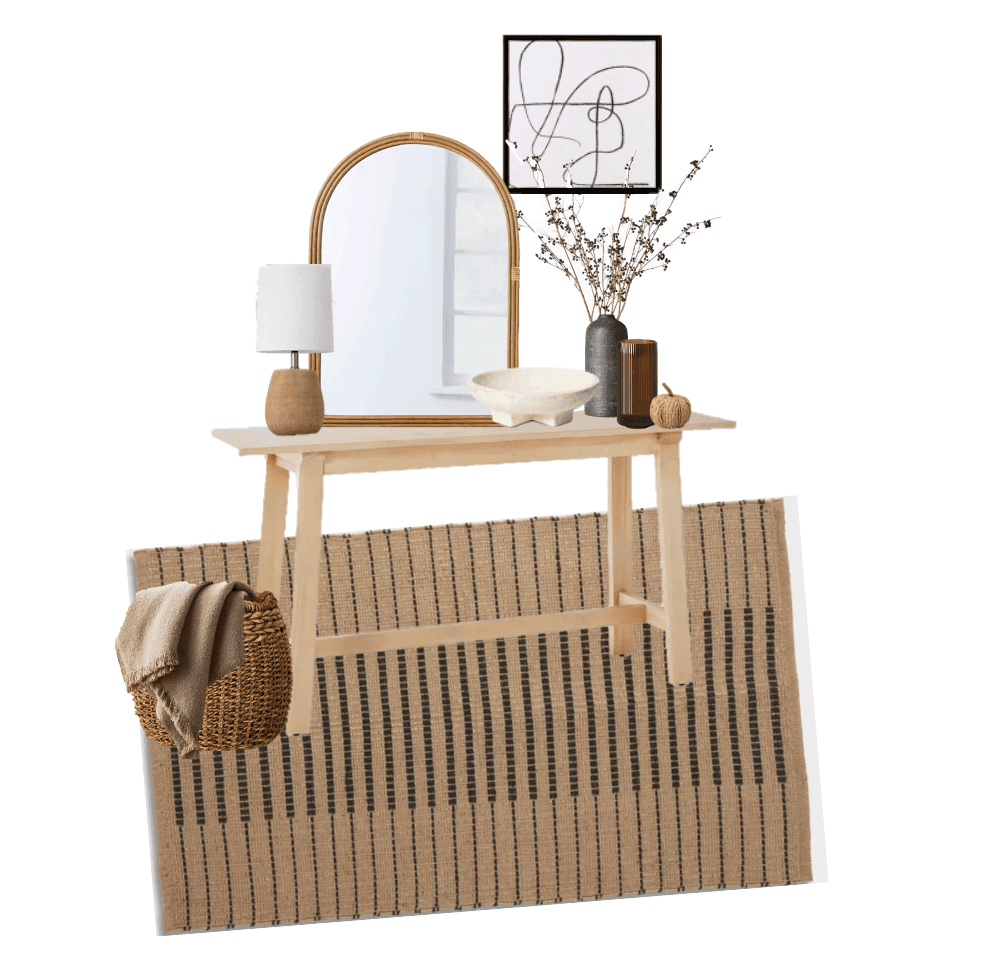 We all want affordable and elevated Fall decor this time of year. Check out this one-stop shop mood board I put together to help you get the look and feel you want – on the cheap. Even better? It's all at Target so you can get it all right away. Love the look? Go grab it quickly and get your Fall on.
I hope you loved this week's favorite finds. I know it's been a minute. That migration to WordPress took lots of time, but I am glad to have it done, and I think the final look is amazing. Stay tuned as we look to update our exterior paint. There are so many options to choose from. Spoiler? It's gonna be moody – because well, it's me. Stay tuned for a new furniture flip, a desk design that inspires, and lots lots more. We are still on the hunt for the perfect cabin. We will get there. I can see it already. Love y'all. xoxox