Well, guys, it's that time of year again: the holiday season is nearly upon us! Wander into nearly any store, and you're sure to hear Mariah Carey playing on repeat. The aisles—neatly lined with hundreds of holiday decor products—are full of people trying to get ready for the festivities and celebrations. Generally speaking, I love shopping! However, when the stores are so packed that you can barely walk around without bumping into something, it's a little too… much.
Fortunately, pretty much any holiday home decor you could hope for is available online. I've gathered this list of practical—but festive—table & countertop decor from Target so you can start shopping right away: no need to wait in long lines! It's a mix of kitchen counter decor, ornamental items to style your kitchen table, and a few practical items that have made my life a lot easier.
I absolutely love holiday decor, but I wanted to make a Christmas wish list that included kitchen essentials I could use year-round. Don't get me wrong: I love Christmas coffee table decor and the like, but who wants a mini frosted tree in the middle of their table in July!? Anyway, I'm sure y'all will enjoy these select items I've gathered for you today (and I'd love to know what you guys used to decorate for the holidays!). Ready to get started? Let's take a look!
Nine Must-Haves for Your Holiday Home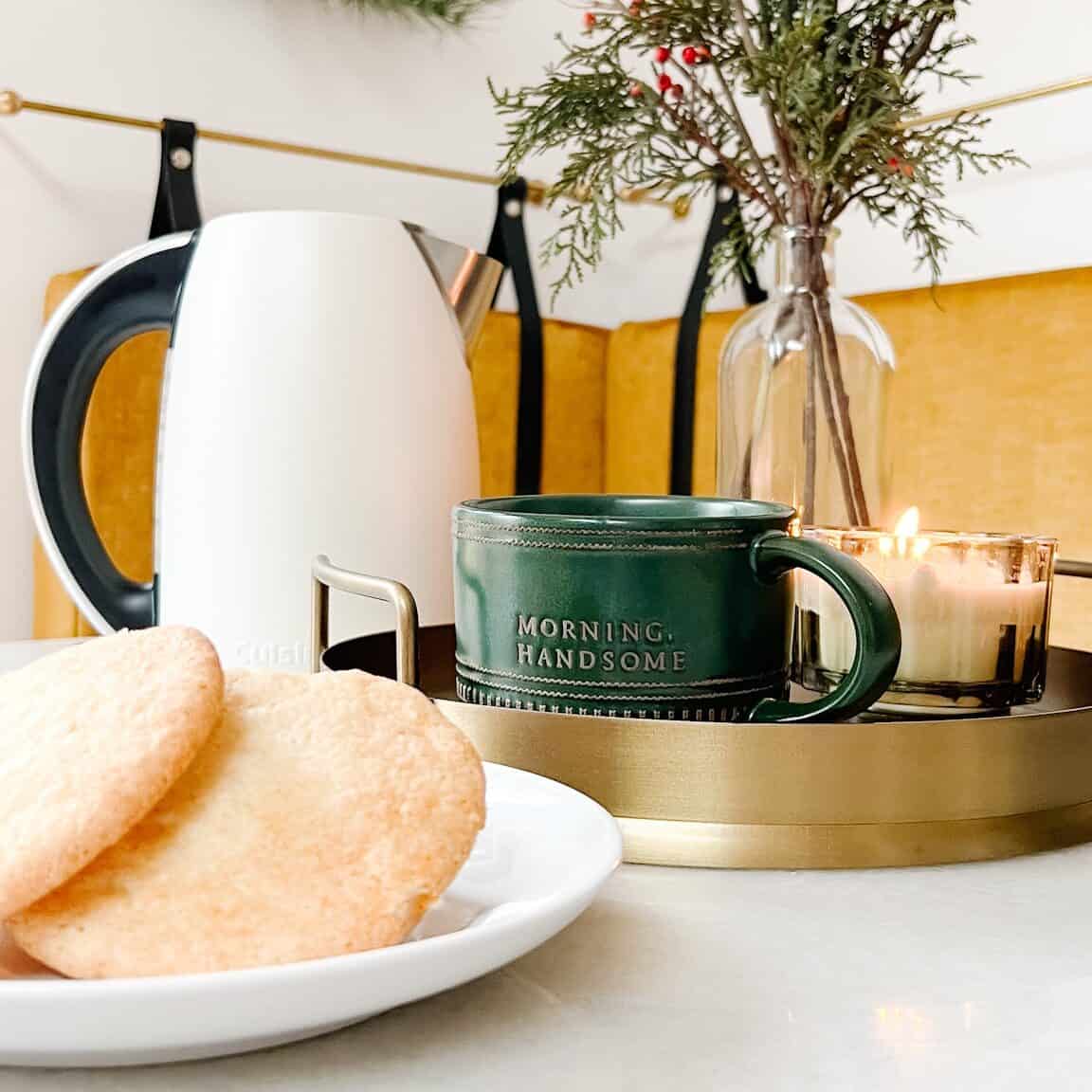 First on our list is this beautiful beveled round decor tray. Simply glancing at it, the tray doesn't really scream "holiday decor," but that's actually why I've chosen it. The copper color of this tray makes it the perfect piece, as it's neutral enough to fit with nearly anything! At nearly a foot across, this tray has plenty of space for both decorations and practical items to co-exist.
You can simply fill it with your favorite Christmas coffee table decor, instantly turning it into a centerpiece that guests will love. It can also serve as a piece of countertop decor, which you can fill with holiday-themed items to give it that festive feel. Outside of the holiday season, it's the perfect place to put your accent pieces, providing them with a stable surface and neutral background.
That said, the listing specifically mentions that it's not made for food, so I'd probably avoid using it for serving snacks or deserts. A bottle of wine should be ok though!
You should definitely add this mixer to your Christmas wish list: you'll be thanking me when one of your recipes calls for a mixer! A mixer is one of the kitchen essentials where you don't really "need" it until you need it, ya know? Offering seven speeds and a long battery life, sure, this mixer works great (but that's not why I selected it).
When you're trying to arrange your kitchen counter decor, one of the biggest issues is cord management. All those pesky cords—running from coffee machines, kettles, and the like—can make the countertop look unsightly. Thankfully, this mixer is cordless, so you can place it anywhere without worrying about wires. Plus, black is a fairly neutral color, meaning this mixer won't stand out amongst casual or holiday home decor.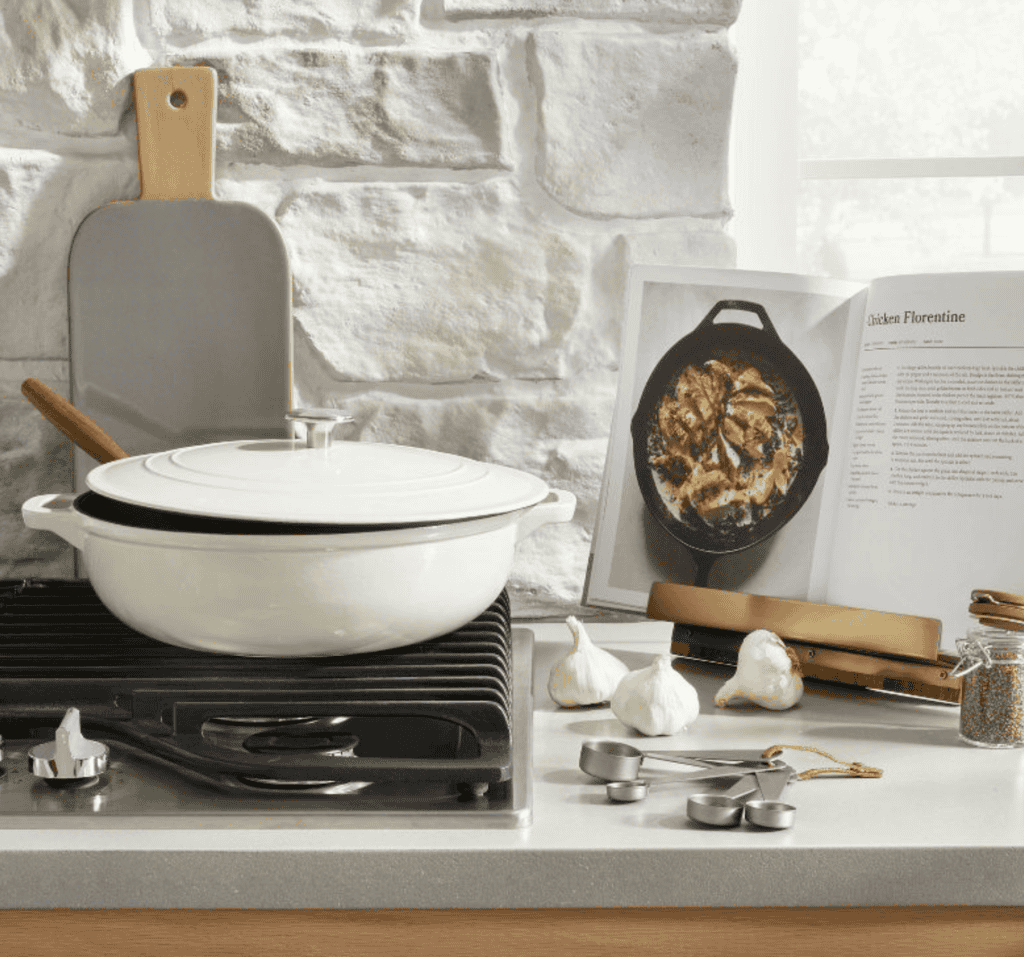 A natural wood finish pairs perfectly with nearly anything. No matter what color your kitchen counter decor is, this cookbook holder will look right at home. I don't know about you, but for me, making holiday treats is one of the best ways to get myself in the holiday spirit! I enjoy trying out new recipes, but trying to get the cookbook to stay open can be a real pain.
That's why I consider this piece of countertop decor to be one of my kitchen essentials. Thanks to the metal ledge, I don't have to deal with my cookbook constantly turning the page on me. Just find a recipe, place your cookbook on the holder, and get started!
Christmas and hot cocoa go hand in hand; for the rest of the year, there's coffee! This cordless electric kettle can handle both tasks with ease, making it one of the kitchen essentials you simply have to include on your Christmas wish list. The neutral coloring blends in perfectly with any kitchen counter decor, and it doesn't take up much space on your countertop.
Getting the mood "just right" can be a challenge when trying to throw a holiday home gathering. However, with a fresh cup of hot cocoa just minutes away, there's no way your guests won't get into the holiday spirit!
Let's step out of the kitchen for a moment and take a look at what we can do in the rest of the house! Throw blankets are the perfect mix of comfort and convenience, but finding a place to put them is challenging. Leaving them thrown around doesn't give my home the neat and tidy look I'm after (yes, I know they're called throw blankets, but still!).
Having mismatched throw blankets really messes with my aesthetic come Christmas time since most of my throw blankets simply don't look nice next to my holiday decor. That's why—last year—I added this wood throw blanket ladder to my Christmas wish list!
The ladder allows me to organize my throw blankets and create a festive display at the same time. With a bit of creative folding, you can hide your non-festive blankets underneath. Then, place your festive blankets on top for the perfect arrangement of holiday decor!
I love to visit with friends and family around the holidays, but there's nothing quite like spending Christmas morning at home with your partner. Sure, I might switch out the coffee for hot cocoa on the big day, but I still need something to sip on while I wake up! For that, these adorable "Handsome & Beautiful" mugs are perfect, so I had to add them to my Christmas wish list.
This 2-pack of mugs is just ornate enough to count as kitchen counter decor, but I mostly use mine to keep my compulsive coffee-drinking habit in check. Slightly smaller than a "grande" at Starbucks, the green and white colors blend nicely with most holiday home decor. They look especially pretty when placed near red countertop decor (or red tablecloths).
Pretty and practical, these kitchen essentials are the perfect way to make your partner feel appreciated while also getting something nice for the holidays!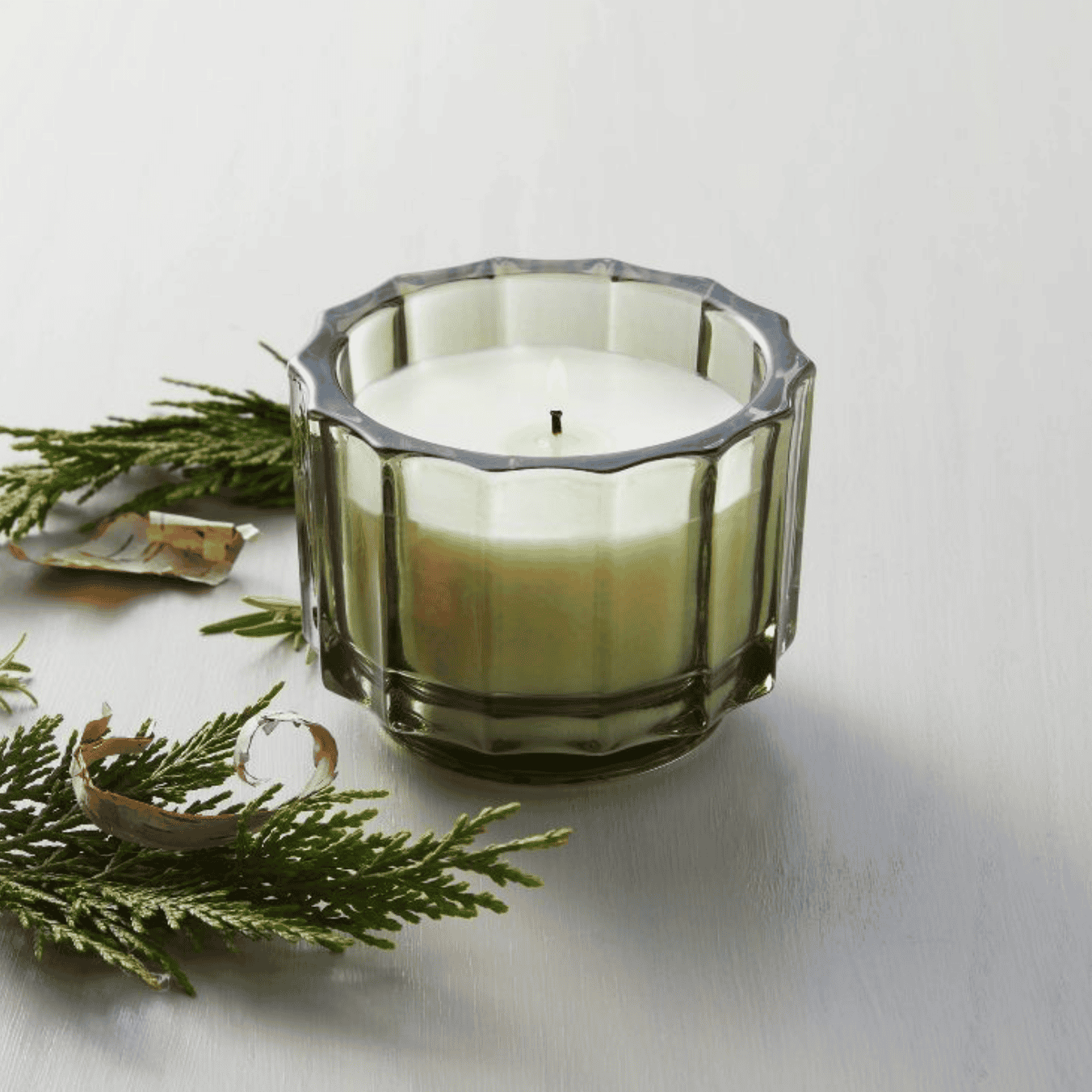 So far, we've mostly focused on holiday decor, but there's another—arguably easier—way to instantly change the vibe of a room: scented candles! This simple soy-blend cypress & pine candle is sure to spread Christmas joy to anyone who walks into your home. The smell instantly reminds you of winter and warm nights spent by the fire.
They sell small (5 oz.) and large (32 oz.) candles. Either option will be complementary to your holiday home decor, but I think you should consider where you'll be placing the candles before deciding. If you're planning on using the candles as both kitchen countertop decor and Christmas coffee table decor, then I'd go with the small candles.
However, if you just want the holiday scent to supplement your Christmas coffee table decor, I'd go for the large candle instead.
Okay, so you'll want to keep this next item on our Christmas wish list well away from the candles! Traditional holiday decor often uses real plants (such as Christmas trees). While this looks amazing and smells great, the benefits don't last forever. It's never too long before you're picking up clippings, needles, and other pieces of the plant off of your floor.
This is why I often prefer faux plants, at least when it comes to decorations. This beautiful Cedar and Winterberry bottle arrangement can bring the Christmas spirit to nearly any space (without the mess!). Place it next to your kitchen essentials for some festive countertop decor, or put it on a shelf near a few of your favorite photos.
Personally, I also think these look amazing on a nightstand. Just make sure not to knock the glass over when you're getting out of bed!
If you prefer holiday decor that's a bit more simplistic, then this artificial red berry stem might be just what you're looking for! Made with wired, bendable stems, this simple piece of holiday home decor can be adjusted to perfectly fill out any glass or vase. You could place it by itself, but I think it looks a lot better when paired with real, potted plants.
At 41½ inches long, it's way too big to place with other faux stems. However, you can stick the end down into the dirt of a potted plant, giving the live plant a sense of Christmas spirit! The lengthy size makes it impractical as Christmas coffee table decor and less than ideal as kitchen counter decor.
That said, if you do want to use this red berry stem as a piece of countertop decor, I would suggest attaching it to the wall. You can shape the stems to your liking and spread them out across the empty space!
Practical & Pretty
I tried to hit both points with each item on this Christmas wish list. I love buying special decorations for each holiday, but the problem is, they keep piling up as the years pass by! For me, I think the best way to shop for holiday decor is by finding things that look festive now but can still serve a purpose later on.
Kitchen essentials are perfect for this. Their neutral coloring looks natural alongside your regular kitchen counter decor. Once the holidays come around, they blend nicely into the background without distracting from your decorative displays. Sure, it's a little bit harder to find Christmas coffee table decor—and other themed pieces—that you can use year-round, but I think the faux plants I showed you guys fit the bill!
I Hope You Enjoyed My Christmas Wish List! (122w)
Was there any Christmas coffee table decor that caught your eye? Perhaps you preferred the year-round kitchen essentials instead? Either way, I hope you found something that you can use for your holiday home decorations. Let me know which picks you like the best in the comments below (and I'd love to hear what you guys are doing to celebrate!).

This post is sponsored by Target but all opinions are my own.
Happy holidays!