Original artwork can instantly take a home from drab to fab. ⁠
Don't get me wrong, I love a DIY and budget-friendly #gallerywall. I have three in my own home – so trust me I am no stranger to self-printing beautiful art from my favorite online shops like BFFprintshop and North and Finch.⁠
⁠With that being said, when possible I like to also fold in original works of fine art. I can't do it all of the time. In fact, I can do it as an exception maybe once or twice a year at most. But, if I am being honest that is more than enough.
Today, I wanted to share some tricks with ya on how to score original art on a budget, and why it's a good great idea to incorporate these pieces into your space if time and budget allow for it.⁠
Here's the thing. Original art can just be felt in the heart and instantly recognized as such versus prints. Original art sourced from your favorite local art gallery can lend any space an instant up-level in terms of sophistication and authenticity. When a piece of art is original – you just feel it. As such, if you are able to incorporate such pieces with more affordable finds your entire home and gallery walls will instantly feel more lux. It's a win-win! ⁠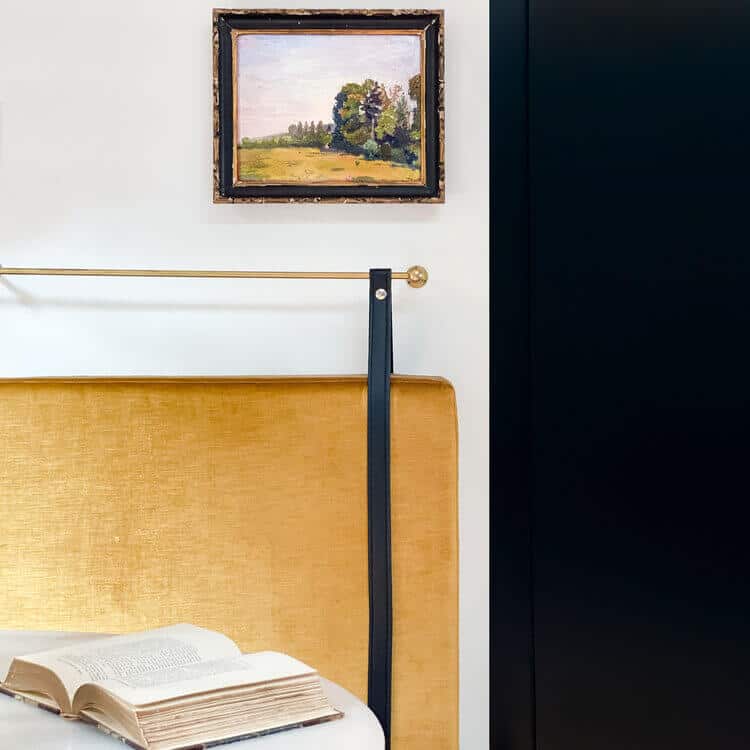 There is just something about seeing the brush strokes or marks of a pencil over an original canvas that is so satisfying. . The material will speak to the viewer. Also, whenever possible it's wonderful to be able to support artists who work so hard to support themselves with their craft.
When you support an artist and bring their art into your home you are inserting interest and uniqueness into your home. If their art speaks to you then you are really showing your guests and visitors a piece of you – perhaps something that is hard to express in words. Pick an artist and one of their pieces that says something you don't quite know how to express. I promise it will be fulfilling for you.
Remember, one of the main purposes of good art is to help incite conversation and connection. When someone asks about these (original) pieces you can share the artist's story and why you love their work so much. I promise you will learn more about yourself and your visitors this way. Go for it!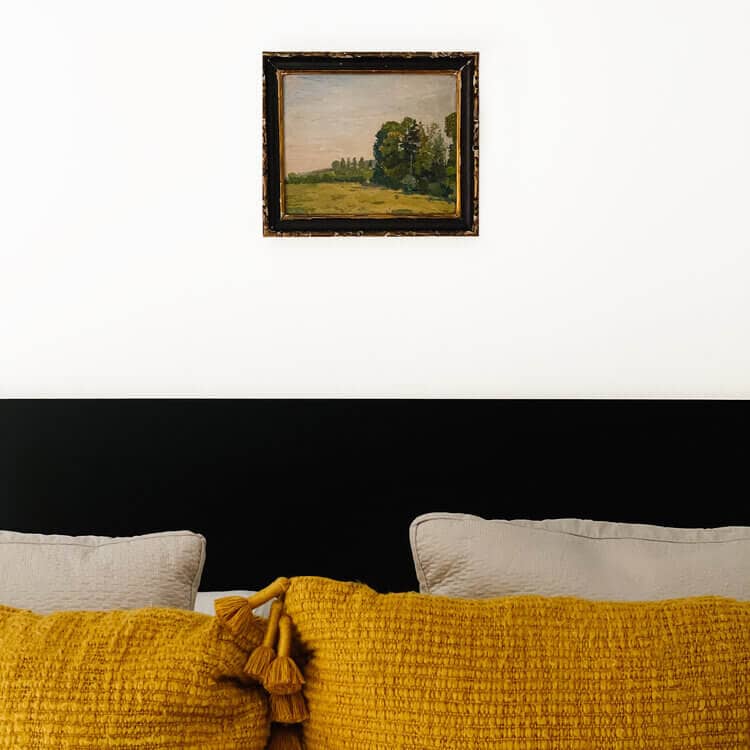 While owning original artwork can be expensive, I suggest saving for a good piece maybe once a year. Although there are some more affordable options too. The French Art shop has been my secret go-to source on @etsy for original art that doesn't break the bank. Can you believe how perfect this landscape is in my space?
Here are my top 5 ways to score amazing original art on a budget:
Thrift
Okay, this is probably not going to come as a surprise to you, but my number one tip for getting amazing affordable art that is original is to visit (often) your local thrift store or Goodwill. I will never not be surprised at the gorgeous pieces that make it to the Goodwill. Do it. For more thrifting tricks and tips to maximize your time at the local thrift click here.
Visit a Local Art Gallery
Lost Art Salon is my favorite place in San Francisco to browse (admire really) and curate original art. They have a magical showroom bursting with both original paintings, photography, sculpture, and more. The staff is warm and knowledgeable. If you ever want to touch and feel your art before purchasing – I really encourage heading to a local art gallery the supports local artists. There is none better than Lost Art.
Swap Meet or Flea Market
When it's safe – you gotta try hitting a local swap meet or flea market. Much like the above, you will be able to find so many amazing pieces of art. Be sure to check for a signature and inspect it carefully. You won't be able to return after purchase, but some of my absolute favorite pieces in my home have come from the local flea market. I have two in my area I adore.
Frequent Neighborhood Estate Sales
Prices at estate sales are amazing. You may need to head out of your neighborhood to areas that have them more often – but you can find amazing art this way. The good thing about Estate Sales and Flea's are that you can haggle. Always make a lower offer. You can get great deals this way
Browse Online Shops like Etsy
Guys, there are amazing curators on Etsy who source incredible pieces full of charm and character for a reasonable price. Sure, you are going to pay more than printing art online at home – but you can feel good knowing that you are supporting an independent business. In addition, many artists have their own Etsy shop where they sell straight to you. My favorite is still @thefrenchartshoppe. Check em out. A few other great online options are eBay, Craiglist, and Facebook Marketplace
Visit Art Schools Colleges
You can literally get FREE charcoal sketches and test paintings from up-and-coming talents. Connect with your local art school to see if you can stop by to pick up anything that is going to be thrown out at the end of the day. Even better? Attend a show where students are displaying their art for sale. It would mean the world to them if you made a purchase. Being a starving artist is a real thing!
In the end, original art is awesome. I hope you are able to procure some original pieces for your own home. I know it can be tough. But, some of the sources above will hopefully make it easier to snag and affordable pieces. Remember pick something that gets em talking, express yourself – that's the point. It's your home and your walls. I promise you will love your home so much more if you are able to decorate it with pieces that speak to your heart.

For more DIY, tips, and design inspiration be sure to check us out on Instagram and leave a comment below.