I insist on having only the best kitchen rug runners in my home. They make everything in a kitchen better by adding comfort, preventing slips, hiding tons of dirt, and infusing charm into your space The thing is, there are so many options of great kitchen runners to choose from out there. It get's overwhelming. Don't worry though. I've gathered a bunch of great options that you can incorporate into your very own kitchen to eleven the design seamlessly.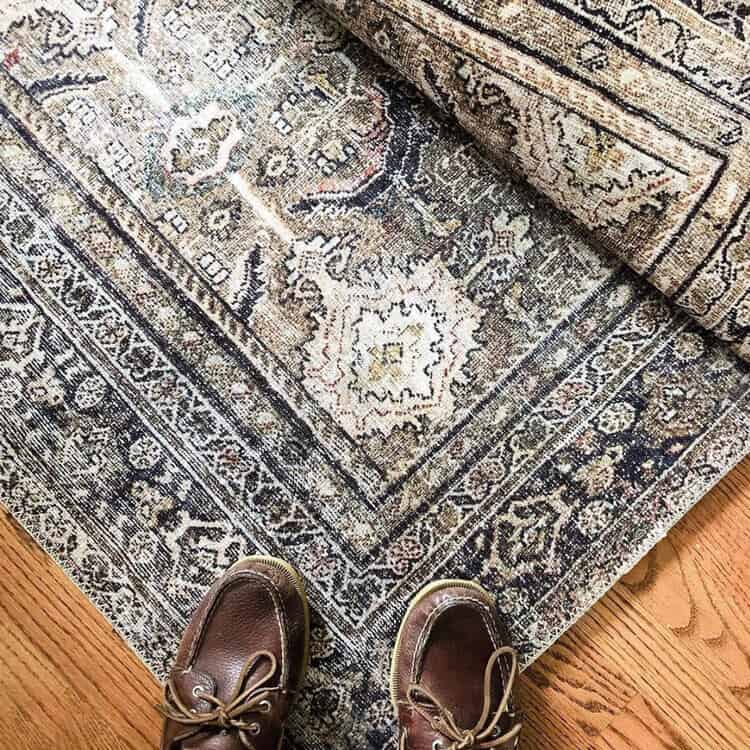 From handwoven to indoor-outdoor rugs, there are nearly endless possibilities but that's not a problem here. Keep reading to learn about the best options you can snag online today! But first…
Why You Want the Best Kitchen Rug Runners
Let's face it: the kitchen floor can get quite dirty! This isn't surprising, given that it's usually one of the most high traffic areas in a home. So naturally, you'll want to spend a hot second considering a way to protect your flooring, and help make it shine.
The best kitchen runner rugs offer a few different benefits. To start, and perhaps my favorite part is of adding a beautiful rug into your kit Chen is that they instantly elevate your design and can be incorporated into your current color scheme. Check out my color trend post if you need inspiration!
Additionally, placing a kitchen runner is a great way to help keep your floor clean. All the best kitchen rug runners are easy to clean, can absorb any accidental spills, and help protect your floors in these high traffic areas. More on great options for this below.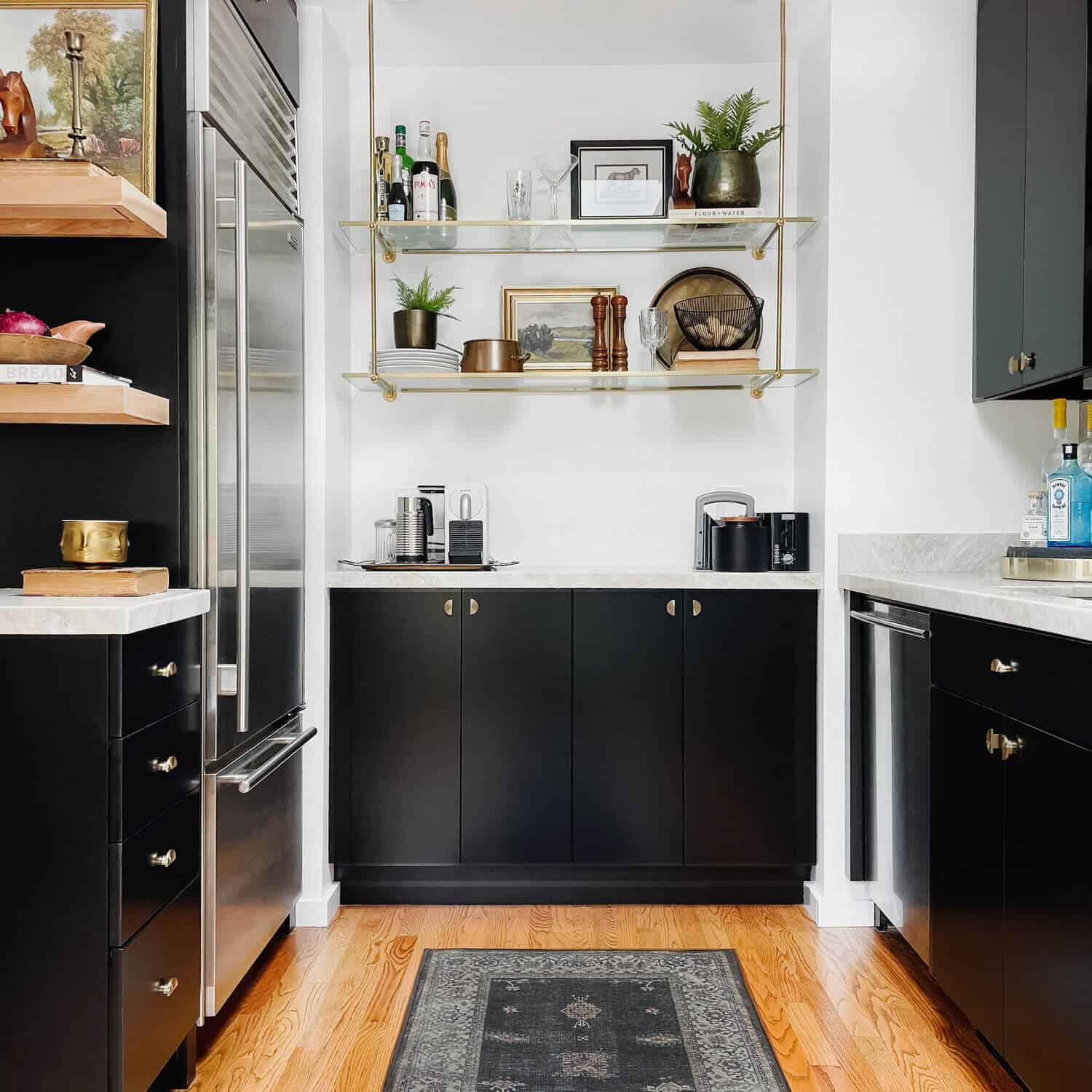 Personally, I prefer low pile rug runners. The tight fibers in these rugs make them easier to clean, although they aren't quite as comfy as a fluffy shag option underfoot but I think this is an occasion where function is greater than form. I know I don't say that often.
Your kitchen might look great now, but it will look so much better (like for real) with a rug runner that compliments your design aesthetic or color palette. Daily kitchen life will be less hectic as you'll no longer have to worry if someone spills a glass of your favorite wines. Gotta love having a stain resistant, washable rug!
Speaking of, don't forget to research the materials used in the rug before you decide which one you want. While you can get the same modern look with both natural and synthetic materials, some materials—like the natural fibers in jute rugs—stain easier than others.
Alright, guys, we're about to get into my list. There's just one more thing to cover: make sure you have access to a washing machine! I promise, as long as your rug can be machine-washed, having one will make your cleaning routine so much easier. I wash my rug every few months.
With that out of the way, let's start going through the best kitchen rug runners to add to your home!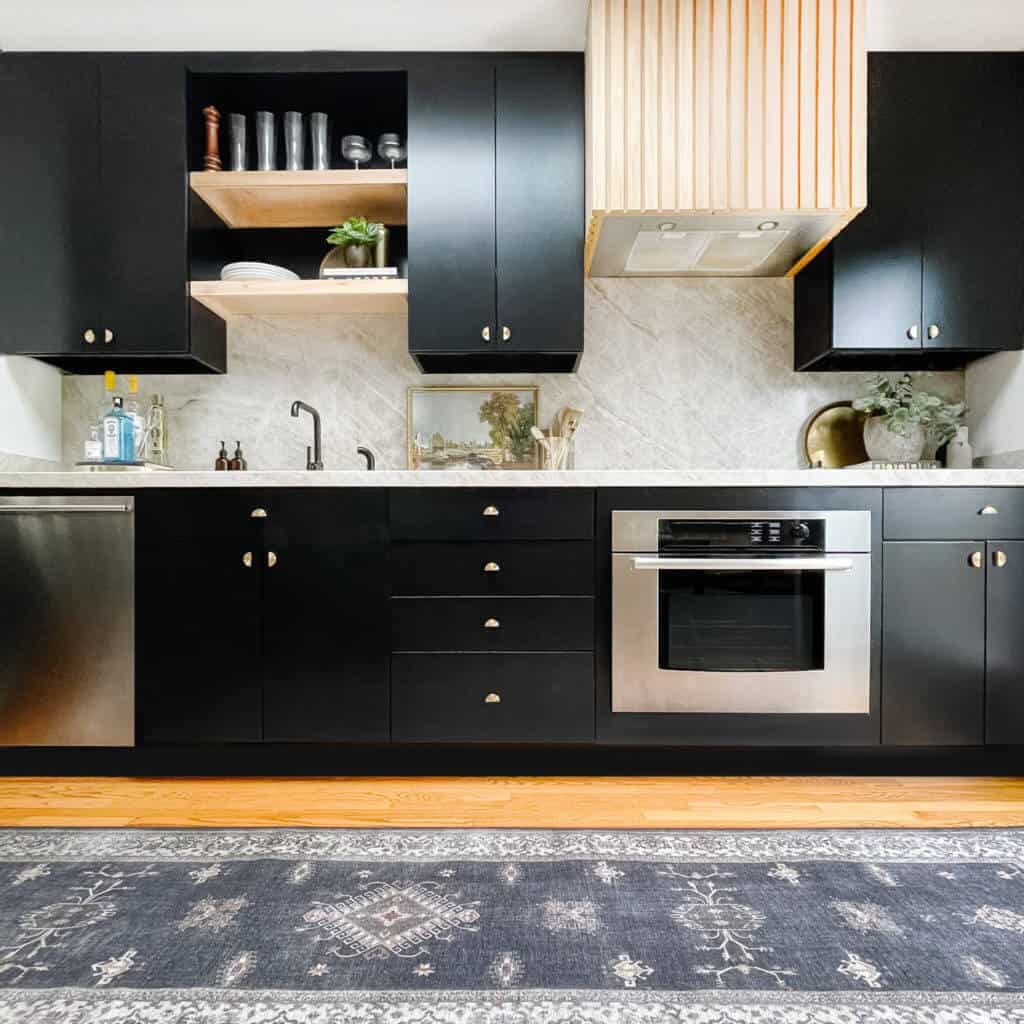 This is my rug runner- and I adore her! Offered in two sizes and multiple colors, this rug instantly matches the vintage vibe of a more traditionally-styled kitchen space. You can choose between a low or medium pile height for your rug, and it even comes with a rug pad from the get-go!
If you want to extend the vintage aesthetic to other rooms in your home, you can also pick it up as an area rug!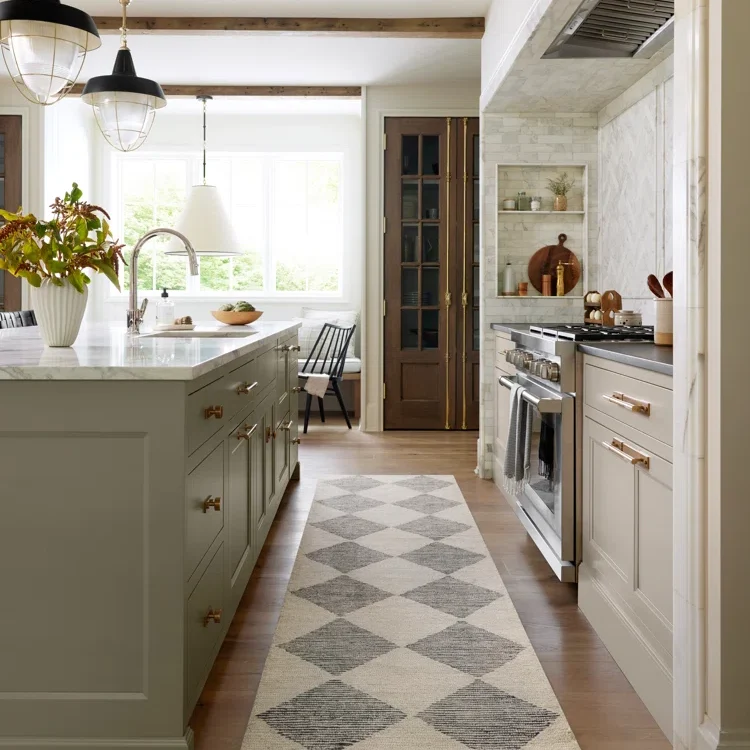 Ethically produced, made from wool, and designed to mimic the looks of tilework, this beautiful rug is one of the best kitchen rug runners to pair with greens, grays, and creams.
Unlike many alternative options, it's actually offered at a very compelling price, making it possible to revamp your kitchen without needing to whip out a credit card.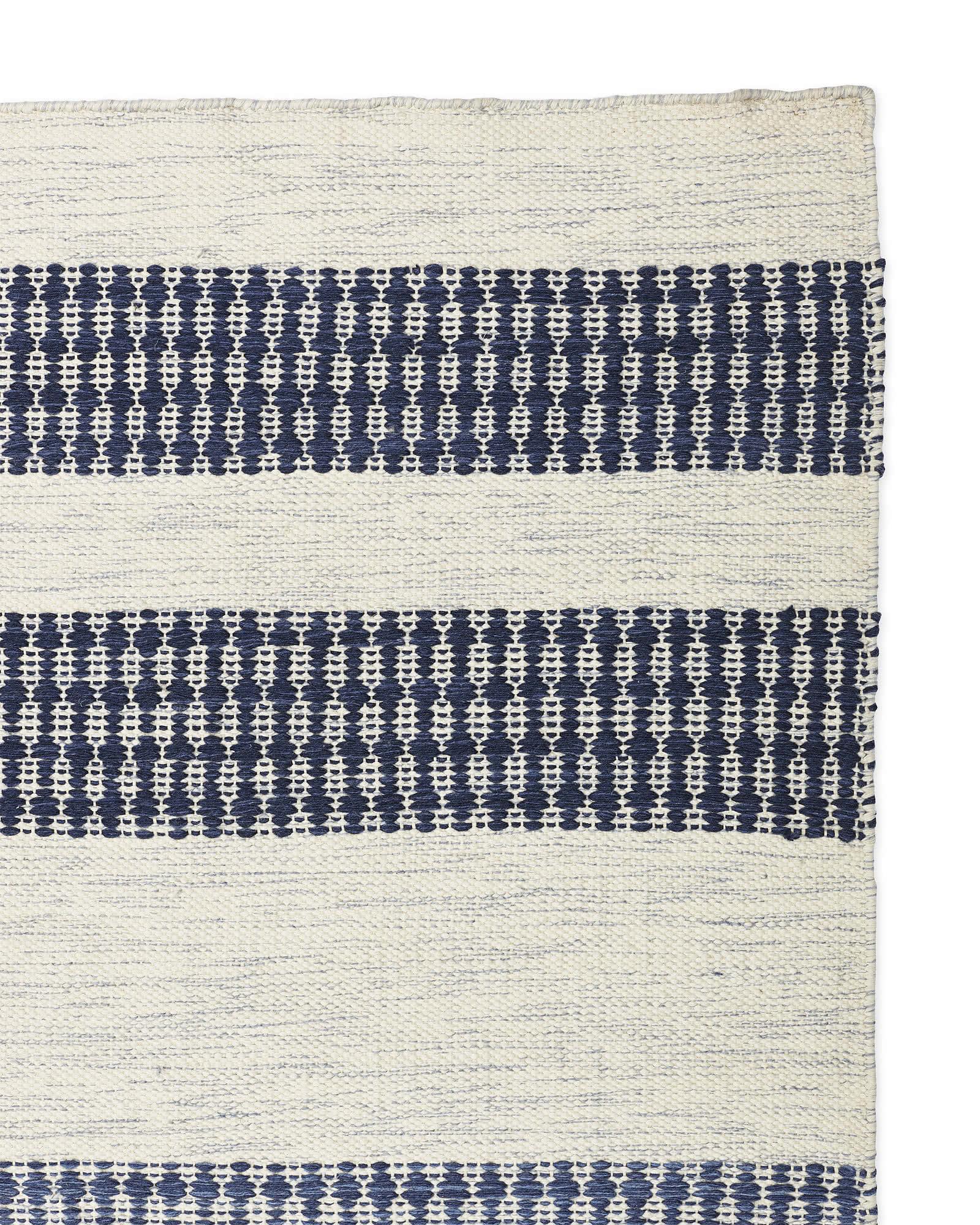 This next rug is a bit more bright, making it perfect for high-traffic areas with a white or neutral color scheme. The blue stripes provide a nice contrast against the off-white background, changing in hue along the length of the rug.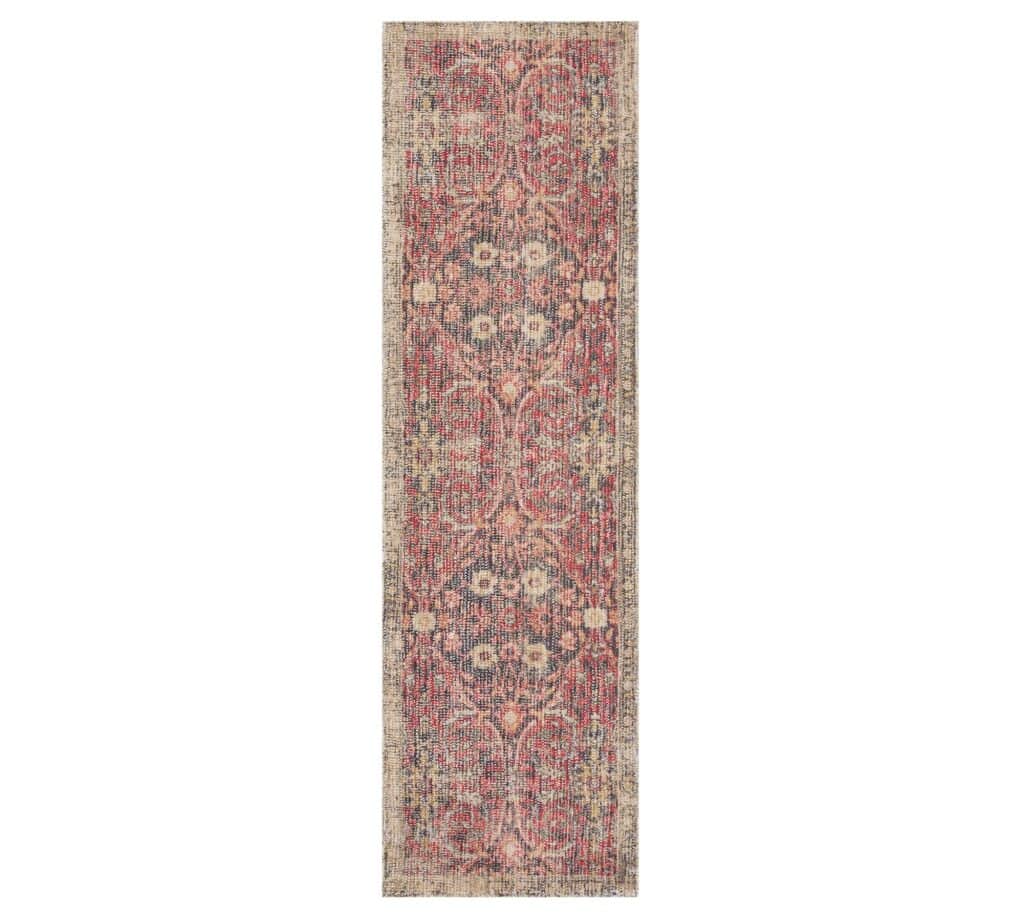 This hand tuft rug is a gorgeous blush hue and is a great option if you're looking for something that's a bit more traditional but strong enough to withstand the kitchen. It's complete with vintage styling and small paisleys.
Best of all? It's easier-to-clean washable kitchen rugs, being machine-woven from 100% Polypropylene.
This rug is a great pick for a soft landing on those bare feet. Its thick, but not too thick pile and gorgeous antique-inspired design add the perfect mix of classic and contemporary – that you know I live for.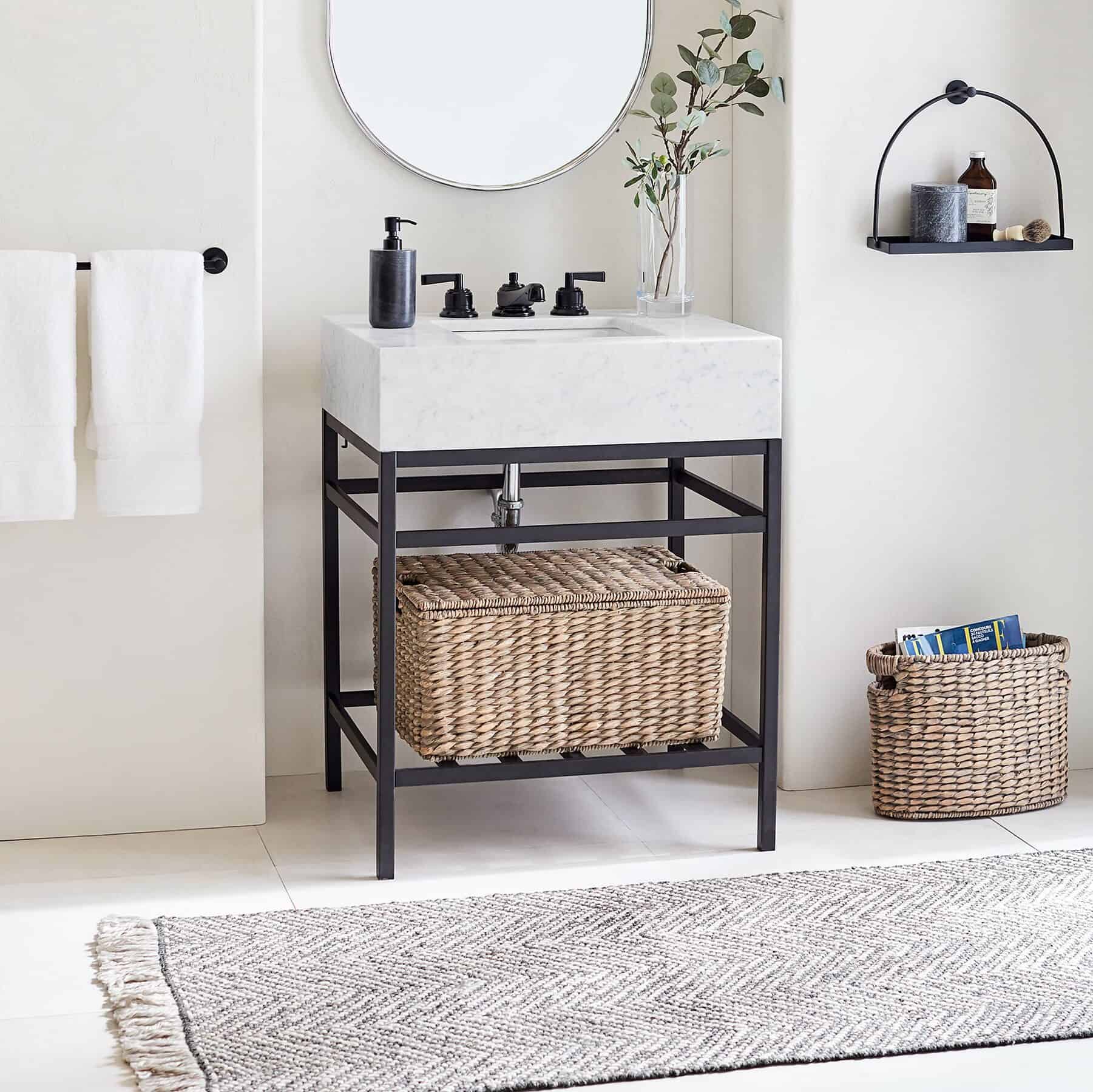 If you have a tendency to spill things in your own kitchen, having a rug like the Wheatley Synthetic Rug could be helpful. It's even great in the bathroom for its natural moisture-resistant qualities. This rug is extremely easy to clean, and—being made of polyester fibers from plastic bottles—actually helps reduce environmental waste. The look is so good too. I only see wins here guys/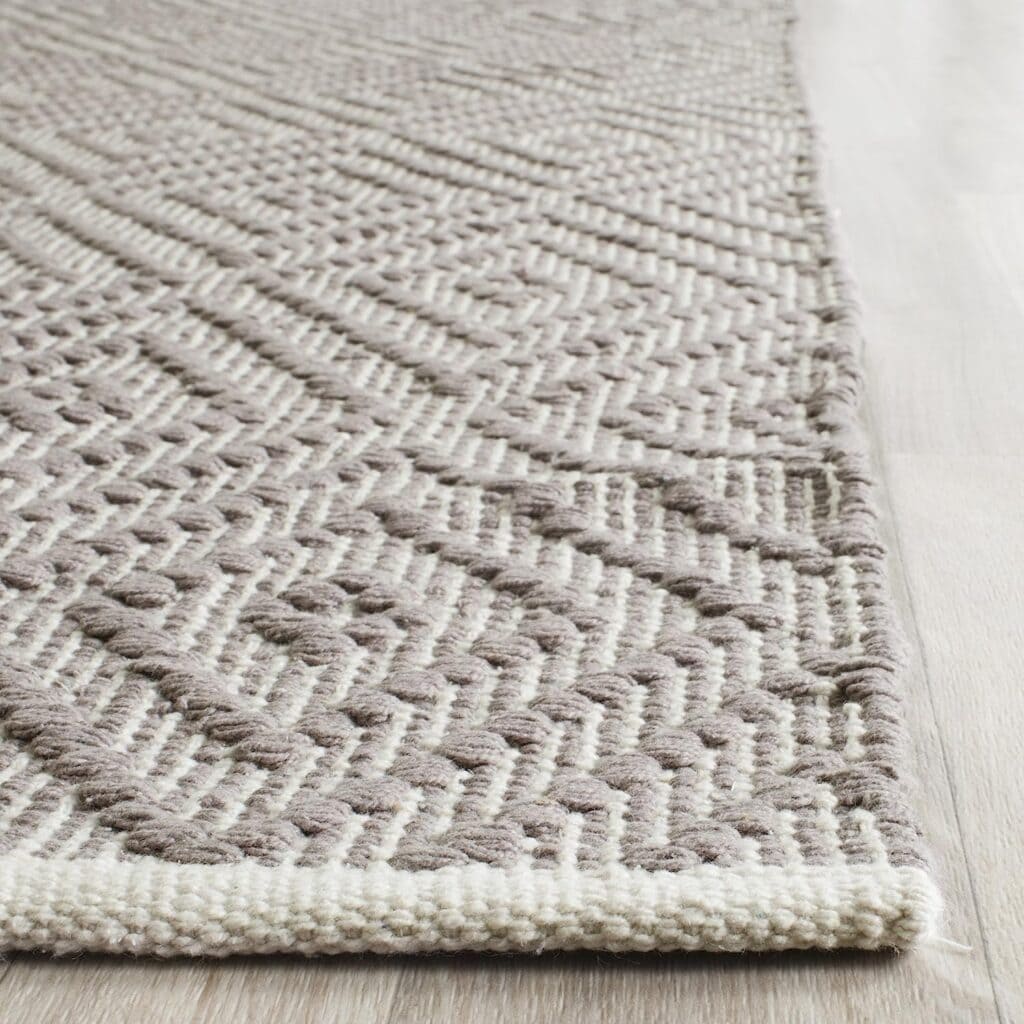 The perfect kitchen runner rugs are the ones that don't require waiting weeks to receive. This pick from Amazon fits the bill! Back with beige and paired with your choice of five colors, the simplistic design will look at home in nearly any kitchen.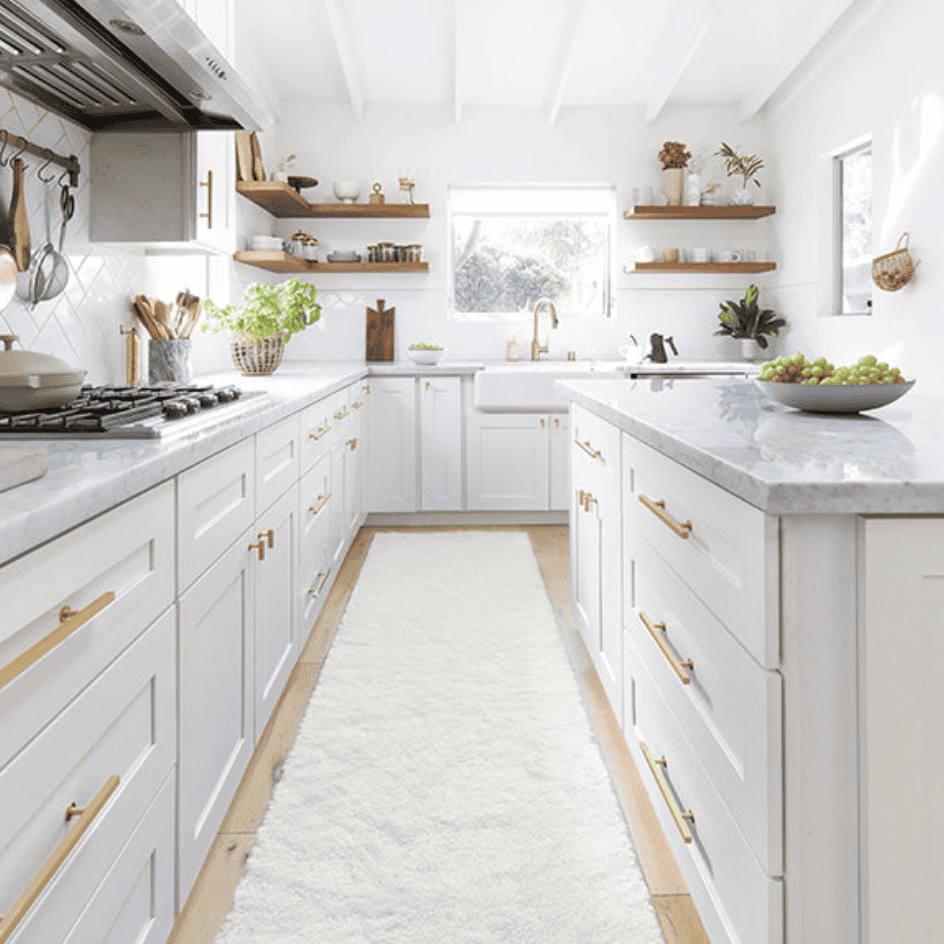 If you want to make your kitchen look luxurious then the Polar White Plush Rug is the perfect pick! Combining a creamy white coloring with stain and water-resistant material, your guests will always be left wondering how you manage to keep your white rug so clean. Did I mention that it's machine-washable? This is the only all-white rug I will recommend. It's tough as nails at staying clean!
The blues of this rug pair perfectly with off-whites and darker grays. I especially love how many patterns it has on the surface, which is a pleasant change from the simplistic designs you often see.
While this rug will look great as a kitchen runner, you can also order a larger one for your dining room or living room if you love the design as much as I do!
Ah, the classic black rug. Well, almost! This rug is mainly black, with a few sprinkles of white dashed throughout the surface.
Being such a dark color, this rug is perfect for any place where spills are likely to happen, as the surface is quite good at resisting stains.
This is especially important if you love making high-stain-potential dishes like this Lobster Ravioli Sauce!
If "small cottage by the sea" is the vibe you're after then this runner from Barnyard Designs is one of the best kitchen rug runners you'll find!
Featuring large grey-blue and off-white stripes that look amazing when placed on a tan surface, you'll just need to grab a matching rug pad to complete your setup.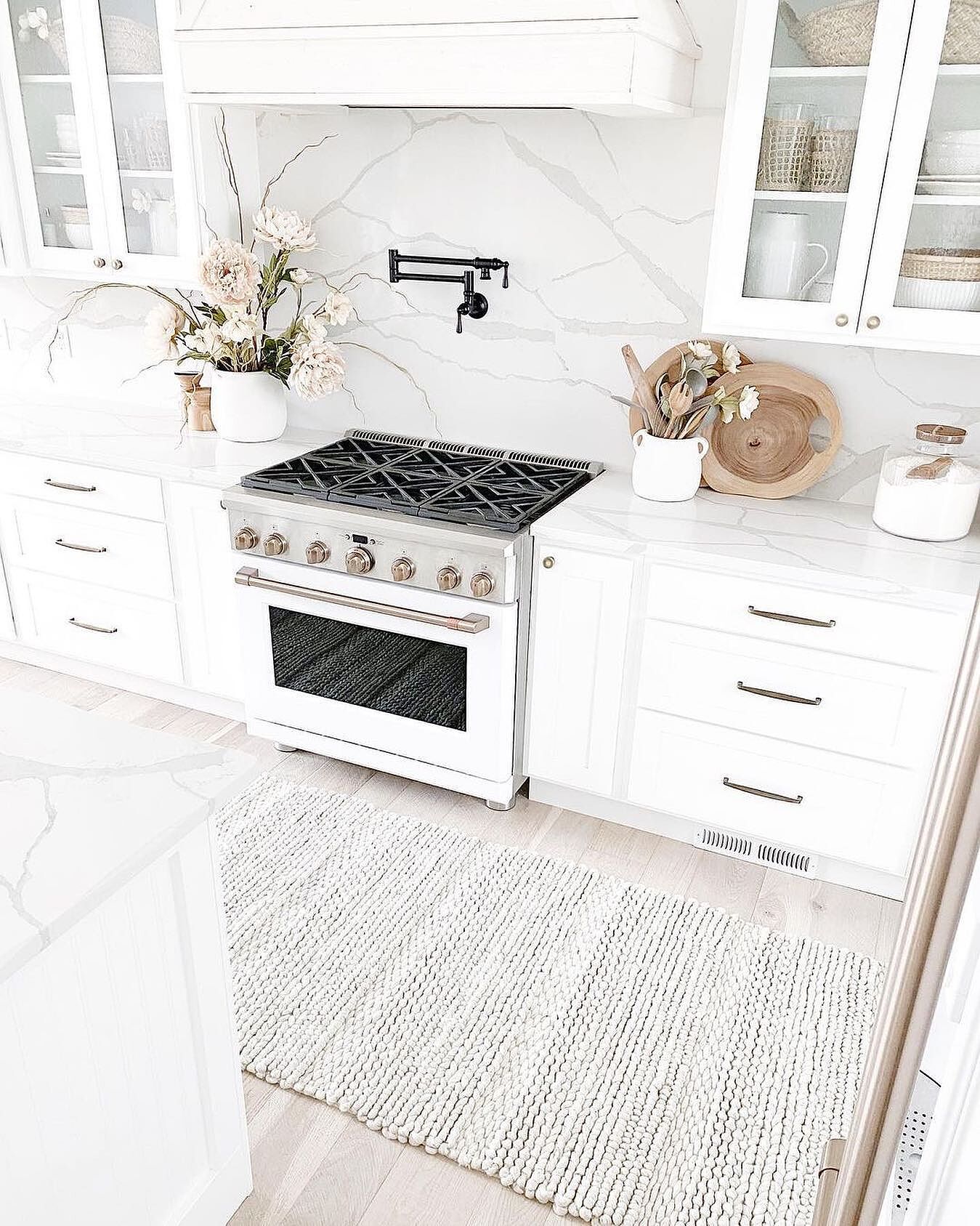 It's offered in a small variety of colors, but I think the white version looks the best. Plain rugs can often be the best rugs, as their simplicity means they pair well with a number of different color palettes.
This rug is no expectation, and its handwoven will look great on nearly any backdrop. That said, I think it will really pop if you place it next to some white cabinets!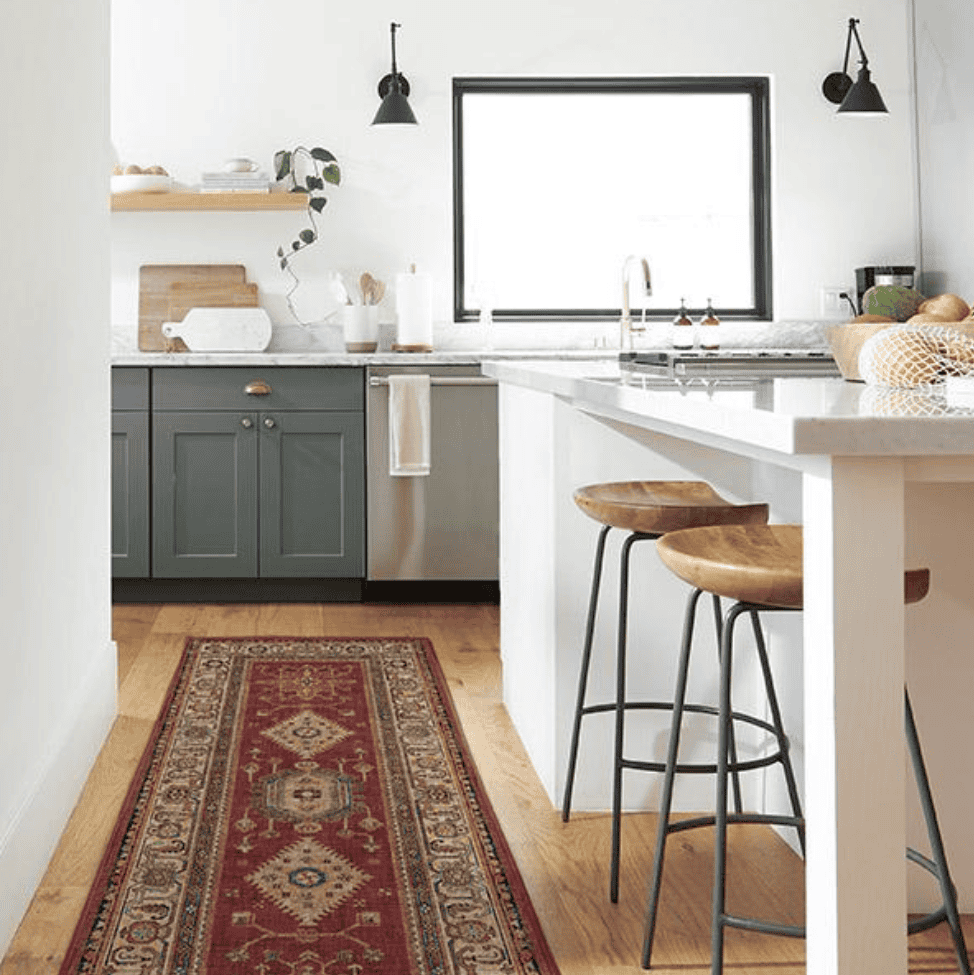 Combining deep, rich reds with soft golds and a touch of blue, the Persian-styled design of this premium rug will add a sense of class to your large kitchen.
Machine-washable,stain-resistant, and coming complete with a rug pad, this rug will keep its royal appearance for a long time.
I had this rug in the runner version in my kitchen for years. Yes, years. I love it. But, like all things in my home, I love to refresh from time to tie. But if I am being honest. I am about ready to switch back. I just love the inviting tons, vintage flare, and low pile that feels so good under my feet.
Perfect for heavier foot travel and requiring only modest maintenance, this small rug is ideal for my kitchen.I. know it can be for you too,.
A Few Things When it Comes to the Best Kitchen Rug Runners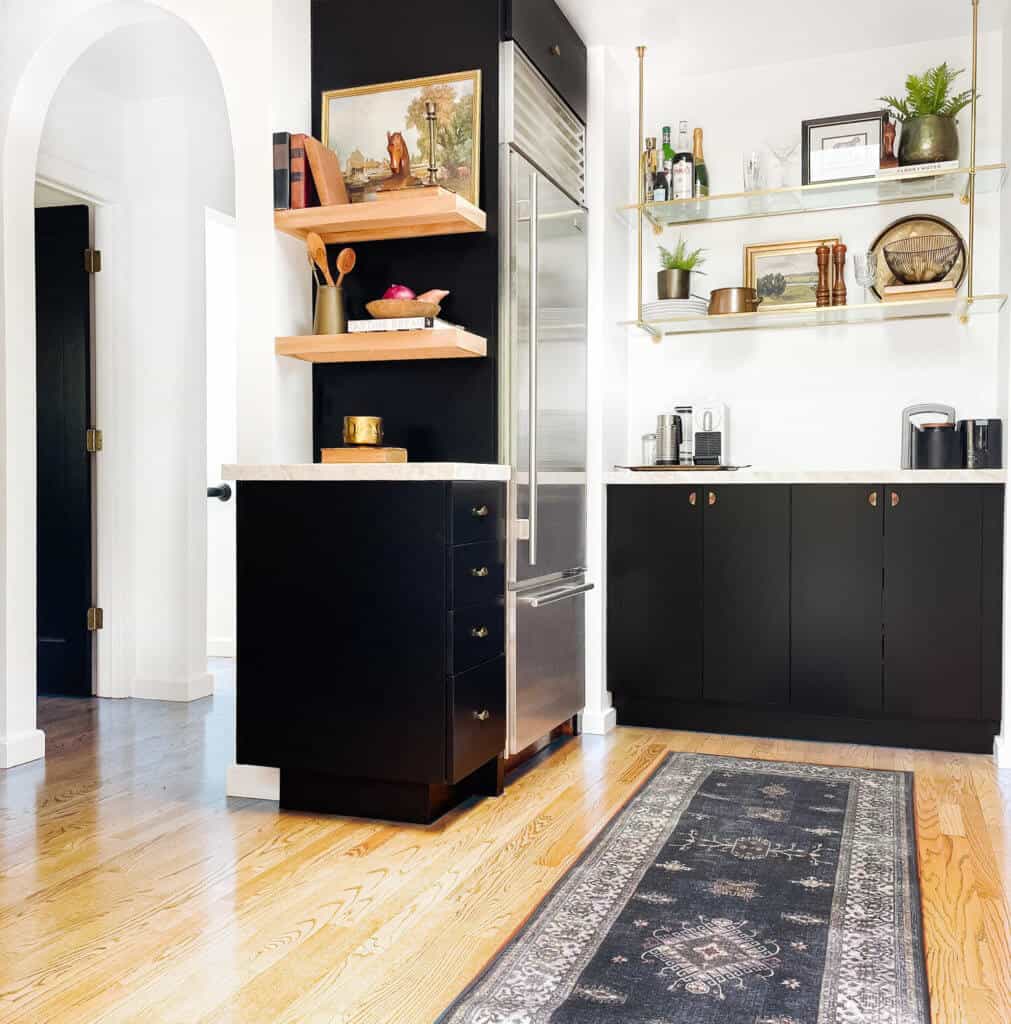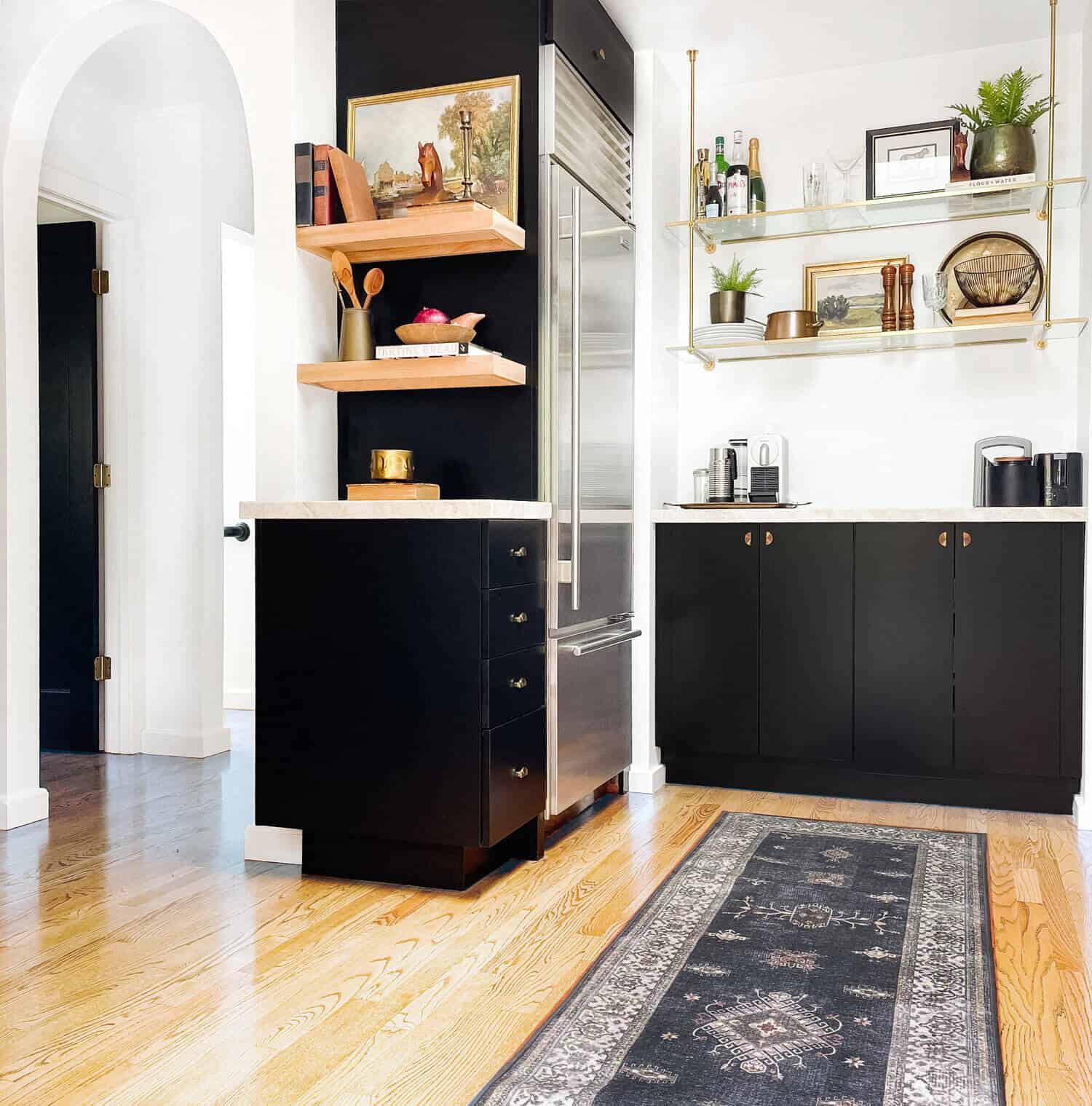 So you know which rugs I think are the best kitchen rug runners. Hopefully, by this point, you've found one—if not a few—that you like! So, what's next?
Well, before you click that "Buy Now" button, I wanted to give you guys a few things to keep in mind while sifting through the options. Just because they're basic doesn't mean they're not important!
Feel free to check out my post on small-space interior design tips if you want a few more ideas.
Proper Placement for the Best Kitchen Rug Runners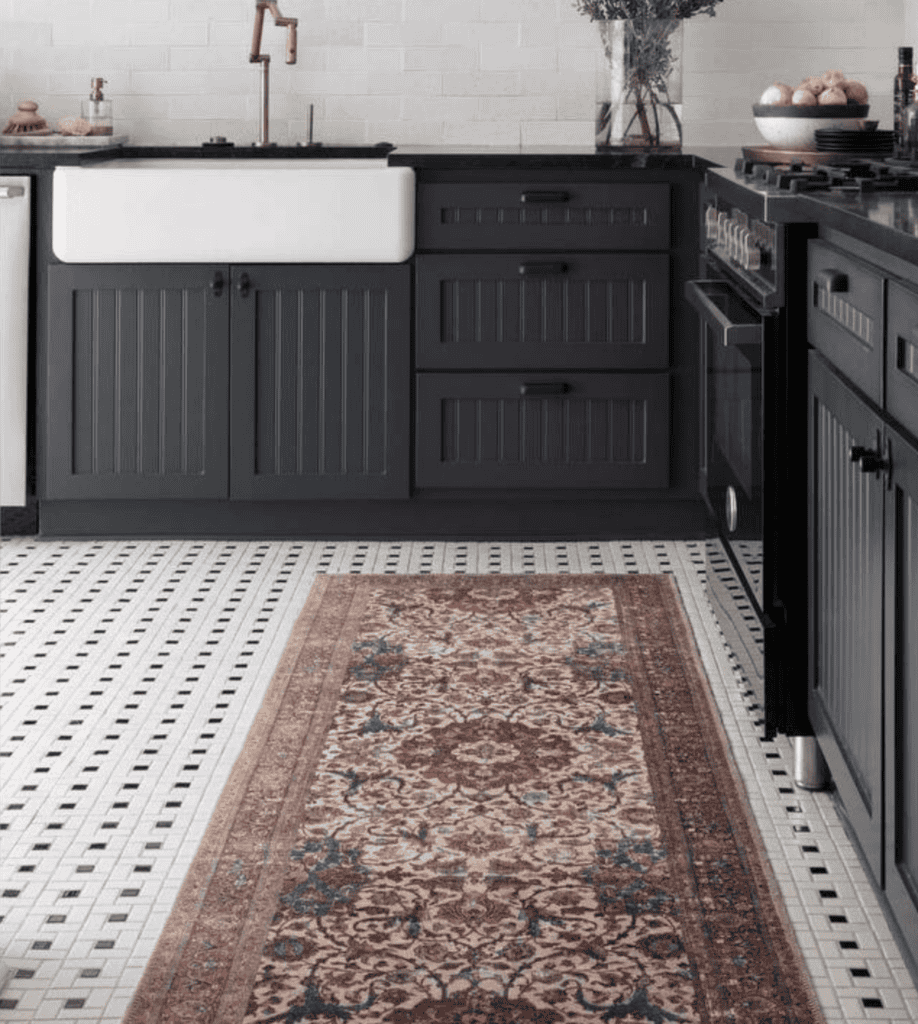 The placement of your kitchen runner rugs can make or break the overall design. Some people like to have their rugs almost touching the edges of their cabinets, but I think leaving a space of 6 – 12 inches looks better.
You can place the rugs wherever you'd like, and even string multiple rugs together if you have a long kitchen. That said, there is one place you want to ensure the runner stands in front of: the kitchen sink!
Sized to Your Space
Once you've picked out where your rug will go, you'll need to measure your kitchen floor to ensure you buy the kitchen floor. Don't worry if you're working with ​limited space, as they have rugs of all different sizes for you to choose from!
If you're only buying one now but might buy one later, I'd take measurements for both arrangements. That way, you can ensure you won't need to replace your original rug later on.
Here's how to layout and setup up a kitchen runner.
Limiting Slipping with a Good Rug Pad
Even the best kitchen rug runners won't be worth much if they can't stay put. In fact, a constantly-slipping rug can be a huge health hazard. Just think of what could happen if you slipped while carrying a pot of boiling water!
Fortunately, this problem is easily solved by picking up a rug pad that's just slightly smaller than your actual rug.
It's Time to Spoil Your Kitchen Floor
Any of the options above will be a great choice for your home. High foot traffic areas like your kitchen need some level of protection, so why not spruce things up a bit in the process!?
What was your favorite pick from this list of the best kitchen rug runners? Let me know in the comments below, and check out my post on kitchen cabinet doors if you're looking for more kitchen upgrade options.
See y'all soon!
Commonly Asked Questions About Placing the Best Kitchen Rug Runners
What kind of runner is best for kitchen?
The best choice will depend on the qualities you want your rug to have. Cotton is soft but hard to clean, whereas high-quality wool is expensive but extremely durable. Polyester rugs can be cleaned with a hose, but vintage rugs often excel at hiding stains!
Ultimately, you should consider multiple material options before choosing. From there, you can find the right design: stripes, floral patterns, or something else!
What is the best material for carpet runners?
The "best" material is really a matter of opinion, but I'd recommend opting for machine washable kitchen runners when possible. Cotton and nylon rugs are often machine washable, as are many other materials. However, you should always check with the manufacturer before using the machine so you can avoid accidentally damaging—or even ruining—your nice new rug!
Does kitchen rug go in front of sink or stove?
Depending on the size of your kitchen and the layout of your rug(s), it's entirely possible that your kitchen rug runner may end up being partially in front of your stove. However, you must always make sure your rug is in front of the sink before expanding outwards!
Do you put a pad under a carpet runner?
Yes, you should always use a rug pad to prevent your runner from slipping around. Even the best kitchen rugs often don't come with a dedicated pad, but you'll want to make sure you have one regardless. If not, you—or someone else in your home—could end up taking a nasty tumble!
What is the longest lasting carpet material?
Synthetic materials tend to be durable in general, but nylon specifically is widely considered to be the longest-lasting and most durable carpet material.