Small house interior design is hard – I know. But, it can also be affordable and fabulous. Getting it just right is essential to achieving a designer-worthy look. But, there are a few things to keep in mind; typically how each space needs to function to get a result you love. In most spaces that are small, they have to carry double duty when it comes to design and function. That's where things get creative.
Whether you are a city dweller, purchasing your first home, or happen to have a spare room that you're not quite such what to do with I gotcha covered with a few tips for small house interior design that will help you get the look you dream of.
These simple yet elegant solutions should work for just about anyone, while not breaking the bank. Let's jump in, shall we? Okay, first things first…
Plan the Overall Aesthetic
When you are planning to decorate a small space there isn't as much room for accents that don't speak to one another. Everything is on display! Your look doesn't have to be completely one style, or even all decided ahead of time. But the overall look should be cohesive to keep it feeling harmonious. I prefer to leverage and always reference one single inspiration image usually found on Pinterest. If you want to get great inspiration follow me there. Also, some tips on how I decorate and plan a living room here. I always start here by crowdsourcing great designs that inspire my final looks. Want a new rug? Does it go with the inspiration image? If not, or when in doubt, throw it out! Be thoughtful here. I promise it pays off. Small spaces are just less forgiving with clutter and mismatched or askew items. Speaking of….
Declutter and Tidy
I know this is basic, but it's extra necessary for a small space. You will not believe what a bit of removing excess from a room will do to help elevate your look. Please my loves, don't over clutter. Each item that you select needs to have enough space to breathe and should make the room pop or feel more interesting and not overwhelmed. In small spaces, I like to unclutter surfaces and tuck things away in bins, and drawers. Don't forget to use vertical spaces and add or DIY floating shelves like I did to bring the eye up and add opportunities to make things shine. Here are some simple shelf styling techniques to help ya get a clutter-free designer-y look you will love.
Generally, with smaller spaces, I prefer to have either white walls in Chantilly lace white or an accent wall with a pop via a fun DIY wallpaper or darker paint color to keep the eye dancing from moment to moment. Don't be afraid of a darker moody color! A common misconception is that dark walls will make a space feel cramped or sad – with the proper lamps, and fun styling – a moody room can feel inviting, cozy, and even bigger. Trust me guys. I got you.
Another great trick to keep any space feeling naturally larger is to use transparent furniture items and decorative objects. A glass coffee table, acrylic chairs, and even a glass chandelier are all reflective and transparent. So, the light is not only retained but is naturally amplified without crowding the visual space.
Okay now that we have a solid plan and a clean palette to work from. Let's get to the fun part: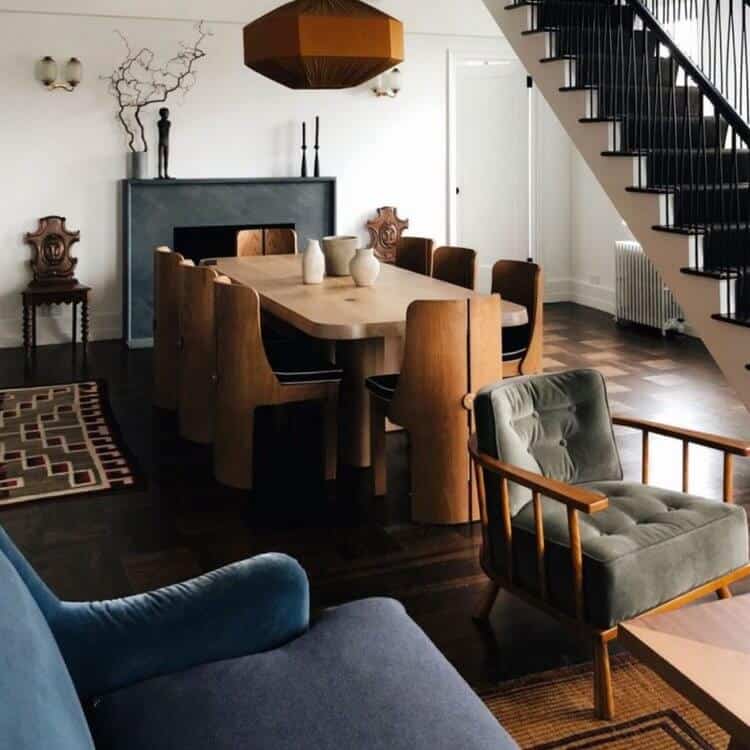 Zone Your Small House Interior
Okay, this is a good one guys. When you have a small multifunctional space the best way to make it feel grand is to create zones. Let me explain. Zones are international spaces in a home that are created for a particular use defined often by separation via a rug, divider, or careful furniture placement. Stay with me y'all. There are some particularly useful tricks to create zoned spaces that are often overlooked. But, all of these individual ideas can have a huge impact in helping your small space feel larger and high-end.
Screen partitions, rugs, two chairs, and a table facing one another, and even the addition of glass doors can work wonders. Think about it like this. In a living room divide it into two sections. One for chatting and conversing, the other for watching TV or relaxing by the fire (if you have one.)
These zoning devices allow you to use any area flexibly and cohesively according to your needs. A barn door or a standalone partition for example are great choices for a narrow space, as they can either be hidden or put to full use. Glass doors are perfect for darker areas as they give you a partition but allow the light to continue to shine through while clearly defining each space. Glass works particularly well as a shower screen for smaller bathrooms and even between to rooms.
Another clever great way to zone off an area of your small space is through your wall coverings. You can create a feature wall with some stand-out wallpaper or even a wall sticker. If you want to use something a bit more subtle, then a simple change in color can also work wonders.
Once you have created the outline of your space, you can now place your lighting. Ceiling lights, wall lights, and floor lamps can all be used to draw the eye to a particular part of your room. Tall ceilings will benefit greatly from big chandeliers. But for smaller ceilings, flush lighting is a great way to prevent the room from feeling cramped.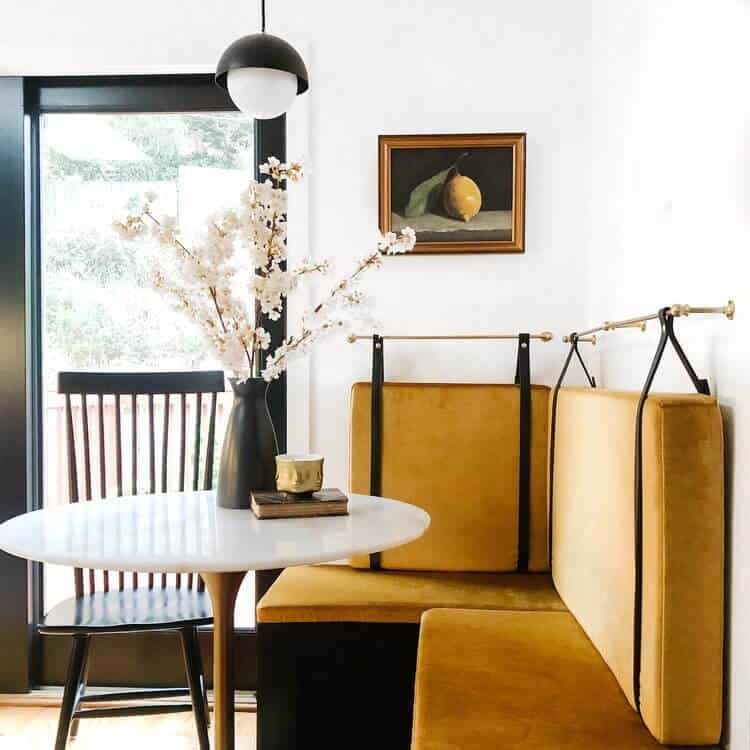 Create Storage
When you're short on space, that often means you are short on storage too. But, there are tons of clever solutions that can open up and liven your small house interior design. Standalone units tend to take up more room. So, custom storage options are generally the way to go. Get creative! If you have the budget for it, you can make your own shelves, or hire someone to create something entirely bespoke. I built storage into my banquette bench to add seating and a clever way to hide the large pots and pans I used less often. I even had arched shelving bookcases built over an 8" soffit in my bedroom to add a bold look that could choose my favorite thrift store finds.
But, if you are looking for something more affordable, this grey banquette has a ton of storage and can be ordered to size for your kitchen. Plus, consider adding some stunning bistro shelving to your existing space. For smaller living rooms, you can buy some great sofas and ottomans, as well as wall mount desks now with built-in storage too. If you are still struggling, remove as much as you can that just doesn't serve a purpose, and tuck things away and under in bins as much as possible. You got this!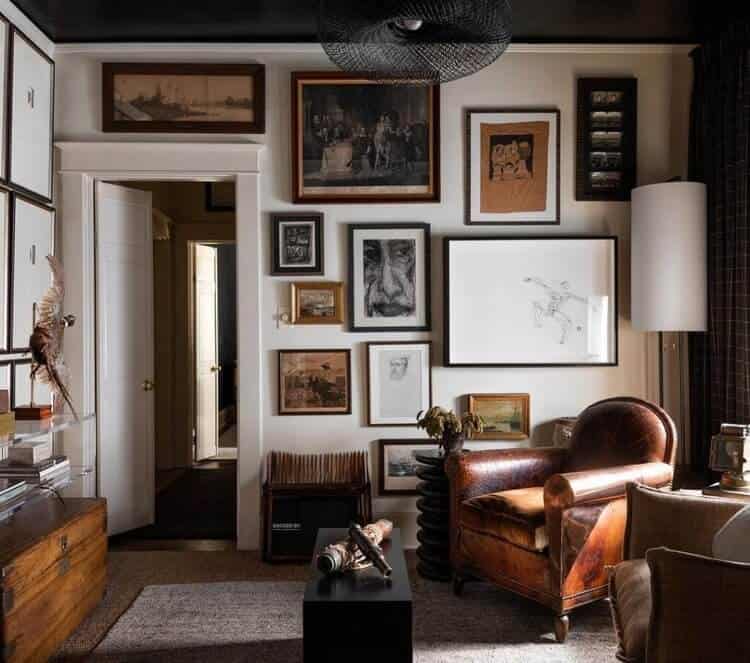 Maximize Walls with Mirrors & Artwork
Beautiful wall murals can be dated back as far as Egyptian times as a way to breathe life room. There are endless options available – landscapes can be used to add depth, geometric patterns for a modern flair, and metallic finishes to reflect light calmly. This is one of my all-time favorite ways to nail a compelling small house interior design.
Don't be afraid of adding art and mirrors too to break up the space while creating focal points for visual interest. Thoughtfully placed mirrors are always a win for making small spaces feel much larger. Or, you can also opt for a mirror TV. Just remember to stick with the guidelines of keeping to a single style and creating balance.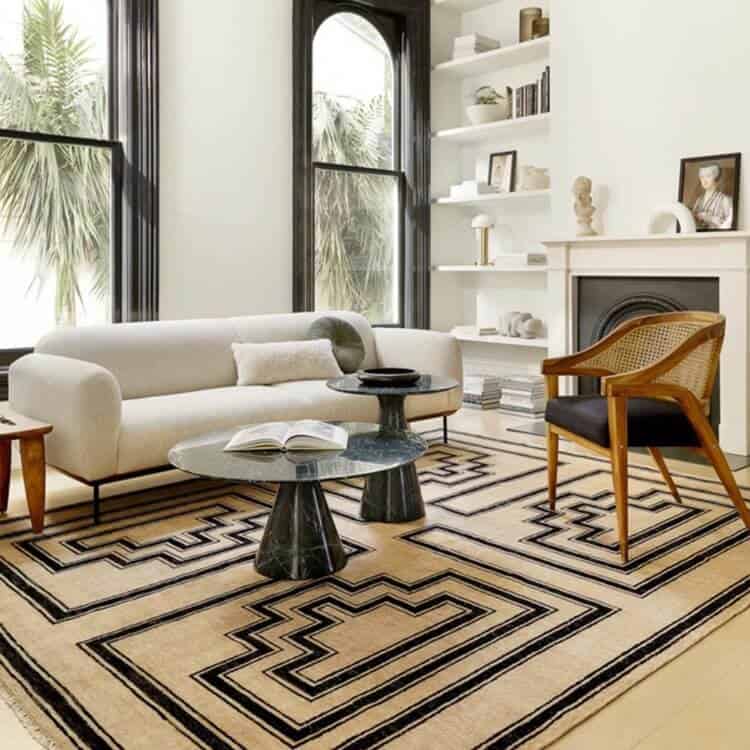 Establish a Foundation
Your flooring is a canvas for the rest of the room and it's crucial to frame all of the other design elements – Ya want to get this right. For a small space, a curated floor plan and styling are key to setting up your Small house interior design. Don't overthink this one bit.
Simply get smart about a statement rug to ground the room and help make it feel intentional. More tips on how to find and place a rug here. Monochromatic charcoal and cream geometric rugs can add warmth and texture, whereas a faded traditional rug creates a feeling of elegance. I strongly recommend that you place it in a position that works alongside the rest of the room and is parallel to the walls. Plus, when in doubt on sizing always go larger as a smaller size rug can weirdly make the room feel smaller too.
I hope that you've enjoyed my guide for small house interior design. If you used any of these tips, I'd love to hear about them in the comments below. Until next time! xoxo