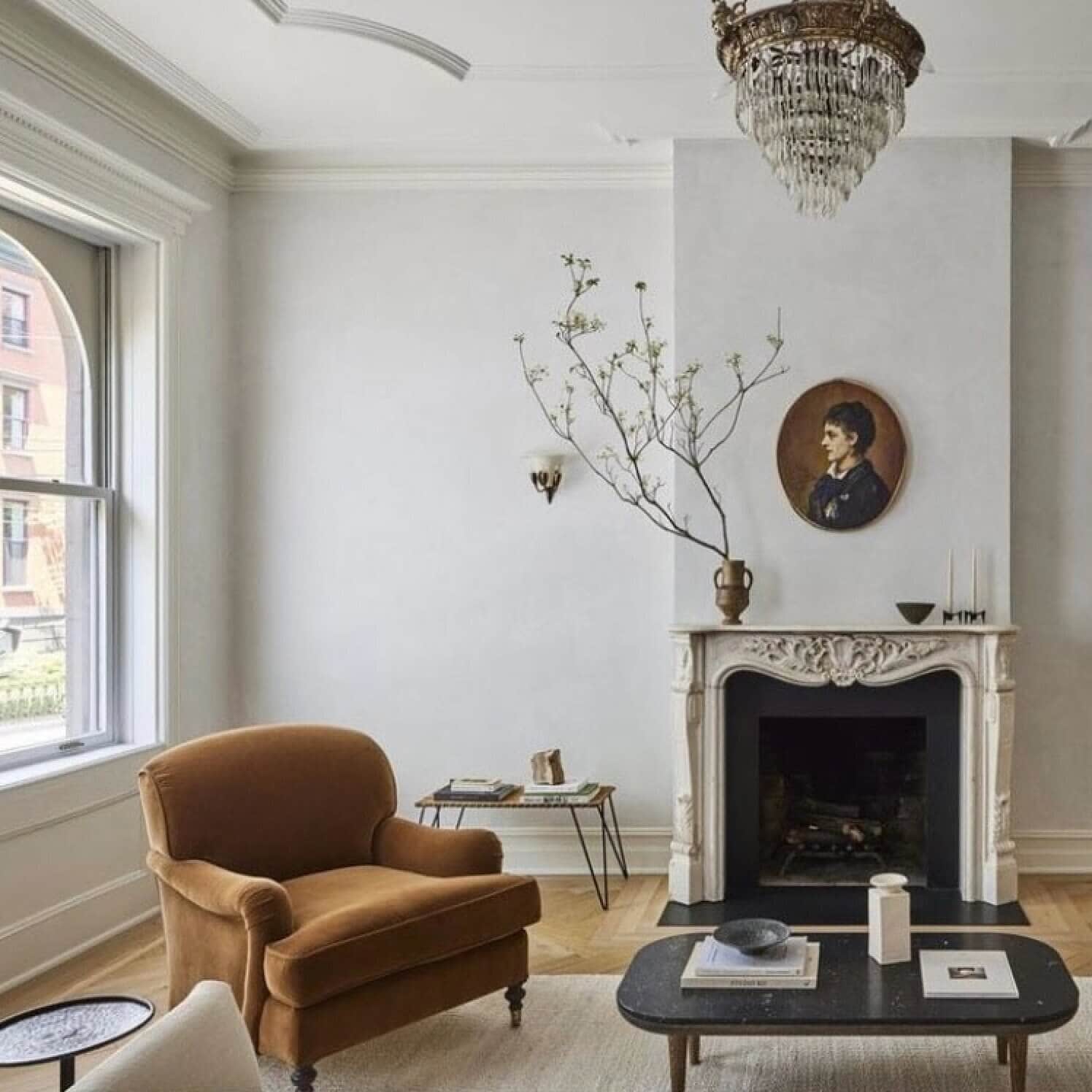 Interior styling is undoubtedly a fun and creative endeavor but let's face it – it can also be daunting and sometimes overwhelming. Whether you're simply redecorating a space or moving into a brand new home, it can be difficult trying to figure out which room to style first, what to buy, and where to place your purchased pieces once you figure out what look you even want! I know….. But don't panic.
Even though creativity definitely pays off when it comes to decorating a space, there are also some general rules of thumb that I like to keep in mind to help get that winning look in your journey to style a home that you love one detail at a time. Let's dive in:
Maximize the use of your walls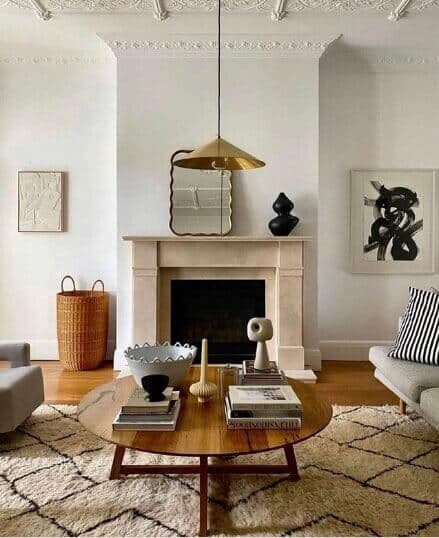 Your walls are literally a blank canvas – make sure ya' get the most out of em! Give what you hang and how some considerable thought. These elements will become a focal point. Items to consider carefully include: artwork, mirrors, sconces, and any other sculptural items by coming up with a proper placement that will let each sing, without getting crowded. A round mirror, for instance, will serve as a main focal point, a sconce will want to be placed where it will create a warm glow and helps someone read for example. Use frog tape to visualize and consider using command hooks to easily mount objects to walls without damaging them. and tap out. your placements to help visualize the final look at scale. It will read much better in the end.
Create a mini gallery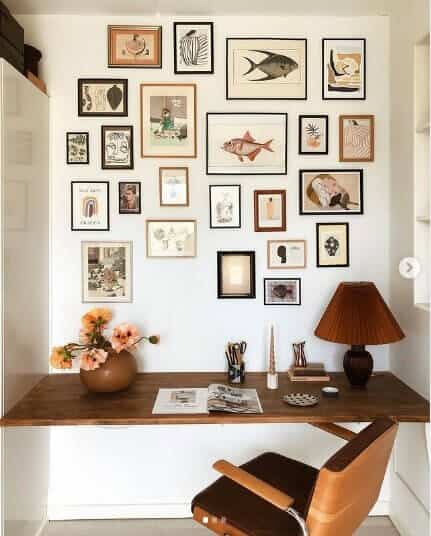 Speaking of using your wall space wisely. You guys know by now how much emphasis I place on the importance of having a joyous small gallery wall in your home. In fact, I talk all about it here. There's really nothing better than having a collection of curated artwork hanging on one wall to tell a story and elevate the aesthetic of any room. Go for it. You will love it.
A rug goes a long way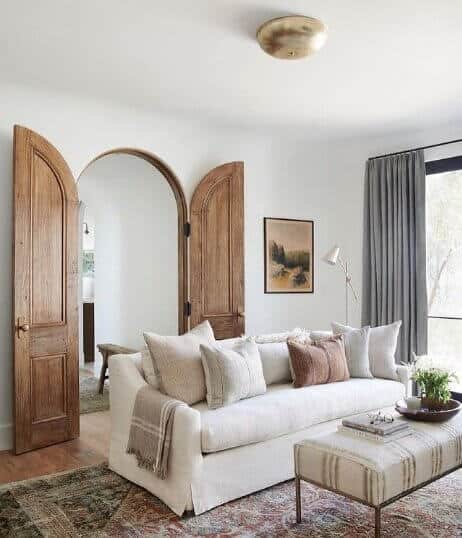 Having a great rug in any room is a crucial design element because it really ties the entire look of a space together. Always spend time investing in a great rug. You can have the best-placed items, or literally just a few pieces from a thrift store – but as long as you have an amazing rug, your room will instantly look intentional and top-notch!
Be bold, but be tasteful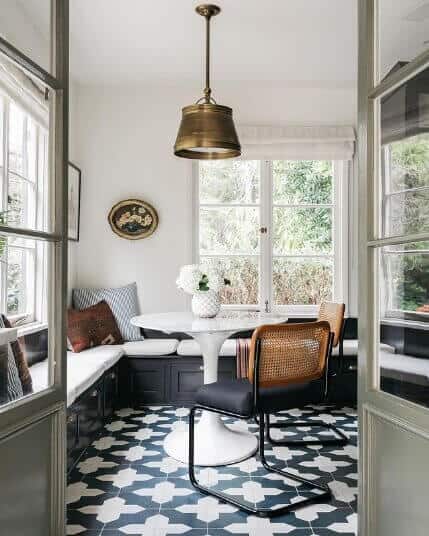 Try incorporating bold patterns, textures, and patterns whenever you can to add visual interest to a space. If you're someone who prefers monochromatic color schemes like I do, you can go about it in a subtle way by using small items such as pillows to add a punch texture or color and vibrancy to a room. Pro top: To prevent a pattern from getting too loud in a space consider muting the color as seen in these cross tiles in a single color or two. This will keep the look sophisticated while adding additional visual noise. Also, don't forget to mix both square and round shapes as seen with this tulip table and banquette. This will keep the space feeling alive
Mix it up
Combining (old) vintage pieces with (new) contemporary items is my top-secret most used décor strategy ever. It works every single time. You can see the magic with these vintage-inspired chairs juxtaposed against the more modern tabletop. The trick? Make sure each item is intentional and that vintage pieces warm up the contemporary elements with dings, scuffs, and woods. Establishing a contrast between the old and the new is a great way to create a deeply layered visual look that is both intriguing yet harmonious to the eyes at once. Good news? It's so affordable too. Go for it – and remember the goodwill is your friend.
Bring the outdoors indoor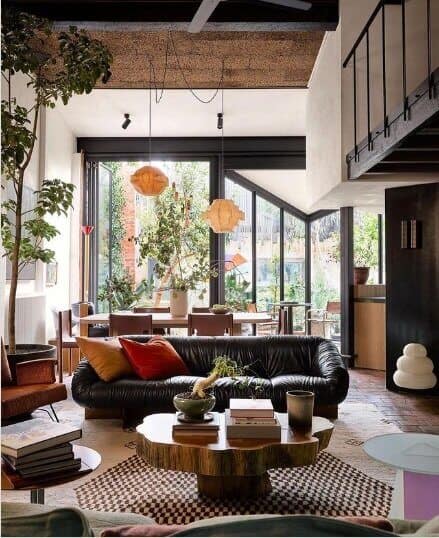 Natural and outdoor elements are necessary to make a home feel warm and cozy. Wooden furniture, for example, creates a more comfortable ambiance than those made from modern steel. Although I love both for the right reasons. To soften a space adding flowers (even faux,) branches, and indoor plants to your living room, or any for that matter is an easy and high-impact way to make any of your spaces instantly pop. I love the mix of indoor plants and branches seen in this eclectic design. Without them, the space would feel a bit harsh. Guys – go cut some branches and put em' in a vase right now – thank me later! xo
Experiment with textures
Whether it's a faux fur blanket or a pebbled vase, there are countless things you can do to add a little texture to the mix. Adding texture keeps things interesting and diverse, giving your indoor design aesthetic some much-needed character and appeal. Some go-to textures that work well include; mohair, walnut woods, distressed pottery, vintage brass, worked iron, cement or marble sculpture, velvet, and brick just to name a few. Of course, don't forget some greenery as seen above. Mix textures and don't go to matchy matchy – your space will come together with a higher level of polish f ya can do so.
Keep it comfy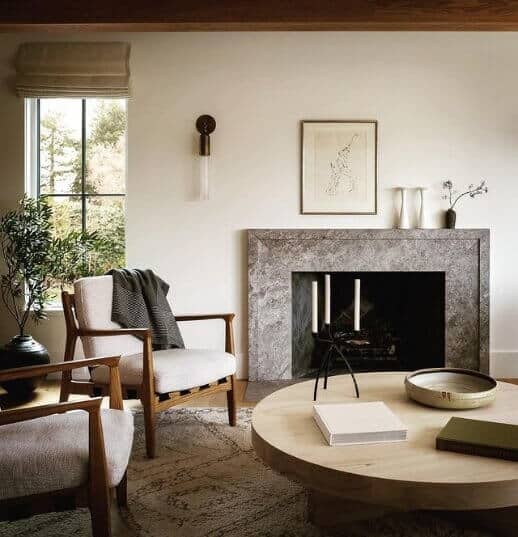 No matter what design elements you decide to go for, the most important thing in styling the perfect home is keeping things looking and feeling comfortable. Remember: It's a home, not a museum. You can opt for the most artistic and contemporary chair that you can find if you want to, just be sure that you can actually sit down on it and relax, which is what a chair is for. This room is a great example of looking like a million bucks – but I know from experience these chairs are also incredibly comfortable – so is the rug. Balance both. You will thank yourself down the road
Don't let your home décor become stagnant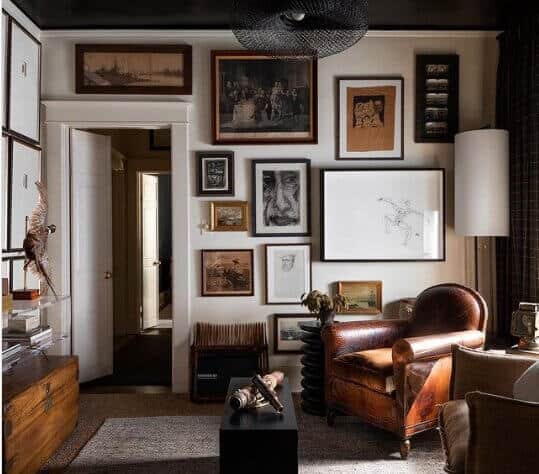 Home evolves – and that's a good thing. Don't feel like you have to a) complete a room for a mad dash to an HGTV style reveal or feel like once it's done it can't change. So, don't let yourself get trapped in a box (or time capsule) when it comes to styling. Try often and regularly to incorporate new elements into your home to keep things fresh and interesting. This gallery wall was built over many years piece by piece – and I think the impact of doing this patiently and intentionally over time shows. If you currently have a very modern home, you could add a few rustic furniture pieces from time to time and see if they work well with the rest of the space. Hate it? Fine, try again. It's the journey, not the race my friends. Love your home – it will love you back
Create Cohesion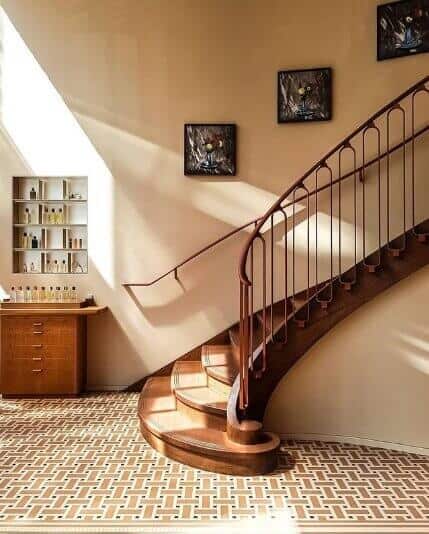 Think of your entire home as a work of art and that each room is basically a small part of the bigger picture. Make sure that there is a cohesive theme (color, pattern, textures, etc.) and aim so that every room, every single piece of furnishing, every styling piece, and every texture you chose, all come together beautifully. It doesn't have to match exactly, but just repeat a few elements consistently and you will get a more complete look in the end. It's not an exact science mind ya. I always talk about how combining different elements and visual aesthetics is the key to good home styling, but make sure that your home still has one overall story to tell – then throw in a few surprises!
Styling the home of your dreams can seem daunting when you're feeling overwhelmed, but if you adhere to these décor ideas and take it one step at a time, I swear that it's actually such a fun process! Keep the bigger picture in mind, but take your time in getting there.
I personally love the time spent picking out color schemes, searching for the perfect rug, looking for cute styling items, and choosing the right paint color. At the end of the day, your home is your biggest investment, so it's all worth it. Xoxo