What's been the biggest design challenge in your home? They come in all shapes and sizes. Uneven walls, oddly shaped rooms, a leaky roof, bad tile, or renovations went bad, etc. For me, it was a pesky 8" soffit that wrapped the perimeter base of my downstairs bedroom. It couldn't be removed because it's part of the foundation. Living attached to a mountainside, this was necessary to keep the bedroom dry and attached to the hillside. Thus, I needed a creative solution to solve for a soffit protrusion that would help the space loss above it and prevent it from being a complete eyesore. More about the challenge here.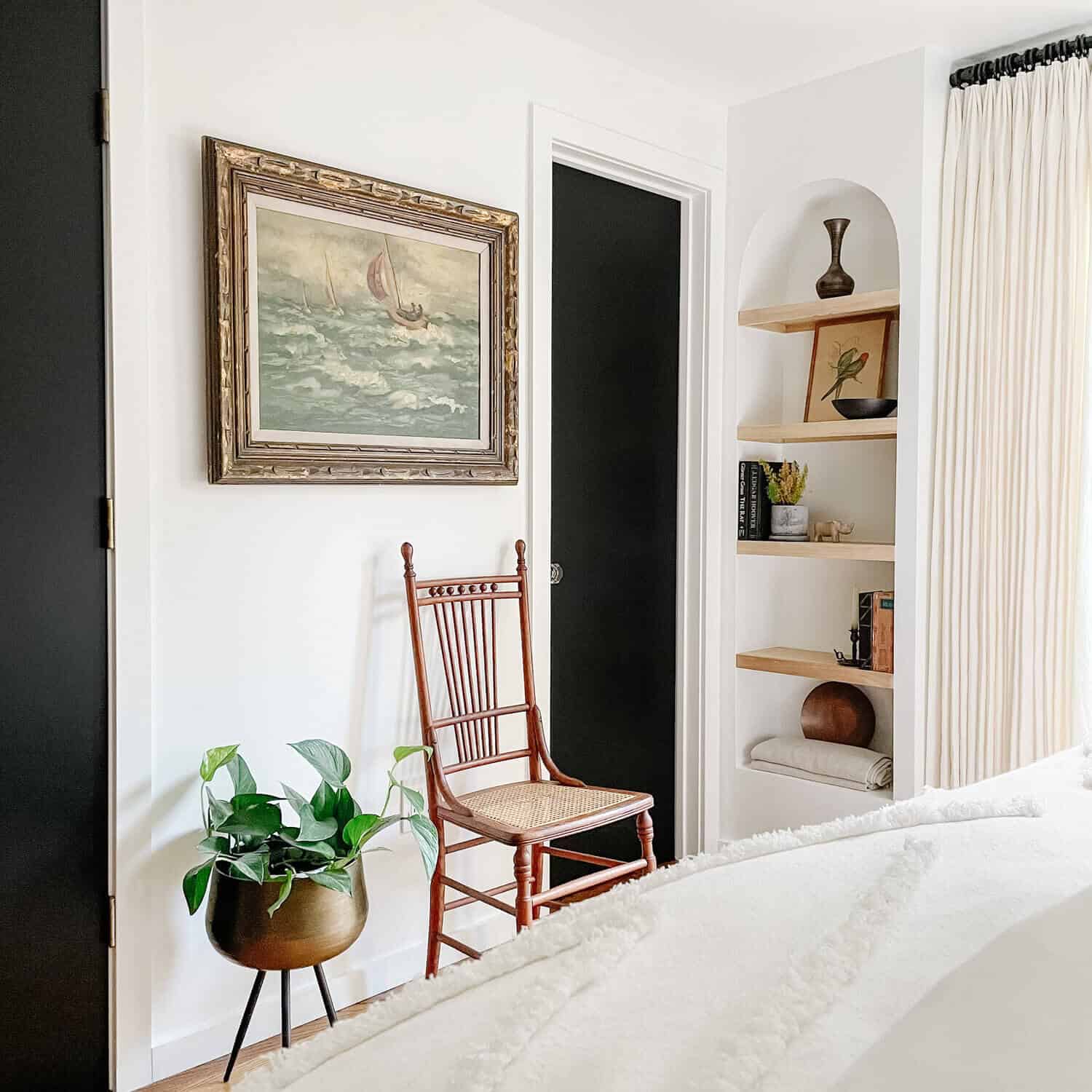 WHAT IS A SOFFIT?
Real quick, for those that don't know – cuz you are probably asking. What is a soffit, and how do you solve for a soffit? Good question. A soffit is just a protruding section of a wall or building in which there hasn't been any additional finishing. They are often on roofs. In the end, a sticking-out shape. Often it protects from moisture or even provides ventilation. In my case, it was all of the above.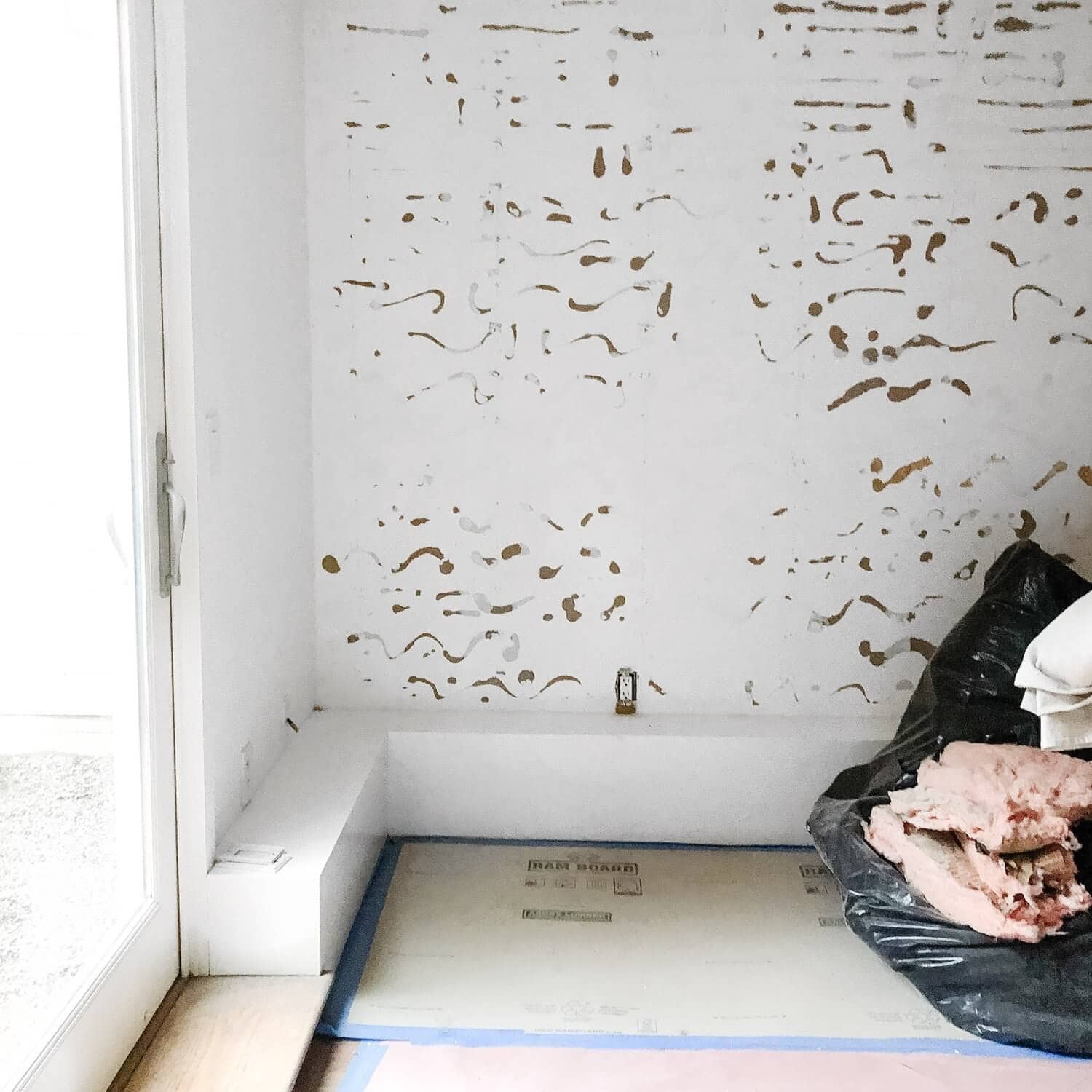 HOW TO SOLVE A SOFFIT
The problem with the soffit? It was shrinking the room and creating dead space above it. We all know that simply will not do. We need to maximize our space in tiny San Francisco homes. As I am always trying to infuse charm into every nook and cranny of the home, I went to work dreaming of an authentic and budget-friendly way to use the space wisely. Of course, it couldn't break the bank — Don't forget my fireplace and bathroom remodel took up a good amount of the budget! So, the additional arch bookcases built right on top of the soffit were the perfect solution. Not only was it an affordable way to cover up that pesky 8", but it also maximized the vertical space in our bedroom, transforming an otherwise dead zone into an amazing styling opportunity to display my thrifted treasures and add a tone off personality.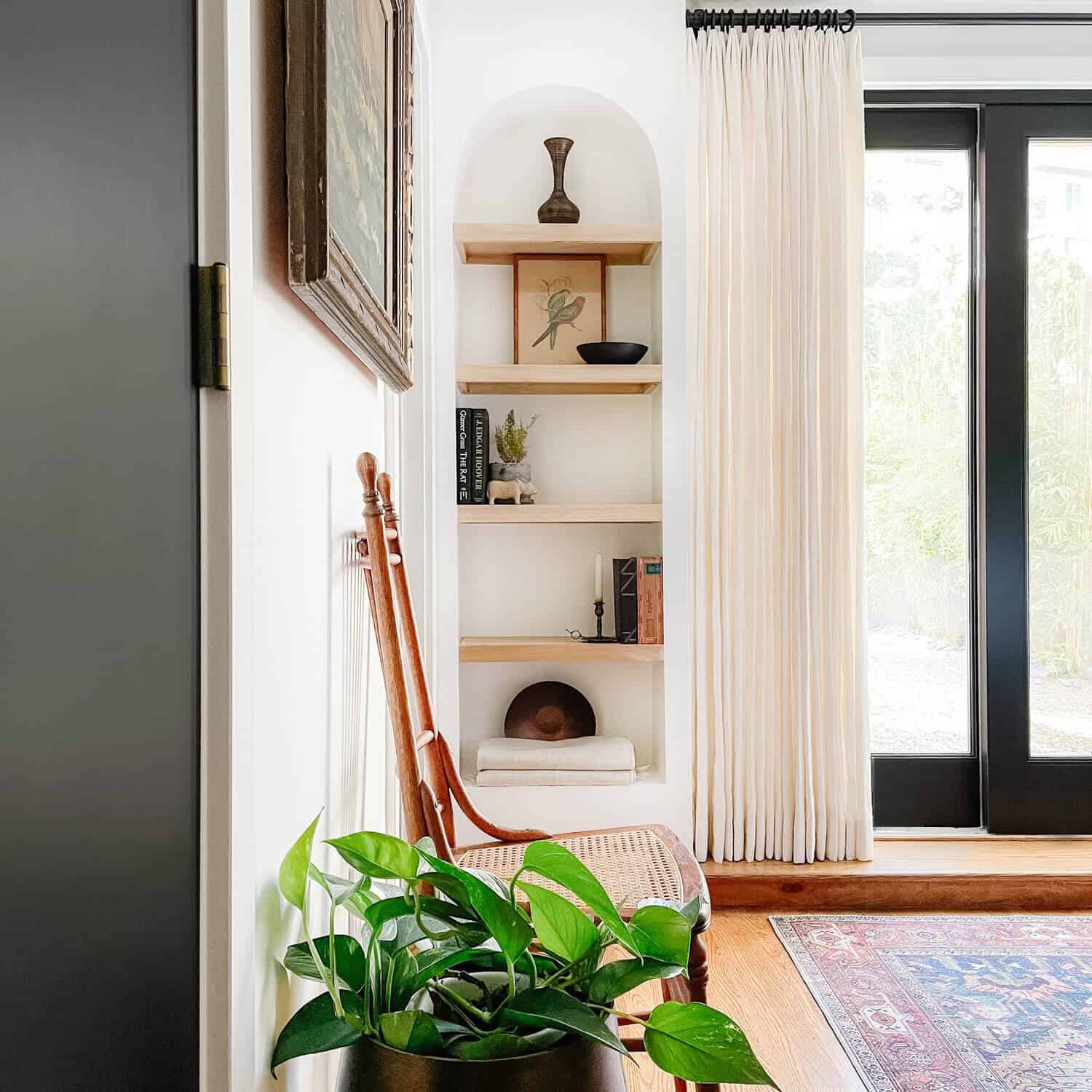 CAN SOFFITS BE PAINTED?
Before you ask, the answer is yes. The moisture protection to prevent mold growth should on the inside. As such, I highly suggest painting them. the soffit material will just look a million times better. I painted mine my favorite white paint of all time ever – Chantilly Lace White.
WHY A HOME SOFFIT CHALLENGE CAN BE GOOD
Guys, never accept lemons but instead make lemonade. I solved my soffit disaster by simply building on top of it. It's a super easy, drywall and shelf solution. In fact, the exact same float shelf DIY tutorial is here. Cliche I know. But, sometimes the very (and I do mean very) best design decisions come when you are faced with an unusual challenge that forces you to think critically and thoughtfully. Think em' through and make a magical moment. That's what we did with our tiny eat-in kitchen banquette as well. You can do it! I am so glad I put these arch bookcases in. They make the space. I think you will agree.
So tell me, what's your biggest design challenge? How did you solve it and what was the result. Do you now know how to solve for a soffit? Let me know in the comments below, and have an amazing rest of the week. I can't wait for brunch in a bit – I need some bacon and iced coffee.