You know the old saying. When life gives you lemons, hang them in your banquette! Just kidding, but for real – there's a major reason I decided this simple still-life lemon painting from McGee & Co. deserved to become the focal point of where I enjoy my favorite sugary breakfast treat and Nespresso's every single morning. After all, this spot is the jewel of my home – so the art I placed here had to be perfect.
When you think of lemons, words like sour, tart, and tangy are typically what come to mind. Ponder a little bit longer though. What about invigorating? What about visual flavor, or even the tone of gold? Golden like the sun. A breakfast nook is where you'll be having the first meal of the day, the most important meal according to some. That's why it's so important to make sure that space is not only aesthetically pleasing to your visual taste buds but also lifts you up and invigorates your senses for the day. After all, I start my day here each morning. When I see this painting I always feel refreshed.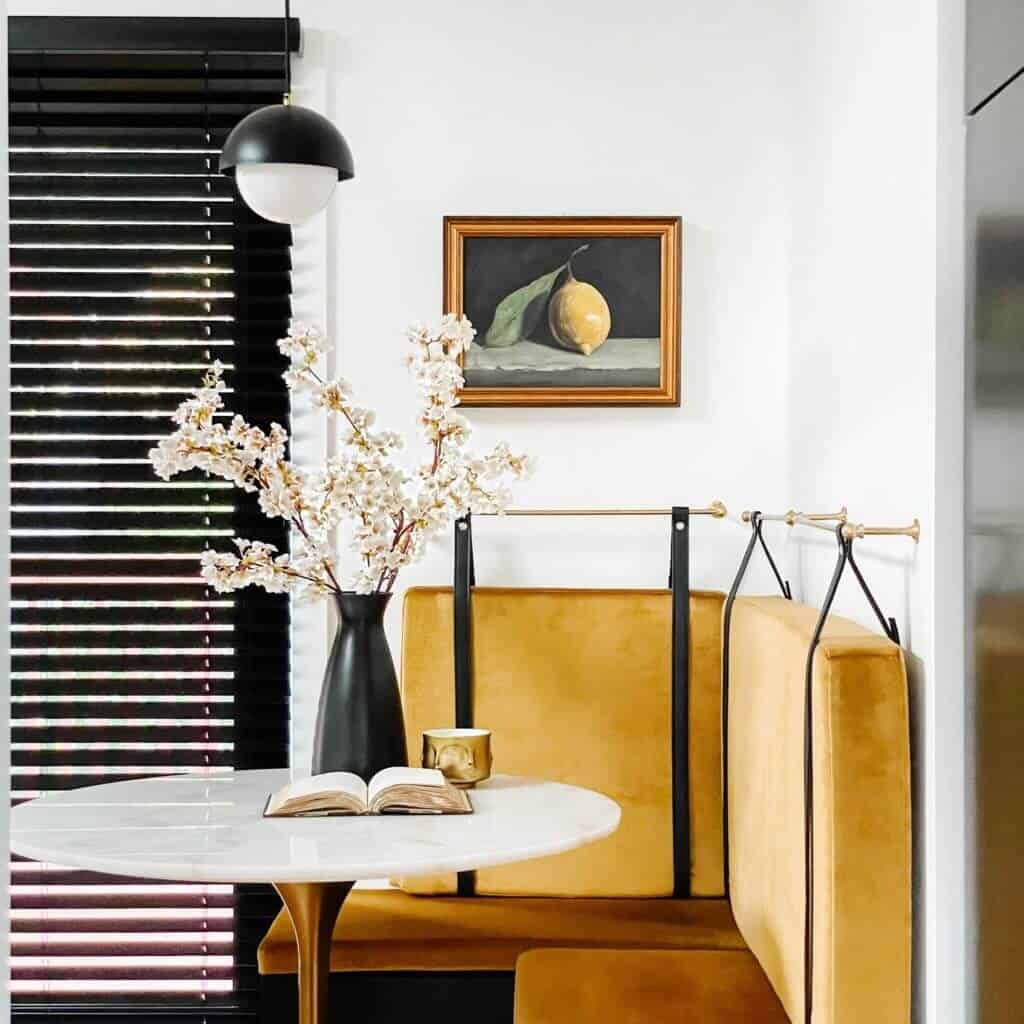 Why I love (this) lemon painting

With a simple aesthetic, depth and contrast take center stage in this Still Life with Lemon portrait. The crisp yellow color stands out against the black backdrop, and the simple frame adds the perfect amount of formality. Paired with our other fruit portraits, or as part of an eclectic gallery wall of art prints, this piece brings an added layer of dimension to my space. I know it can be for you as well.

Why do artists and designers love lemon paintings?
The origins of the lemon itself are obscure. However, it's believed that they were first cultivated in the Assam region of north-eastern India. It is also said that lemons stepped onto the world stage thanks to the Roman Empire. They elevated them as status symbols. In those days lemons were coveted for their fresh fragrance, which was used in perfumes, cuisine, and even for hygiene. The lemon spread to the Mediterranean as a whole, where it received the same response. To this day lemons can be found in Mediterranean cuisine, and beyond, tying the citrus with delicious food permanently. So it makes sense, to have a lemon painting in the kitchen now, doesn't it?
It's no coincidence then that the lemon would be a common subject of many of history's greatest artists and craftsmen. Vincent Van Gogh painted multiple still-life pieces featuring the fruit. Of course, he went on to inspire countless artists after him to pursue the same. If it's good enough for Van Gogh it's good enough for me. There's just something magical about this golden fruit painting that lures the eye directly to it. I don't know about you, but it just makes me happy. My eye always goes immediately to it while making my mouth water. Just me?
Why I put a lemon painting in my banquette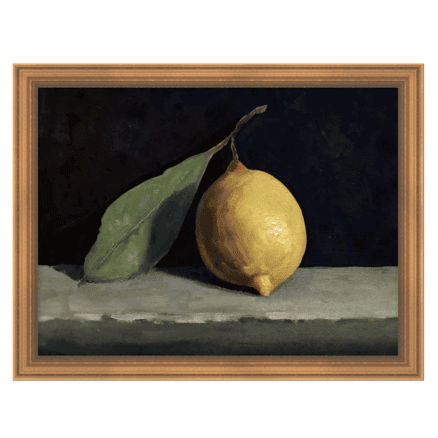 What is it about this painted lemon that draws the eye? I think it's the way the sunburst yellow hue of the rind contrasts against the shadowy background. The vintage brass frame? The pairing of colors with the gold savoy fabric I chose for the nook. It's all of them, to be frank, but there is so much more about how this lemon painting accentuates this space with an aura of warmth and a satisfying twist.
I knew when designing my kitchen that I wanted to be bold. I wanted the space to draw you in curiously. The only question that remained was how. Immediately once my eyes landed upon "Still Life with Lemon" from McGee & Co. I knew that I had found the perfect lure for every visitor. It's got all the benefits of an original piece of art, without the fuss. The strong contrast acts as a focal point for your eyes drawing you into the banquette. Plus it serves double duty because it is in the same color palette as my fabric making the space feel complete and cohesive. Those are always wins in my design book.
The lemon is a symbol of flavor, and this painting of a lemon provided me with the visual flavor I was craving. As a focal point for the entire room, it sets the tone for the rest of the space, without being excessively loud or distracting. Its vintage gold framing, and still-life visage fit amazingly well with the rest of my eclectically curated décor in my home. Leave it to McGee & Co to provide a piece that is more than a peeling!
If you are like me, that is you yearn for a moody, lived-in atmosphere, then you need to consider adding "Still Life with Lemon" to your home's art collection. Here are some great adorable art pieces if you are tight on a budget.
This lemon painting is absolutely perfect for your living room, kitchen, gallery wall, and of course a banquette simply because of the depth, and contrast the piece provides either on its own or within a larger body of works.
Other options similar to this lemon painting?
Not into lemonade? How about orange juice? I kid, but if you have a color palette that would be more conducive to an orange piece of art the above is a great alternative.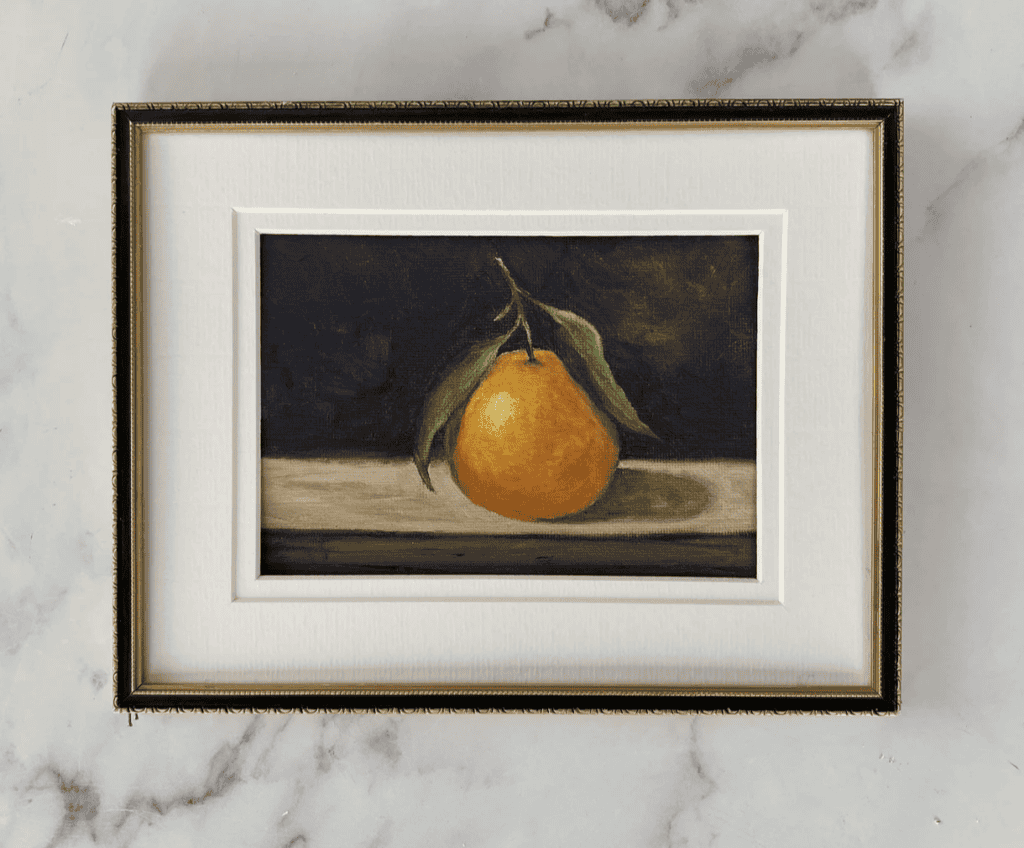 If you are looking to get the look above for a lot (like a lot a lot) less. Then grab this awesome clementine oil painting and place it in your favorite frame. You will have the lemon painting vibe in a jiffy – and save a ton in the process.
"How lovely yellow is! It stands for the sun!" – Vincent Van Gogh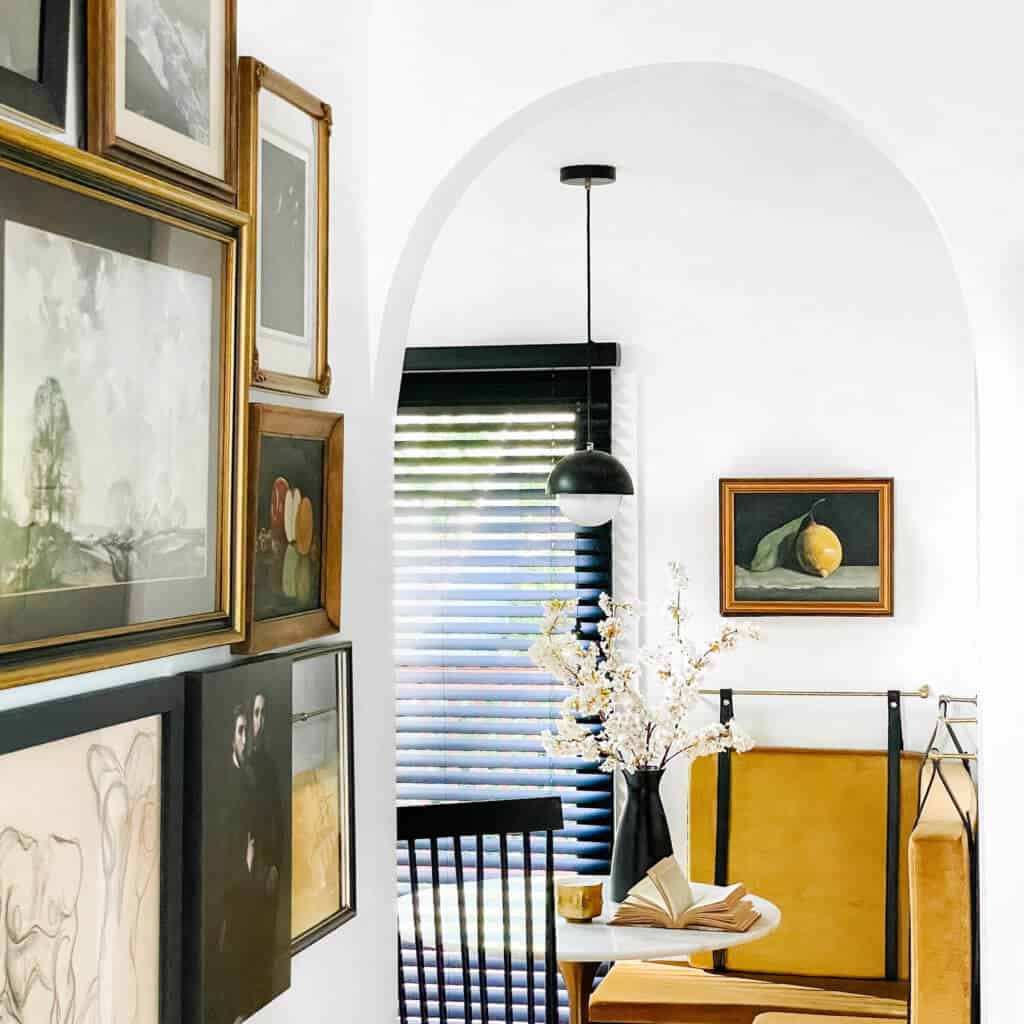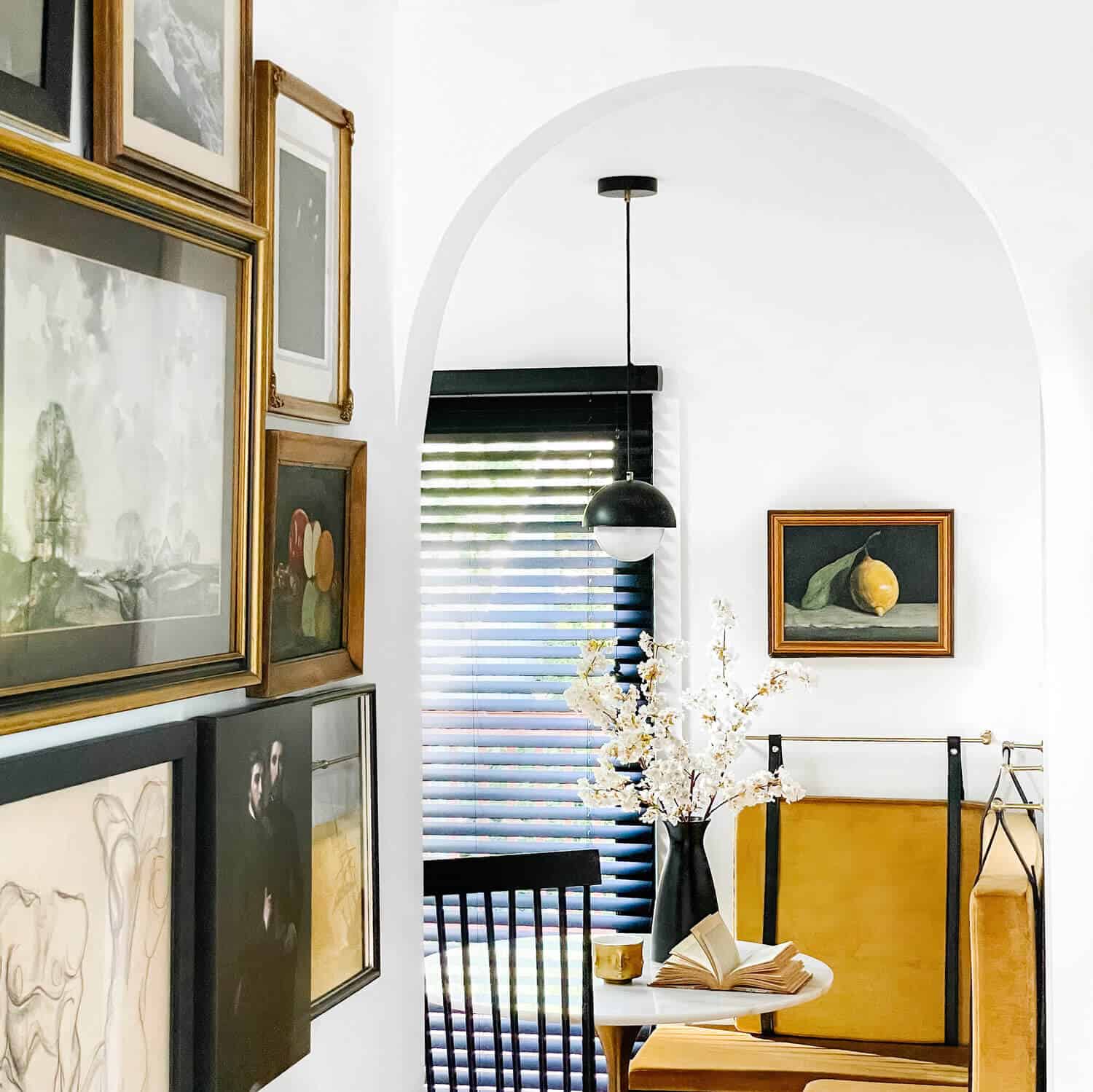 The famed writer/artistic philosopher Johann Wolfgang von Goethe once wrote:
"In its purest form, it (yellow) carries its bright nature in itself and is of light, spirited, slightly provoking character. After all, yellow makes a warm and cozy impression. We find it in paintings on the illuminated and active side. The painting calms you. At least it does for me – every single time I see it. There is joy for the eye, widening of the heart and lifting of the spirit; a tangible warmth seems to emanate from the glass."
Personally, this is exactly what I find so a-peeling (sorry I couldn't help myself) about this painting of a lemon. When I think of the space that I typically will begin my day in, I want that place to instill the exact feelings that Goethe jotted down nearly two centuries ago. Warmth, energy, light, are all words that encapsulate the excitement of morning time. When contrasted with dark backgrounds, and accentuations, the color yellow now becomes a symbol of exactly the kind of cozy, misty environment that I have come to cherish in my own personal piece of northern California heaven.
Conclusion
A great piece of art can make or break space. Invest in a piece that tells a rich story, inspires your overall design, and can act as a focal point to the space complementing both the color story and overall aesthetic. This lemon painting is perfect for my brunch banquette. Is it perfect for your home too? Grab your wall art supplies. Don't be shy, go bold with art because you can swap it out at any time without it costing you a pretty penny. So tell me loves, what do you think of this piece or art? Will you try it in your home? Let me know in the comments below. xoxox