Hey, y'all! Since I loved sharing some of the best places to go thrift shopping in San Francisco with you guys, I figured I'd continue to share some awesome things to do in the city if you visit which if you are anything like me includes finding the best views in San Francisco.
Having lived in San Francisco for over 15 years. I know I gotcha' covered on the topic. Seriously…I've walked every trail, and summited every vista. This is the definitive list of the best places to grab Instagram-worthy views around the city. Whether you prefer the beauty of nature or the shine of the city, ya' have to visit at least one of these spots when in town.
Without further ado, let's get started!
It's not the longest bridge in San Francisco—actually, it's the third-longest—but the Bay Bridge is still worth taking a drive over. Some people may confuse it with the Golden Gate Bridge when they hear its name, but after taking a look, you can definitely tell they're not the same bridge.
The Bay Bridge is almost 4 ½ miles long, complete with ten lanes of traffic. This bridge actually used to hold the record for the widest bridge in the world.
That said, I think this bridge is best experienced at night. During the day it can look a little average, but at night it's lit up and sparkles against the backdrop of both San Francisco and Oakland. Be sure to grab a coffee or tea and walk along the Marina for a show.
If your idea of a beautiful scene involves stunning views filled with city lights sparkling across the water, then the Bay Bridge could be a detour worth taking.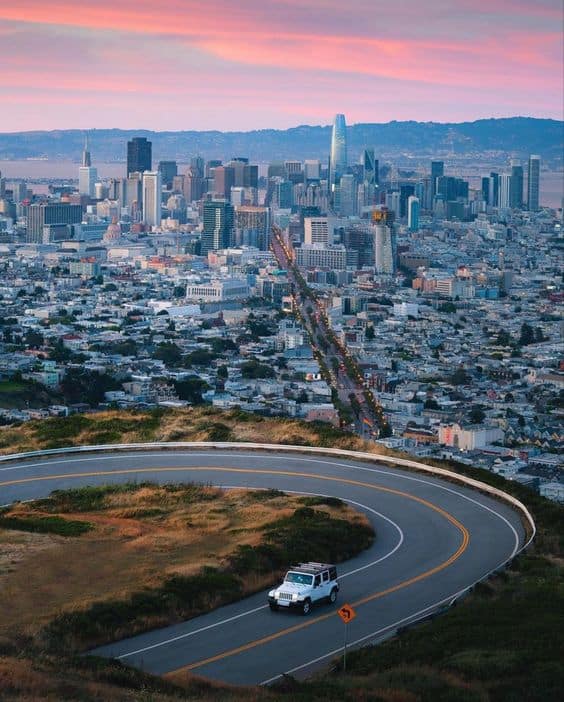 Fancy an easy walk with gorgeous views of San Francisco? If so, then Twin Peaks is a must-go destination. Of course, it's only a short walk if you start from the parking lot. The actual hills themselves are 925 feet tall, so I wouldn't suggest attempting them entirely on foot!
Originally named "Los Pechos de la Choca" (which means "Breasts of the Maiden"), these peaks provide a 180-degree view of San Francisco. You'll be able to look down over the entire city, easily spotting well-known landmarks like the Transamerica Pyramid and the Golden Gate Bridge.
Although I rarely feel like leaving the house so early, Twin Peaks is one of the best spots to go if you want to see the San Francisco sunrise! That said, it is one of the more popular tourist destinations, so that's something to keep in mind when visiting.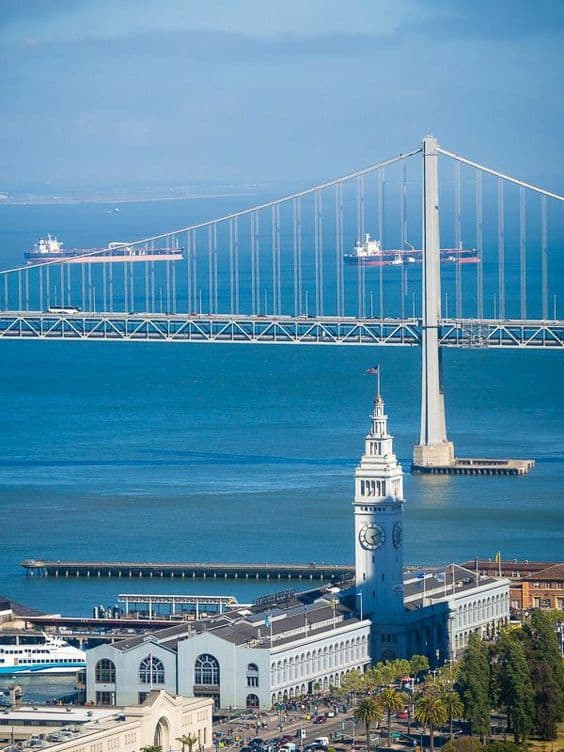 The Ferry Building, as the name implies, is a terminal for local ferries. However, this location has a lot to offer beyond simple water-based travel accommodations.
In addition to its functions as an office building, the Ferry Building serves as a marketplace where one can go to purchase a wide variety of foods, drinks, desserts, candles, craft beers, and other local goods. I love to eat my way through the farmers market here. Whenever friends from out of town visit I insist on a stop here. You could spend an entire day shopping (and eating) here.
However, the available shopping experience isn't what originally made the Ferry building a famous landmark. It's famous for both its history and its design. The building first opened back in 1898, when it was the primary transportation hub for San Francisco.
Its unique, supposedly "Giralda-inspired" design—paired with the 245-ft. clock tower on top of the structure—make the Ferry Building a must-see destination for locals and travelers alike. Be sure to peep the Bay Bridge from here as well.
Many people love spending sunny days on the beach. Beaches are nice, but sometimes you need a different way to enjoy the late afternoon. If you want the choice between sunlight or shade, a visit to the park seems like an obvious answer!
Mission Dolores Park is beloved by locals and tourists alike. These 16 acres of vibrant lawn and palm trees contain a soccer field, a basketball court, six tennis courts, a playground, and more for visitors to explore.
As the park is spread across the side of the hill, you'll be standing a bit above the rest of San Francisco. This means you can relax in the park while admiring the view, or—if you're feeling motivated—take a walk and tour the facilities. The view isn't as impressive as the view from Twin Peaks, but I still think it's a pretty good vantage point.
The Golden Gate Overlook is a great spot for people who want to enjoy the views of the bridge but don't feel like walking across it. To be fair, you can see the bridge better when you're not on it!
That's probably why this place has become a favorite spot for people—especially newlyweds—to come and take photos. With the right angle, you can frame your photos between two large Cypress trees, complete with the bridge's twin towers adorning the background. You'll also enjoy a great view of the Marin Headlands from here!
I recommend coming back here more than once to take pictures. I find that it's fun to take pictures on different days, then compare the photos side-by-side. Clear, foggy, day or night, there are so many different viewing experiences offered in this single location!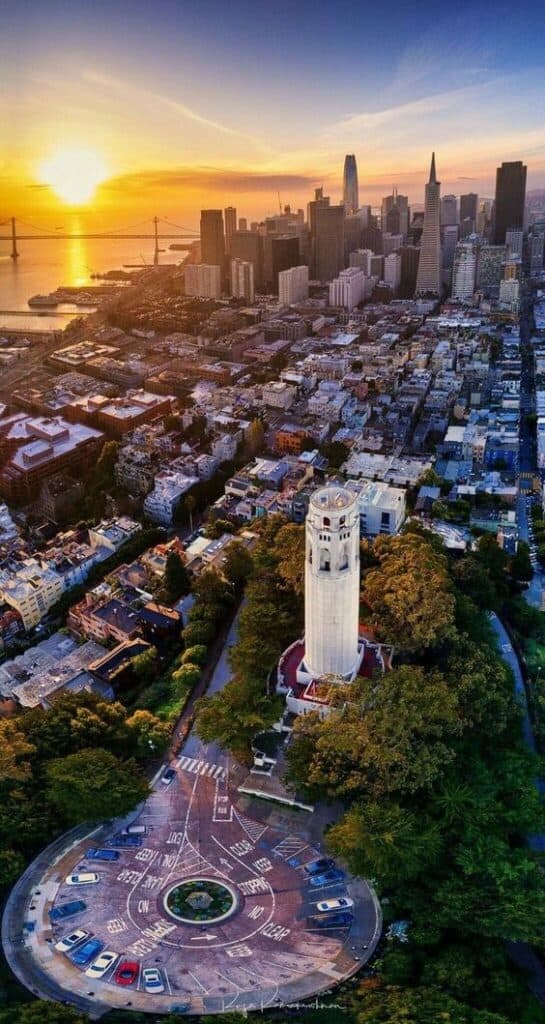 On a clear day, the Coit Tower might offer the best view San Francisco travelers could ever experience. The tower—which stands an impressive 210 ft. tall—provides a clear view of the bay and five surrounding counties nearby. You can literally get a 360-degree view from this point.
You'll clearly be able to see both the Golden Gate and the Bay Bridge from the top of this tower. However, if 360-degree views of the city aren't enough to impress you, then perhaps the murals inside the building will.
Originally painted in 1934, the murals themselves are painted with a combination of fresco, oil on canvas, and egg tempera. They've gone through numerous changes due to disagreements between artists and authorities.
There is a small fee for this view! Fees range from free (for children under 4) to $10 (for non-resident adults). If you want to learn a bit about the background of both the building and the murals, guided tours are offered for the additional cost of $10/per person. Be sure to come early as parking is limited!
Hawk Hill is one of my favorite places in the Marin Headlands. As you could probably guess from the name, this is a great place to go if you want to watch hawks in the wild! You can also see a bunch of other different birds here, including falcons, vultures, and eagles.
I think—if you're looking for a "nature" excursion—that Hawk Hill is one of the best nearby places to go for enjoying nature. In addition to the variety of birds you'll see, there's another, smaller reason people love coming here: the butterflies!
Mission Blue Butterflies were declared endangered in 1976, and very few remain today. Hawk Hill is one of three places in the world where they can still be found, so the chance to see one makes a trip to Hawk Hill worthwhile.
Besides the wildlife, the 923 ft-fall hill also offers an amazing view of the San Francisco skyline (as well as the Golden Gate Bridge!).
Another scenic place worth visiting is Kirby Cove. The cove has a few different experiences to offer visitors, including camping, hiking, biking, nature views, and historical sights.
The cove is home to "Kirby Battery," an artillery battery originally constructed all the way back in 1898! It also has a beach (which has an amazing view of the Golden Gate Bridge!), a tiny cave, and a campground. Prices are very reasonable, although it's worth noting that there isn't any running water.
If you're planning on camping, then good news: you can drive down the 1.5-mile trail! If not, then you're going to have to walk down instead, as the parking down below is for campers only. Still, even if you have to walk, I think this natural beauty is worth the effort.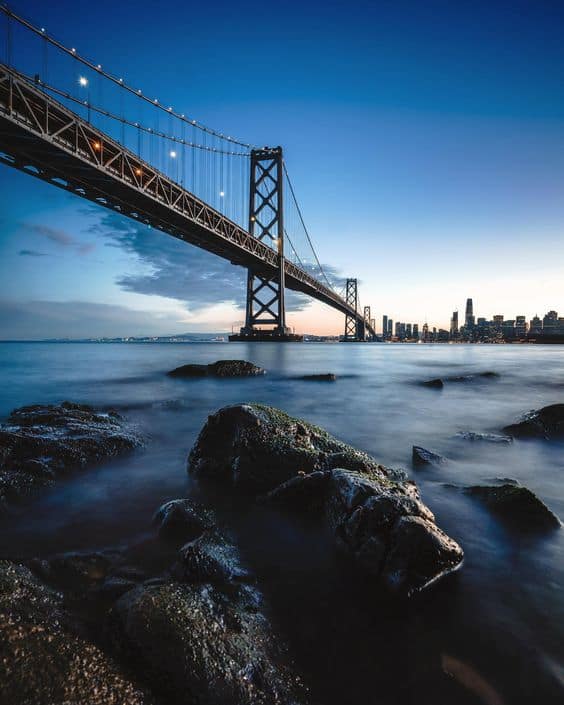 Named after a novel by Robert Louis Stevenson, Treasure Island is arguably the most unique island in the Bay area. Why, you ask? Well, it's unique because the island is entirely man-made!
Built from 1936-1937, the island spans 400 acres and is home to over 2,000 residents.
If you're looking for the best view San Francisco has made itself, then it's really hard to beat Treasure Island. Some even say that it has the best city skyline views!
Not into admiring the sunset? The island also has murals, museums, bike paths, a winery, and beaches to keep you busy. This is just over the Bay Bridge. So you might consider a morning stop at the Ferry Building, a ride over the bridge, and then back from this location. All in all – a great 2-3 hour stroll to see it all.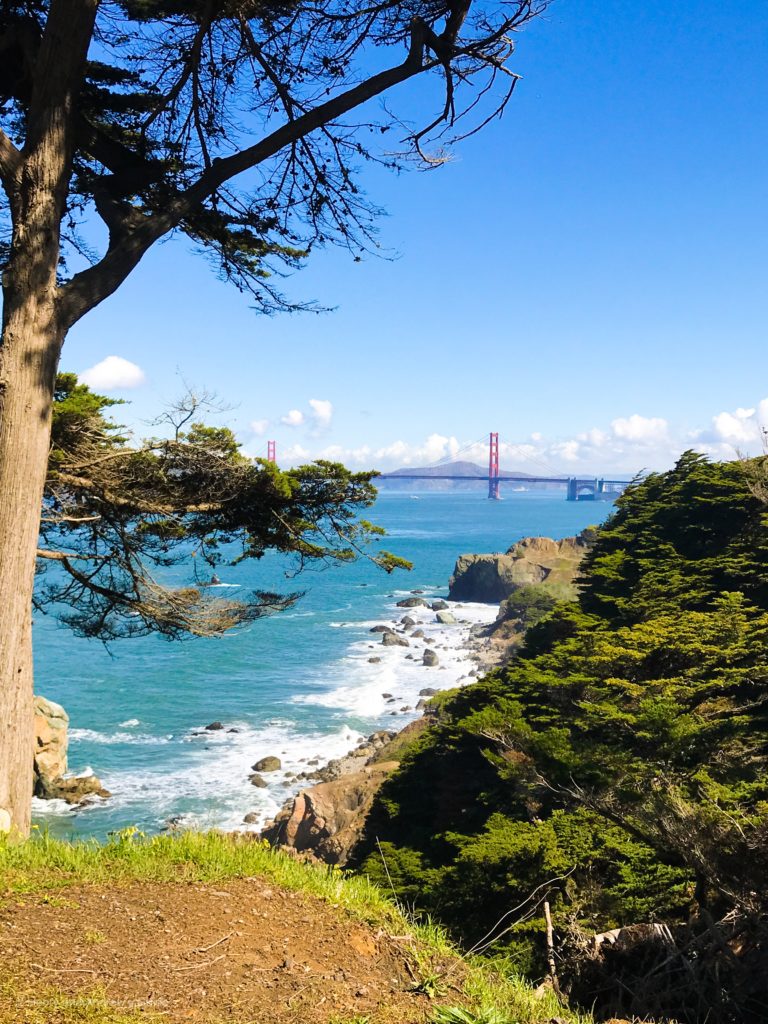 Thanks to the popularity of the internet, Lands End Park isn't exactly the local secret it once was. That said, it's still far less crowded than the more popular destinations around, so I'd definitely recommend going for a visit if you get a chance!
Partially accessible to bikes and dogs, the park offers a taste of the wild despite technically being in the city. With rocky cliffs, beautiful mini beaches, and an excellent view of the bridge, Lands End Park has something to offer everyone.
It's important to mention that you should always stay on the marked paths. Multiple people have strayed from the marked paths, and unfortunately, multiple people have fallen to their deaths.
If it's your first time visiting, I'd personally recommend just walking (as there's so much to take in!). After you've got a closer view, then maybe explore a bit further by bike.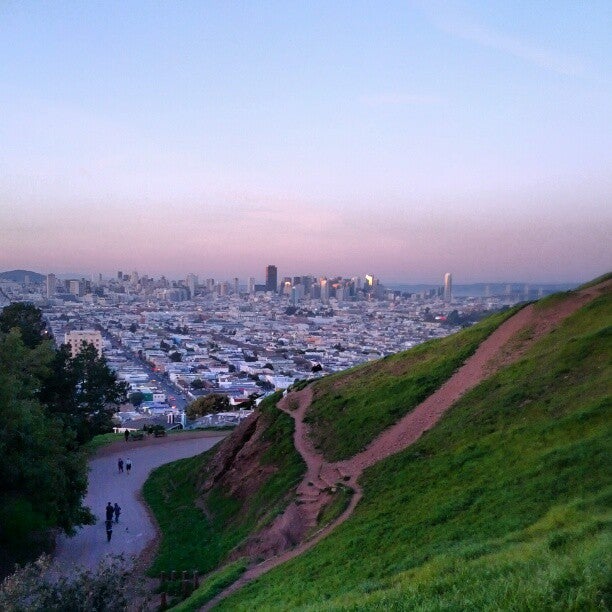 This park is a fairly simple destination, but it's worth checking out if you happen to be in the area. Visitors can enjoy a 360-degree view of the surrounding area—including the Bay, the Bridge, San Bruno Mountain, and downtown San Francisco—from atop the hill.
Depending on the time of day you go, it might be busy, or you could visit without running into anyone. The park itself is open from five in the morning to midnight, which means you should be able to find a time to visit in solitude (if desired!).
Besides the great views, you can also take advantage of the short walking trail, enjoy some bird watching, and admire the local flora. Important for dog lovers: this park is dog-friendly, so feel free to bring your four-legged friends along!
If being surrounded by endless shopping opportunities sounds like a dream come true, then Union Square probably fits your idea of "beauty."
Technically, the plaza itself is only the 2.6 acre piece of land surrounded by the rest of downtown San Francisco. However, most people also think of the surrounding few blocks as part of the plaza.
The Dewey Monument—an 85-foot-tall structure completed in 1903—is a common attraction among tourists. Four painted heart sculptures also adorn the corners of the plaza, courtesy of the Hearts in San Francisco.
For interested shoppers, nearby options include Apple, Prada, Gucci, Victoria's Secret, and Nordstrom. Be sure to stand at the monument and look up and around. This really is a hub.
This local park is famous for being picturesque. You'll find it especially alluring if you're fascinated by Victorian architecture, as there are many beautiful Victorian houses near the park!
The hill itself has been featured in many different TV shows, which makes it a noteworthy destination for tourists. If you'd like to avoid crowds of people, I'd recommend going earlier in the morning or later in the evening.
Visitors have a few different amenities to check out, including a playground, children's play area, a tennis court, natural springs, and a lease-free section where your dog can run around & play.
It also has a few walking trails so you can enjoy the neighborhood while getting a little exercise in. Besides the benefits I've listed so far, the park is also excellent for picnics on lazy afternoons (a personal favorite!).
Offering a combination of amazing views and historical relevance, Battery Spencer is the perfect place to visit if you want to get some amazing shots of the Golden Gate Bridge. You'll have the perfect view of the Bridge, the city, and the Bay while standing on the viewpoint.
Of course, word spreads fast, so it's unlikely that you'll be alone during your visit. Fortunately, parking is free, although it might take you a bit to find a free space. Parking on the road is allowed, which might make your visit a little easier.
Once you've experienced the amazing views firsthand, feel free to check out the abandoned military buildings. Only some of them can be entered, but they're still cool to visit. Make sure to check for signs, and don't enter the ones clearly blocked off (as these old buildings aren't exactly in the best of shape!).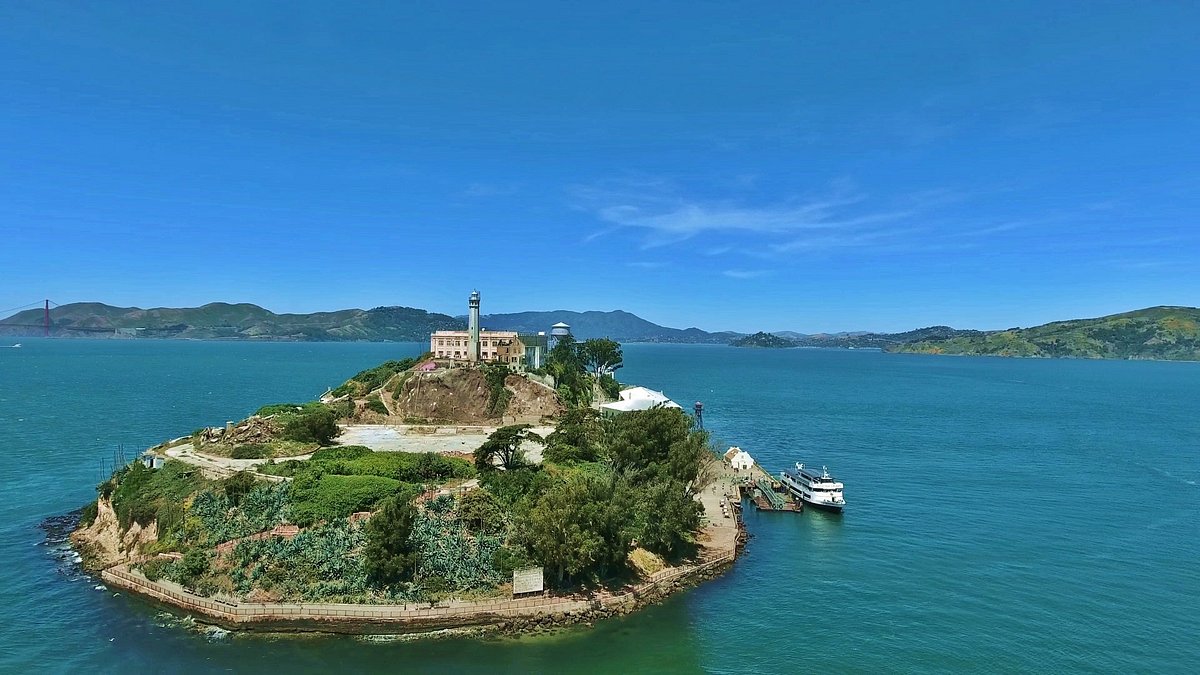 Although it used to be one of the nation's most well-known high-security prisons, Alcatraz Island is now a popular destination for tourists hoping to sightsee while learning a bit more about the island's history.
The only way to get onto the island is by ferry, but this should give you plenty of time to enjoy views of the surrounding bay. The island itself isn't very big, although you'll be able to see a small variety of wild birds, rock pools, and various notable buildings.
As you'd probably expect, the island doesn't have a parking lot (so you'll need to find on-shore parking and book a tour in advance. Don't do it the day of! The island is a rewind in time and the view looking back onto the city is remarkable. However, it's much easier to enjoy the unique experience of Alcatraz on foot anyway.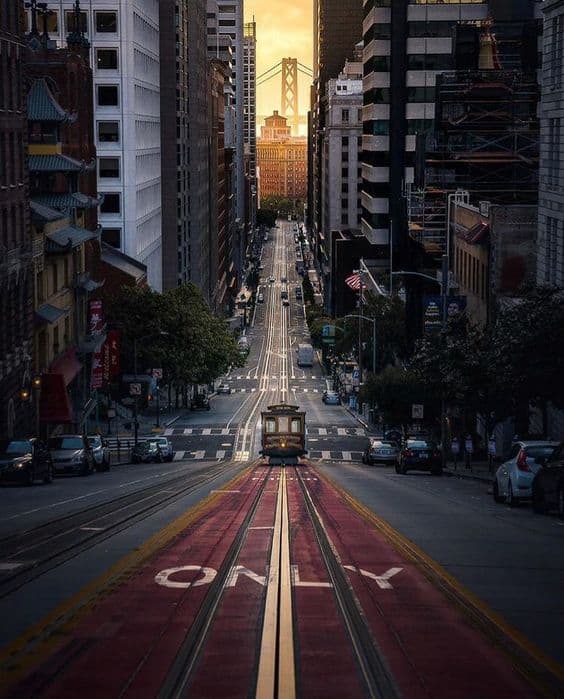 Driving is convenient, but it can get quite tiring. Taking an Uber won't tire you out, but the bill can't add up quite fast. Fortunately, San Francisco offers a unique way to experience the city: via a cable car!
The city actually tried to close down all the cable cars back in 1947, but—thanks to passionate protests from locals—three still remain today. Each car provides great views of the city that you simply won't be able to experience any other way. Try to sit on the side facing the bay for the best views.
Since the cable cars are so unique (AKA popular), you'll likely have to wait a bit before you get a chance to ride. Make sure you're prepared with cash or a Muni pass, as the cable cars don't take credit cards!
This popular destination might be a hassle when it comes to finding a parking spot, but Baker Beach is a local beauty that's surely worth visiting if you love sandy coastlines. Like many of the other places included on this list, the beach offers a great view of the famous Golden Gate Bridge.
This place is an excellent destination if you need a place to spend a day with the dog and the kids! However, if you do bring children along, you should stay away from the northern end of the beach, as this area is "clothing optional." On the other hand, if you'd like to enjoy a nude beach, this could be a reason for visiting!
Your best bet is to visit the beach during the week when the parking lots shouldn't be full. The place gets packed over the weekends, which could make parking a challenge (or even impossible!).
Complete with restrooms, free parking, a mile of shoreline, and 24/7 access (Note: parking lots close an hour after sunset), Baker Beach is popular for many reasons besides the amazing views. It just happens to have those too!
Telegraph Hill
Technically, we've already covered Telegraph Hill—or at least part of it—when I mentioned Coit Tower. However, Coit Tower is only one of the attractions that the district of Telegraph hill has to offer. I personally love this place because it has the best view San Francisco has for parrot lovers!
No one is quite sure exactly how these beautiful birds got here, but it seems they're here to stay. Between 200 to 400 red-masked parakeets call this district home, although an exact number has yet to be determined. I get lucky and they land in our yard from time to time.
They're pretty elusive, which can make it hard to get a great view of them. If you see them in one place, chances are, you won't see them there again: you'll have to look somewhere else.
That said, the Saturn Street Stairs and Filbert Street seem to be two places they love, so I'd start your search there first.
Although you can't bring bikes here (and pets aren't allowed either), you'll quickly overlook these minor inconveniences once you get a glimpse at the gorgeous view from Point Bonita Lighthouse! The lighthouse itself is still active and can be accessed by walking along the half-mile lighthouse trail.
Looking right, you'll see the Golden Gate Bridge; glancing left, you'll see the seemingly never-ending Pacific Ocean! Although the trail is fairly short, it is rather steep in spots. Still, you won't want to be going very fast anyway, as there are plenty of sights to enjoy.
You do have to pay if you want a tour of the lighthouse (i.e., go inside the lighthouse), but the prices are very affordable. The building doesn't stay open very late so I'd recommend checking the hours before going. Otherwise, the beautiful exterior views might be all you get to see!
If your idea of the best view San Francisco can offer is centered around nature, then Golden Gate Park is a destination you can't afford to miss!
Visiting the park is a great way to check off multiple nature activities from your list, such as bird watching, sitting lakeside, strolling through meadows, and even bison watching! There are also indoor activities you can check out, although I personally think the outdoors offers the best views.
A Few More Noteworthy Places
There are far too many places worth visiting with amazing views in San Francisco to include in a single list. That said, I figured the following places were worth mentioning—even in passing—if you're looking for the best view San Francisco has to offer!
North Beach – An Italian-American neighborhood filled with excellent cafes and restaurants, complete with amazing food. Of course, the area also has plenty of clubs, bars, and shops.
Sutro Baths – Although they currently lie in ruins, the Sutro Baths still serve as a beautiful monument to the vision of one man's public solution to a lack of suitable swimming options.
Mission District – This district is home to a wide variety of Latino restaurants and businesses; it's also where the famous church, Mission Dolores, still stands.
Top of the Mark – A high-end bar—complete with a 360-degree view of the surrounding city—that sits on the 19th floor of the Mark Hopkins Hotel.
Angel Island – This state park has various recreational activities you can enjoy, including cycling, visiting historical spots, tram tours, and amazing views from all around the island.
Lombard Street – Whereas most roads go in a straight line, Lombard Street weaves back and forth across the hill, filled with plenty of flora for you to admire as you walk up (or down) this unique road.
Ocean Beach – Perfect for birdwatching or just relaxing on the sand, Ocean Beach is a great spot that offers 3.5 miles of shorefront paradise.
So, What's the Best View San Francisco Has?
Truthfully, there isn't just one answer. After all, beauty truly is in the eye of the beholder! The entire city has plenty of gorgeous places to visit: some in the form of natural scenery, others in the form of colorful, striking city views, and some only appear as artistic works.
No matter where you begin your sightseeing journey, you won't have any trouble making it to the surrounding areas (thanks to our excellent public transit!).
If you've made it this far then I hope you'll find time to visit a few of the places I've listed above. I promise you'll have the best time! Let me know if you guys enjoy lists like these, as I'd be happy to keep creating them.
So, have you visited any of the places I mentioned? If so, I'd love to hear about your experiences in the comments. As always, thanks for reading, guys.
Enjoy your travels!