If your morning routine involves trying to minimize movement while getting out of bed—to avoid not only moving your bed but scratching your floors!—then this blog is on how to stop bed from sliding DIY tips & tricks is for you.
I've gathered all of the best solutions (and thrown in some of my own) to help fix your bed-based issues, from the frame to the mattress itself. After all, let's be honest: having to constantly "nudge" something that's constantly shifting about is just plain annoying. I don't want that for y'all. Let's solve the issue once and for all. I know I hated when this was happening to be bed so let my pain be your love.
Whether you're dealing with a simple box spring/mattress/mattress pad on-the-floor setup, a heavy wooden platform bed, or the headache that comes along with lightweight metal bedframes, you're sure to find the solution below – at least I sure hope so. But first, let's start with understanding your bed type for the proper solution. Let me ask you.
What Style is Your Bed Frame?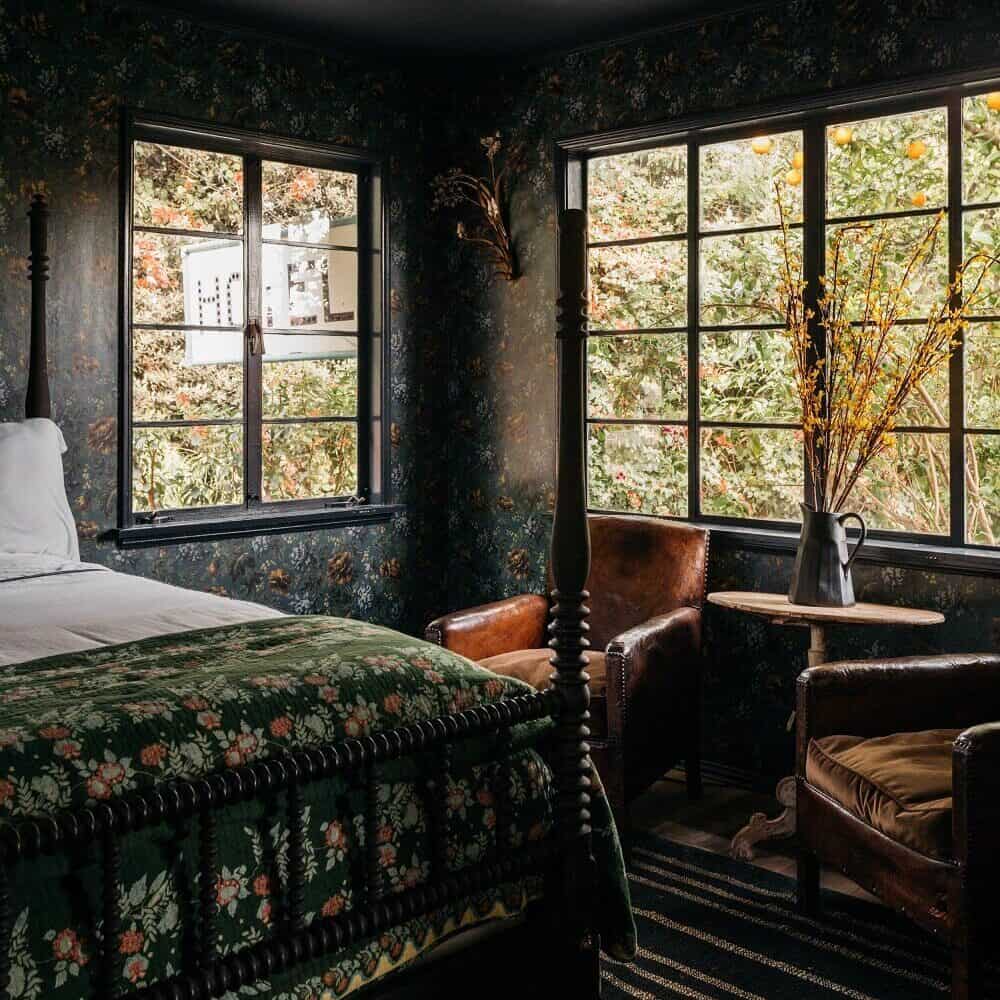 A good place to start is by taking a closer look at your bed. Chances are, you're probably pretty familiar with it. However, if you've recently upgraded to a new bed frame, it's probably worth double-checking – especially if you didn't have the issue prior.
While simply having a heavy bed can often prevent it from sliding around the room, it's not a guarantee. If set up correctly, even a lightweight metal frame won't slide.
What type of bed posts does your bed have?
For that reason, the first thing you are going to want to asses is the bottom of your bed frame. Does your bed frame use regular bedposts? If so, are they made from metal or wood? Jot it down.
Of course, not all bed frames have feet. Some frames simply sit on the floor. Some are even on wheels. The added surface area on the bottom of a bed means that it's much less likely to slide. However, if it does slide, you could be left dealing with some pretty deep gouges on your floors.
Take a few seconds just to look over your bed frame. Where does it touch the floor? Is attaching it to the wall a feasible option? Or are you looking for a more temporary solution? Keep it all in-mind as we start to think about solutions.
Prevent sliding during the design phase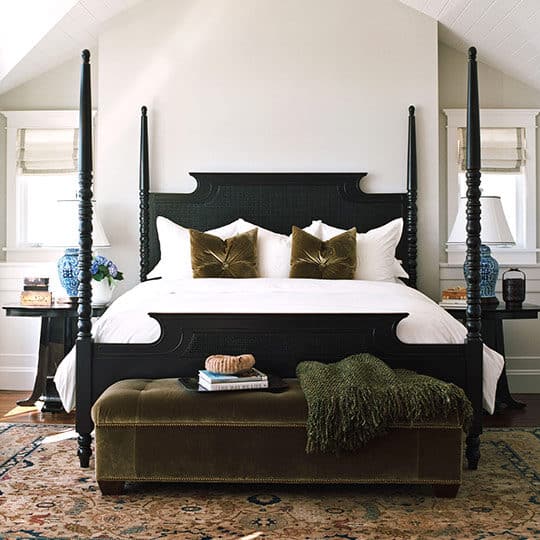 The first step to solving a sliding bed is to create enough friction to keep your bed in place, making it important to consider the surface you're working with when selecting from the methods mentioned.
If possible, when designing or remodeling your bedroom, selecting a carpet for your bedroom is a great way to prevent future beds from slipping around the room. However, if you're renting your home, carpeting your laminate or hardwood floors or tile floors probably isn't an option. But it's worth mentioning that a rug and carpet can prevent this from the jump!
Fortunately, there are plenty of methods (such as using rubber matting) to prevent furniture from slipping.
Alright, it's finally time: let's take a look at the options.
How to stop your bed from sliding DIY
Remove the Wheels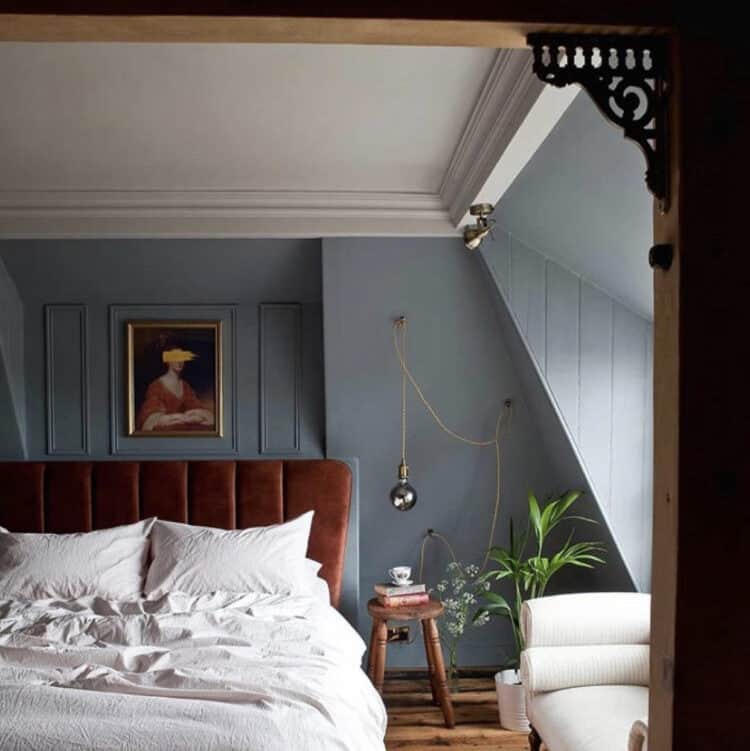 This is the easiest solution – just remove the wheels! Even if the wheels on your bed frame can lock, that oftentimes still doesn't leave a lot of surface space for your frame to get the much-needed traction which can result in the dreaded slide.
Removing the wheels is an easy way to stop your bed frame from moving, but it does come with a few drawbacks. First, it might not be easy to remove the wheels. Even if you can, that might lower your bed frame more than you would like and can eliminate any extra space you were using for additional storage.
If you can remove the wheels, that's a great place to start. However, if removing them isn't practical—or you just don't want to—I also have a way for you to keep the wheels while preventing unwanted movement. More on that in a bit…
Lay Down An Area Rug
If rubber mats, rubber feet, or rubber, in general, don't suit your tastes, then the solution is obvious: you need an area rug.
Easily the most enjoyable option in this "How to Stop Bed from Sliding DIY" guide, choosing the right rug for your bed can add the perfect touch to your room while also solving your moving bed problem.
The longer your bed legs are pressing down on the rug, the more the feet will indent in the rug itself. These indentations will help prevent the bed from moving. Of course, this won't prevent the area rug itself from moving, but the weight from your bed alone should be able to do that.
If you've placed a giant area rug under the bed and it's still moving, there's always the option of adding double-sided carpet tape underneath or a rug pad. You can also use this tape to solve any mattress slide!
Fortunately, in most cases, this won't be necessary (as most rugs have a slip-resistant bottom).
Place Your Bed in the Corner
Aside from removing the wheels from your bed frame, putting your bed in the corner of the room is probably the easiest option in this "How to Stop Bed from Sliding DIY" guide! Okay, I take back what I said earlier.
This method is great because it works for both a sliding bed frame and a sliding mattress. Even if your bed slides a little, it only has two directions to go.
Still, this method does require both your bed and your room to be the right size. While some beds may simply look great when placed in the corner with your current layout, this isn't always true with different sizes of beds.
If—when placed in the corner—your bed starts to look "off," it may be time to do a bit of space planning. Trust me: you'll have a beautiful bedroom in no time with a wall laid our space.
Consider Using Velcro Pads
So, your bed didn't have wheels and you didn't want to place it in the corner? No problem: you can try using velcro pads instead! Velcro is great because it can be used for your bed frame as well as your mattress.
Depending on which one is slipping, you'll have a choice between using pads or velcro strips. Ideally, you want to cover as much surface area as possible (Velcro isn't always the strongest "stick"). Using pads for your frame's feet and strips for your mattress, you should be enjoying a slip-free sleep in no time!
However, velcro pads do have one drawback: adhesive. In my experience, this usually isn't too hard to remove, but it's something to consider if you're renting. Even once you remove the velcro, there will likely still be a bit of adhesive left behind.
Thankfully, this adhesive shouldn't take a lot of effort to remove. If you've ever had to remove the leftover adhesive while replacing your furniture pads, you probably know what to expect. Just make sure to double-check once you're done, and the landlord will never know the difference!
Try Rubber Caster Cups
Remember how I said there was a solution for frames with wheels that didn't involve removing the wheels entirely? Here it is rubber caster cups. They have a variety of designs available so you shouldn't have a problem finding ones that will work with your bed frame.
While some are designed for regular chair or bed frame feet, others are designed specifically to prevent wheels from rolling.
Best of all, these furniture stoppers are offered in many different colors, so—with a bit of looking around—you'll easily be able to find one that matches your room's color palette.
Rubber caster cups don't really have a major downside, but actually installing them may be a bit of a pain (since you'll need to lift the bed up). If possible, I suggest having a friend help you do this part!
Use Bed Risers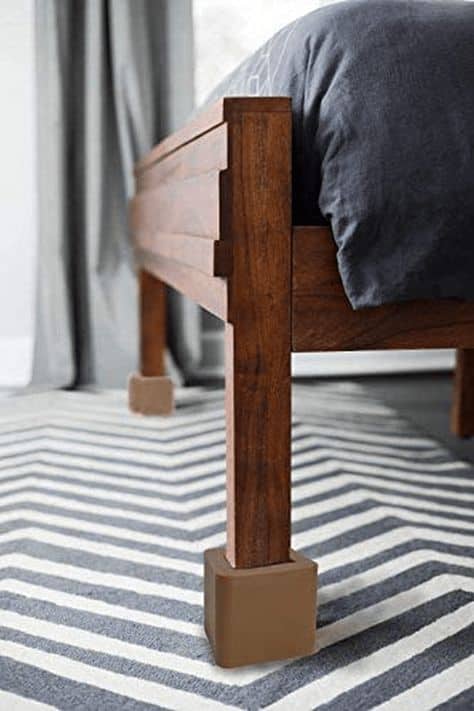 Well-known and adored by college students trying to maximize storage in a small space, bed risers are yet another way to prevent your bed frame from sliding around. Of course, the added bonus is the extra storage space for your bedroom!
They're not just limited to bed frames either: you can use them to raise the furniture legs of your nightstand, table, couch, or even your dresser!
Personally, I'm not a huge fan of bed risers as I don't really like the look, but they work great in a child's bedroom. That said, you'll want to look for bed risers that have rubber pads built into the bottom.
Not all of them do: if the risers are just made of plastic with nothing else on the bottom, they won't help your slipping problem much (and could possibly make it worse!).
A More Permanent Solution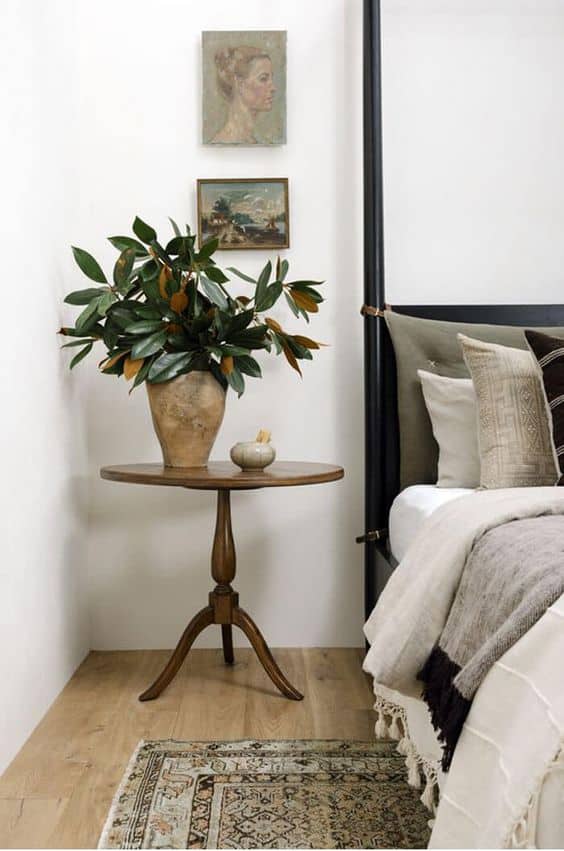 Attach Your bed to the Wall or Floor
Have you tried all of the methods in this "How to Stop Bed from Sliding DIY" guide so far but still haven't had any luck? In that case, I have one final solution for you.
Permanently attaching the headboard to the wall is one of the best ways to prevent your bed frame's feet from moving on your floors, but it does require you to own your home. Or, at the very least, you'll need to be prepared to lose your security deposit!
For this method to work, you'll start by mounting the headboard to your bed frame. From there, adjust your bed until it's in the position you'll want it to stay in. Next, use mounting hardware to attach the headboard (and frame) permanently to the wall. Finally, place your favorite decorative pillows and marvel at a job well done!
A Summary on How to Stop Bed from Sliding
Whether you were looking for a temporary solution for an old mattress and bed or trying to perfect your forever bed frame, hopefully, one of these easy solutions has helped you address the lack of friction that's complicating your current bed setup.
After all, it's hard to enjoy a good night's sleep when it feels like your bed frame is constantly across a slippery surface with every movement you make!
So, which ones of these solutions did you end up using? Are there any other methods you've found that worked for you? Let me know in the comments below. As always, thanks for reading and xoxo.