A good rug is one of the few pieces in your home that's an absolute must to help tie your bedroom together effortlessly. You can use it as a finishing piece or an inspiration for the space. It is an incomparable layer that brings intrigue and interest to your bedroom. However, finding the perfect rug for bedroom comes with its own set of challenges and limitations. Getting your primary suite bedroom design just right starts with a good rug.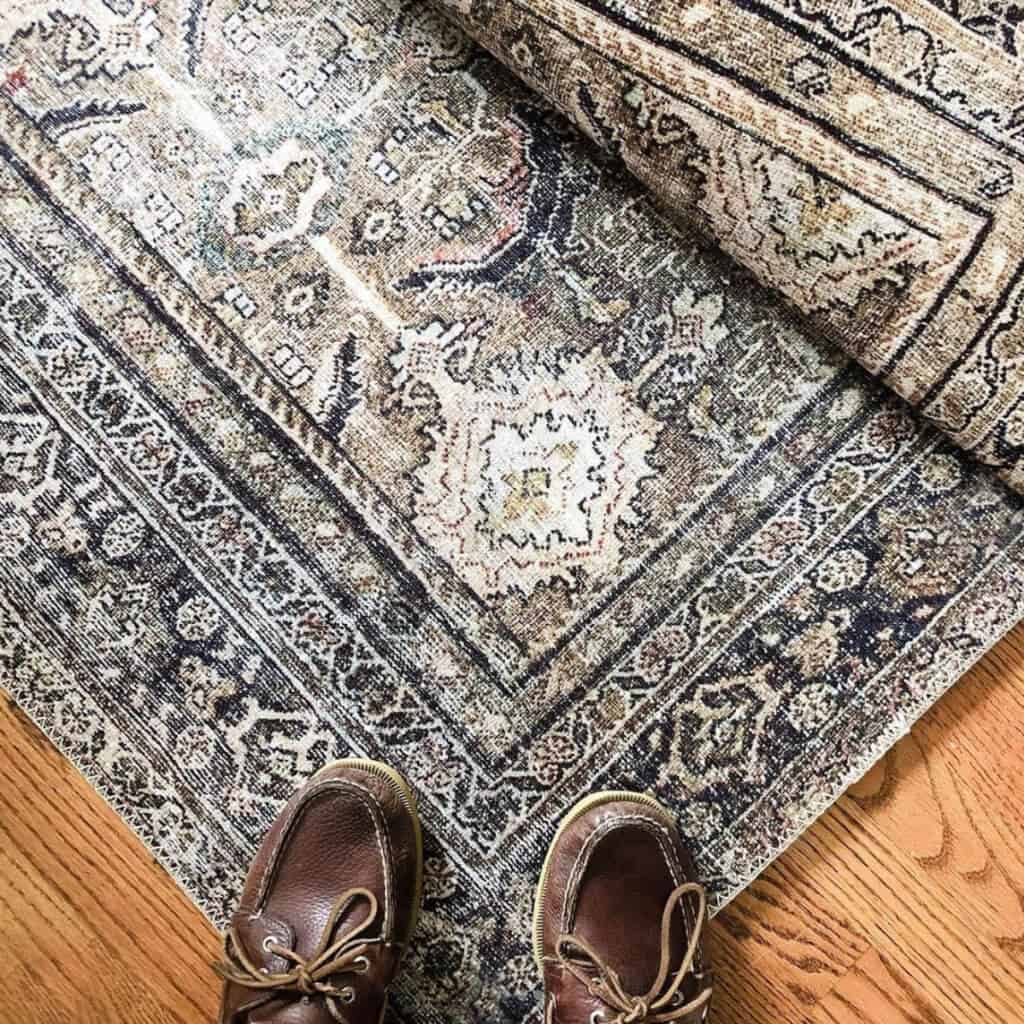 Between the different sizes, styles, materials, and other factors to consider, you have access to an endless number of options, which makes this purchase an even more difficult discussion. Plus rugs can get pricey quickly. Here are some of my favorite affordable rugs. Having a small rug in bedroom will diminish all your efforts. However, getting a large rug might envelop the whole space and overwhelm your bedroom. The key is to find the middle. To help you with this, I have put together this helpful (at least I think so,) guide that will answer your burning questions about buying a rug for the bedroom.
Common rug in bedroom related terms
Before we get into the things you should know about buying a rug for bedroom, let's discuss some common rug-related words and terms. I wish someone told me these earlier. Understanding these rug words will help you when researching your rug options.
Backing – Fabric is present on the back of the rug that keeps its structure. Depending on their construction and weave, not every rug will have a backing.

Pile – This is the textile's raised surface height. Basically, pile height refers to the material's length that makes up the pile. So, if the pile is higher, the rug will be plusher and thicker. Some rugs pile is too high to fit under doors etc. Pay attention to this.

Warp – Warp refers to the vertical yarns present on a woven rug's base.

Weft – Weft refers to the horizontal yarns woven through the wrap of a woven rug.

Wayn – Used in weaving, yarn is the single strand of material that comprises fibers.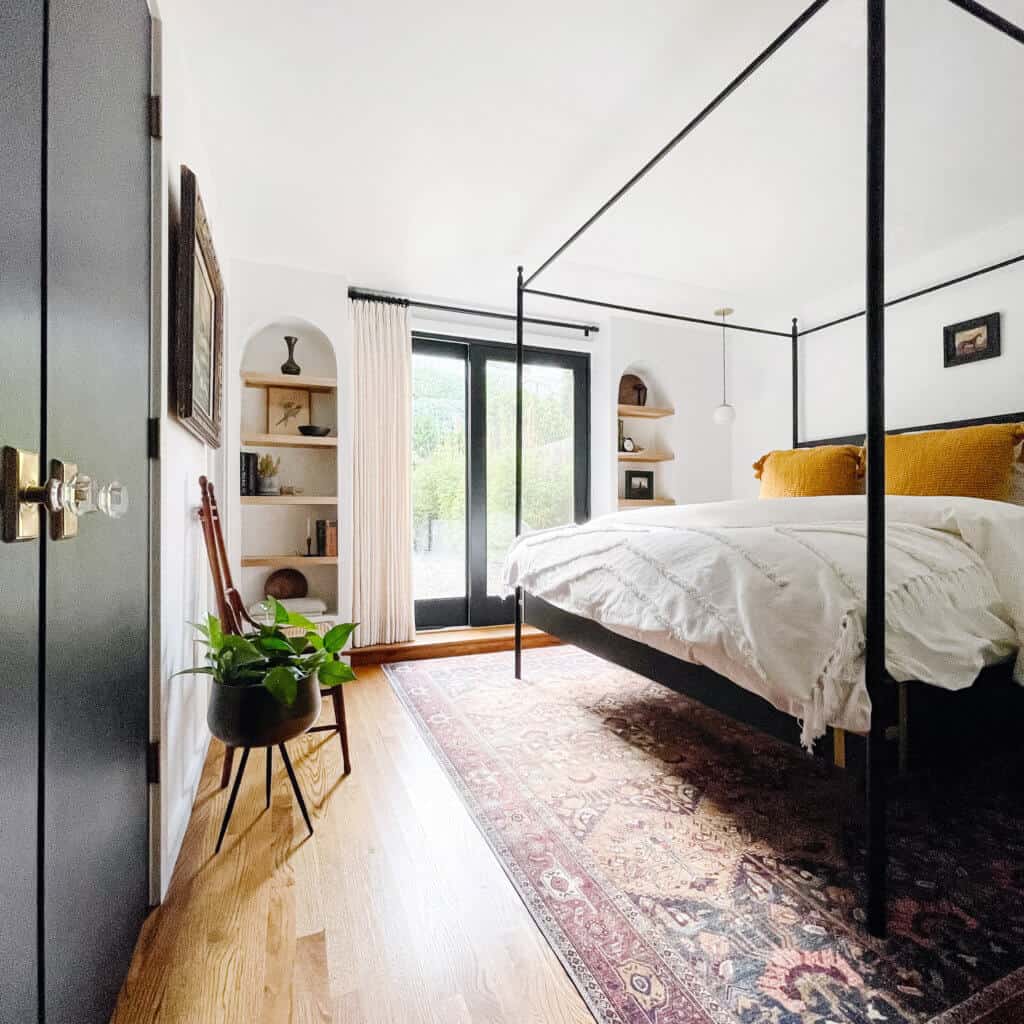 How to determine the size and shape for your rug in bedroom
When you are buying a rug for your bedroom or thinking about how to position area rug in bedroom one of the most important factors that you have to consider is its size. Now, this is determined by the size of your room and where you will be laying it. As a general rule, bigger is always considered better. With a large rug, you will improve the visual appeal of your room and have an anchor for the space. Smaller rugs can work better as an accent in spaces like entryways.
In order to measure your bedroom for a rug, you should start by taking its general measurements. You can then decrease the dimensions by one or two feet and you will have an appropriate space for your rug. You can also use painter's tape for outlining the dimensions of the rug in the space you want it. Then, you can measure the perimeter.
What bed size works best with which size of bed?
For the bedroom rug, you also have to consider the size of your bed before you will know how to position area rug in bedroom. Here is the ideal size you should go for:
Full-size bed – 5' x 8' rug
Queen-size bed – 8' x 10' rug
King-size bed – 9' x 12' rug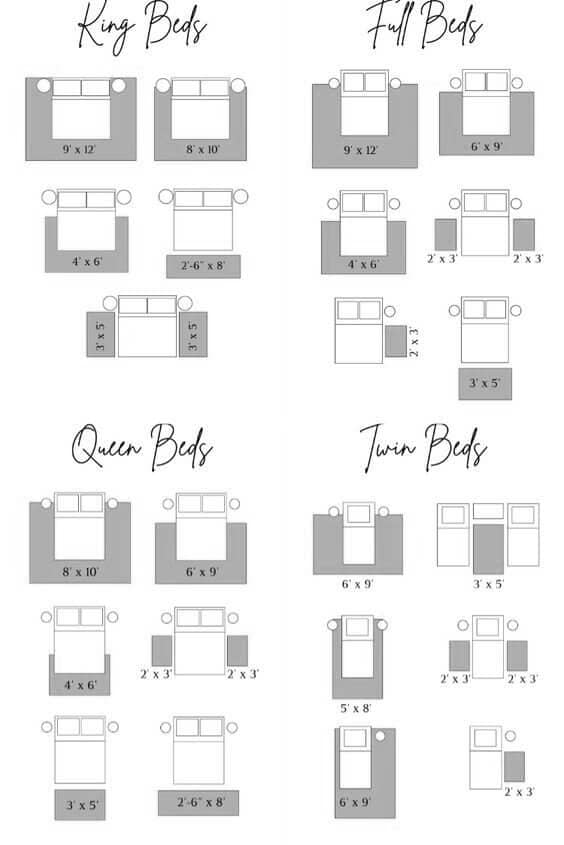 When you are ready for the rug placement in bedroom, it should be partially under the bed. You have to lay it perpendicular to your bed and pull it under. It should stop before your nightstands. If you want an affordable and fast option. Ya gotta try this black nightstand from Target. This way, the bed will be centered on the top, with the rug halfway under the bed. It ensures that you make the most of usable rug space. Also, right when you get out of bed, you will have a soft surface to land on. The bedroom rug placement should be in the center or right at the foot of your bed. If you don't want a full area rug in bedroom, you can also add runners on both sides of the bed. Don't forget some great nightstand styling accents to make the entire space sing.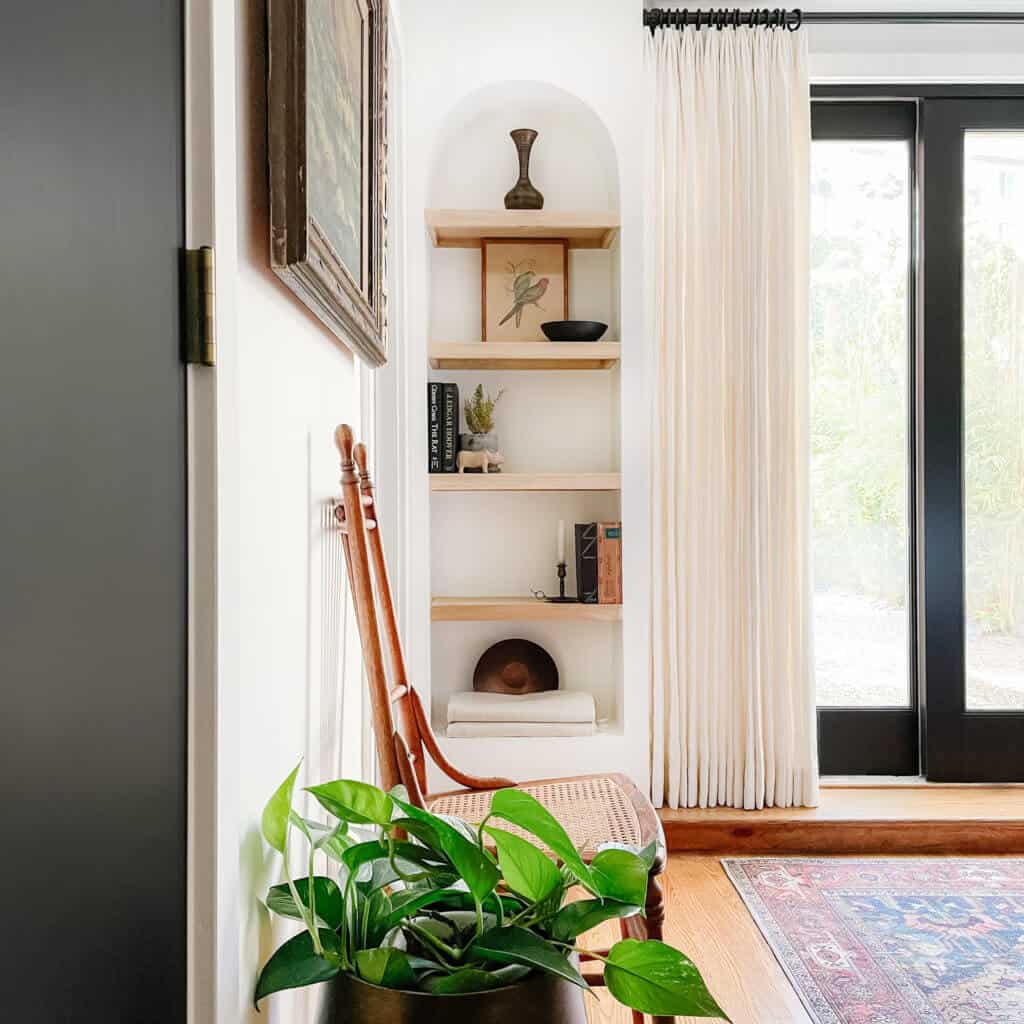 Another factor to keep in mind is the shape of your room as it helps in figuring out the best rug shape. If your bedroom has a long, narrow space, you should go for a runner. For a room that has clean lines, you can use a monochrome rectangular rug or a round rug that emphasizes your bedroom.
What about bedroom rug materials?
There are a lot of elements in a rug that dictates its definition as an aesthetic. But, in most cases, it's the material that informs the piece's style. Check out some of the common materials used for making rugs and determine which one suits your design style the most. Not sure what you want your design style to be? Head here to get inspired:
Natural Fibers
Natural fibers include cotton, wool, jute, silk, sisal, and more. These are long-lasting and durable, especially wool rugs that are especially great for hiding dirt. However, they can be pricier and often need to be professionally cleaned. Also, if you have a dyed silk rug, exposure to water spills might cause it to run.
Synthetic Fibers
The top synthetic fibers used for rugs are acrylic, polypropylene, and polyester. This is one of my favorite synthetic rugs. The best part about these is that they are easy to clean, stain-resistant (in most cases), and much more affordable. Synthetic rugs have come a long way. I suggest them often to my clients and friends. If ya want some design help drop me a note. These rugs can add a touch of class to your bedroom without breaking the bank. More great affordable rugs here.
Artificial Silk
The best artificial silk options for your bedroom rug are banana silk, bamboo silk, and viscose. Most of these come in busy patterns, meaning that they can conceal dirt easily. Also, they are affordable. However, it is important to note that materials like viscose are absorbent. So, they will attract oil and moisture. Even a simple water spill might ruin your rug. As such these are not my favorite choices for everyday life. But, I wanted to share!
When you are making the decision to find the right rug for your bedroom or the placement of rug in bedroom, the choice will depend on your lifestyle. Your aesthetic is a primary factor to consider, but you should also remember that there is no rule about sticking to one style of rug in bedroom. You can always mix and match to find your own personal style. To help you with this, here is a simple breakdown of what types of rugs are suited for different styles:
What are the Different rug styles?
Traditional – Berber, Moroccan, Oriental, Persian
Natural – Cowhide, Jute, Silk, Sisal, Leather, Sheepskin
Contemporary – Geometric, Mid-Century, Farmhouse, Country, Coastal
Bohemian – Kilim, Shag, Ikat, Southwest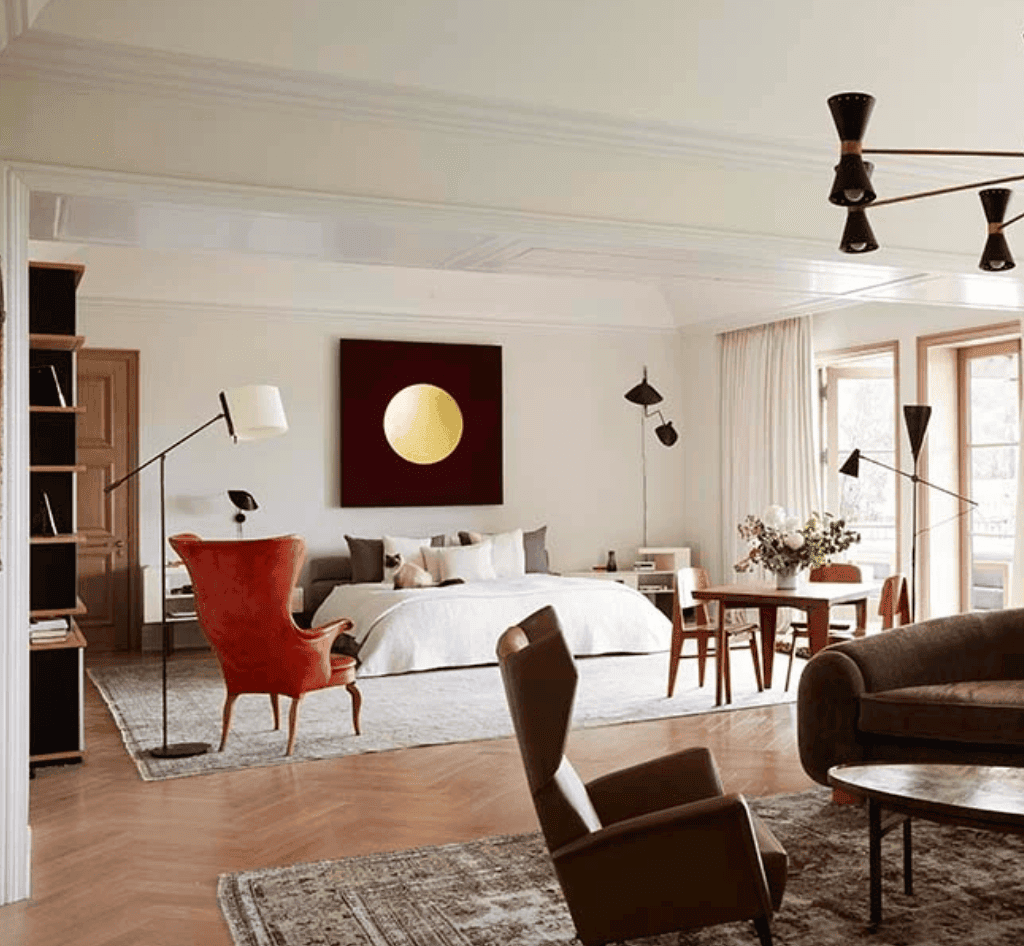 Common mistakes to avoid when buying a rug
Now buying a rug pad
Having a rug pad underneath your rug is very important for a non-carpeted room to add extra comfort. In addition, you will get indents in y our Harwood floors from the weight of your bed. With a rug pad, this can be easily prevented. Plus, we really want to have the feeling under our bare feet enjoyable. Please note that if you have a carpet, you can simply place a rug over it. You might get some puckering, however.
Not thinking about odors
Some rugs, such as wool and jute, have a distinct aroma. This can be from the chemicals used during the manufacturing process and the natural materials they are made from. Just be prepared for this.
Not investing in carper cleaner
You don't want to have your expensive rug getting dingy. Although, to be honest, I love a little worn-in patina. I think it makes things appear more authentic. But Soap and water won't do the job in most vases. There are a lot of options available on the market that can deal with carpet stains and brighten things back up. I use this cleaner for spills and this powder to keep things fresh.

How to pair your rug with your bedroom
Depending on the aesthetic you want in your bedroom, there are different styles of rugs that you can choose. Let's get into some of the most popular options and how to select the right look and feel for your bedroom rug:
Focus on the room
If you want to add some personality and color to your bedroom, a patterned rug can be a great option, especially when you can have strong patterns like wallpaper elsewhere. For a bedroom that has painted wall paneling, the floor is the perfect space for adding patterns. A bold geometric pattern will definitely turn your rug into a focal point and help ground your bedroom.
Simple and pleasing
For those who want to create their own oasis of relaxation and calmness, the classic white, jute, or wool rug is a safe and strong choice. You can position it underneath the bed, where it brings tons of luxurious softness underfoot. Pair it with a dark plush bedspread for beautiful contrast and a pleasing look.
Pop of color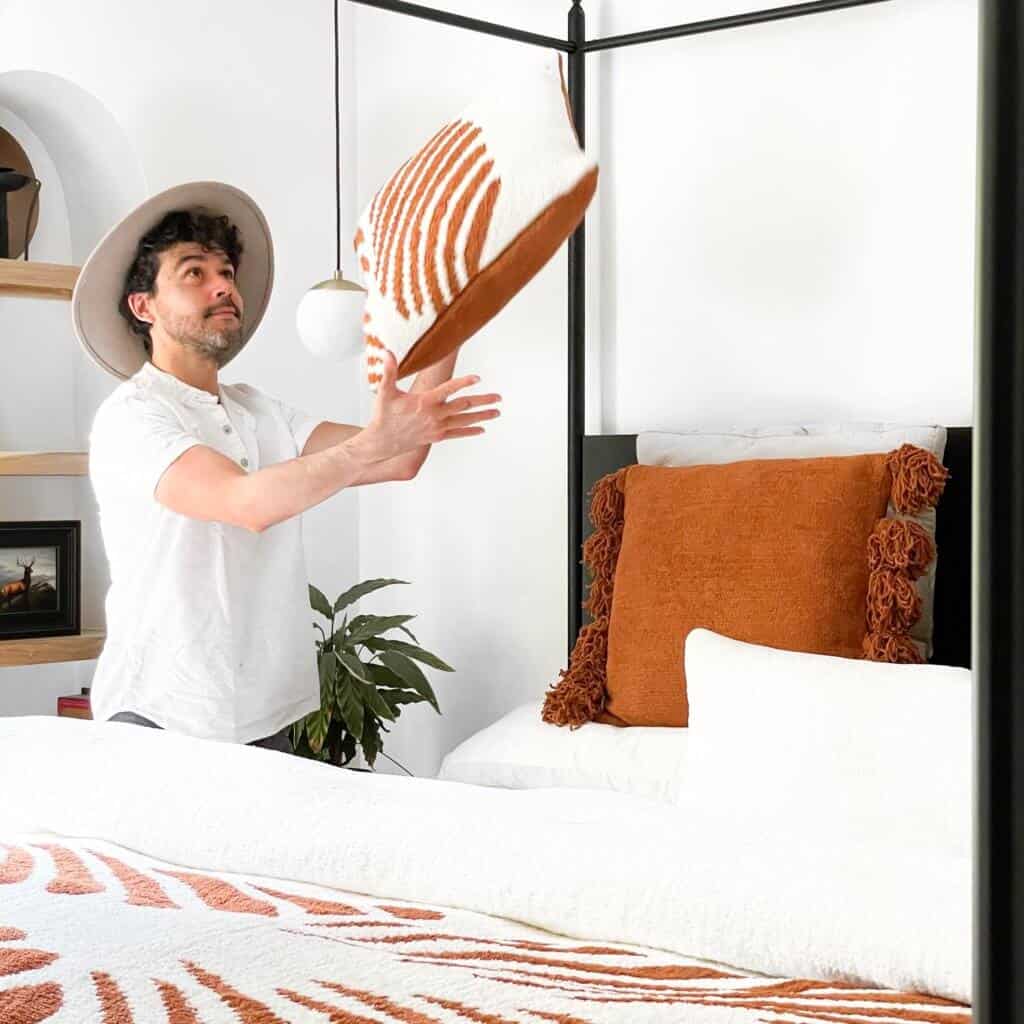 When you are playing with patterns and colors, you have to be careful about using them directly on the walls. Start confidently via great bedding, fabrics, furnishings, and of course, rugs. Here's how I style my bedding like a pro. Adding a colorful and vibrant rug can liven up your bedroom, especially if it has a neutral scheme. Just be intentional about where the color is going, and make sure the palette speaks to each other.
Liven it up
If you have a contemporary bedroom, a big geometric patterned rug can be used to create a seating area. Modern bedrooms focus on sleek furniture and strong architectural lines. By adding a patterned rug, you can liven up the space and add some warmth to offset the sharp lines and more contrasty architectural details.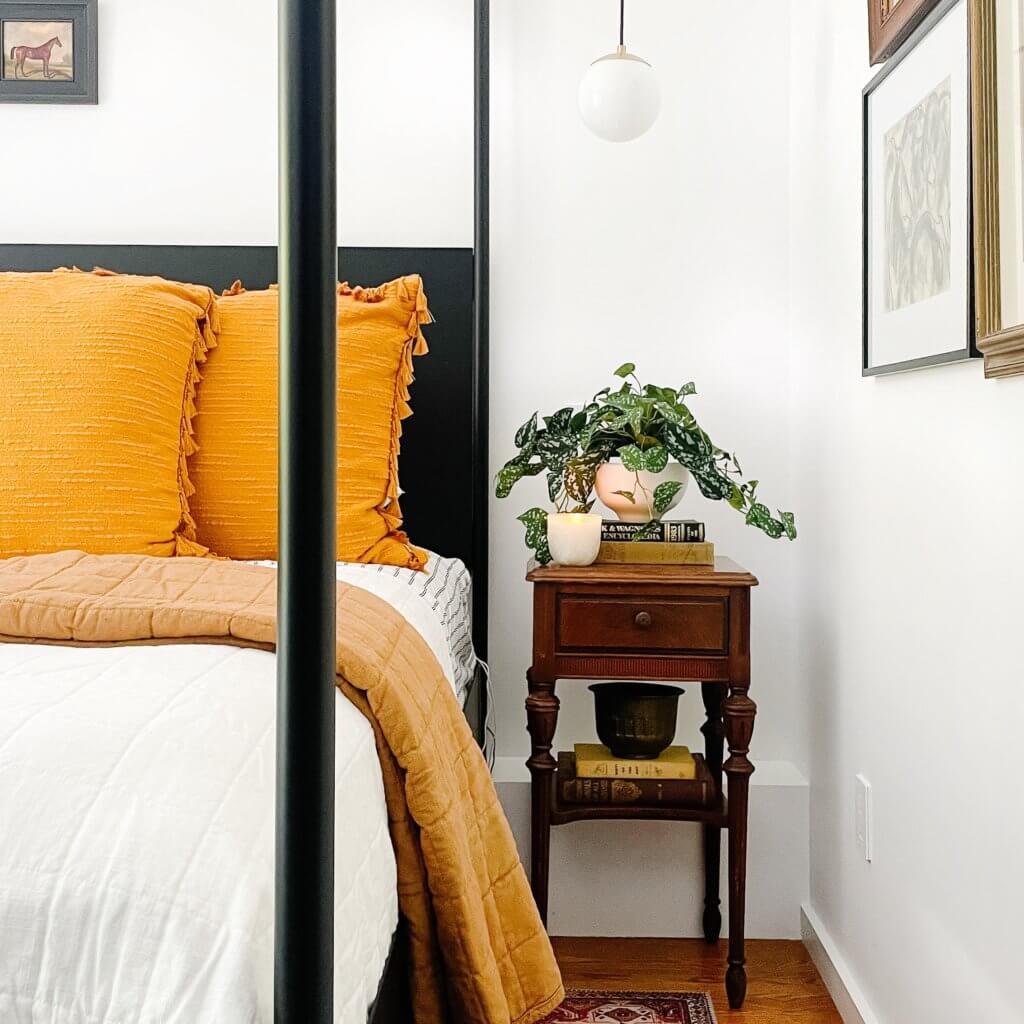 Questions to ask yourself before buying a bedroom rug
Finding the right rug for your bedroom is as much about the visual appeal as it is about its practicality. So, before you buy a bedroom rug or place an area rug in bedroom, here are some questions that you might want to ask yourself before making your purchase:
What is your lifestyle? Do you have children running around the house leaving messes and spills? Are there any pets in your home? If yes, then a white carpet might not be the safest option. Synthetic might be a stronger choice for the price, durability, and overall look.

What is your style? You need a rug that complements your bedroom's style. It doesn't have to match everything, but it should compliment and set the tone with the home furnishings (my home furnishings here,) and home styling accents.

Can you clean it easily? If you buy an expensive carpet, you will have to get it professionally cleaned at least every few years. Or you can be like me, and just rotate rugs in and out. Here are a few thoughts on why refreshing your rug often is a great idea.

What material will feel best underfoot? Natural fibers work best when you want a softer feel. Synthetic fibers can give you a similar feel. Even though organic fibers can be soft, they often require a bit more maintenance than a synthetic rug. What's most important to you?

What is your budget? In the long run, a high-quality antique bedroom rug will be worth it, even if it costs a bit more. Don't tell anyone. But here is my favorite luxury rug source. The price is daunting, but their rugs are a knockout. However, if you change things up frequently, a less expensive area rug in bedroom will be the better choice.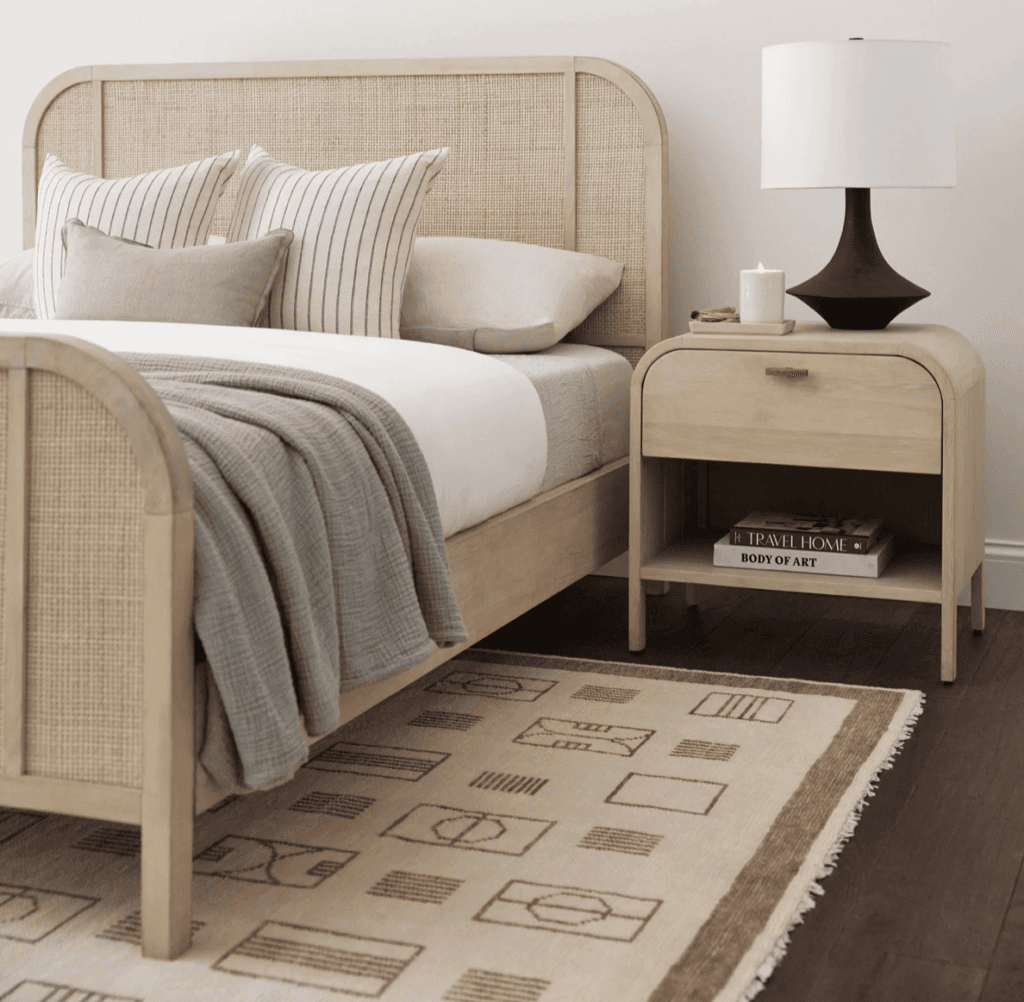 Commonly asked questions about bedroom rug ideas:
Where should a rug be placed in bedroom?
The most common location for a rug in a bedroom is partially underneath the bed. This helps to ground the room and create a sense of logic by grounding your biggest piece of furniture to a location as a focal point. Don't forget that if you have nightstands on either side of the bed that the most aesthetically pleasing way to position that nightstand is either fully on the rug or have the front legs resting just on them. I prefer for the rug to just kiss the front two legs of the nightstand and have the bed rest all four legs on the rug if possible. This has the least amount of visual tension
What kind of area rug in bedroom is best?
Great news here rug placement in bedroom is easy. Because bedrooms are less trafficked, and often a more private space in one home, you can be a little more adventurous with the material of the rug and go with something extra soft, and plush that might not withstand the wear and tear of a high-trafficked room like the living space or kitchen. So, go for it! I love jute or wool rug that has a nice plush and high pile. Don't forget to have some contrast with your rug and bedding or wall color. You don't want it all to fall flat!
Should you put a rug in bedroom?
Often the answer in interior design, is it depends. But, in this case. The answer is one hundred percent yes! A rug is critical to a space feeling complete and grounded. Of course, the added comfort is a bonus, but from a design perspective, I never style a space without a good rug. If you have carpet, I still insist. Define that space and make your room a wow!
How do you layout a bedroom with a rug?
There are many options. But choose a rug that is large enough to cover the room wall to wall and then shrink it down 1 to 2 feet. Keep it centered and adjusted based on your bed size and placement. Then, lay it perpendicular to the bed and slide it underneath. Next, stop the rug about 3/4 of the way under and just before the legs of your nightstands. This is my preferred look. You can also just place the front two legs of the nightstands on the rug for another safe bet. Don't forget, if you don't have a big enough rug or budget, you can opt to place two runners on either side of the bed, parallel to the bed but not underneath. This works great in small spaces. You got this!
Will and 8×10 rug fit under a king size bed?
Yes! but the ideal rug size for a king bed is 9 x12. However, an 8 x 10 rug will absolutely work. The caveat? It should only cover the bottom half of the bed. If you try to have it go underrate all of the king-size bed you will lose it under the bed frame.
Should your area rug in bedroom match your bedding?
I suggest that the colors of the rug and bedding speak to one another. But I don't encourage the colors to be exactly the same. You want some variance in color and pattern. Be sure to have your accent throw pillows and bedroom art be cohesive as well. Want a wow factor? Pull your punchiest color from your rug and make it a primary color in your bedding of choice, throw pillows on your bed. Watch your bed pop!
What do you put a rug under a bed?
Placing a rug under a bed not only adds comfort, but in the end, it acts as the foundation to the space helping the room feel complete and finished. Add that layer of dimension and completeness. Rooms without rugs just don't shine as bright.
Does a rug have to be centered under a bed?
Answering how to position area rug in a bedroom doesn't have to be a challenge. As a general rule of thumb try to have the rug extend out from the sides and foot of the bed by at least 12 to 19 inches if possible and place the headboard legs on it firmly.
Conclusion
Rug placement in bedroom can be done easily while keeping a few tips in mind. There are lots of things to consider when it comes to a rug in bedroom ideas. You want to take a moment and consider the materials that will suit your space. In addition, think long and hard about the size of the reg you need in your bedroom to accommodate your bed. There are lots of common-size rugs that pair perfectly with king and queen-sized beds. Or even the Alaskan king-size bed. In the end, a rug is a must in a bedroom. It just feels complete and grounded this way. If you need some great affordable rug options I would head here. Don't forget to place your rug strategically and have it speak well to the space of the entire room, but don't get too matchy.
I hope that this guide helps you decide what the ideal rug for your bedroom is. .Just remember that there are no wrong answers here, except not getting a rug! When it comes to rug in bedroom, your personal style and comfort should be the priority. Go for it, and let me know what tugs you use in your bedrooms in the comments below.