Elegant and dating back to royalty, the four poster bed is a dramatic flair that can add to your bedroom interior design while being functional at the same time. These beds feature four vertical columns at each end of the bed, often supporting an upper rectangular panel. Fabrics like thick or thin curtains can be hung around the bed column for drama. The panel normally has rails to pull curtains around the bed space as well. Or if you are like me, I keep my four poster bed king size exposed for a more modern and sleek look. Both uses are gorgeous even in a small space.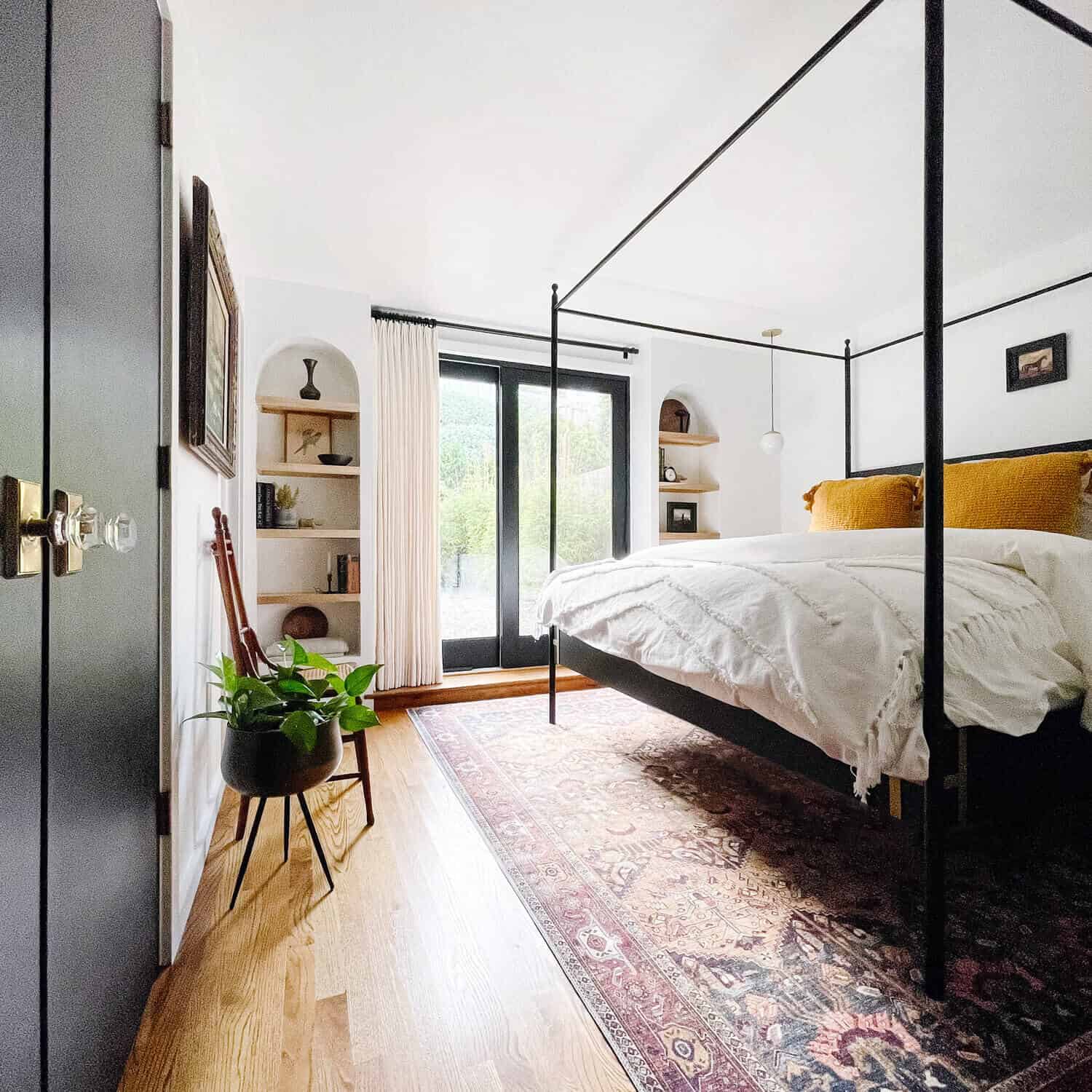 A four poster bed is typically used in large rooms where their owners stayed in the same place all year with kings and queens. The design also allowed for greater privacy when people lived in close quarters often a few people in the same room or had attendants who would be mulling about.
But wait, doesn't a four-poster bed require a room with high ceilings? As most of you know I only have 8 Ft. ceilings. So, why did I choose to go with a four-poster bed even with 8ft ceilings and a gorgeous rug? Believe it or not, they work well even in small spaces with a low ceiling and can do a ton to enhance the feeling of the room being taller or bigger. Shocked? I know. Read on for my top 10 reasons to choose a four-poster bed in your home.

They can make your room feel bigger

A four poster bed is supposed to be used in big rooms if we take a look at their historical usage. I only have 8 ft ceilings. Not high I know. But adding the right four-poster bed can end up making your room feel a lot bigger than it is. They raise their eye and lift your bed off the ground. This makes your room feel more spacious. This is why they're the perfect solution for me even though I've only got 8ft ceilings and barely enough room for an 8×10 rug. For those wondering, each post ends just 2 inches below my ceiling, but it feels like they reach the heavens. My room feels massive!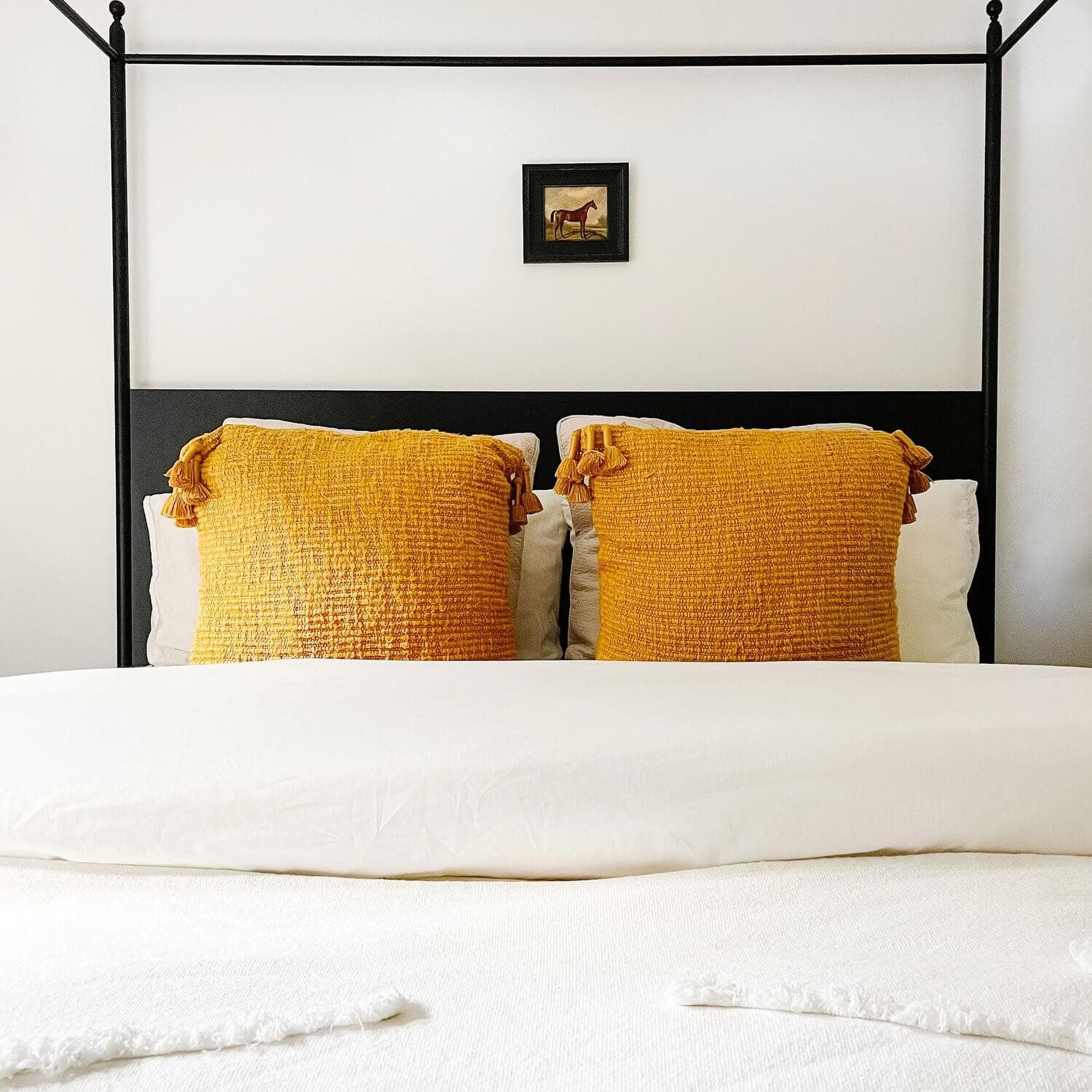 Four poster bed can offer extra privacy
Whether it is your mid-century modern interiors or contemporary interior design, we can all agree that interiors also need to be functional. Looking good isn't the only important thing. With a four-poster bed as part of my bedroom interior design, I can enjoy a lot more privacy. by adding a drape or bolt of fabric. This can be especially helpful in households where space is tight.
Four poster beds can serve as a bold design statement
Four-poster beds look great! They're the perfect addition to your room when you're looking to add some drama and make a statement. The decorative design piece can help you feel like royalty. I know I certainly do every time I curl up for a long night's rest.
A four poster bed can help to regulate sleeping temperature
Four-poster beds also play a functional role in terms of temperature regulation. In the winter, I just have to drape a bolt of fabric and stay extra insulated from the San Francisco chill which saves on the heating bill. I can use lighter fabrics to stay warm while resting in my four-poster bed in summer. You will be able to do the same in any season by making the smallest adjustments to your four-poster bed. This will help you maintain the right temperature in your bedroom and stay comfortable. You may want to make sure you're not too comfortable though, it can start to be too cozy. You'll never want to leave.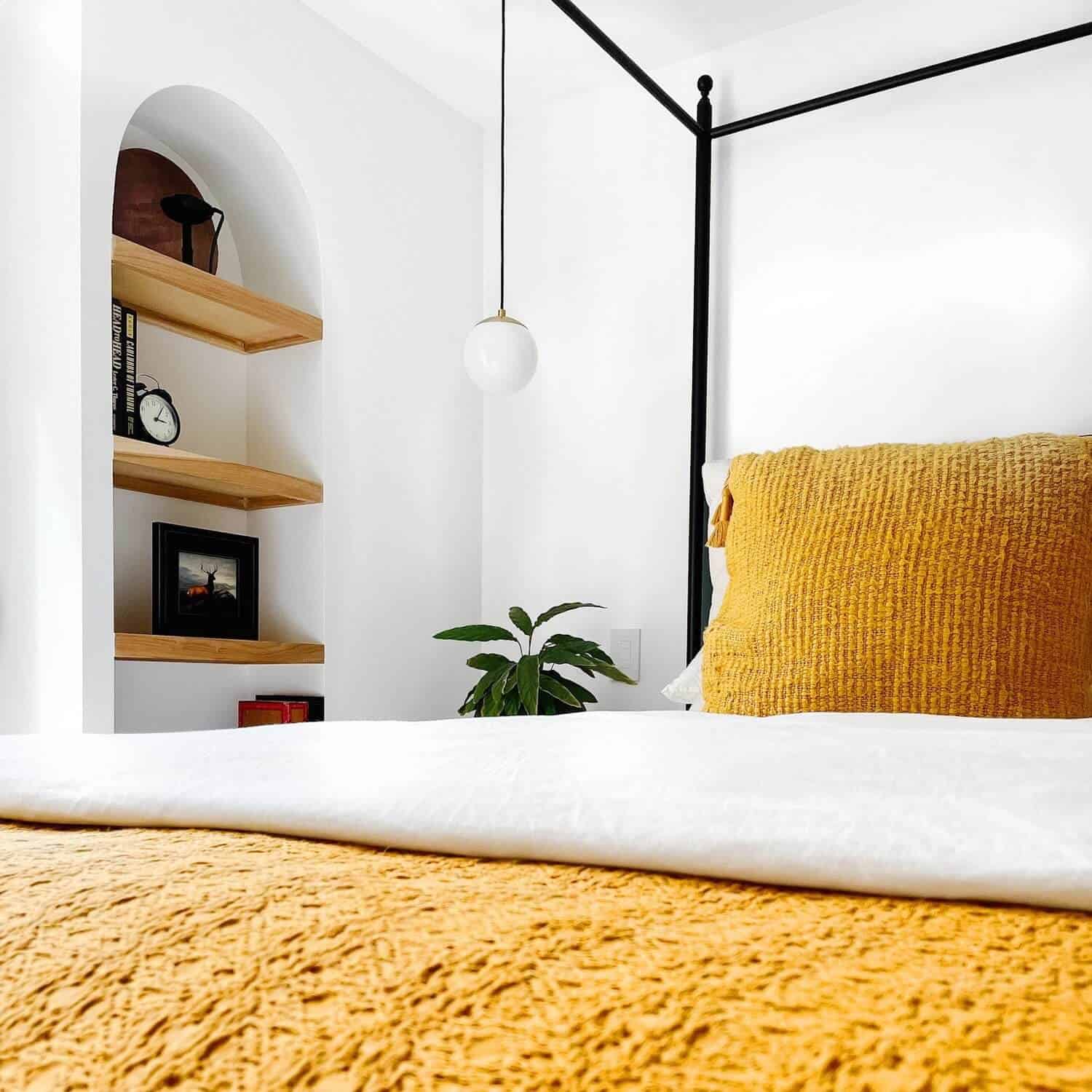 A four post bed works well with different interior design styles
While four-poster beds may date back to royalty, they pair well with different interior design styles including; modern classic, art deco, and even boho. You won't have to worry about whether the bed will be compatible with the other design elements much. Just go with a sleek black and no matter what overall look you're going for, you will be able to achieve a cohesive look using a four-poster bed.
I can attest to this because I find it convenient to mix and match old and new design elements in my home. If I can do it you can too!

A Four poster bed can be styled in countless ways
You can feel like you're sleeping in a new bed every time you change things up. Find the right combination of mattresses, bedsheets, toppers, pillows, and curtains to create a whole new look for your bed. When I'm tired of the same old look, I switch it up – four-poster beds can easily be dressed up or down in an instant. It's a total mood changer.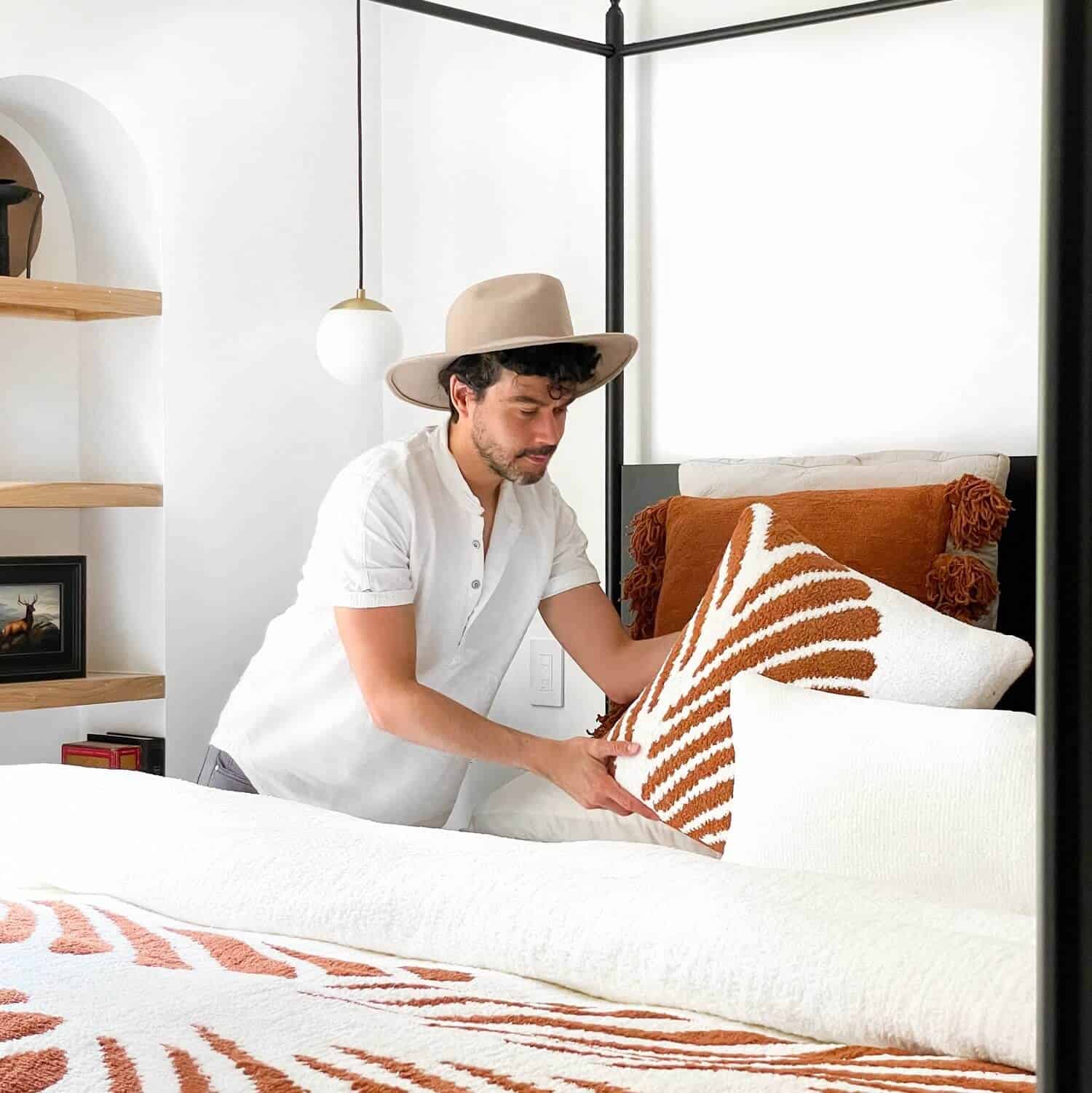 There are many ways to style a four post beds
Not all four-poster beds are the same. Some come with headboards, others have risers, bed rails, and more features. There are many options that you can consider as the perfect fit for your space. Whatever you do be sure to select a style and bedding you love. It will make the space sing.

This type of bed is both classic and contemporary
Four-poster beds may date back several centuries, but they are still beyond cool. They can easily add the confidence of a traditional touch, but with the proper styling can be fresh and new all over again. In the end, they are the best of both worlds. Go with a sleek iron like I did for a super posh look.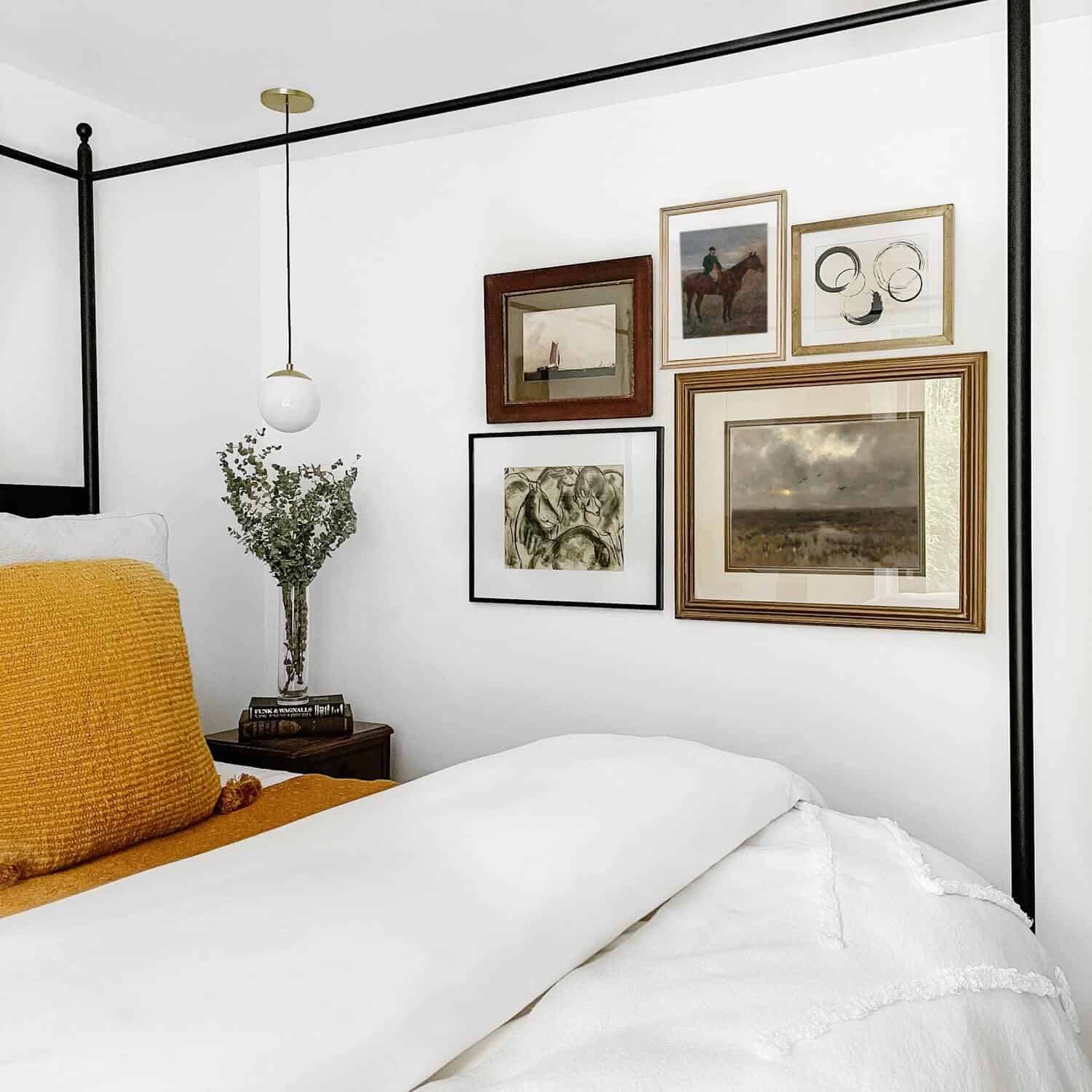 Anyone can enjoy this large bed
A Four poster bed isn't just for adults to feel like royalty. They're great for kids and even pets. After all, who wouldn't be fascinated by the hanging curtains and appearance of the bed? If you've got kids at home, they may end up not wanting to leave the bed. With dogs and cats, you may find them viewing the vertical posters as a challenge. Their fascination is certainly a plus point in my books, but I'll let you figure out if it's the same in yours.
Just make sure you clean the top of the posters and upper panel and change out your sheets often. This way, your bed won't end up gathering dust and you're good to go.