Hey ya'll! Another week in San Francisco and I've been starting my days off with my morning routine and ending them with some delicious wine and Pinterest. I checked out this incredible estate sale over the weekend and found some beautiful treasures for the (hopefully) future cabin that I am obsessed with! Does Antone else evert count their chickens before they hatch? Raises hand. Estate sales and thrift stores are some of my favorite ways to find home accents with vintage & antique vibes. What do you think of my new 16-piece bunny flatware set of mugs, plates, and saucers?
Last week, I shared a beautiful classy living room that had the perfect mix of a traditional design with a modern twist. It's the perfect living room to sip on a fancy cocktail and your favorite interior design coffee table book. read a good book. This week, we're moving into the kitchen.
Check out this joyful space! The mix of contemporary yet classic lines with vibrant splashes of color creates an inspired and functional kitchen that's just perfect for spending quality time in. It's the kind of spot where you'd want to hang out all day, whether you're cooking, eating, or just chilling with friends. I can't help but smile Shen I see this kitchen. I want to get more sophisticated with color and this space really got me thinking bigger and bolder. Want to create the look? Here's how:
Okay, first up, we have this single pendant light! It has a sleek bell-shaped design that's so modern and chic, yet it totally vibes with a cool retro style. It's just what you need over your kitchen island while cooking dinner to bring in that contemporary touch while keeping that awesome mid-century charm intact. Trust me, it's a match made in lighting heaven!
This yellow table lamp is one of my favorite finds! It's got this awesome modern vibe that instantly amps up any space. And the best part? The splash of yellow adds a pop of color that breathes life into the room and brings in that perfect touch of warmth and light. Check out more table lamps here!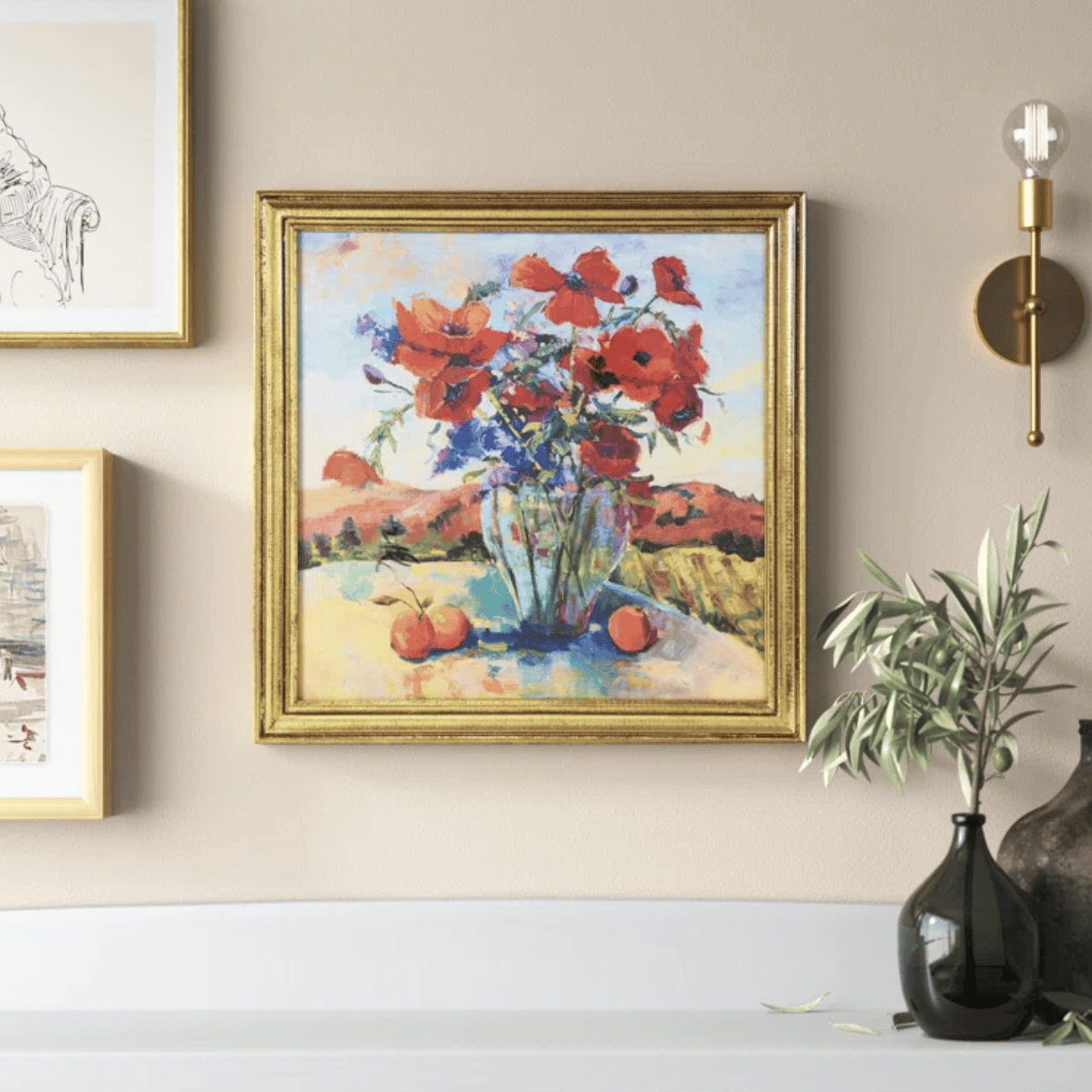 This floral wall art makes the perfect addition to your kitchen space. It comes with a stunning antique gold frame that adds a touch of elegance to the artwork. The way the beautiful floral hues blend together creates such a cohesive color scheme, making it the perfect wall art to tie the whole space together and infuse your kitchen with a charming and artistic vibe.
Check out these faux hydragea flowers! These would add such a sophisticated touch to any space. I can totally imagine them as the perfect table centerpiece, effortlessly elevating the ambiance and bringing a touch of elegance to any occasion. Want a real plant instead? Check out some of my favorite house plants here.
This blueberry double dresser is a total game-changer for your dining space! Not only does it offer ample storage to keep things organized, but its solid wood construction ensures it's built to last. It's both functional and beautiful – the perfect addition to complete your dining space!

You'll absolutely love this solid wood stool with its cool retro vibes! Its simple yet stylish design makes it incredibly versatile. Whether you need a spot to showcase your favorite plants or some extra seating at the countertop, this stool is the perfect solution.
This blue glass vase is an absolute stunner and the ultimate centerpiece for your table or countertop! Not only does it perfectly complement any floral arrangement you put in it, but the serene blue color infuses the room with a breath of fresh air and adds that much-needed pop of life. Add it to your kitchen shelving and voila!
This area rug is a game-changer for your dining space! It's natural driftwood color adds a rustic touch without overwhelming the room's color palette. It's also perfect for placing under your dining table since it's washable and it ensures easy cleaning and lets your other decorations stand out! Find a matching runner rug here!
Next up is this beautiful dining table that has a timeless oak grain and a modern design. It has a sophisticated and modern feel with just a touch of warmth for your space. The perfect place to gather everyone and eat your delicious meals.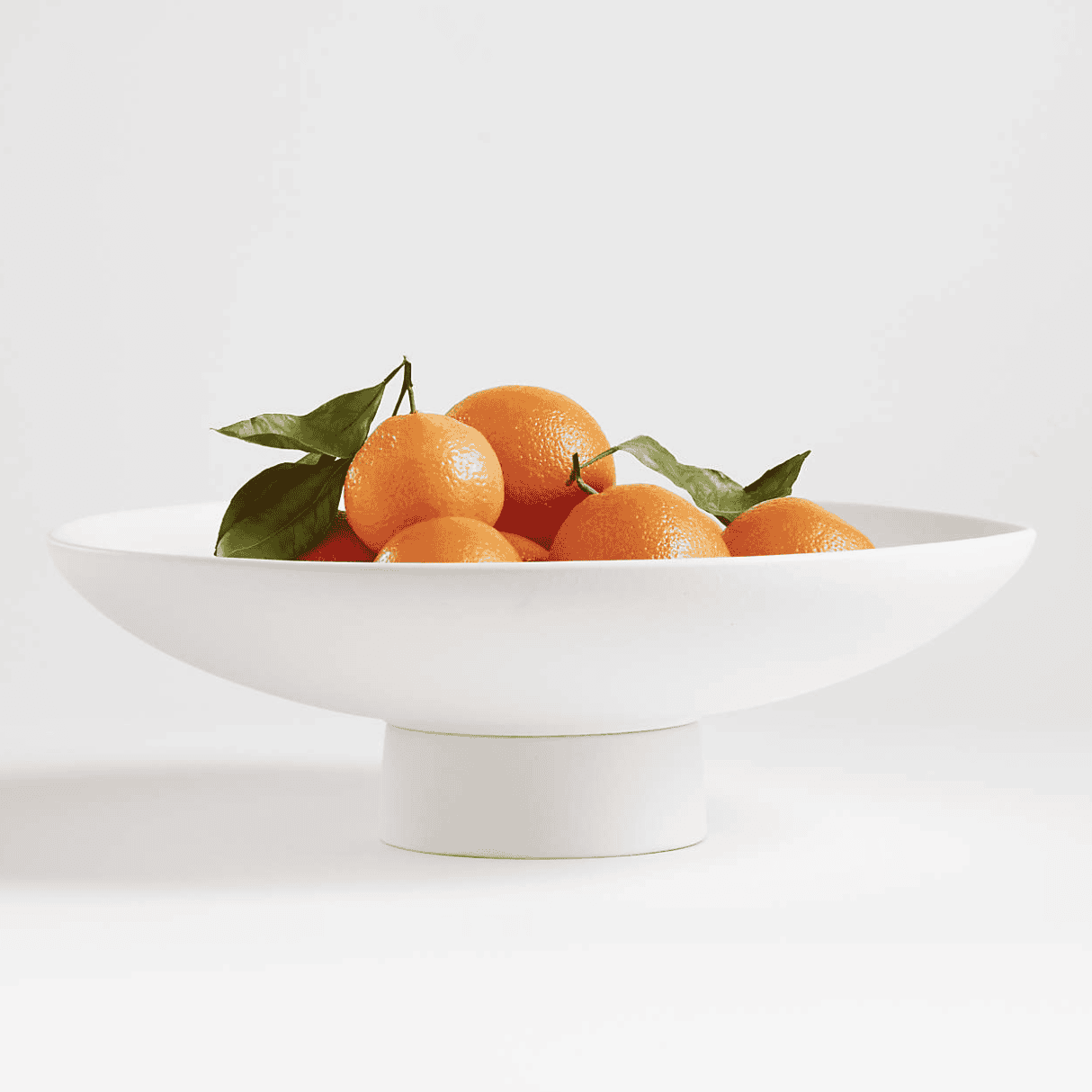 You'll love this multifunctional footed white bowl! Crafted from beautiful earthenware and glazed in a modern white finish, it's an elegant addition to your kitchen. Not only does it create a stylish display for your vibrant fruits, but it also doubles as a versatile organizer for your kitchen essentials. Add it to your styled table!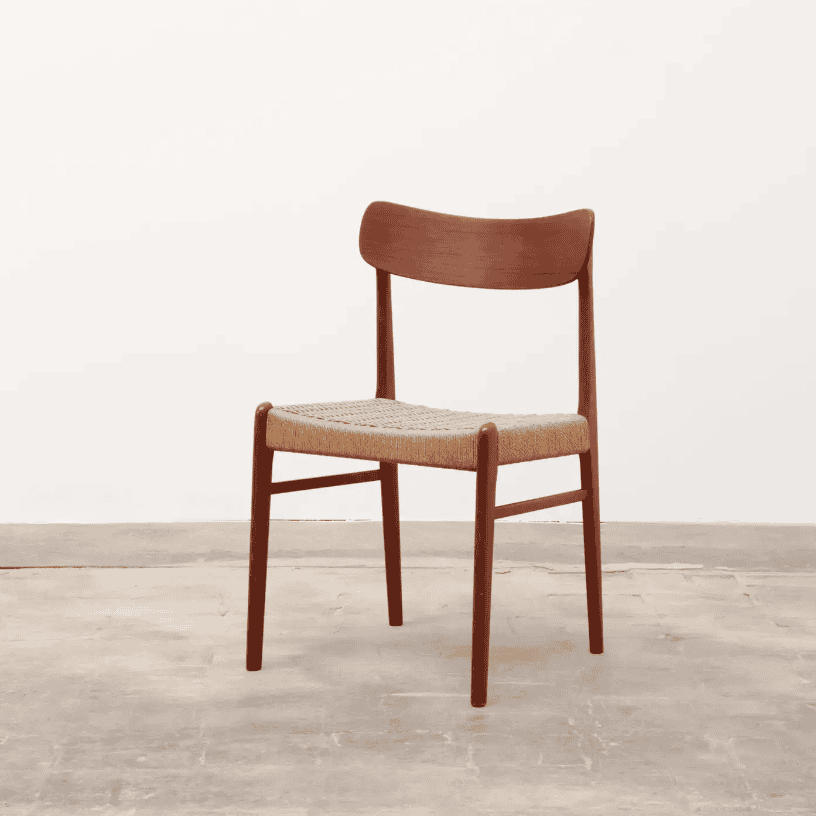 Last up, we have this 1960s vintage chair with a Danish design. The teak color and warm brown wood exude a timeless elegance, adding a touch of subtle color and a natural aesthetic to your dining table. It's like bringing a piece of history right into your home. Want to find more vintage treasures? Check out these thrifting tricks!
Okay, are you obsessed with the color in this room as much as I am!? It's the complete opposite of a moody vibe, but I'm here for it. Let me know your thoughts and always feel free to reach out to me with any questions! xoxo