While the front door gives the outside world an idea of what the rest of your home might look like, your chance to impress doesn't come around until a guest takes their first step into your home.
I don't know about you guys, but when I have friends over to my home, I always try my best to give them a warm welcome and—for first-time visitors—a really great first impression. The easiest way to do this? By sprucing up your home's entryway. After all, it will be their introduction to who you are and what your home is about.
A quick search online will provide plenty of entryway decor ideas, but today I wanted to share some of my unique entryway ideas with your guys as well as show you some of the latest additions to my home thanks to some affordable finds from my friends at Target. Target thank you Target for sporting this post!

Keep reading to see what I've found, along with some tips & tricks you can try out yourself!
Outline the Design
First things first: The easiest way to get a cohesive entryway design is to start with a color story, You can hint at this color scheme from the outside by painting for your door, using accents pieces like a custom door knocker or even brass door handles, but it doesn't have to match your exterior color scheme exactly.
Alternatively, you may decide to start with a more neutral color as your base and add color later on using decor. If you choose this route, I recommend using this white paint for a solid foundation that you can layer in texture and colors with ease.
Once you've decided on a color scheme, you can start thinking about additional factors like entryway furniture, lighting, decor, and storage solutions.
At this point, you can start making a list of all of the things you think you might want to add later on. It's easy to go overboard with ideas so before you get distracted in the aisles, I suggest that you write down your musts and in the order of importance. For an entryway I like to have the following:
Floating shelf or coat hooks
Small table to zone the space clearly
Tray for loose change and keys
Mirror to check yourself out one last time
Chair or bench to take your shoes off/on
Vintage-inspired art for a focal point
Shoe rack or space to place shoes
Umbrella holder
Plants or Vases with greenery to soften the look
Adorn & Arrange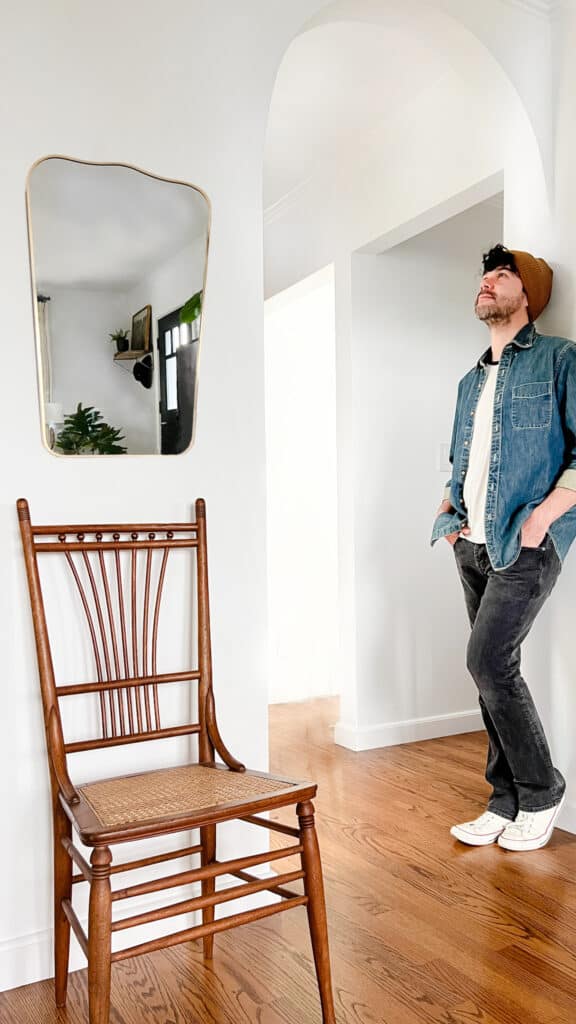 Okay, now that we have a color scheme and our list of must-have items – it's the fun part! Let's start sourcing. Here are a few entryway ideas and Target finds that I just fell in love with and why they are great.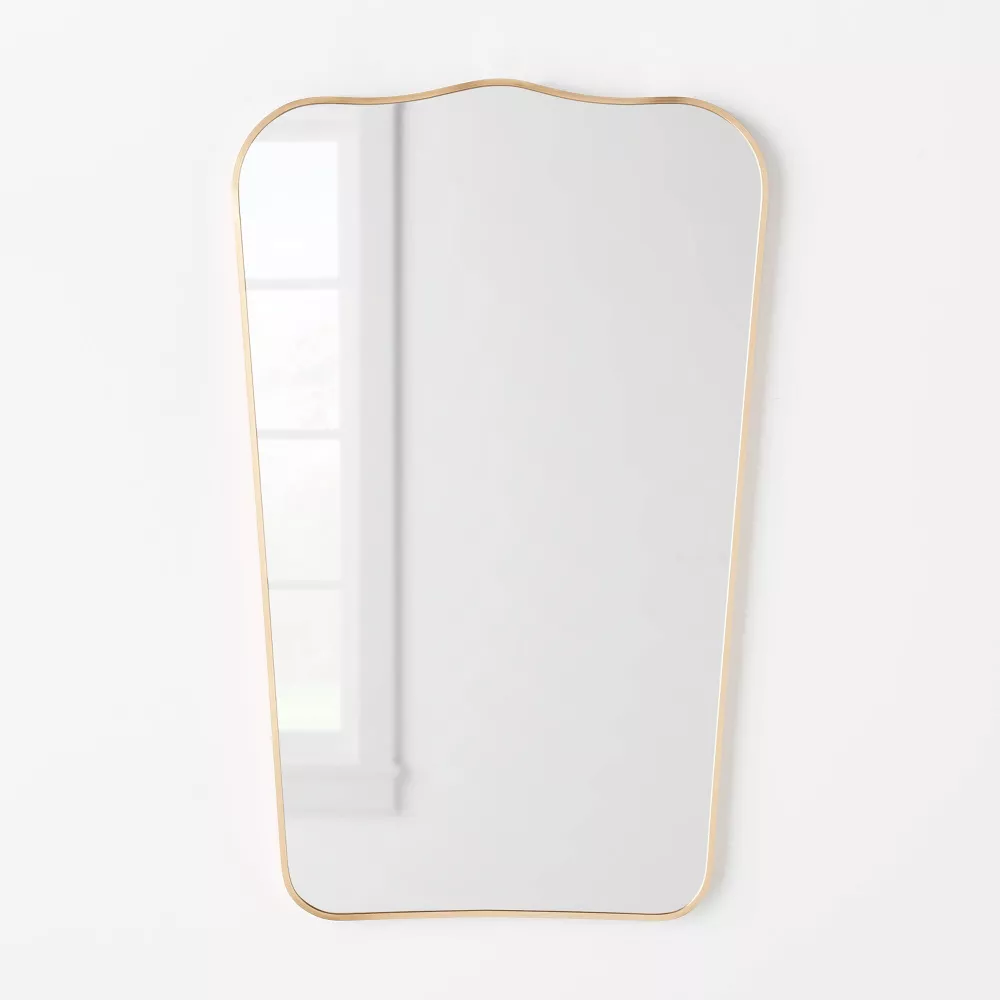 First up is this beautifully curved gold (brass-inspired) mirror. As you can see, it only takes up a little less than half the height of the wall, but it pairs perfectly with the vintage chair I've placed below it. I love to mix old and new like this. I hope you will try it too. Just wait til' you see the price. It's such a deal.
Putting a mirror in your entrance hall is a great idea if you can swing it. A mirror always makes a good focal point—and helps a face feel both brighter and bigger.
Of course, a mirror is also practical, as you can easily double-check your look on your way out the door.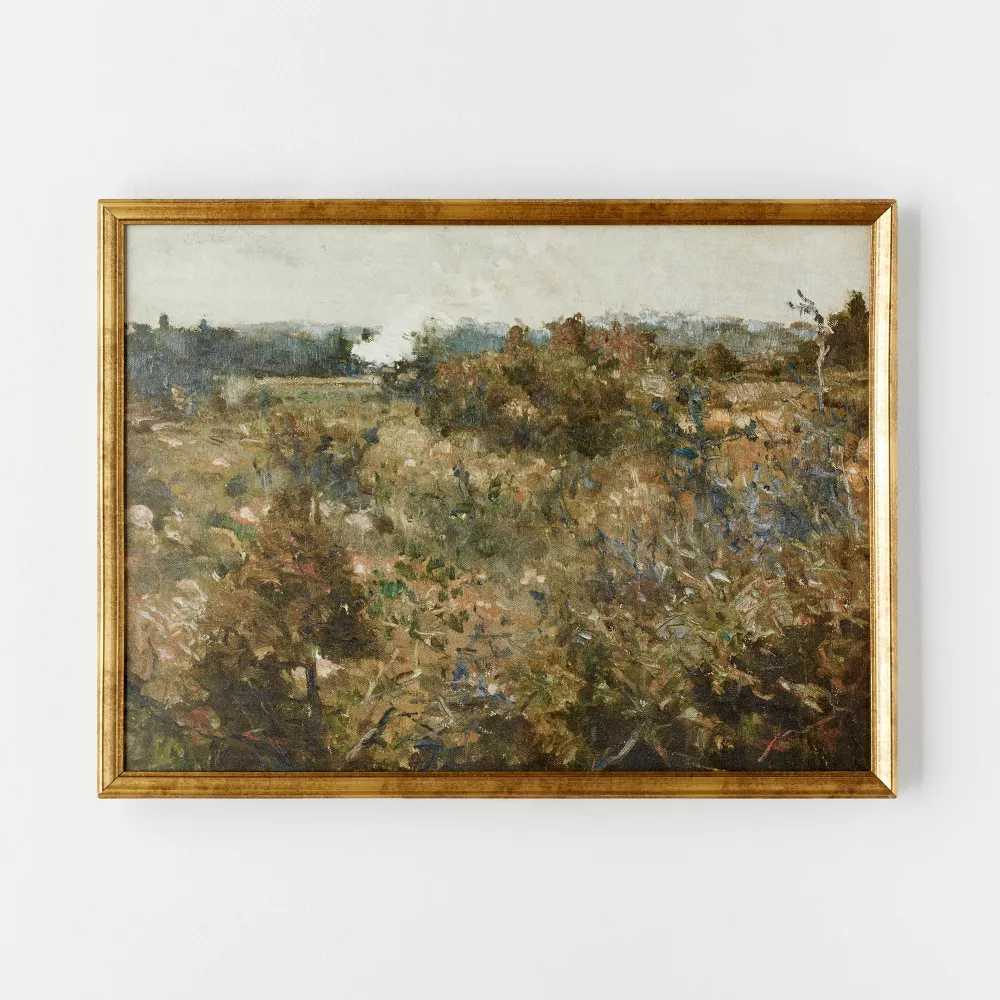 As you guys know, I love wall art (just check out my post on creating your own gallery wall. However, as the entryway is typically a smaller space, you may not want to cram too many pieces into the space.
You might be better served, like I was, by opting for a single piece of affordable wall art like this stunning framed vintage-inspired canvas. It's so gorgeous, I even bought a few extras for my friends. Smaller pieces of art can complement the overall design of the space, giving a "layered lived-in" feeling without overshadowing everything else.
Plus, you'll have plenty of wall decor options to choose from, making it easy to match any theme or color scheme you have going on.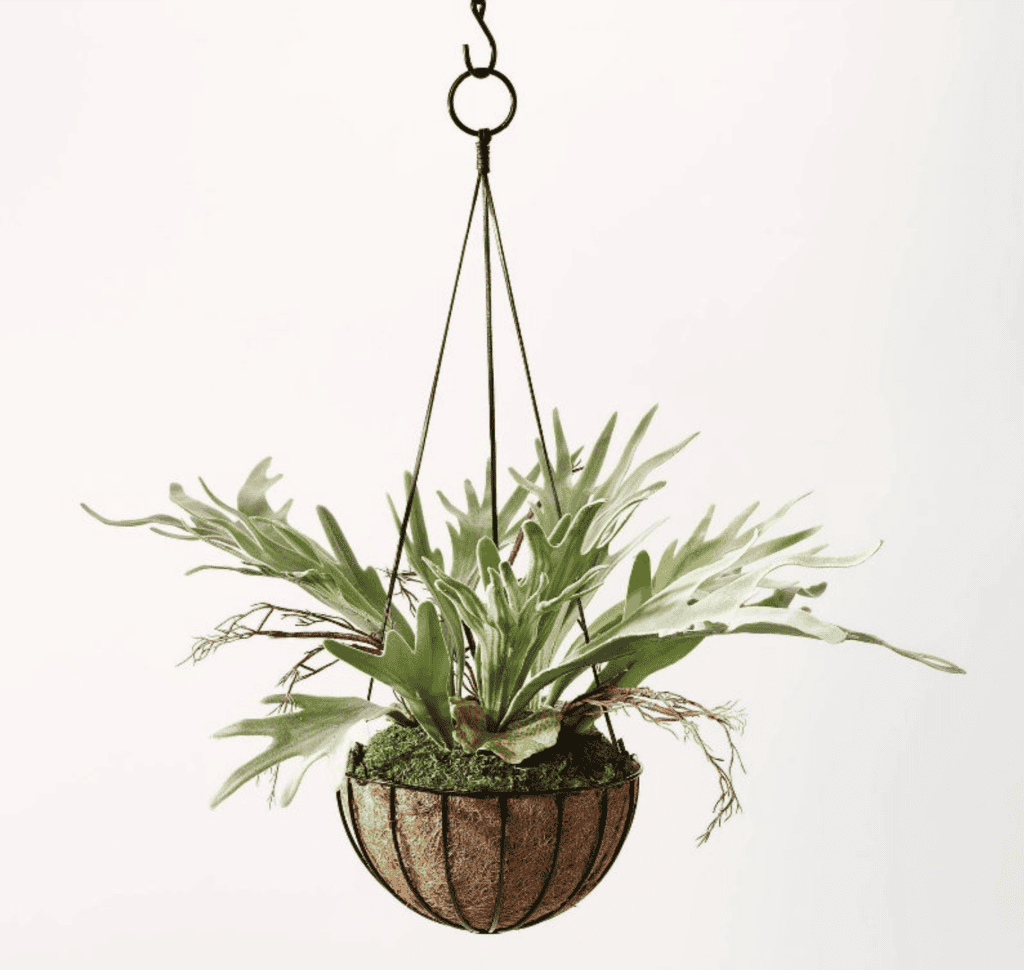 If you have a headroom and want to make a truly stunning entryway, then you may want to consider adding hanging plants to your list of potential entryway ideas. After all, plants are a must for a good design IMHO.
After a bit of searching around, I went head over heels for this faux hanging staghorn that—in my opinion—looks so real. True, you could go with a living plant, but faux plants don't require any maintenance making them a dream for some people. Interested in creating your own mounted staghorn fern wall? Check out my post on how to mount and maintain your very own staghorn fern.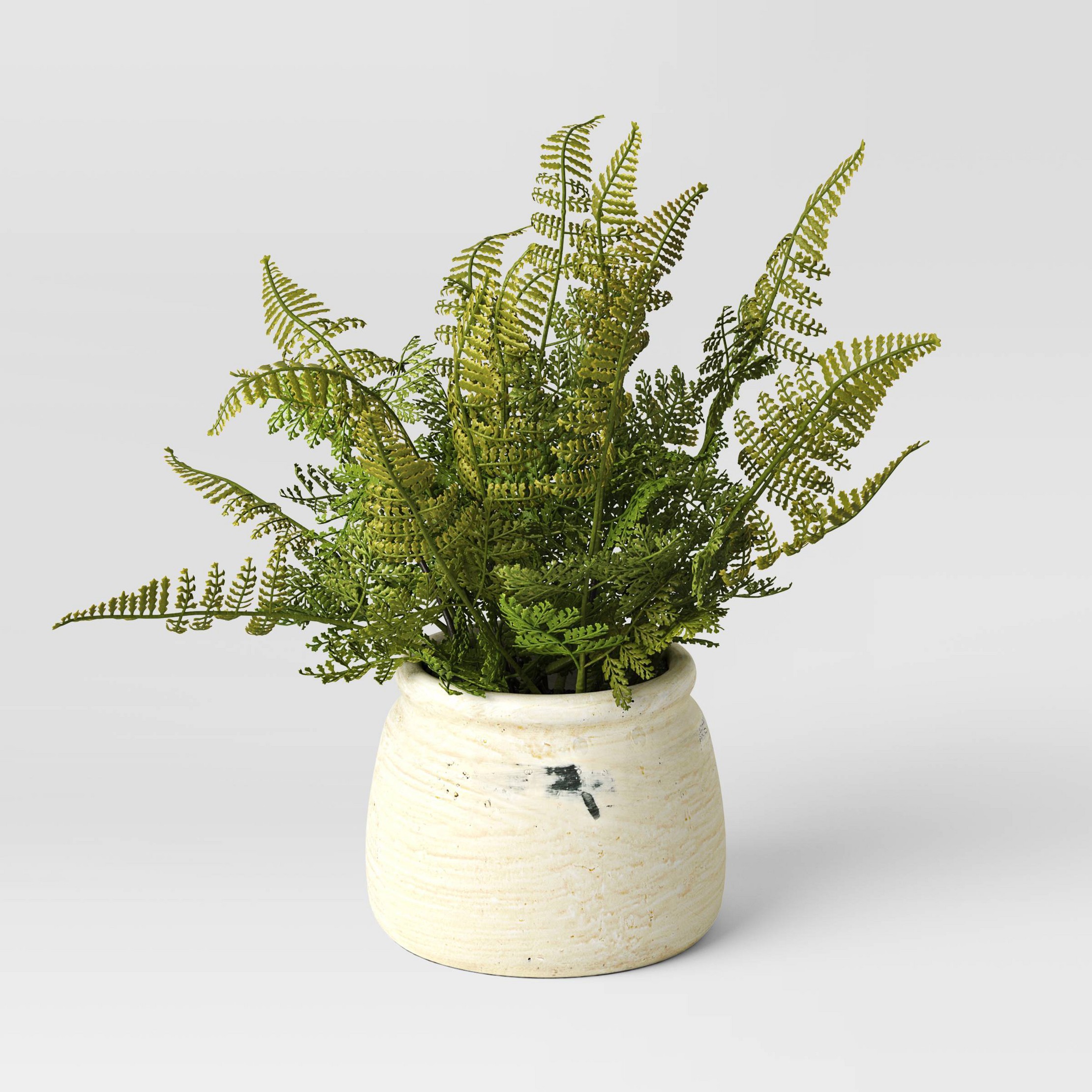 Okay, not into Staghorns? I don't get it but I understand. Also, not every entryway will be a good match for hanging plants. This is especially true if the only place to hang your plant obstructs the light fixture or windows. Fortunately, you don't have to go big or go home: smaller plants are also an option.
This small faux fern makes for the perfect addition to any space and can be easily incorporated into small styling vignettes. You can place it next to the entry table, on the table itself, next to the door, or anywhere else your heart desires: the options are endless. I just layered it on the floating shelf, and in front of my art for a lux look.
Organization & Storage Solutions
A perfectly designed entryway isn't just about visual appeal. You have to consider practicality as well. Fortunately, there are plenty of storage solutions you can buy that will complement the overall design while giving you space to store small items and big items alike.
Since you'll be going in and out of your home on a regular basis, one of the primary goals should be to have an orderly place to hang your coats, hats, keys, and other outdoor accessories. If you have a dedicated coat closet then this problem is already solved. However, for those who don't, here's what I did.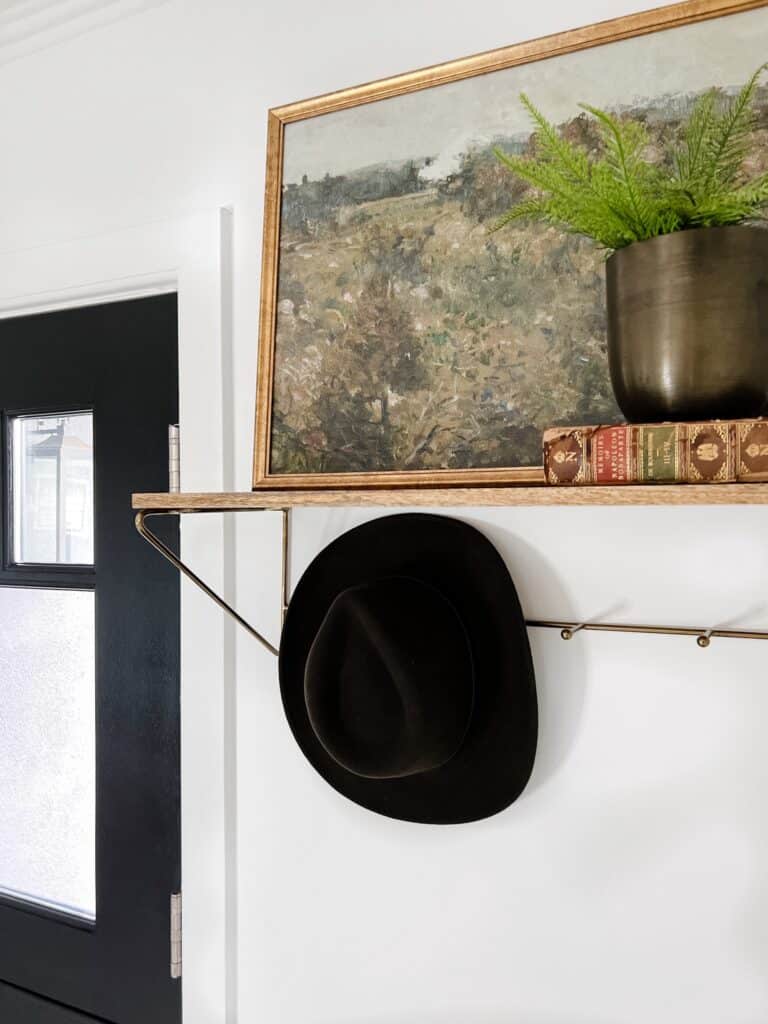 This beautiful floating shelf comes complete with wall hooks, perfect for hanging coats, hats, bags, and other items near your door. While it won't be able to hold as much as a dedicated coat rack, the shelf has the advantage of saving you valuable floor space better spent elsewhere. Plus the price is amazing!
Of course, you can also place a few decorations on top of the shelf – like I did to make it all come together. I love having a shelf as it's an elegant solution for placing your loose items
Shoe Storage
Shoes are another thing you'll want to have a dedicated space for. After all, who wants to have dirt spread throughout their house!? Right near the door is the perfect place to put a shoe rack.
These are offered in a wide variety of sizes, shapes, and styles, so it shouldn't be very hard to find one that perfectly matches with your home's current aesthetic.
I'd put some thought into it though. You need to find the perfect balance between having enough storage space and leaving enough floor space. You can also line up your shoes nearly under a floating shelf as I did. Because you are creating a zone, they won't feel cluttered like they would if you just placed shoes on the floor randomly.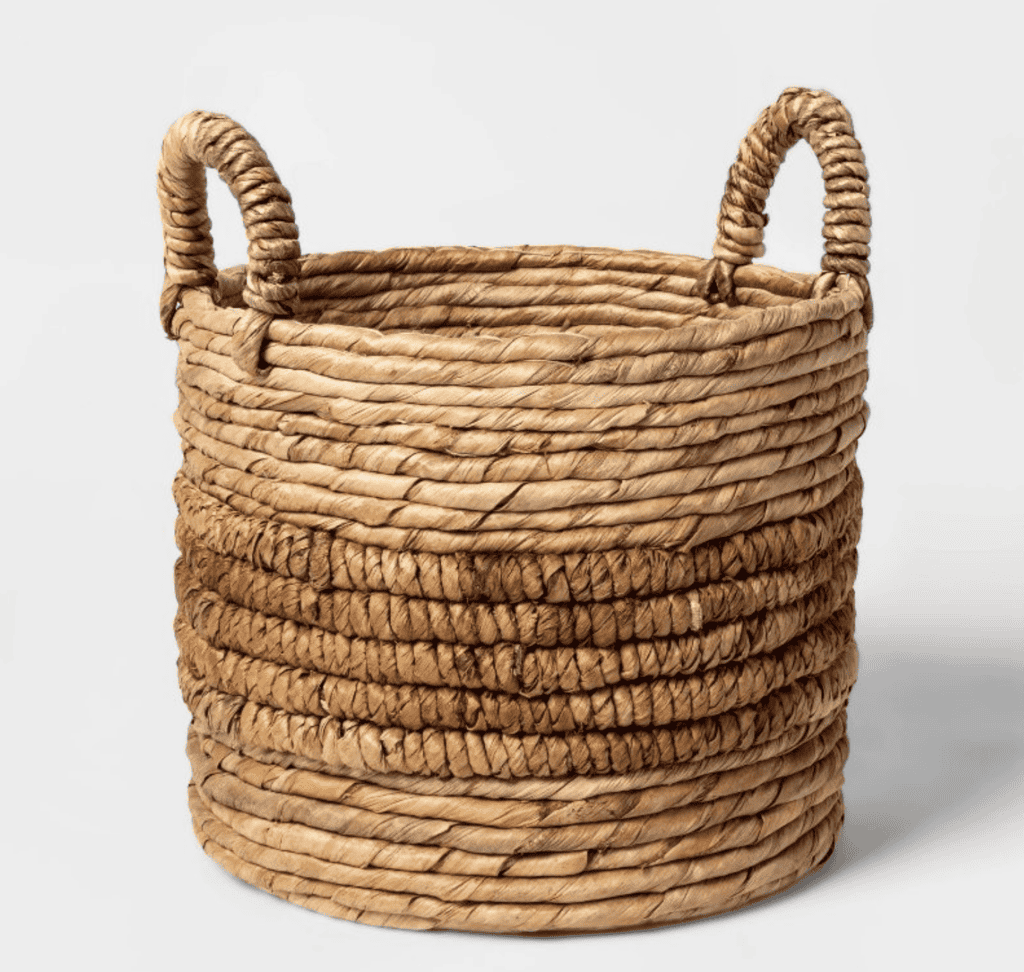 Purchasing an entryway bench is a storage solution that can kill two birds with one stone. Depending on the bench you purchase, this new addition to your home could offer both storage space AND a place to sit while taking your shoes off!
If you need more storage—or just want a place to display some smaller pieces—then picking up an entryway table is worth considering. Like most other things on this list, they're available in a variety of different sizes, making them easy to match your space.
Lastly, for items that need to be kept nearby but don't have the visual appeal you're looking for, you can pick up some storage baskets. These are perfect for extra coats, scarves, gloves, winter hats, and other pieces of cold-weather clothing. You can really pile things in here quick.
Let There Be Light!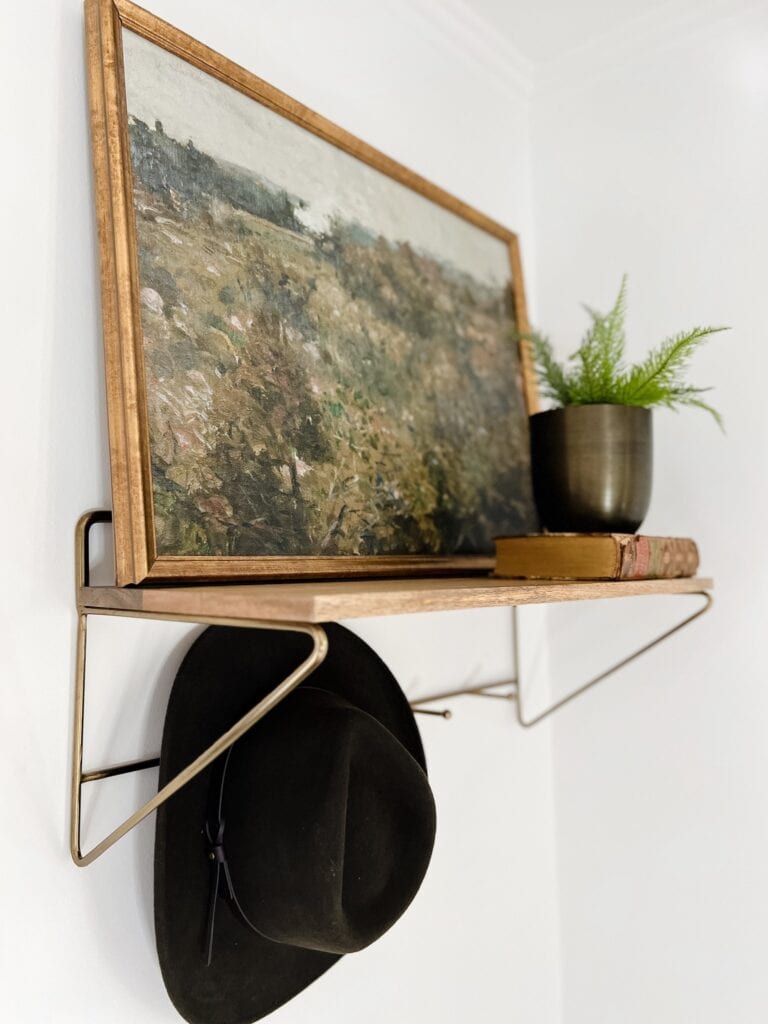 There's one more thing you'll need to keep in mind while pondering over potential entryway ideas: the lighting! Without the proper lighting, even the most perfectly curated arrangement of entryway decor will fail to live up to its potential.
Worse yet, poor lighting makes it hard to find what you need quickly, which can pose an issue if you're in a hurry. However, getting the lighting just right isn't too hard. And the best part? You have plenty of options!
Personally, I prefer natural light when possible. However, once nighttime rolls around, you'll need a bright light of your own to shine throughout the space. Fortunately, most homes already have built-in lighting around the entryway.
This might work just fine, but you could always upgrade your current lighting with a new bulb or even a chandelier if you have the space. If not, you have two other options to consider: a table lamp or a floor lamp.
Table lamps are great because you can place them on any flat surface. They're small, take up minimal space, and usually let you switch out the bulbs (which is important if you're going for a specific K value!).
That said, table lamps are usually only designed to illuminate a small area, so finding one bright enough for your entire entranceway may pose a challenge. For that reason, I recommend going with a floor lamp instead if possible!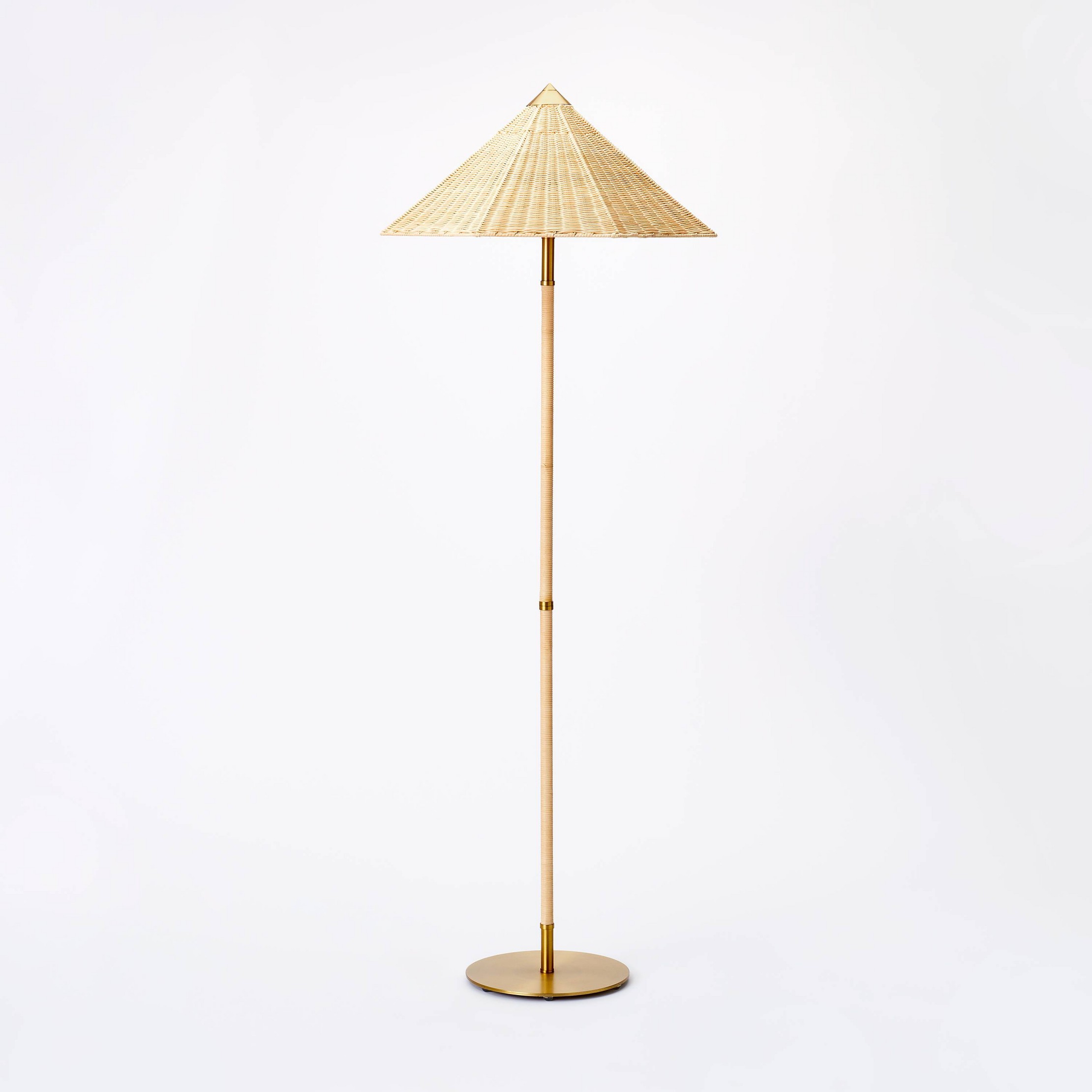 This lamp is a great option (should you have the space)! Requiring only a single LED bulb and equipped with a 6 ft. cord, this lamp can easily light up your entryway.
The Rattan shade keeps it from blinding you when you're standing right next to it, but it still manages to supply ample lighting to the area.
If you really want to go all out, consider hooking it up to a smart plug for voice-activated brightness!
Something Extra I Picked Up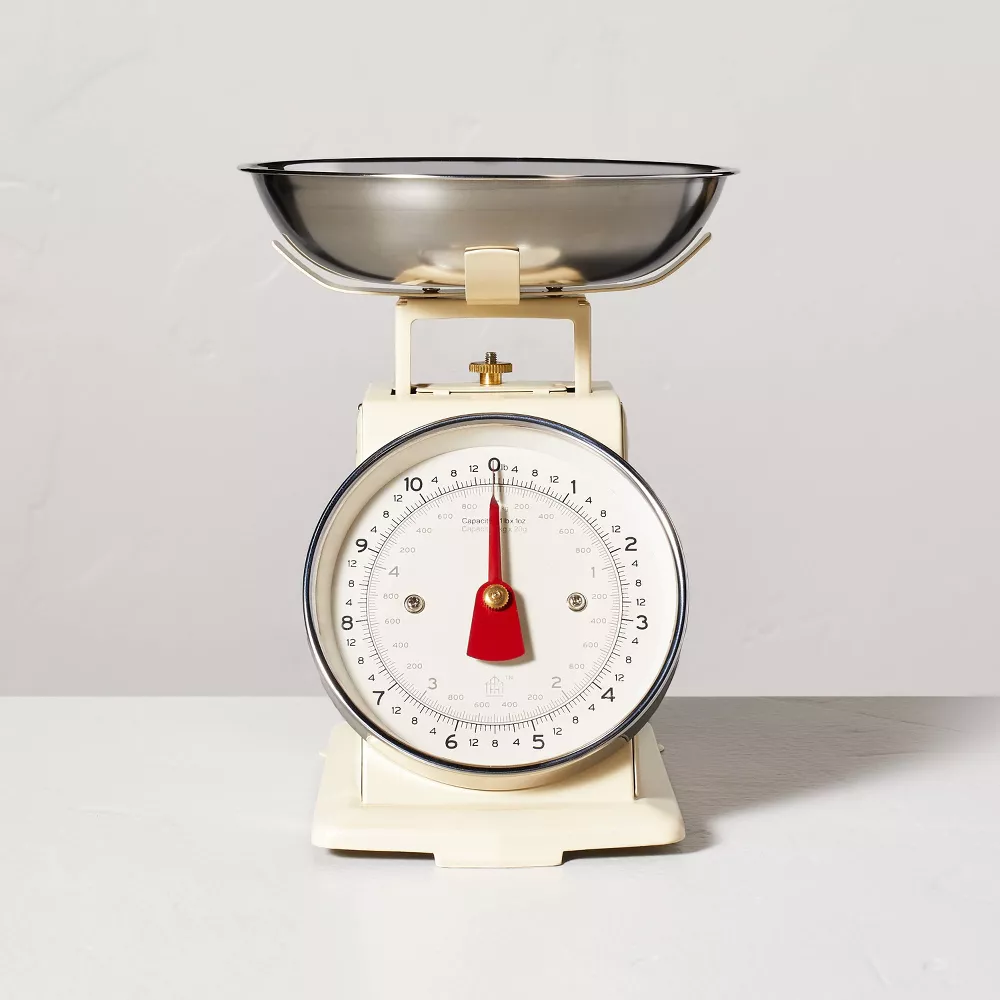 This isn't really related, but it's something I picked up on my latest target shopping spree: a kitchen scale!
I just love the minimalist, classic look of this Ivory Kitchen Scale. Don't get me wrong; digital stuff can be great too. However, I think there's still a place for manual machines in this day and age (especially when it comes to achieving the perfect aesthetic!).
Whether you need to measure using metric or imperial units, the 11 lb.-max should be more than enough for you to make all of your favorite home-cooked meals – like my homemade Hamburger Helper recipe.
Find Any Inspirational Entryway Ideas?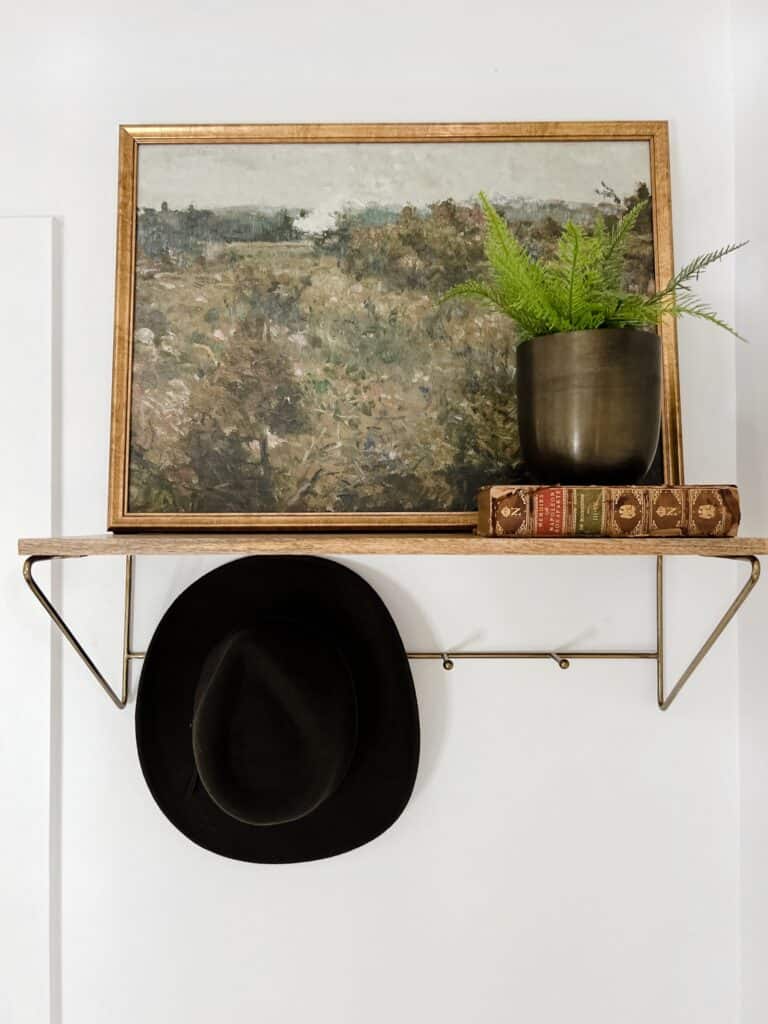 Just beyond the front door of your home is the perfect place to make the best first impression on any new guests or visitors. Once they take their first step into your place—whether you have a narrow entryway or an open area—you can instantly "wow" them with the beautiful arrangement that waits inside! OF course, if you need a fast, affordable, and always gorgeous solution – Target is a great way to go.
I've kind of focused on the importance of mixing visual appeal with functionality, and I think that's a great way to sort through your potential entryway ideas. Hopefully, you've found a piece or two that will fit into your home out of the suggestions I've mentioned above.
So, find anything that caught your eye? If so, which items are you planning on picking up? Let me know in the comments below and don't forget to tell me about your own favorites as well. xoxoxo.