Sometimes ya' just need a round of delicious blackberry basil and thyme Gin mocktails. I love to whip up gorgeous drinks like this one for my friends and family, especially on a warm San Francisco afternoon.
I'm always happy to oblige because these Gin mocktails are gorgeously refreshing – bursting with sweet blackberries, citrus, and fresh herb essence. It's simply delicious – and all while not being too sweet or fussy. Plus, I just love carrying them around. They are too pretty not to.
The thing is, I love a fun gin cucumber mint cocktail. Gin-based drinks tend to be my "usual," when out and about. However, this easy gin mocktail takes the classic flavors and makes them brighter. All that and more helps make this drink perfect for summer, or spring. Although it's charmed all year round in San Francisco. As such, I have a good excuse for these gin mocktails any time of year.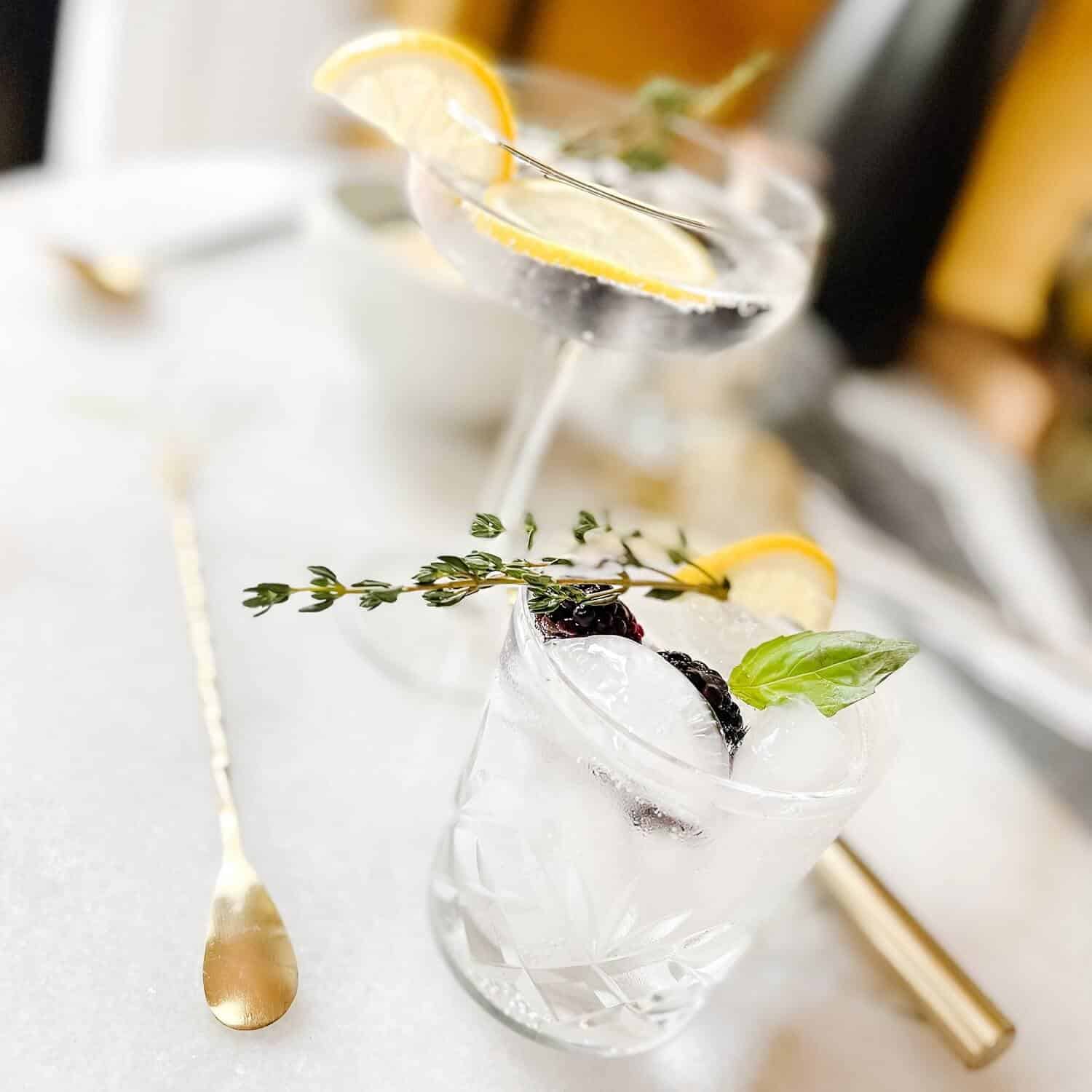 GIN MOCKTAILS PREP TIME
Prep 5 minutes
Prepare 5 min
Total Time 10 minutes
INGREDIENTS
Non-alcoholic gin – I love Free Spirits' non-alcoholic gin best.
I use Hendrix Gin for the alcoholic version
Fresh Blackberries
Bunch of Thyme
Bunch of Basil
Lemon
Soda or Tonic Water – I prefer Soda Water
Sugar
HOW TO MAKE BLACKBERRY, BASIL, AND GIN MOCKTAILS
Make Rosemary, Basil, and Thyme Simple Syrup:

Combine sugar and water in a pot on the stove.
Bring up to a slow boil.
Stir and slowly cook until the sugar dissolves.
Let settle, then remove the pot from heat.
Then add a bunch each of clean rosemary, thyme, and basil.
Steep for at least 1 hour. I do 3. Throw away the herbs after.
Let syrup cool in the fridge and then pour or shake into your gin cocktail when ready with ice. You want it chilled!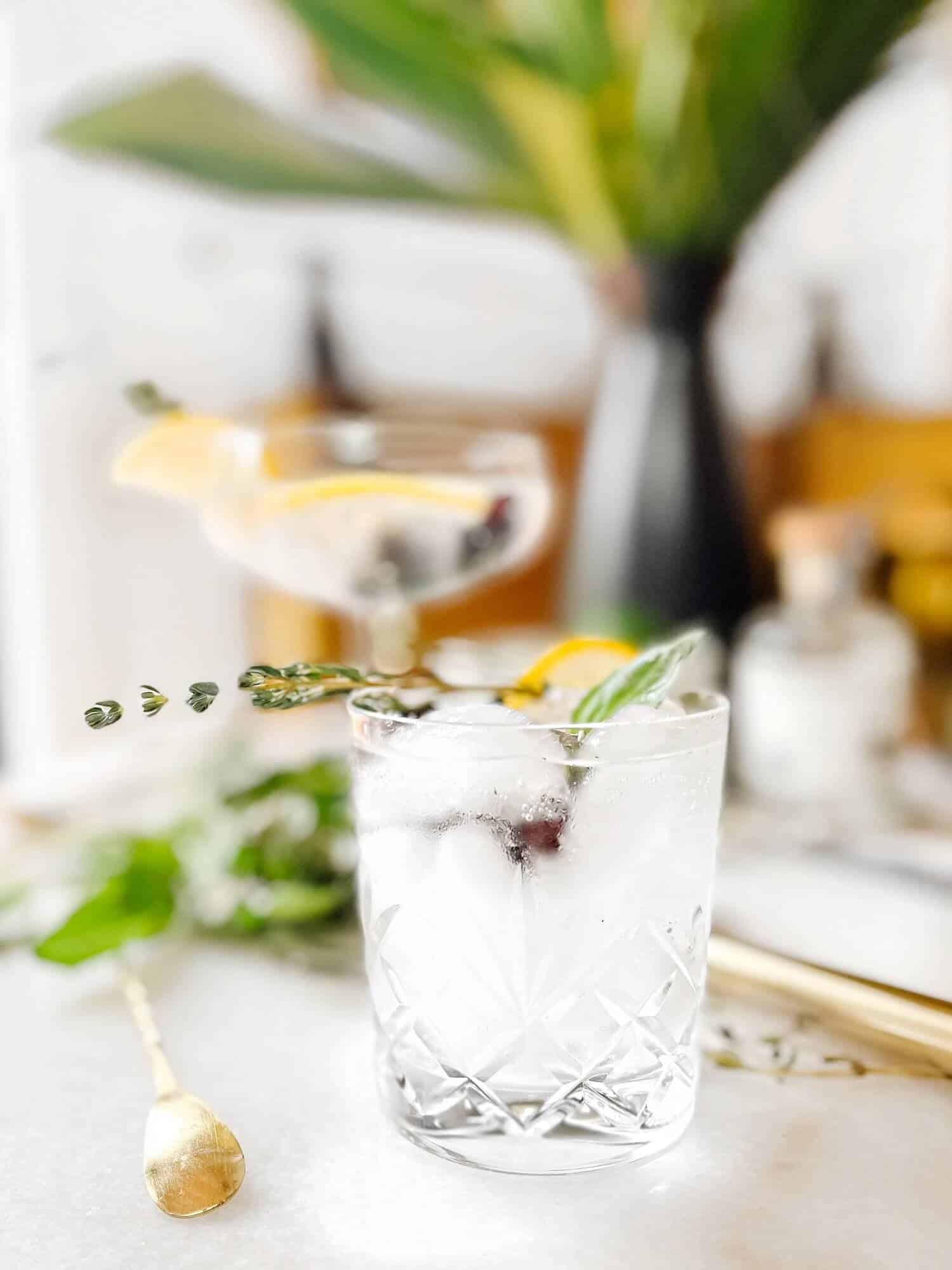 Mix Your Gin Mocktail

Pour 1-2 tbsp. of simple syrup into a glass of choice. I prefer a rocks glass with lots of ice. Fill it to the brim with ice.
Pour 4 oz. of Free Spirits non-alcoholic gin or about half a glass
Top off with soda (or tonic) water
Garnish with one thyme spring and one basil leaf.
Serve with three blackberries – I like to put one at the bottom, middle, and on top.
Squeeze one lemon wedge into your gin mocktail and then add a lemon wedge to the rim of the glass
Service ice cold and enjoy!
TIPS FOR MAKING THE BEST GIN MOCKTAILS + COCKTAILS
Allow the rosemary, basil, and thyme too steep – Really let the aromatics soak once you make the simple syrup. The longer you leave the fresh herbs, the stronger and more aromatic they will be.

Use fresh berries + Herbs – Use top-quality berries, and fresh herbs. The fresher the aromatics the better the gin mocktail will taste

Shake in a Martini Shaker– It's not required. However, shaking the ingredients with lots of ice will make your gin cocktail ice cold and form tiny ice crystals in the drink. This will make everything. bright, cool, and crisp
MORE OF MY FAVORITE GIN MOCKTAILS
Love this recipe? Want to try some other amazing gin cocktails and cocktails? Me too! Here are a few of my favorites:
FIG + THYME GIN COCKTAIL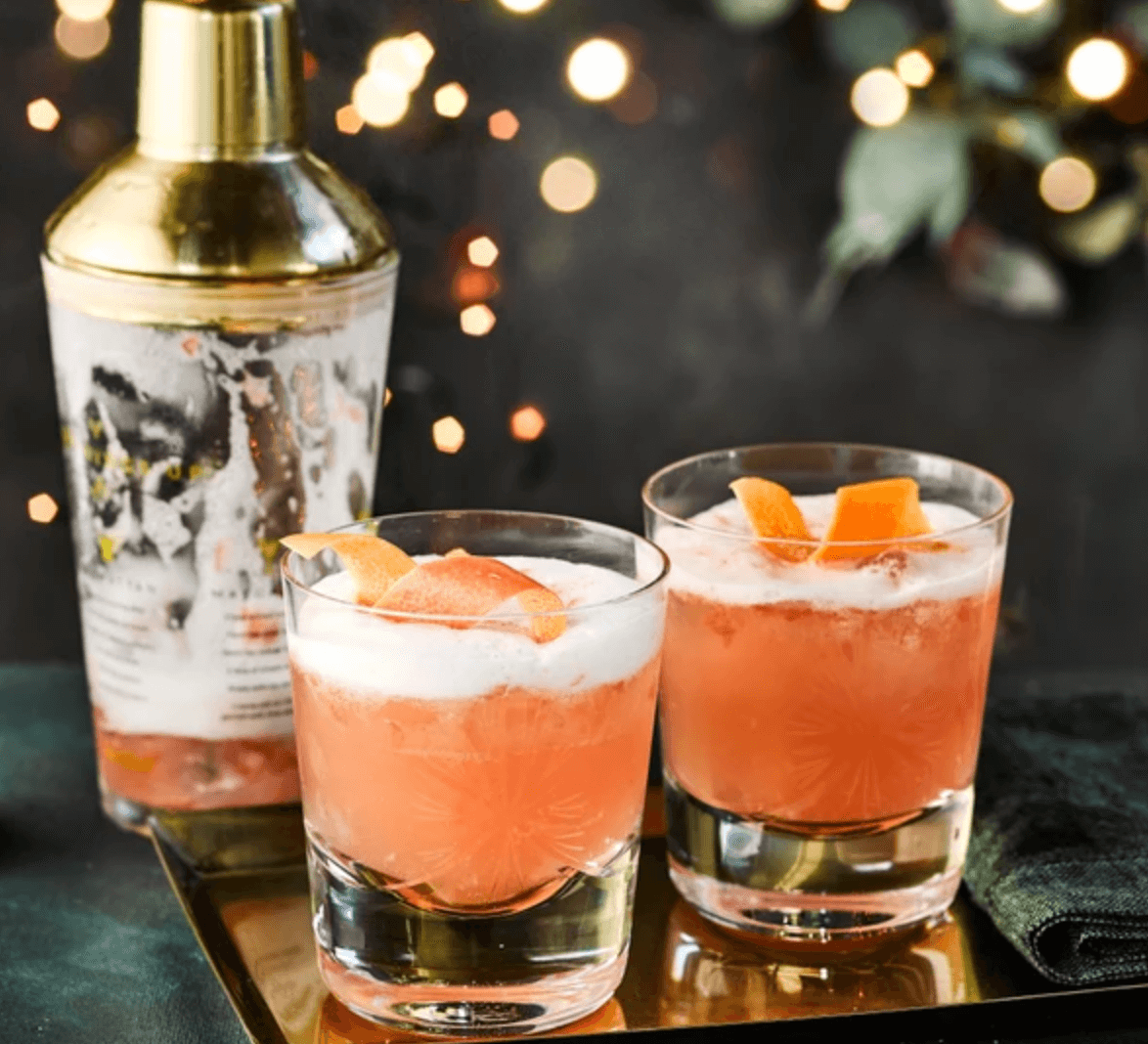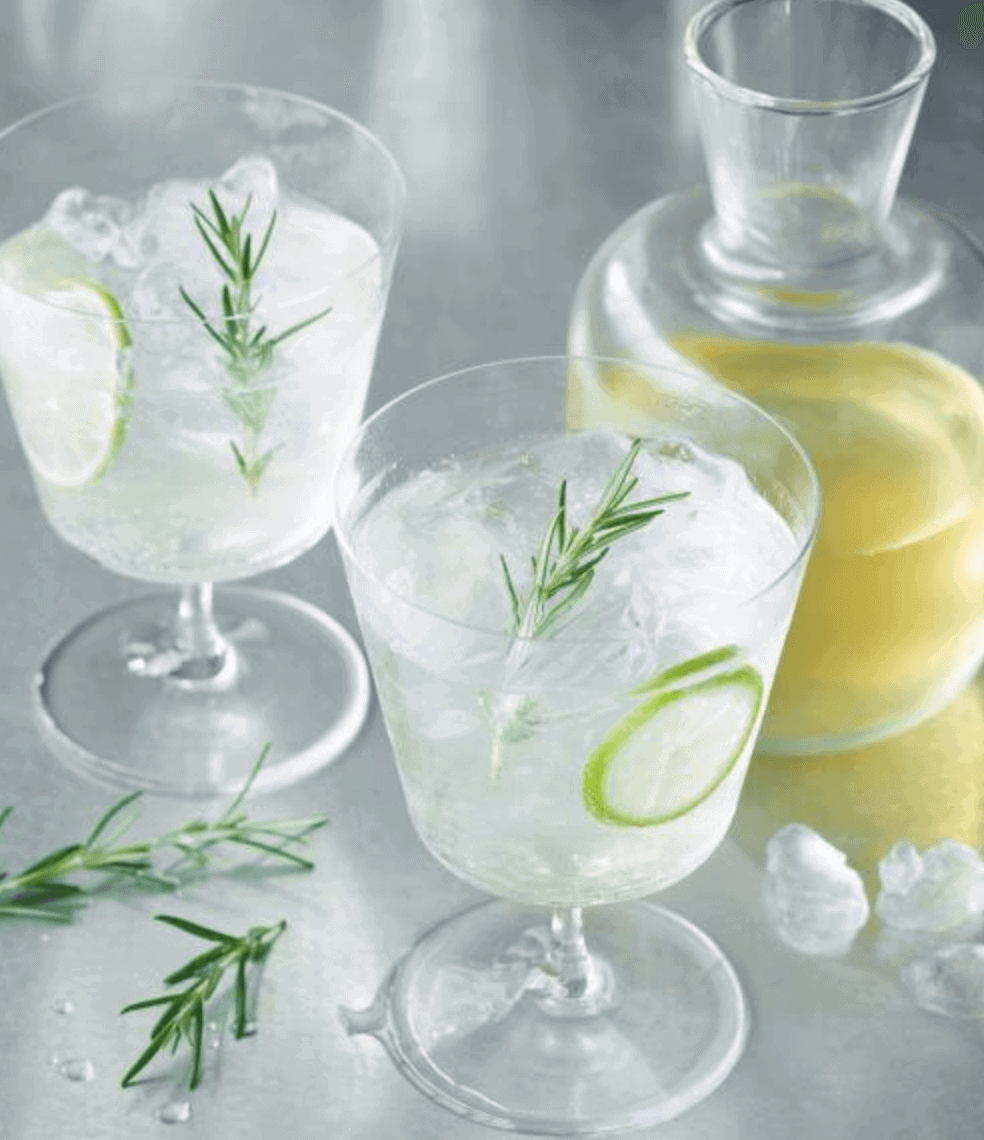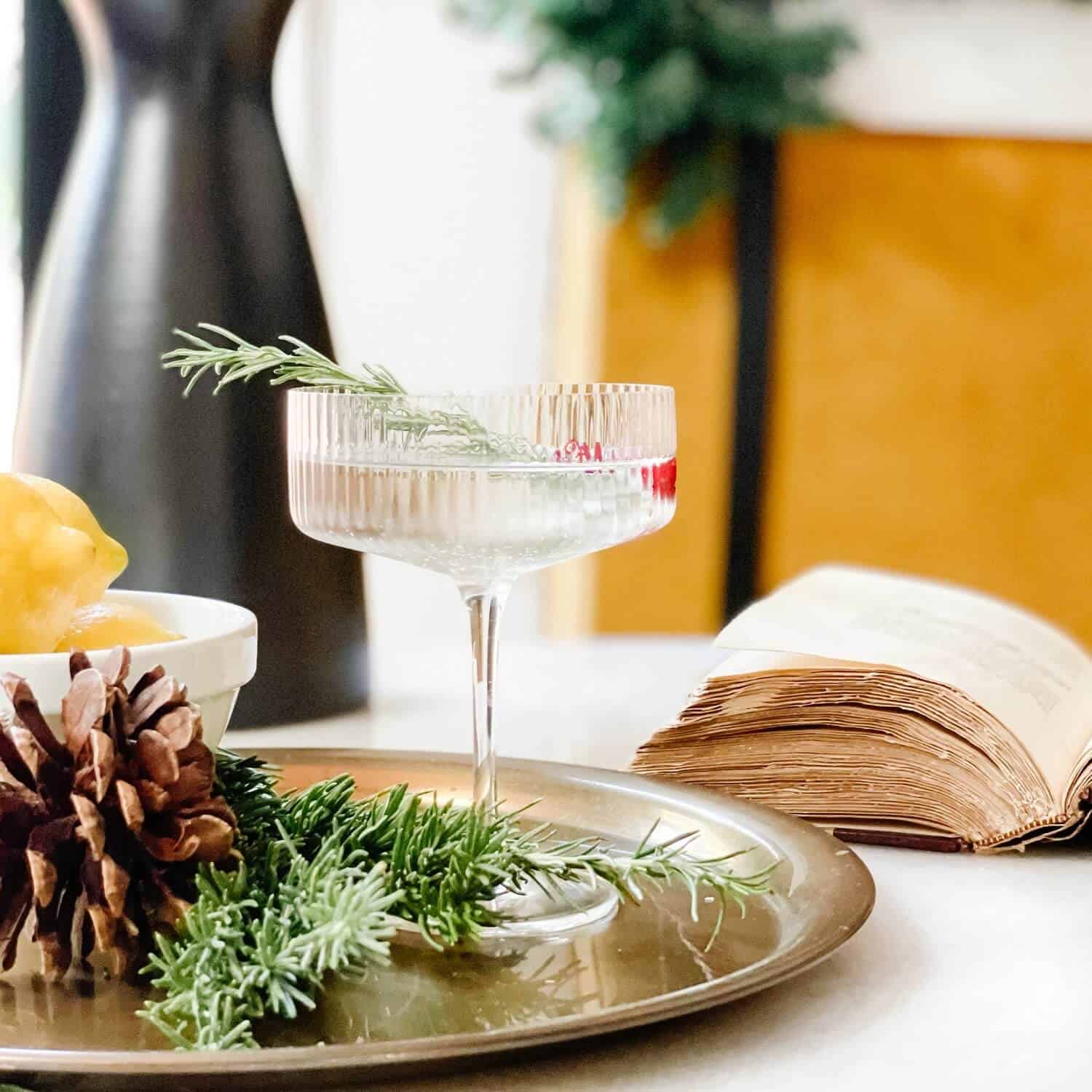 Serve any of these delicious gin cocktail recipes in my favorite glass with savory-sweet pasta, fried buttermilk cornflake chicken, and/or strawberry summer salad. Ideally, on a shaded patio outside in the sun. You won't regret it. If you loved this cocktail you will love this rosemary gin fizz, or my Aperol Spritz too. Cheers to a delicious and easy gin cocktail, but more importantly – YOU. xo

More delicious and easy recipes, desserts, and cocktails below: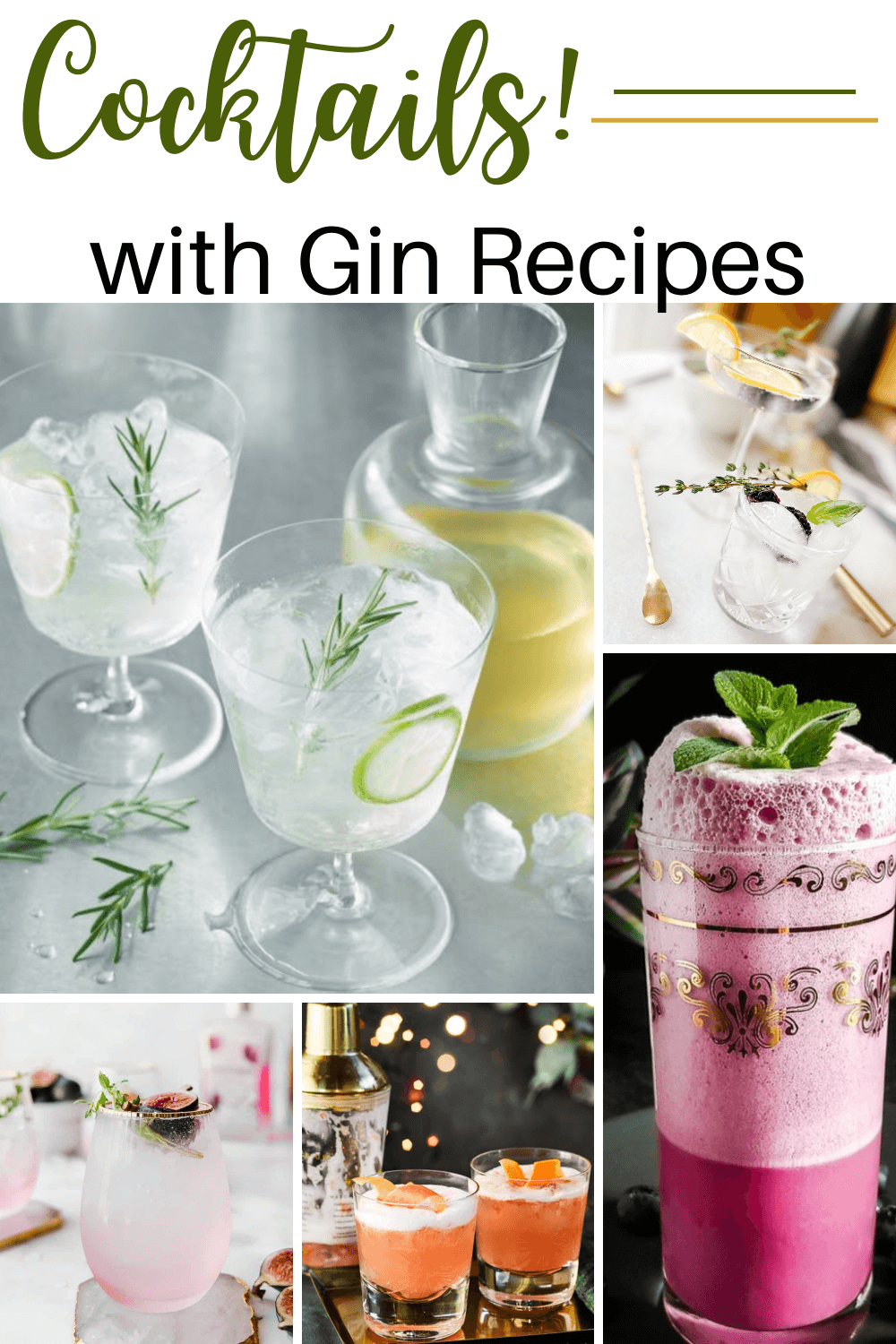 Don't Forget It. Pin It!