Hey Loves – glad you're here. We've covered so many different ways to design and improve your home's look and feel, but today we'll focus on one area of focus – a living window size that's just right for your space.
Whether you're lounging around showing off your newest coffee table accents, highlighting a rug refresh, or just simply relaxing with a favorite iced drink, the living room (and it's windows) are arguably one of the most important things in your home to get right. We just spend so much time there.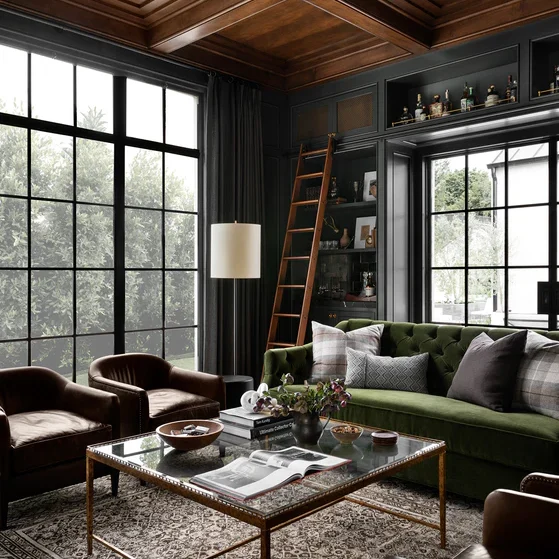 Unfortunately, having lived in a few homes cast in shadow I know that not having good light or too small of windows in the wrong spot can drastically impact the look and feel of your space in a negative way. If your natural lighting isn't great your living room can start to feel like a dark, somewhat unwelcoming space – even if the layout and styling are spot on. One way to get a good amount of light during a renovation is to be sure to get your window sizing and placement just right. So what is the perfect perfect living room window size for your room?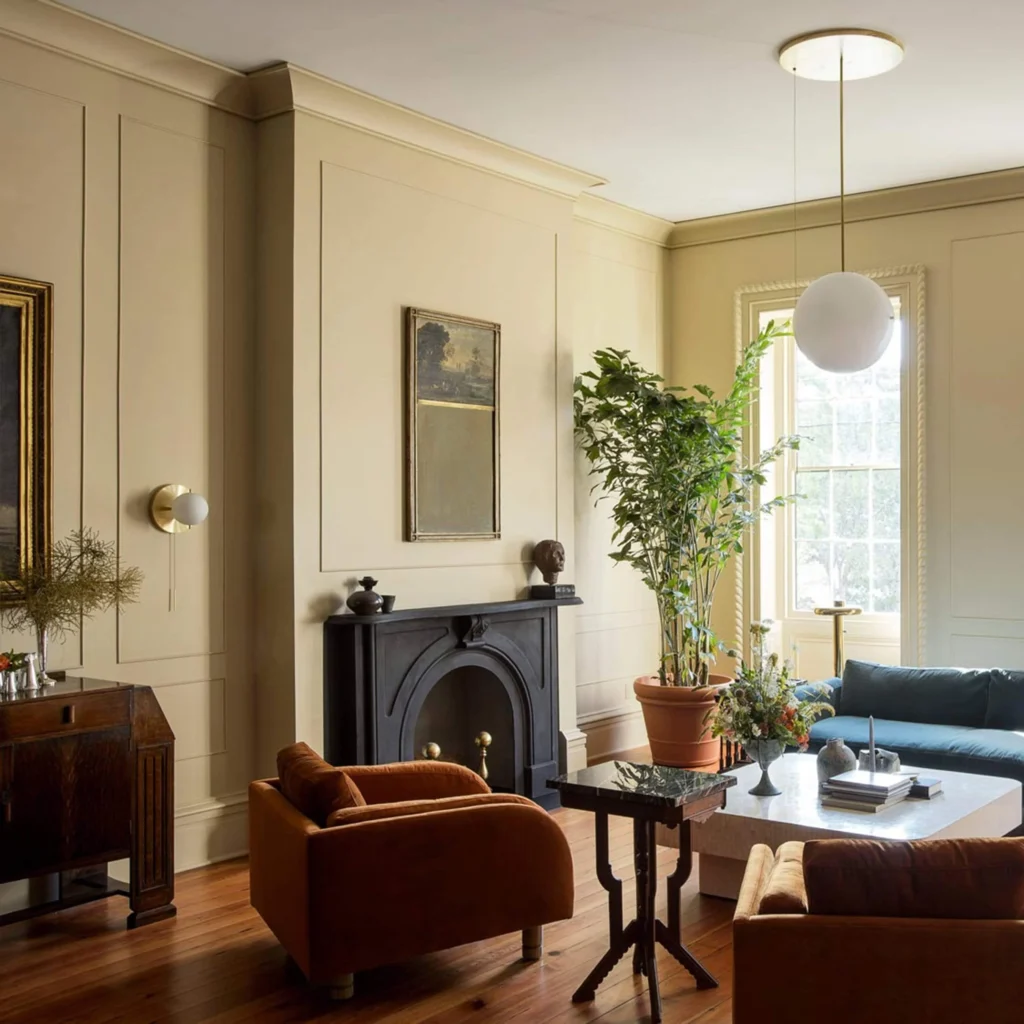 But, one quick note before we dive in. Just know that there are many different types of windows that come in a variety of sizes, which can sometimes make the selection process a bit challenging. Even so, with the right information here, you shouldn't have to much trouble finding the best new windows for your living room in all shapes and sizes. Ok let's get started.
What is the Standard Living Room Window Size?
The most common window size varies by type. The most common window type in the U.S. is a double-hung window, which is generally around 24 and 48 inches wide and 36 and 72 inches tall with a depth of 1 and 5 inches.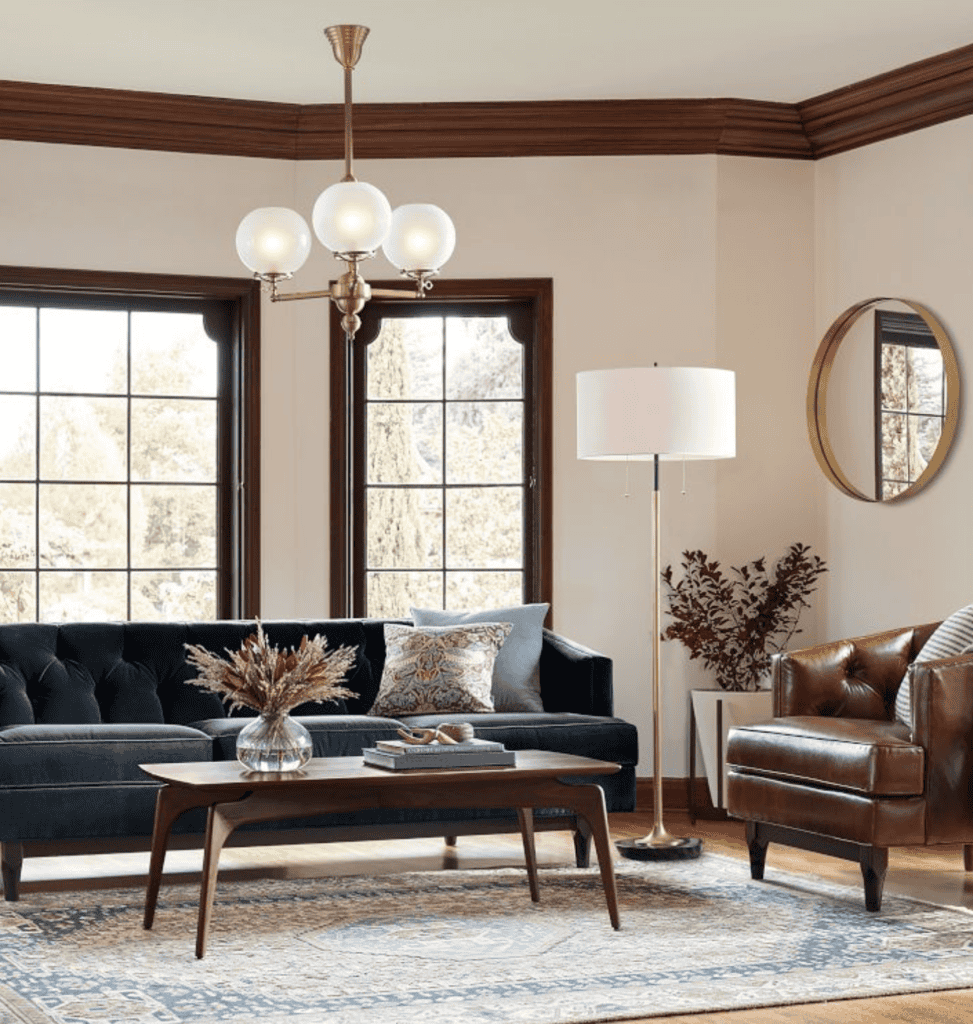 While standard size ranges vary, depending on the type of window you're looking at. To help you in the selection process, I've gathered the standard widths and standard heights for the most common window styles below. I think that's easiest right? Find the style you like, then figure out the fit.
Pro tip: There is one very important measurement you don't want to forget: the depth! This can vary a bit—even within the same window style—so make sure the window you end up buying will fit nicely where you want. Measure first and then consider one more thing below…
Actual vs. Advertised Measurements for the Perfect Living Room Window Size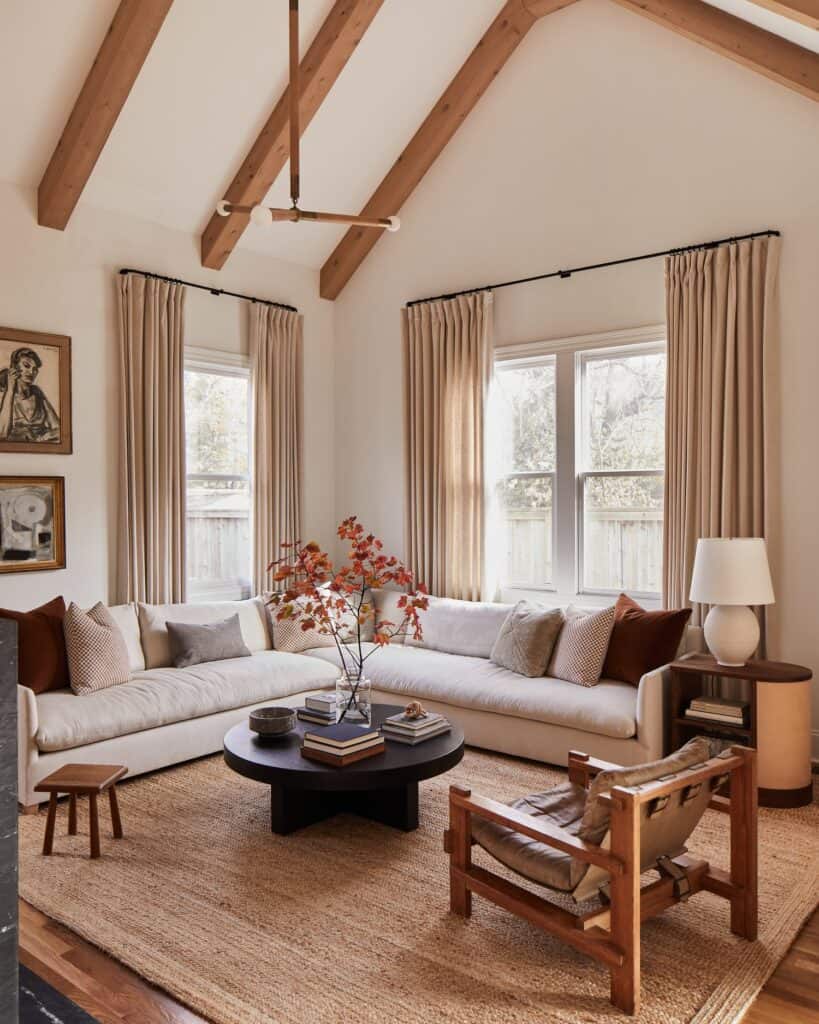 When selecting a living room window size, you may be wondering if having a perfectly-sized window will hinder the window installation process. Fear not! The manufacturers have already thought of this, which is why the advertised measurements differ slightly from the actual measurements.
For example, let's take a 44 by 44 inch window frame. While—at first glance—you may assume that the window width and window height would be 44 inches, they'll likely be closer to 43.5 by 43.5 inches.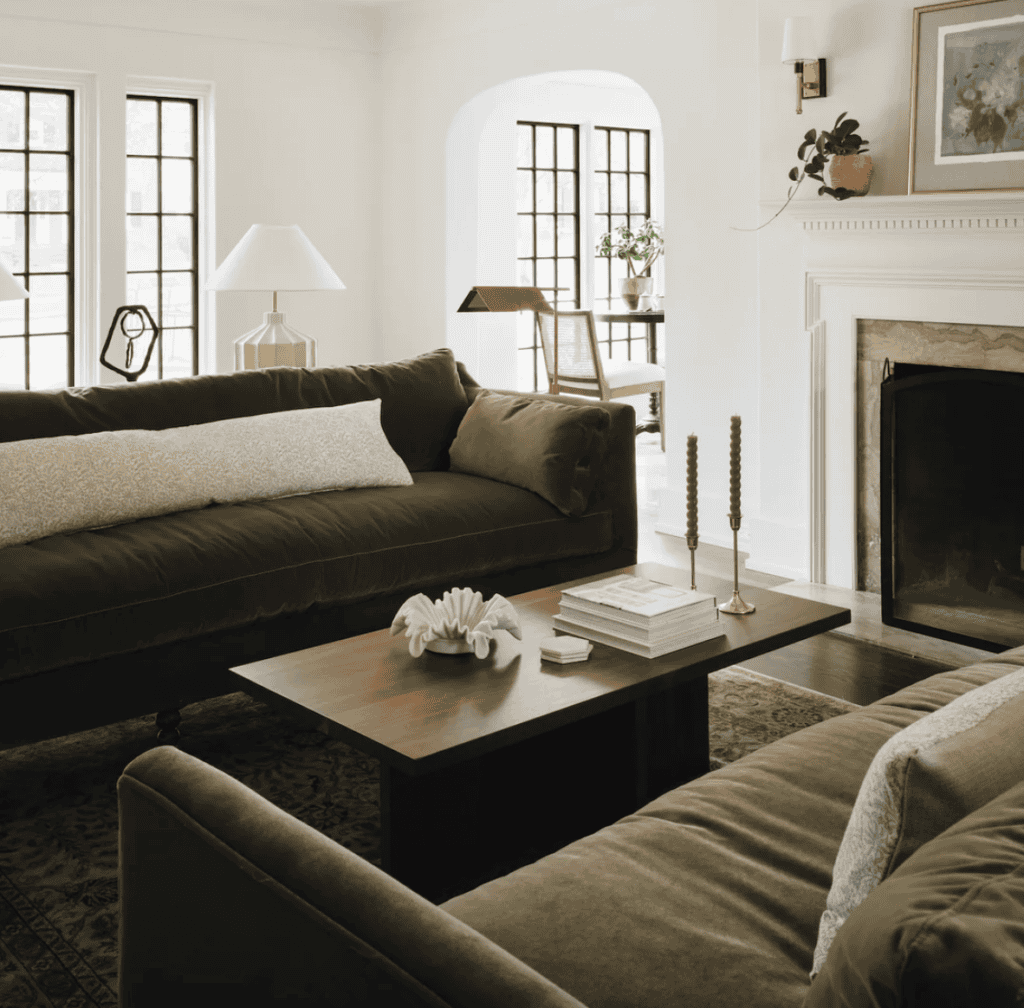 In general, you can assume that a window with measurements labeled by inches will actually be half an inch smaller. While one could argue that it's false advertising, the slight decrease in size will be helpful when installing your window.
If the sizing was exact, you'd definitely have a hard time installing your new window.
How Living Room Window Size Is Measured
Measuring your living room window size—or any window size, for that matter—is quite easy. Starting on the left side, you first measure the width of the ​rough opening from jamb to jamb (top, center, and bottom). Repeat this process with the height of the window (top center, and bottom).
Take the smallest of each of these measurements and use it for your reference while shopping. It may also be worth measuring the depth of the window, which can help limit the gap(s) you'll need to fill around the frame!
Popular Windows Styles & Standard Sizes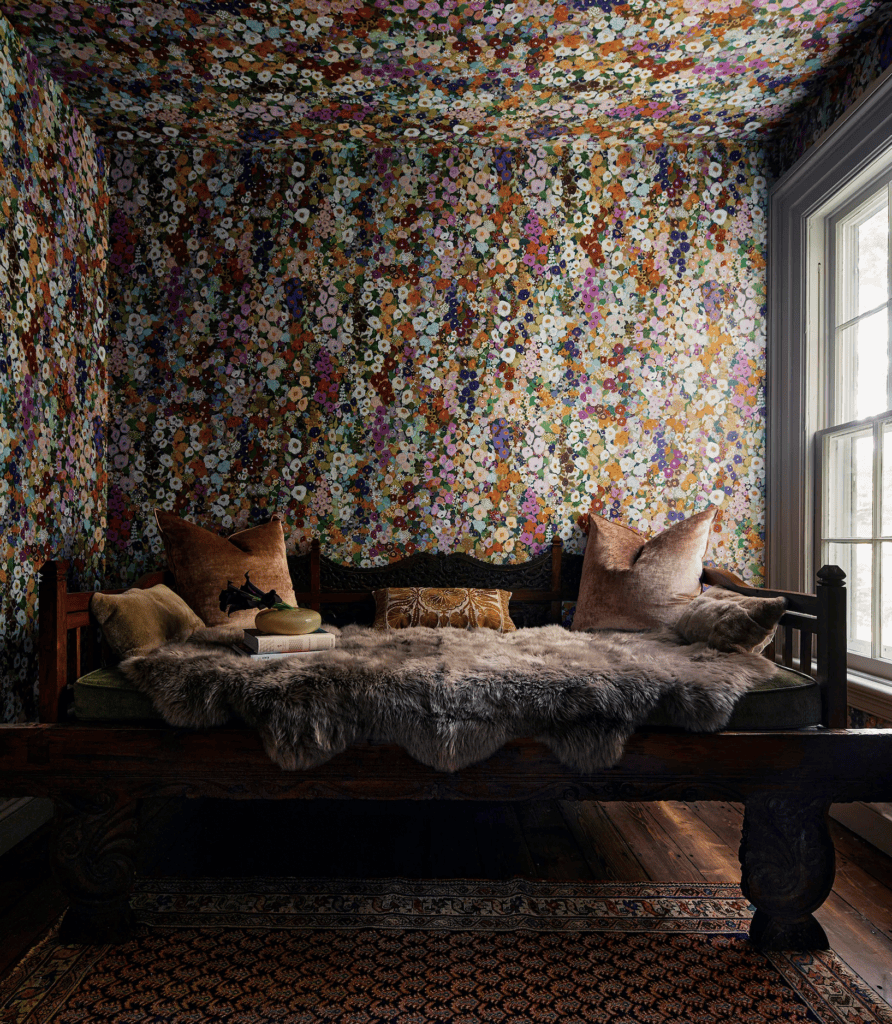 Alright guys, now onto the most important part of this post: styles and sizing. I've listed the most common window size for the most popular styles below, so simply scroll until you find the one you want.
Alternatively, if you're looking for a remodel rather than a renovation, read through all of the options until you find a style you like.
Single Hung
Single-hung windows are windows with a fixed upper sash. The lower sash can be moved, allowing you to open to close the window. This style of window has been around since the 17th century, making them very old windows (in terms of design).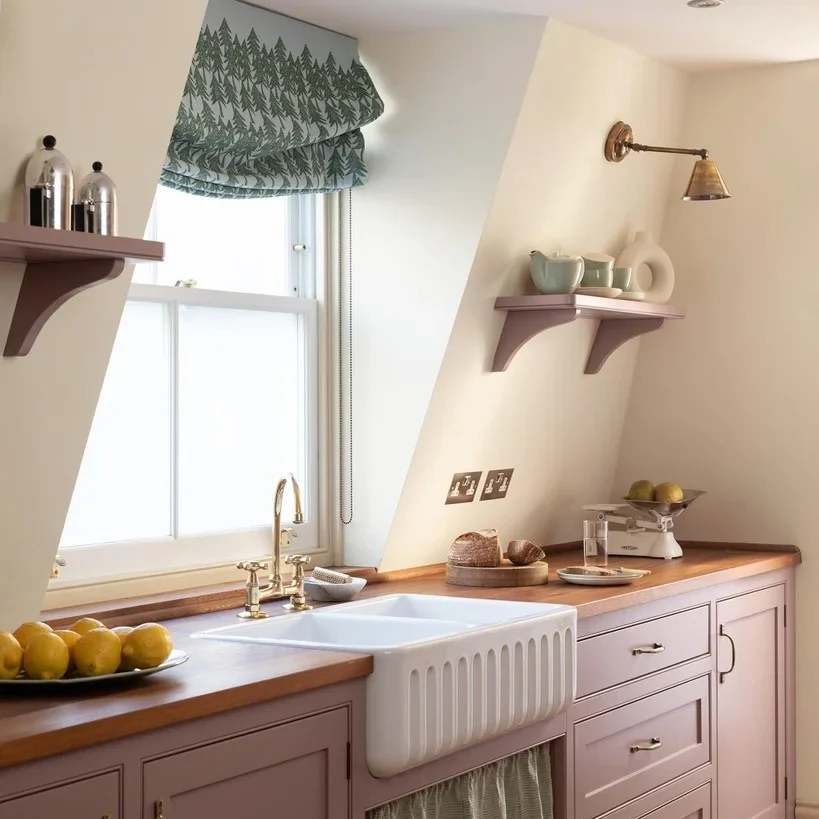 Due to their longstanding history and general popularity, they are also one of the most common types of windows, although newer homes tend to opt for double hung windows instead.
If you really want to complete the old-timey look, you can pair them with vintage-inspired brass wall scones like mine and my favorite white paint for a classic contemporary feel.
Generally speaking, the width of single hung windows will fall between 24 to 84 inches. Height varies from as small as 24 inches up to 60 inches. 24" (W) by 36" (H) is the most common size overall.
Double Hung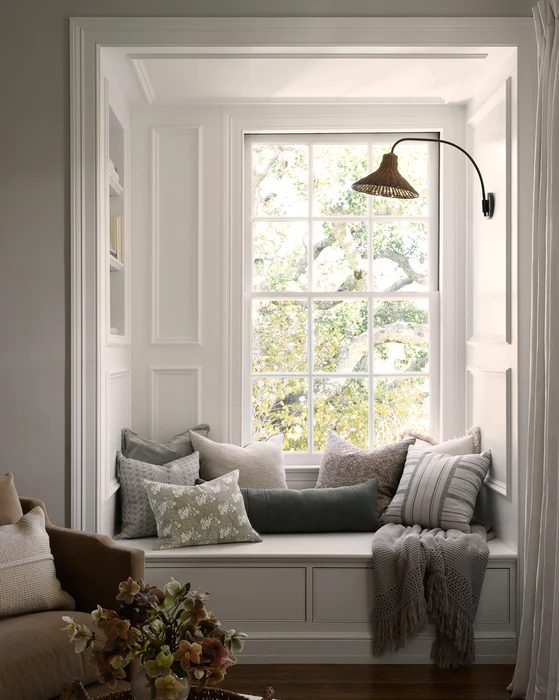 Double-hung windows are similar to single hung windows, except that both the top and bottom sashes can be moved to create two window openings. This more modern, more flexible window design has helped make double-hung windows the most popular type of window today.
Whether you're trying to let the excess humidity out of your bathroom or give your a mounted staghorn fern the natural light it "needs", double-hung windows are an excellent way to improve airflow while enjoying adequate natural lighting.
These windows usually measure between 24 to 48 inches wide, with heights from 36 to 72 inches. Once again, 24" (W) by 36" (H) is the most common size!
Bay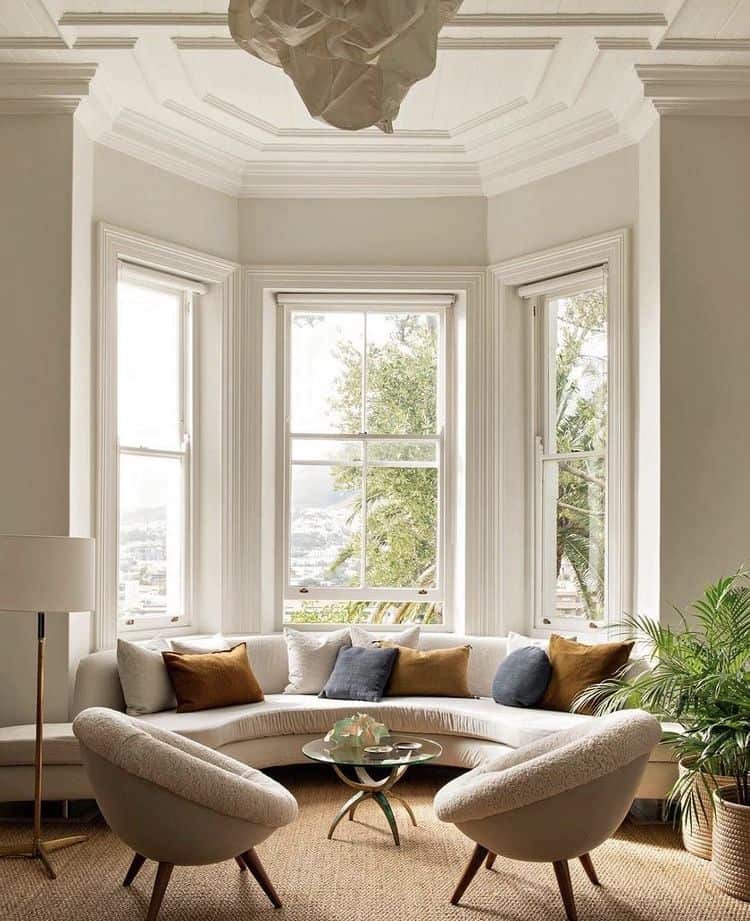 Bay windows are the perfect choice if you want a great view of your property (bow windows offer a comparable alternative). The main downside of bay windows is that you may not be able to enjoy the fresh air as much as you'd think.
Generally speaking, the center window is fixed on bay windows, although—in some rare cases—all three can be opened. On the other hand, some bay windows can't be opened at all!
The main benefit of these windows is the large viewing angle and amazing natural light they let into the room.
When you're sitting down at a perfectly decorated coffee table reading a favorite interior book —natural lighting is extremely important. Bay windows are one option that won't ever let you down.
Of course, the main prerequisite is having enough space to install them. When it comes to the living room window size of bay windows, you'll be looking at a general minimum width of 42 inches (up to 126 inches!).
Heights vary between 36 to 78 inches, although you can get custom windows made even larger.
Casement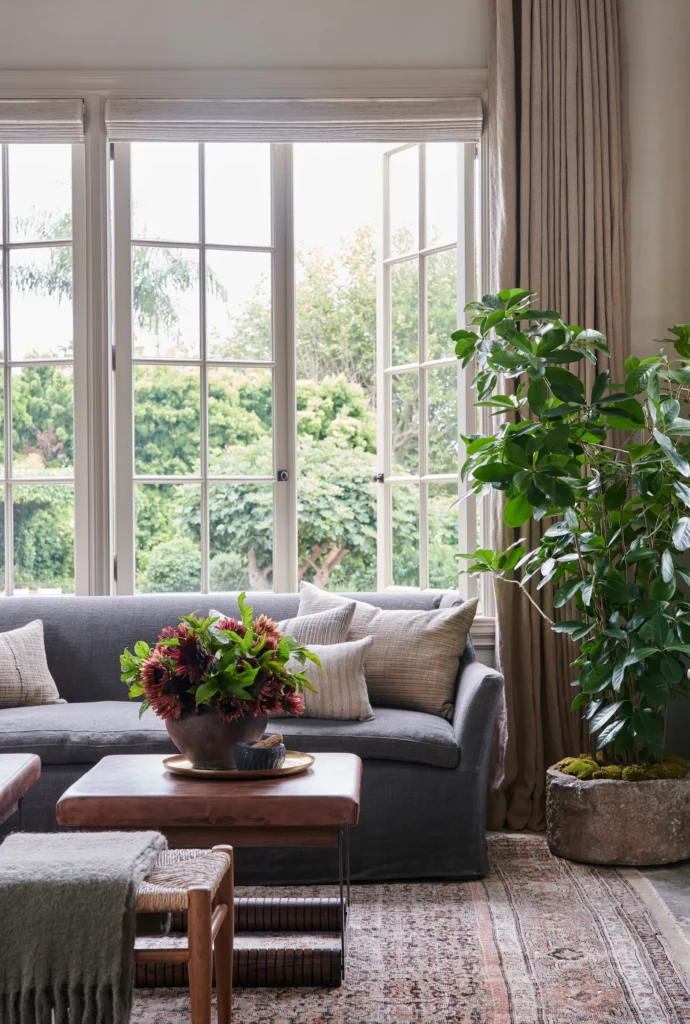 Casement windows are a popular option for southern-facing homes. Whereas awning windows have the hinge on the top, casement windows have their hinge on the side.
Easy to operate using the crack, these windows will allow you to control the amount of fresh air getting into your home while easily offering enough natural lighting for your favorite house plants. You don't necessarily have to have more than one, but I think they look excellent when placed in sets of twos or threes!
As a side note, casement windows work great when you're hanging drapes. Simply grab a suitable window curtain rod, some curtain rings, and new drapes to have light—or lack of—on demand!
As far as standard widths go, you're looking at anywhere from 12 to 36 inches across. Heights range from 24 to 84 inches with this type of window, although getting custom-made casement windows is always an option if these measurements don't fit your individual needs.
Picture
As the name implies, picture windows are designed to look less like a window panel and more like a picture placed on your wall.
With an extremely minimal window sill and no moving parts, this type of frame can help turn your backyard decor into the picturesque scene you've always wanted it to be!
The main downside to these windows is that they can't offer any ventilation or air flow. However, for that price they offer excellent natural lighting and an amazing view (depending on where you place them, of course!).
If you decide to go with a picture window, the living room window size you'll be looking at is a width of 28 to 52 inches, with a height of 12 to 96 inches.
Sliding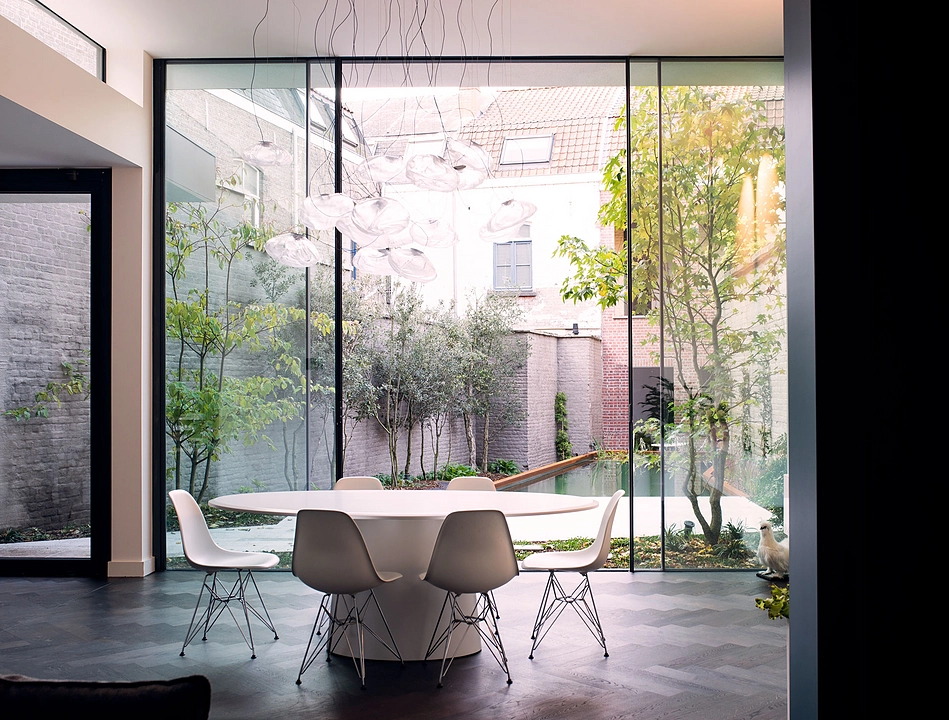 If you're looking for a large window that provides an excellent horizontal view while also being able to close/open at will, a sliding window could be the perfect choice for your living room.
There are a few different designs for these windows, the most basic being a two-frame design. The downside of a two-frame is that only one side of the window can be moved along the slider.
However, if you upgrade to a three-panel design, you'll be able to move both the left and right sashes for increased ventilation inside your home. Usually, the center sash is fixed, but some windows do allow you to move every panel within the frame.
For sizing, you're looking at an average width of 36 to 84 inches, with a height between 24 to 60 inches tall.
The Perfect Living Room Window Size for Your Home Size Reference Chart
| | | |
| --- | --- | --- |
| Window Type | Average Width | Average Height |
| Single Hung | 24" – 84" | 24" – 60" |
| Double Hung | 24" – 48" | 36" – 72" |
| Bay | 42" – 126" | 36" – 78" |
| Casement | 12" – 36" | 24" – 84" |
| Picture | 28" – 52" | 12" – 96" |
| Sliding | 36" – 84" | 24" – 60" |
Should You Consider Custom Windows?
Whether you want to do something entirely different with your home or your window simply doesn't fall within the standard living room window size, custom windows are always an option. That said, there are a few different factors you'll want to consider before making the investment.
The main downside of getting windows in ​custom sizes is the cost, which will definitely be more than if you ordered a box-standard window from Home Depot.
The second is convenience and speed. Since your new windows will be made to fit your home perfectly, the additional costs you end up paying will be going towards the company custom making a window for you. Of course, this isn't an instant process, which means you may need to wait a bit before receiving your window.
On the plus side, your custom window will fit much better than if you had just ordered a standard size of window. In turn, this results in better insulation, higher quality, increased home value, and a plethora of customization options.
When trying to decide between a standard and a custom window, I recommend just looking at all of the options available to you. Check pricing, customization options, and company reviews. With that out of the way, you'll be able to decide which route makes the most sense.
Common Questions About The Perfect Living Room Window Size for Your Home
What is the standard size of a living room window?
As you've surely realized by now, the definition of "standard" can vary quite a bit! However, at least when it comes to the United States, the standard living room window size—double-hung windows—measures between 24 to 48 inches wide, with a height between 36 to 72 inches.
What is the ideal window size in a room?
Rather than looking for smaller or larger windows, you should actually be basing your final window size on two factors: the size of the room and the direction the window will be facing!
For west-facing windows, you'll want your window to measure less than 10% of the floor area. East and south-facing windows can take up to 15% of the floor area, whereas north-facing windows should take between 15 to 25% of the total floor space.
Following these percentage-based recommendations will help you optimize the natural light your room receives!
Do large windows make a room look bigger?
Yes, they definitely can! Unlike a small window—which can only offer a limited amount of natural lighting, big windows are excellent at letting natural light in. In turn, this adds to the illusion of a bigger room!
How do I know what size window I need?
To get the right size of replacement window, you'll need to measure the size of the replacement window frame. First, measure horizontally at the top, center, and bottom of the frame. Then, measure the frame vertically on the left, center, and right. Write down the smallest numbers for both the height and width measurements.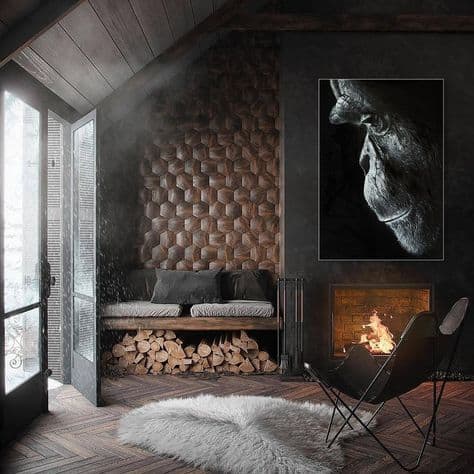 Next, measure the depth of the window frame. Measure at multiple points, once again using the smallest number for future purchasing decisions.
Do you measure height or width first for windows?
Starting on the left side, measure the width of the window first. With that out of the way, you can then measure the height and depth.
What are the benefits of double pane windows?
Although single pane windows are popular in older homes, double pane windows have become the more common choice for a reason! These windows offer various benefits including increased energy efficiency, better noise reduction, and greater security for your home.
Parting Thoughts For Perfect Living Room Window Size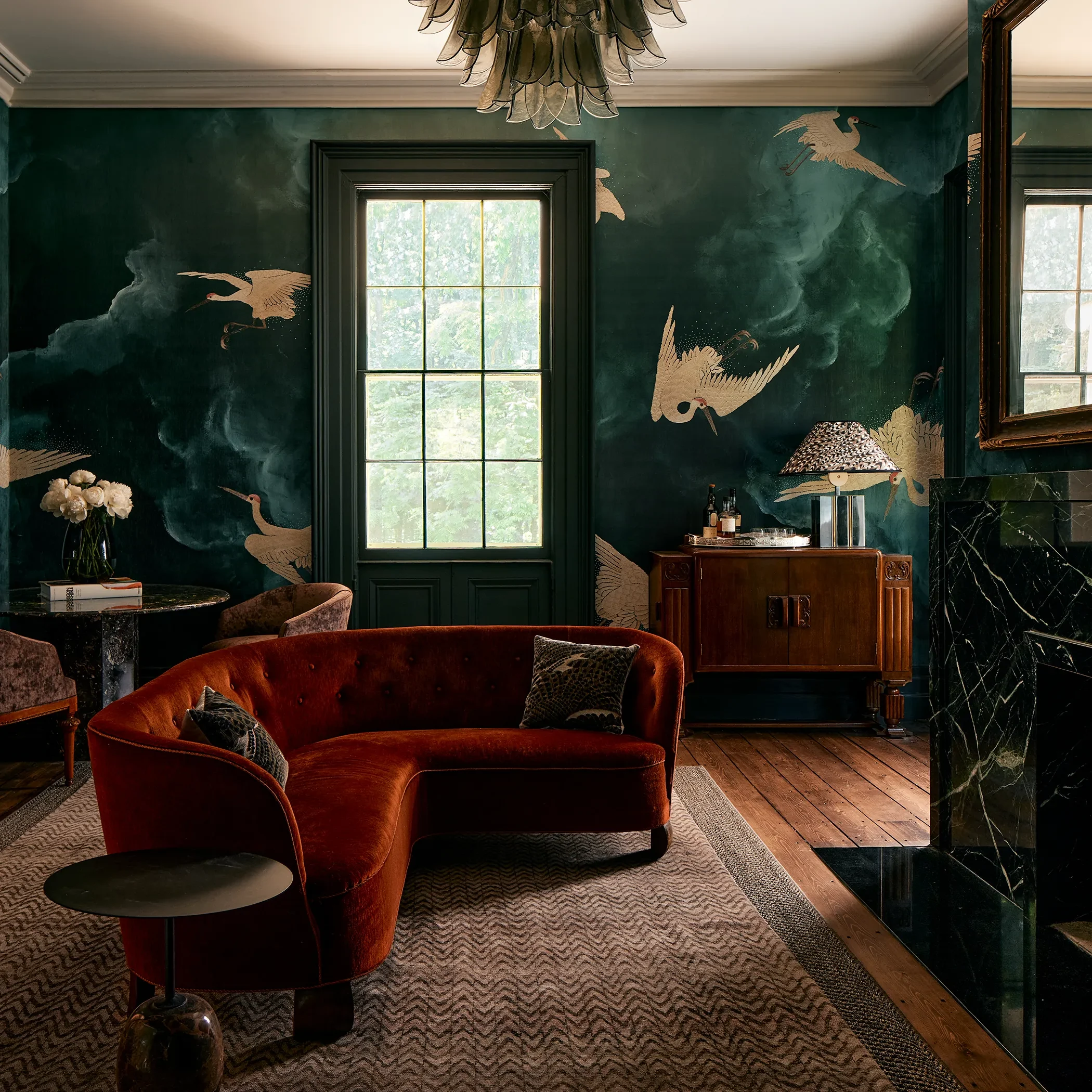 Determining the size of the window you install or replace might be a little bit stressful, but trust me: it will be so worth it once you're done!
Properly matched, handpicked windows can do wonders for a room. On the other hand, randomly chosen windows can bring down the overall aesthetic appeal of your room as a whole, so avoid doing this.
Like many other home projects, incorrect frame coloring can be easily solved with a layer or two of paint, so don't focus too much on getting the color right.
Instead, just focus on getting the frame style and size that you can. The color can be tweaked later on to perfectly match with the rest of your room!
See anything you like, have any suggestions, or just want to share your own projects? Let me know in the comments below (I always love hearing how y'all are coming on your home DIY projects!).
Until next time, love ya for real. Follow along on Instagram will ya? I'm there daily.