Hello lovelies! I hope your week has been as great as mine. I did some incredible antique and thrift shopping over the weekend and found some treasures for our cottage. I am just so excited about all the beautiful pieces I am finding. It's hard to not just grab everything. Does anyone else think hanging a bunch of vintage oil lanterns filled with solar candles from the property redwoods and appletrees would be the most magical thing ever? I started with these classic contemporary solar lamps and have quickly dovetailed into waiting for original oil lanterns that I found last weekend from the 1900's.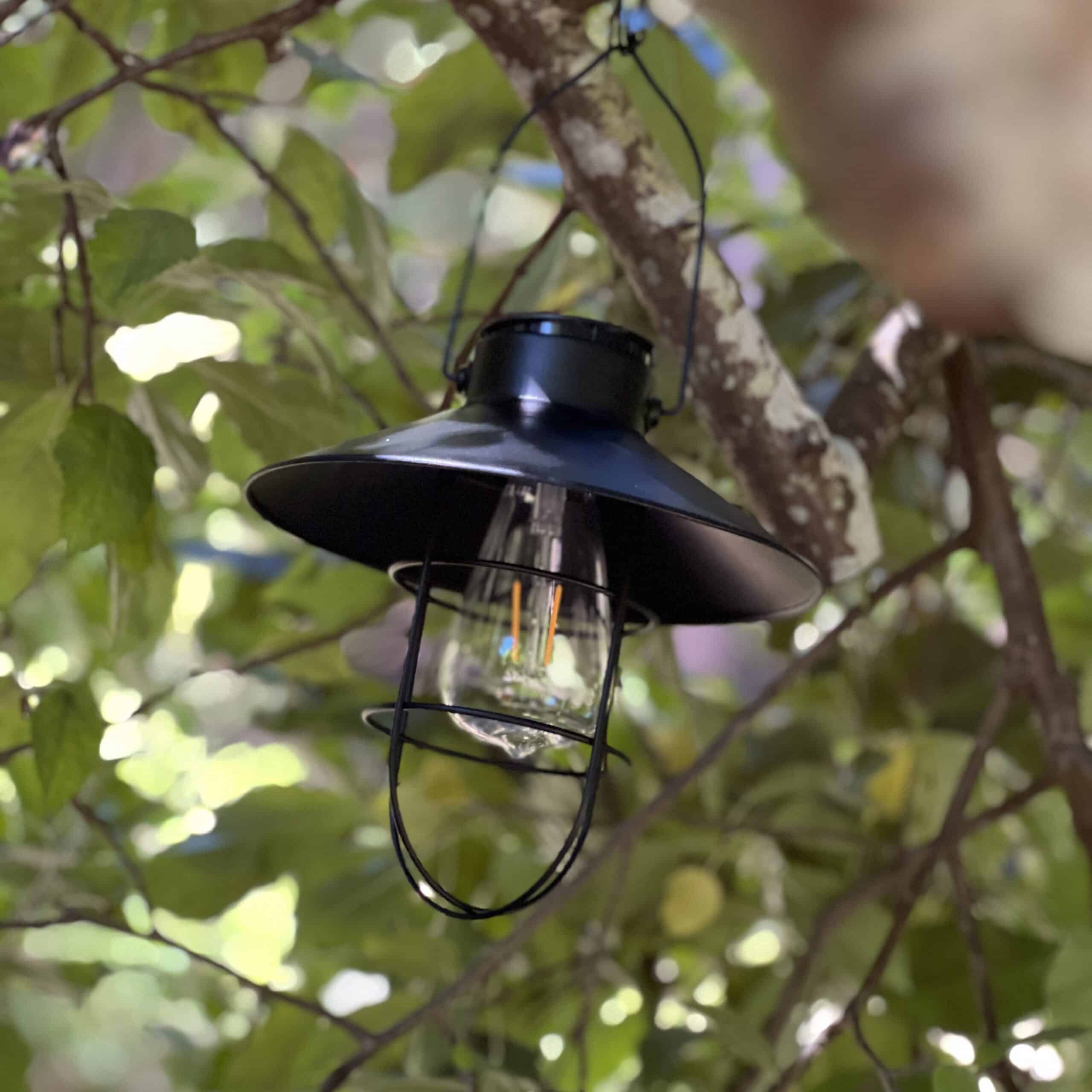 Speaking of magical – I shared a glimpse of these adorable plate sets I stumbled upon, and guess what? I've also begun curating a charming collection of vintage frames and vases to spruce up the space. I'm planning on styling lots of branches in vessels. You can never have enough. Now that I have two, yes two homes (pinches self) I can finally convince myself that it's okay to get more of each. I feel a new gallery wall for the stairs is a must.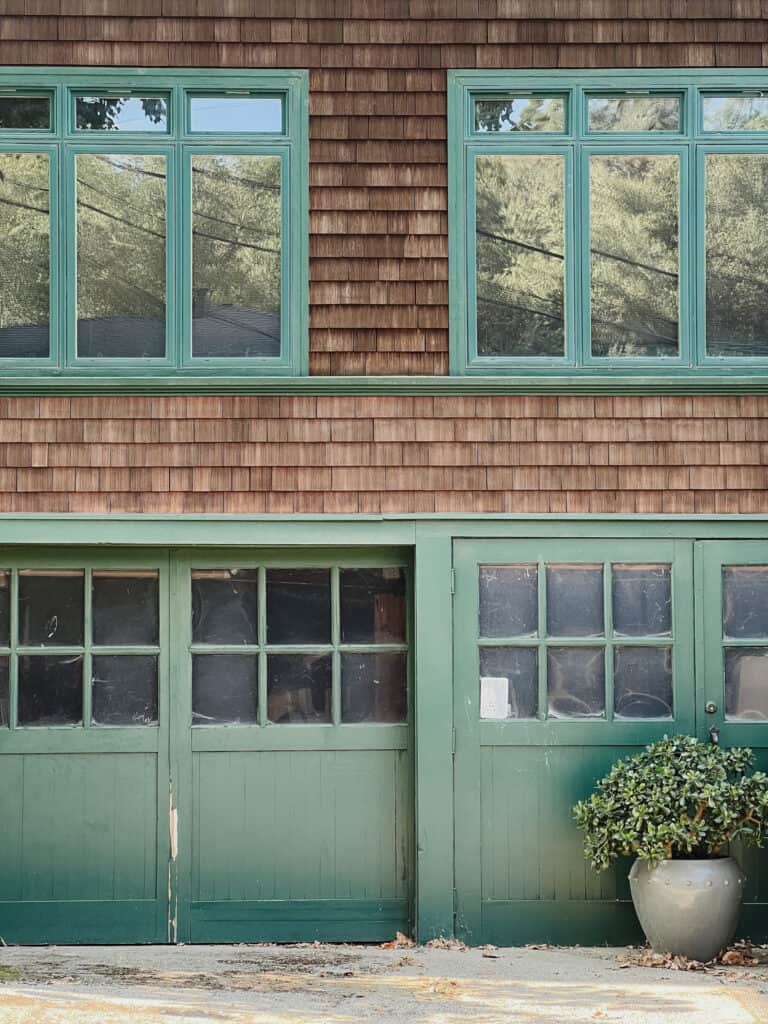 You can get inspired anywhere, and I am straying to think that this hunter-green paint might be the perfect complement to the cedar siding on the house. I love to design spaces that are guided by the property and not forced too much. I love the summer camp vibes. I am still considering staining the whole thing black – but for now, keeping the patina of the wood, and sealing it all up nicely to prevent wood rot and water intrusion with just a slight trim, seems like a good way to go. What do ya think? Reply and let me know.
Of course, it's going to be quite some time before we are ready to style, but I like to collect along the way. I purchased some additional dreamy wallpaper samples, after going back and forth for ages. I also made a purchase that I am so excited about – a flower pressing kit. Have you guys seen the amazing artwork from Flowerpressstudio_? I stumbled upon their amazing artwork a few months ago and am obsessed. I can't wait to pick flowers in the garden and make my very own pressed flower artwork. You wouldn't believe the gorgeous wildflowers that bloom on the property. These pressed flowers got my mind spinning and inspired week's look for less is inspired by pressed flowers.
Last week, I shared a CLJ living room look for less. One of my absolute joys is diving into Pinterest and discovering the unique styles of fellow interior designers. There are just so many brilliant designers out there with different styles and I love sharing them all with you.
I absolutely adore this dining room design by Nesting With Grace. The floral wallpaper matched with the sleek black furniture adding a whimsical pop that I found oh so charming. Plus there are some perfectly placed houseplants that soften the aesthetic nicely. There's plenty of storage and I swear if I didn't have a brunch banquette – this design would be in my home! Let's talk each pice.
The first piece that I fell in love with in this dining room design was the industrial pendant light. It has the perfect blend of a vintage style aesthetic and a modern craftmanship. It's just so polished and not your typical chandelier centerpiece for your dining space!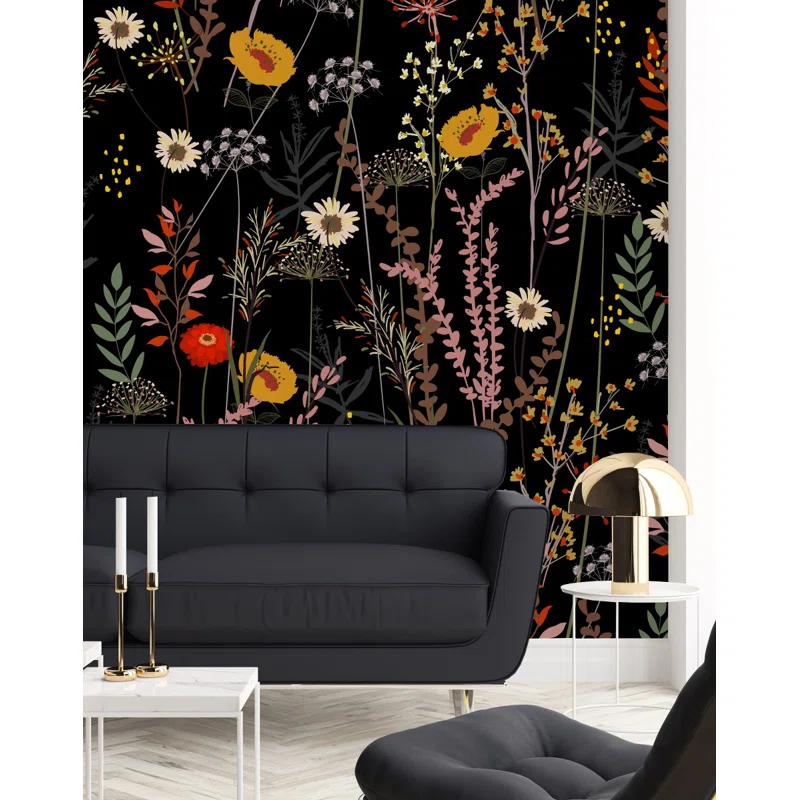 I have been on a major wallpaper kick recently and this floral wallpaper really sold me in this room design. I'm obsessed with the way the bright flowers are contrasted against the black background. Also, it's peel & stick- who could ask for anything better?
Next, we have this stunning landscape wall art. It's a simple piece that adds sophistication to the dining space – especially when paired with a beautiful gold frame. It's the perfect piece for a dining room, or even to decorate your kitchen walls!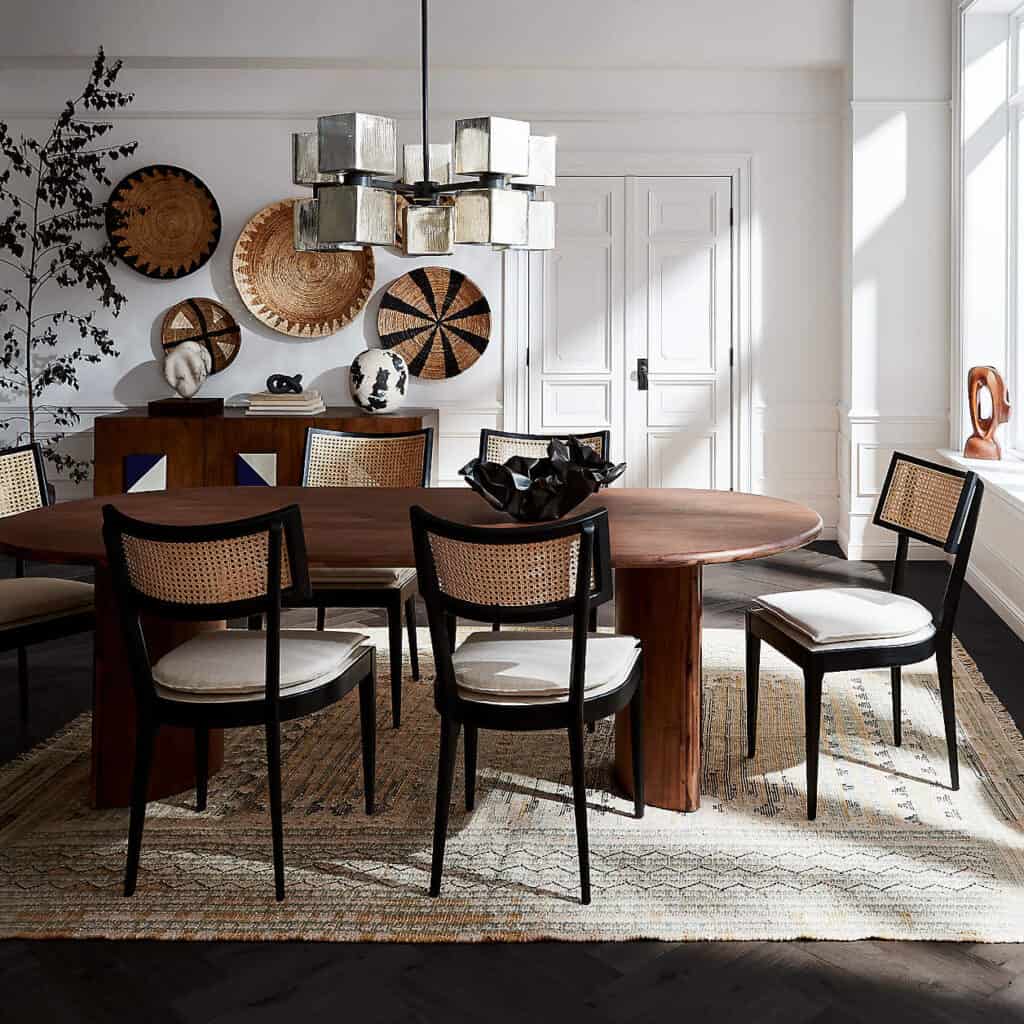 Every dining room needs a wood dining table, right?! This one is truly a modern sculpture that can transform any space into a classy and comfortable gathering spot. Check out some smaller dining tables here!
Check out these beautiful wicker storage baskets. They're versatile, beautiful, and perfect for organizing your knick knacks and thrifted treasures in your dining room!

I absolutely adore the oversized table lamps in this room; they're a standout design element! This terracotta table lamp is so handsome. Adding lamps and lighting to your dining room design creates such a cozy and welcoming vibe!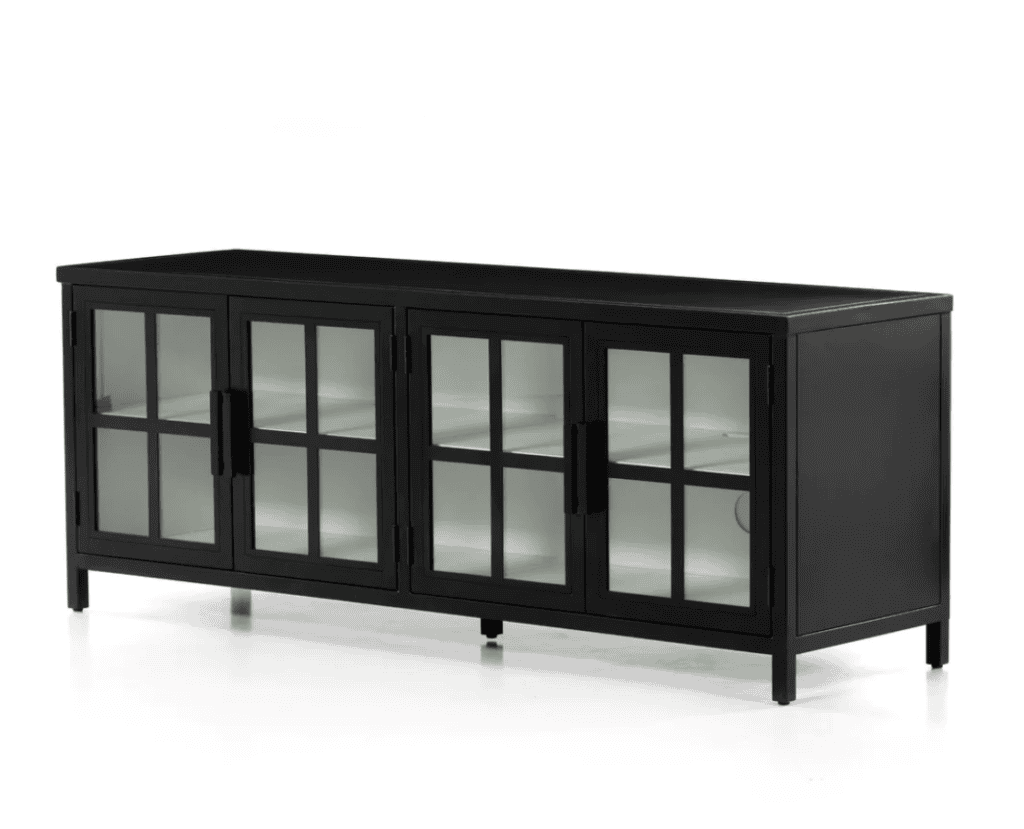 Next, we have this stunning storage console. It has a versatile blend of a classic black finish and a modern design and can easily work with different interior design styles. Think of how gorgeous it would look with all your thrifted china pieces!
I love these mid-century dining chairs! This chair not only pairs beautifully with the wood dining table and floral wallpaper – but also effortlessly ties together this room's different elements! Check out more beautiful dining chairs here.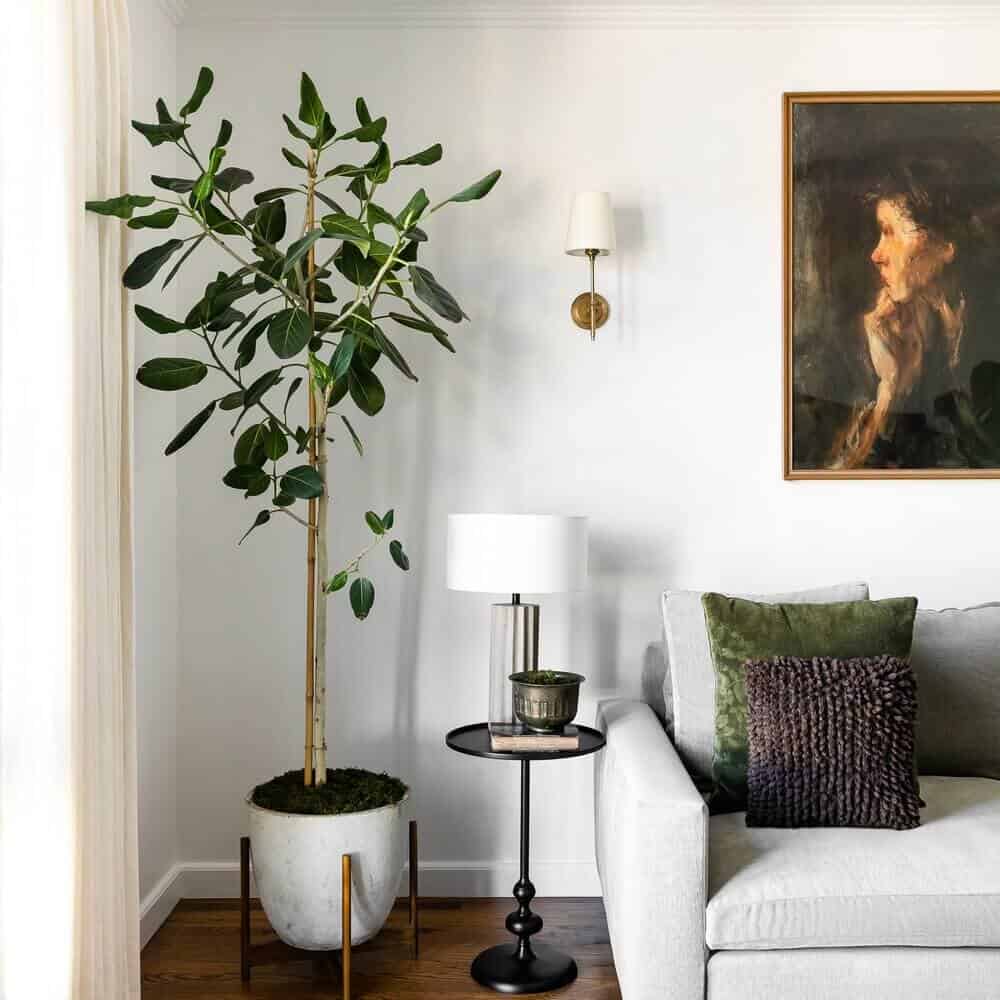 Last, we have my absolute favorite houseplant– the Ficus Audrey tree. There are so many reasons why this plant is the perfect addition to your home! It just works beautifully in every room and with every different interior design style. I promise you won't regret having this tree in your home!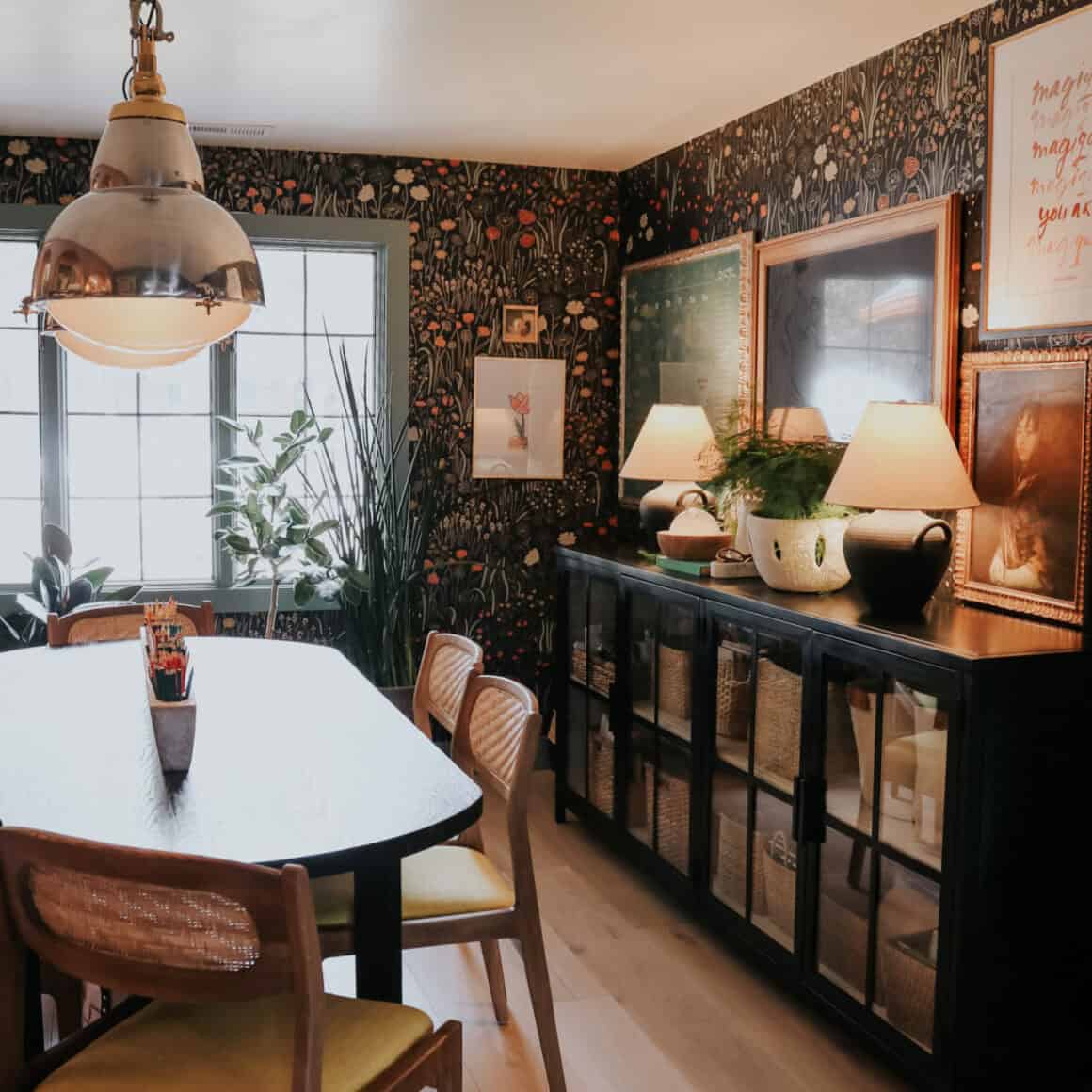 Okay, there you have it! What do you think about this stunning dining room design? Do you love the wallpaper?! Let me know! Check out more mood boards on my blog here. Hope you all have a beautiful rest of your week! xoxo