Hey loves! Can you believe it's already June? Time flies, doesn't it? I've been keeping busy with some spring cleaning even though it's summer this week, and let me tell you, it feels fantastic to clear out the clutter and start fresh.
I'm so excited about the possibilities that lie ahead that I recently put an offer down on a cozy cabin north of the city. Catch up on the cabin hunt here. Fingers crossed- whatever is meant to be will be. But enough about me – today, I wanted to share something special with y'all : a living room shop the look mood board. You love em' so much and I can't stop creating them.
So, here's the scoop. I stumbled upon this amazing living room during one of my Pinterest rabbit holes. I could not resist putting together a mood board with all of the perfect pieces to recreate it in your own home. Some are even looks for less, so you can achieve this stunning design without breaking the bank.

I'm totally in love with this living room design! It's got this funky, modern edge with a super cool splash of color. The checkered rug adds such a playful touch, and the round coffee table is just so sleek and stylish. And you can't miss the abstract wall art piece with a splash of green – I am obsessed. The modern side chair and stylish lamp complete the whole look perfectly. More on each below.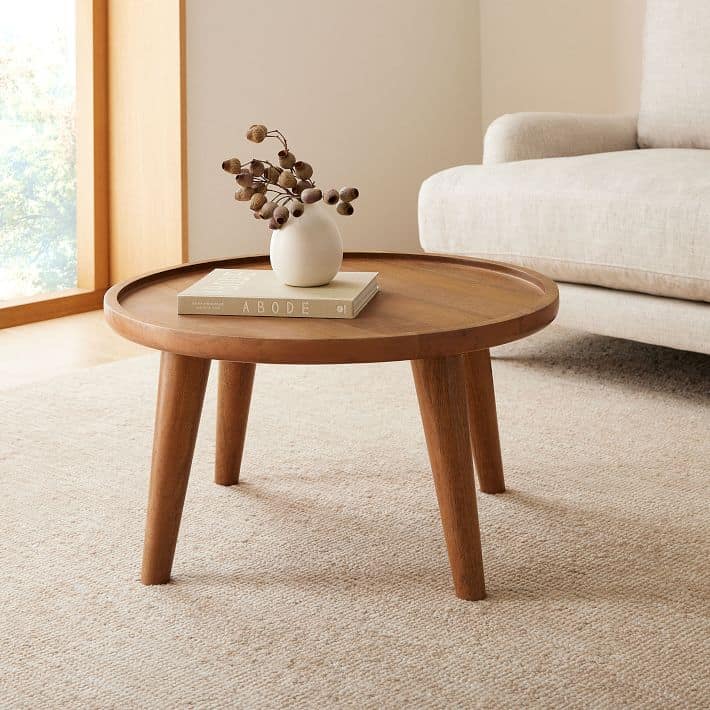 The Mango Wood Coffee Table is an absolute must-have for your living room, especially if you're working with a smaller space. Not only is it stylish, but it's also made from sustainably sourced mango wood, so you can feel good about your eco-friendly choice. Plus, the raised edge top adds a touch of flair while keeping your items secure, and the best part? It won't break the bank! Trust me, this coffee table is a total winner in terms of both quality and affordability. Check out some coffee table decor tips for styling your living room!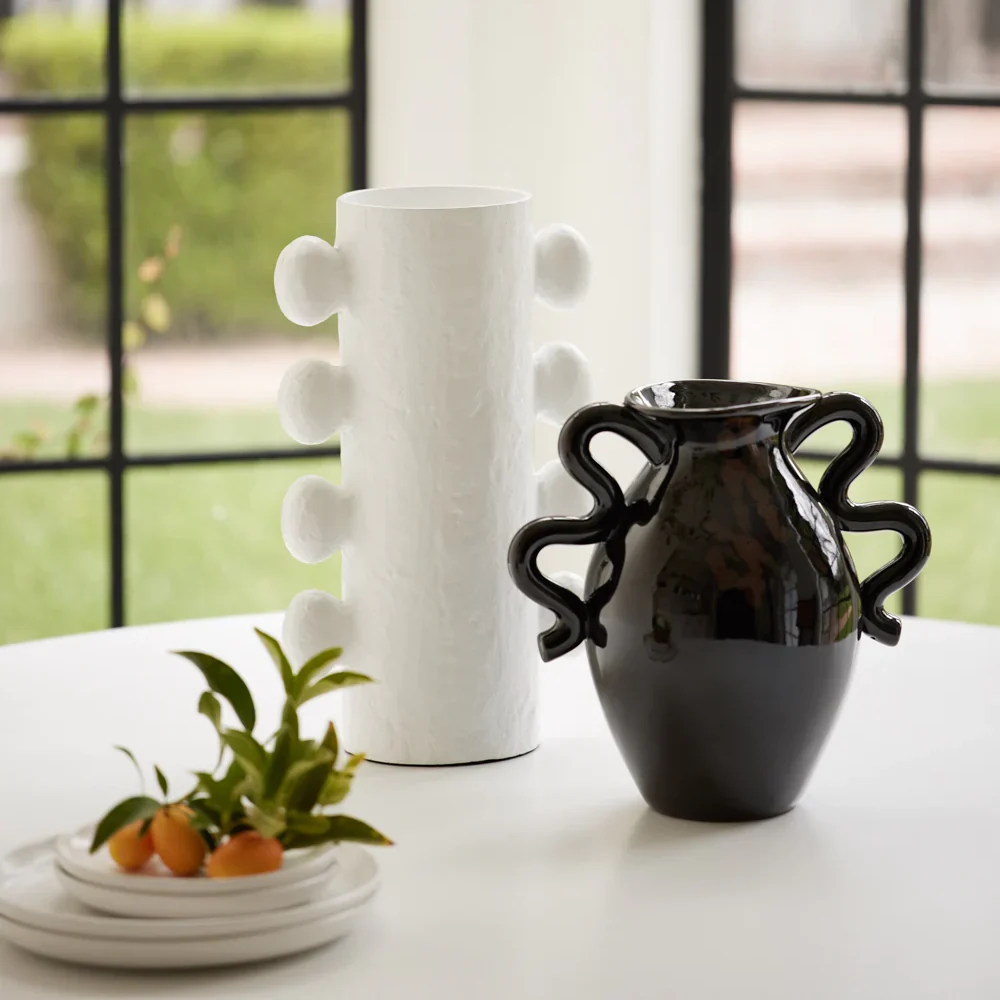 The Calabria Vase is a must-have for any home, seamlessly blending classic pottery aesthetics with a modern twist. Not only is it sturdy and unique, but it also shines as a beautiful home for your favorite branches or as a standalone decorative accent, whether you place it in the entryway or as an elegant touch to your living space. Trust me, this vase is the perfect combination of style and versatility.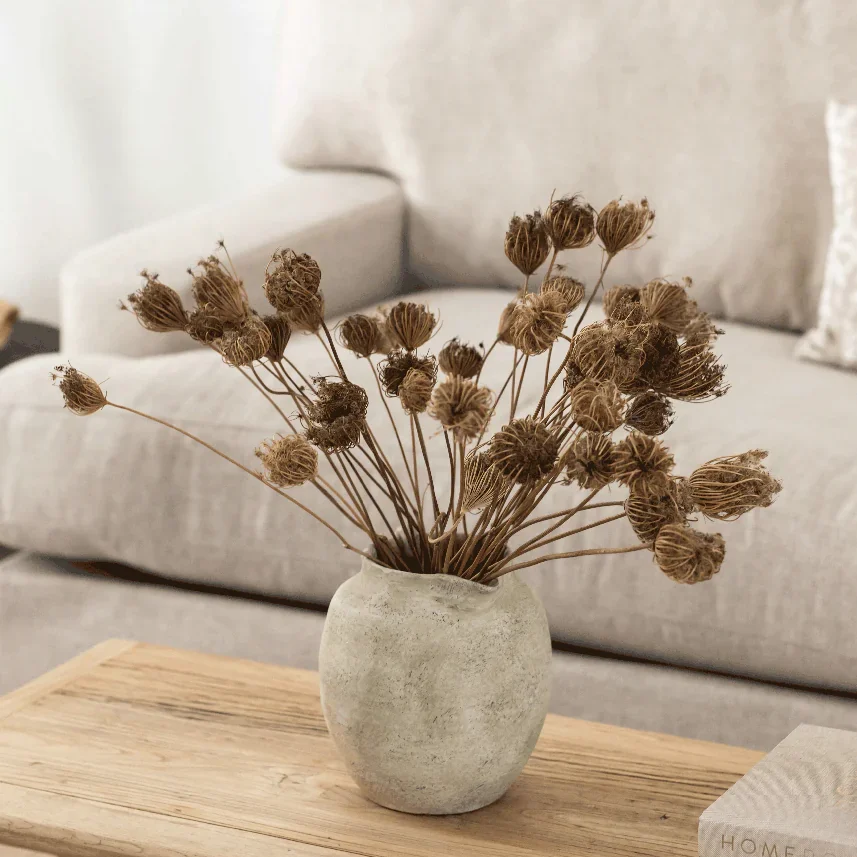 Next up is this beautiful natural dried flower bundle. These sustainably grown and dried flowers from the Netherlands add a touch of magic to any space. Whether it's spring, summer, fall, or winter, these versatile blooms will elevate your living room's moodboard, creating a warm and inviting atmosphere that you'll adore. Check out my own living room to see how I decorate with branches and vases!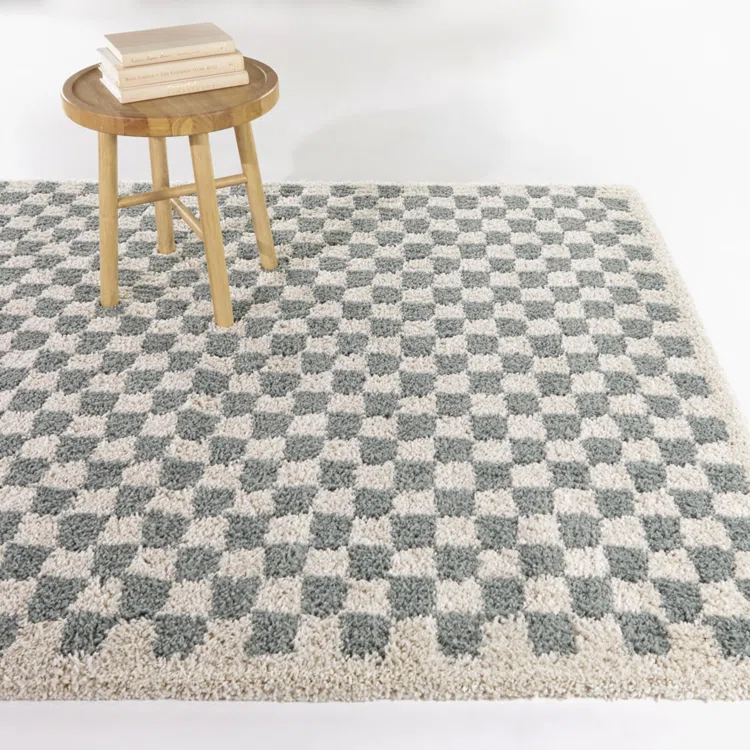 This rug is a total game-changer with its easy colors, plush texture, and trendy checkerboard pattern if you're looking for a rug refresh. Crafted from stain-resistant synthetic fibers, it's not only super soft underfoot but also adds a touch of simple yet funky charm to your space. Trust me, this rug is the perfect way to give your living room a cozy and stylish upgrade that will make you want to kick back and relax all day long!
This floor lamp is the ultimate game-changer for a living room! It has a dimmable light setting so you can effortlessly set the perfect mood for any moment. Plus, it's part of the Threshold collection by Studio McGee at Target, which means you get top-notch quality without breaking the bank. Trust me, this lamp is an absolute must-have that will bring a touch of style and warmth to your space, especially when you're styling for the summer. Check out more living room inspo here!
This original artwork is sure to bring a unique touch to your space. With its maple wood frame, it adds a touch of rustic charm to bare walls, and effortlessly blends modern aesthetics with a cozy appeal. This piece also comes with included hardware for a quick and easy installation. Hoping for a gallery wall instead? Check out tips & tricks here!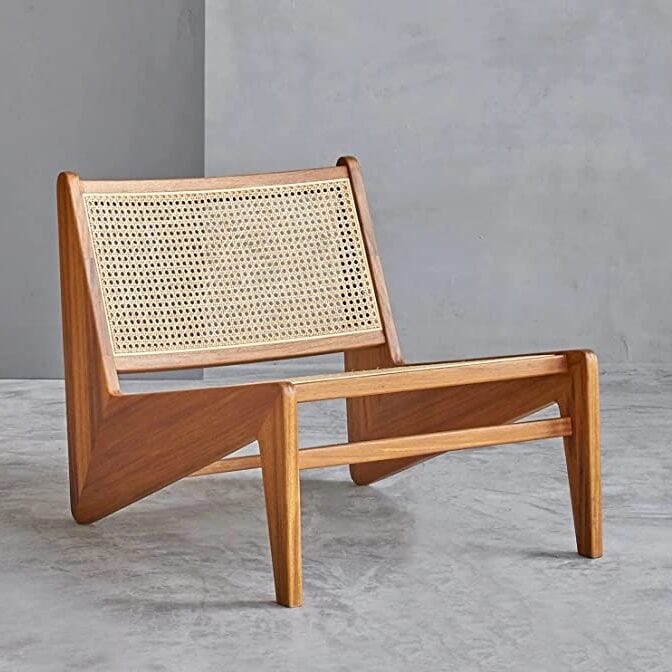 This chair is the perfect blend of modern style and functionality, making it a fantastic addition to any room. Whether you need a cozy spot to relax in your living room or a versatile side chair for any space, this neutral & beautiful side chair has got you covered. Trust me, investing in this chair will not only enhance your decor but also bring comfort and charm to your home sweet home!
This cushiony ottoman serves as a comfortable footrest, extra seating, and even a coffee table that won't leave your knees in pain. Built with a solid wood frame and wrapped in antimicrobial fabric, it's the perfect choice for busy homes with kids and pets, resisting scratches, tears, and stains. Trust me, this versatile pouf is a must-have addition that will bring both functionality and style to your space. More fun & great finds here!
Let's chat about this living room's box moulding – it's like a secret weapon for adding charm and character to any room! Just by adding those small wall details, you can completely elevate the vibe of your space. If you're curious about how to pull it off, I've got you covered with my super easy DIY guide on How to Easily Add Box Moulding and Box Trim. Trust me, it's a game-changer that'll make your room look absolutely fabulous.
So, what do you think of this modern & funky living room!? I couldn't let the summer begin without sharing this design and finding some looks for less for you! Happy shopping & feel free to reach out with any questions. Check out more interior design tips and home decor inspiration here! xoxo